Contrary to some expectations, the popular Productivity and Innovation Credit (PIC) Scheme (used by a staggering 85.4% of businesses in 2017) was not extended in Budget 2018. Rather, the Productivity Solutions Grant (PSG) has been introduced in its place.
While previous Budgets emphasised heavily on productivity, this year's budget focuses more on research, innovation, and internationalisation.
In this post, we cover the measures in Budget 2018 that local businesses can tap on to become more competitive and grow.
1. Wage Credit Scheme (WCS)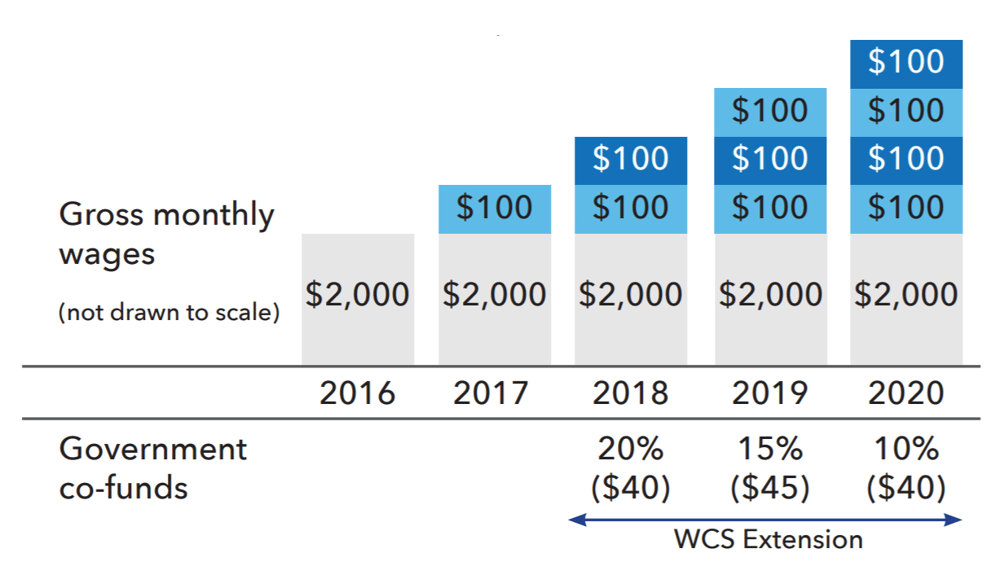 Introduced in 2013, the WCS will continue to co-fund wage increases of S$50 and above for the next 3 years. Raises for Singaporean employees with gross monthly wages of up to $4,000 will be co-funded 20%, 15%, and 10% in 2018, 2019, and 2020 respectively.
The scheme helps businesses cope with higher pay for their employees resulting from a more competitive labour market, while improving retention rates by offering more attractive remuneration. There is no need for employers to apply for the scheme, with wage credits paid out automatically based on CPF contributions.
2. Corporate Income Tax Rebate (CIT Rebate)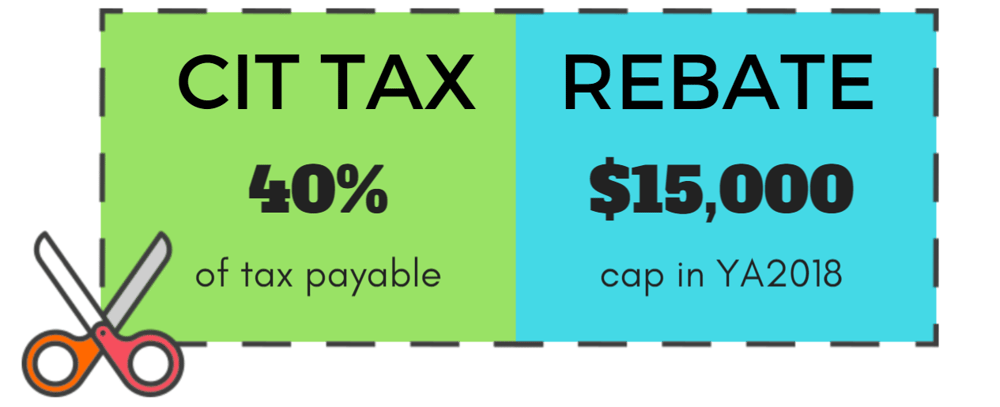 The CIT Rebate has been revised to 40% (previously 20%) of tax payable, capped at $15,000 (previously $10,000) in 2018. The Rebate will be extended to Year of Assessment 2019, at 20% of tax payable, capped at $10,000. It aims to help companies cope with rising costs of doing business.
Businesses do not need to apply for the rebate or factor it in their tax returns, as IRAS will compute and apply the Rebate automatically.
3. Foreign Worker Levy (FWL)
To counter weaknesses in the Marine Shipyard and Process sectors, levy rate increases for these industries will be deferred for another year, remaining at $300 for higher-skilled workers and $400 for lower-skilled workers. Other sectors are not affected.
4. Productivity Solutions Grant (PSG)
The PSG will provide support of up to 70% of qualifying costs on pre-scoped, off-the-shelf technologies (equipment and software), via the Business Grants Portal (BGP) from 1st April 2018.
This grant is considered an alternative to the PIC scheme, but is much narrower in scope.
5. Enterprise Development Grant (EDG)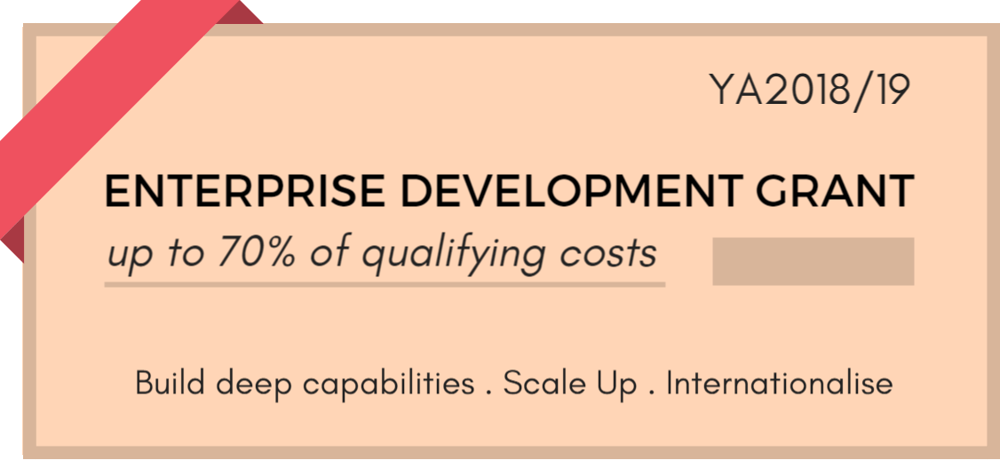 SPRING Singapore's Capability Development Grant (CDG) and IE Singapore's Global Company Partnership (GCP) grant will be combined into the EDG, defraying up to 70% of qualifying costs in 2018 and 2019, starting from Q4 of 2018.
While more specific details will be released later in the year, the EDG's aim is to "provide more holistic and customised support to local enterprises seeking to build deep capabilities, scale up, and internationalise". Companies looking to invest in Enterprise Resource Planning (ERP) solutions will want to consider applying for this grant.
More details will be released in 2H of 2018, and businesses will be able to apply for the EDG via the BGP from Q4. For now, you may still apply for the CDG and GCP grants via the portal.
CDG requirements for your business:
Registered and operating in Singapore
At least 30% local shareholding
Group annual sales turnover ≤ S$100m or group employment of ≤ 200 employees
Intending to get an ERP solution this year? Talk to us to find out what grants you may be eligible for!
6. Intellectual Property (IP) and Innovation
6.1 Tax Deductions on IP Licensing Payments
Upon expiry of the Productivity and Innovation Credit (PIC) scheme, tax deductions on licensing payments for IP was to revert to 100% from YA2019. This has been raised to 200%, with a cap of $100,000 per year.
This will help local businesses paying to protect their intellectual property.
6.2 Tax Deductions on IP Registration Fees
Likewise, tax deductions on IP registration fees will be raised from 100% to 200%, capped at $100,000 per year, enabling local companies to protect their original creations more affordably.
6.3 Tax Deductions on R&D
To encourage innovation and the development of IP, tax deductions on qualifying expenses incurred on research and development (R&D) will be raised from 150% to 250%.
6.4 Open Innovation Platform
This virtual crowd-sourcing platform will be piloted in Q2 of this year (2018). The platform aims to facilitate innovation by bridging research and commercialisation.
Companies can list challenges to be addressed with digital solutions, and will be matched with info-communications and technology (ICT) firms and research institutes to co-develop solutions. Both sides can then collaborate and develop innovative, scalable digital products.
The Platform provides invaluable opportunities for smaller businesses in particular, since they typically lack the capacity for inhouse research and development.
7. National Research

7.1 NRF Temasek IP Commercialisation Vehicle
This year, the National Research Foundation (NRF) and Temasek will launch a new joint investment venture to invest in, build, and grow companies drawing on IP and technology based on publicly-funded research. At least S$100 million will be invested in this venture.
7.2 Aviation and Maritime Transformation Programmes
The Aviation Transformation Programme (ATP) and Maritime Transformation Programme (MTP) will be launched this year, allowing companies to develop, test, and use new technologies at Singapore's airport and seaport in order to address challenges from increased air traffic and the labour crunch.
Solutions will also focus on security and operational efficiency. Ideally, developed solutions can then be used elsewhere in Singapore, or will be exported overseas.
7.3 National Robotics Programme (NRP)
The NRP was initially launched in 2016 to address manpower shortages in sectors such as healthcare and cleaning via the use of robotics and automation.
The NRP will now cover the built environment and construction sectors, to improve productivity and safety at construction sites and integrated construction and prefabrication hubs (ICPHs).
8. Double Tax Deduction for Internationalisation (DTDi)
The amount of expenses qualifying for DTDi without prior approval has been raised from $100,000 to $150,000 per year, beginning from YA2019.
The DTDi scheme allows businesses tax deductions of 200% on qualifying market expansion and investment development expenses, subject to approval from IE Singapore or the Singapore Tourism Board (STB).
No prior approval is required for tax deductions on the first S$150,000 spent on qualifying expenses for the following activities:
Overseas business development trips/missions
Overseas investment study trips/missions
Participation in overseas trade fairs
Participation in approved local trade fairs
Businesses may apply to IE Singapore or STB for qualifying expenses exceeding the first S$150,000.
9. Tax Exemptions

Starting from YA2020, tax exemptions under two schemes, the Start-up Tax Exemption (SUTE) and the Partial Tax Exemption (PTE), will be restricted to the first S$200,000 of chargeable income.
9.1 Start-Up Tax Exemption (SUTE)
New companies incorporated in Singapore are eligible for SUTE. The company must be a tax resident in Singapore for the YA in which they apply for SUTE, and the company's total share capital must be held directly by no more than 20 shareholders in the YA, where all shareholders are individuals or at least one shareholder is an individual holding at least 10% of the issued ordinary shares of the company.
Companies whose principal activity is investment holding or which undertakes property development for sale, investment, or both, are excluded from applying for SUTE.
Instead of 100% exemption on the first S$100,000 of normal chargeable income and 50% exemption on the next S$200,000, SUTE will now provide 75% exemption on the first S$100,000 and 50% on the next S$100,000.
9.2 Partial Tax Exemption (PTE)
All Singapore resident companies are eligible for PTE (unless they have already made claims under SUTE). Instead of 75% exemption on the first S$10,000 of normal chargeable income and 50% exemption on the next S$290,000, PTE will now provide 75% exemption on the first S$10,000 and 50% exemption on the next S$190,000.
10. Digitalisation and Training
The SMEs Go Digital Programme and Tech Skills Accelerator (TeSA) will continue to be supported, on top of other programmes like SkillsFuture and a new ASEAN Leadership Programme to aid business expansion in the region.
10.1 SMEs Go Digital
This programme involves the Info-communications Media Development Authority (IMDA) enabling SMEs with advice and workshops or seminars on digital technology (e.g. data analytics, cyber security, and the internet of things (IOT)), and rendering funding support of up to 70% on technology systems, capped at S$300,000 per SME.
10.2
Tech Skills Accelerator (

TeSA)

This programme is for fresh graduates in information and communications technology (ICT), existing ICT professionals, and aspiring ICT professionals from both ICT and non-ICT backgrounds.

TeSA will allow these individuals to acquire in-demand ICT skills, be placed into technology roles, attain industry-recognised certifications, and upskill to keep up with technology trends.

Employers may also tap on TeSA to attract fresh or mid-career professionals, or develop existing employees' ICT capabilities.

TeSA will provide employers with funding support for training programmes, allow them to employ ICT professionals who have undergone training under the programme, and upskill existing employees.

TeSA will expand into additional sectors such as Manufacturing and Professional Services, and will receive additional funding over S$145 million over the next 3 years.
10.3 Capability Transfer Programme (CTP)
The CTP supports the transfer of skills which may be lacking in Singapore from foreign specialists to locals. It provides funding of 30 to 90% for foreign and local trainers, local trainees, and even on-the-job training overseas. For example, a local manufacturer may want to learn about a new processing technique developed overseas that has not yet been adopted in Singapore.
11. Partnerships and Trade Associations
11.1 Partnerships for Capability Transformation (PACT)
Similar to the CTP, the PACT initiative facilitates collaborations between large organisations (LO) and local SMEs, involving the knowledge transfer from an LO to at least one SME, capability upgrading of an LO's new or existing suppliers, or development and testing of innovative solutions between an LO and at least one SME.
Approved projects are eligible for up to 70% in funding for development costs.
LOs must have S$100 million or more in sales revenue, and SMEs must be registered and operating in Singapore with a minimum of 30% of local shareholding, with group annual sales turnover of not more than S$100 million or not more than 200 employees.
11.2 Global Innovation Alliance (GIA) and More
In connection with GIA, local universities now offer overseas internship programmes to 8 new countries, and incubation spaces have been set up in China and Indonesia to promote innovation and entrepreneurship between these countries and Singapore.
Other initiatives like the Singapore Week of Innovation and Technology (SWITCH) will also take place.
The ASEAN Innovation Network and an Infrastructure Office will also be established, with the latter bringing local and international firms together to complete infrastructure projects by facilitating exchange of information, investments, and financing.
The SCCCI has also established a Trade Association Hub (TA Hub) where more than 30 Trade Associations and Chambers (TACs) share facilities and resources. The TA Hub along with the Trade Association Committee, encourages TACs to work together.
Four of these TACs formed the Logistics Alliance with SPRING and the Centre of Innovation for Supply Chain Management at Republic Polytechnic, launching the Transport Integrated Platform (TRIP) which integrates a number of logistics systems to improve fleet management.
These initiatives will be supported via the Local Enterprise and Association Development (LEAD) Programme.
11.3 Career Trial
Under the existing Work Trial programme, Singaporean workers participate in short-term stints with host companies to improve their skills and prepare them for their desired jobs. They also receive incentives for staying with their host company upon expiration of the trial.
The Work Trial will be upgraded into the Career Trial to help jobseekers assess potential careers – details on this upgrade are as yet unknown.
12. GST on Digital Services
While Singaporeans have been primed for the inevitable GST (Goods and Services Tax) for years, the charging of GST on imported Digital Services beginning in 2020 came as an unexpected and unwelcome change.
Also referred to as the "Netflix Tax", this change is expected to affect streaming subscriptions such as Spotify, digital game purchases, and software subscriptions (not just directly - B2B businesses will likely pass these costs on if they subscribe to cloud services).
How Does All This Affect Those of Us Considering ERP?
Those on the fence about purchasing Enterprise Resource Planning (ERP) software on premise or in the cloud will have to factor in the additional GST costs for cloud subscriptions beginning from 2020, in particular since hosting is typically provided by companies based outside of Singapore.
ERP solutions remain a very much a priority for businesses in Singapore, particularly those who intend to expand and make the move overseas in coming years.
While the full details of new measures introduced will only be released at the Ministry of Trade and Industry's (MTI) Committee of Supply (COS) or later on in the second half of the year, we expect ERP investments to be covered under the EDG.
Those more comfortable with the existing CDG grant should apply for it as soon as possible, before it is replaced in Q4.
Have any questions on funding for your ERP investment with AFON? Contact us to find out what your options are.