Earlier this week, finance minister Heng Swee Keat spoke at length on Singapore Budget 2019.
Much of the Budget 2019 statement addressed concerns on economic uncertainties and living costs, with 'sweetened' incentives to assist more vulnerable citizens.
It also included funding enhancements to help Singapore businesses build their digital capabilities.
REAL ADVICE FROM REAL GRANT EXPERTS: LEARN HOW TO BOOST YOUR GOVERNMENT GRANT APPLICATION RATES FOR YOUR NEXT DIGITAL PROJECT. CLICK HERE TO READ NOW.
As expected, responses to the Budget announcement have been mixed.
Local media were quick to laud Budget 2019, while leaders from various industries have mostly given positive feedback on the new changes:
"The Singapore Government is willing to make a longer-term investment to further compel business to improve productivity. The reduction to the Dependency Ratio Ceiling (DRC) is the necessary medicine in the medium term. It will force enterprises to further invest in new technology, re-skill their existing workforce, and reduce the reliance on cheaper foreign labour."

- Chris Woo, Tax Leader, PwC Singapore
Cynics on the ground however, believe this is nothing more than a pre-election stunt (a suggestion Mr Heng has vehemently denied).
There are also many business owners secretly disappointed by the government's stand on foreign manpower quotas – a key concern which ranks amongst the top Budget 2019 change wish list for Singapore business owners.
While this has remained unchanged for most sectors, businesses in the Service sector face a further reduction in foreign manpower quota over the next two years.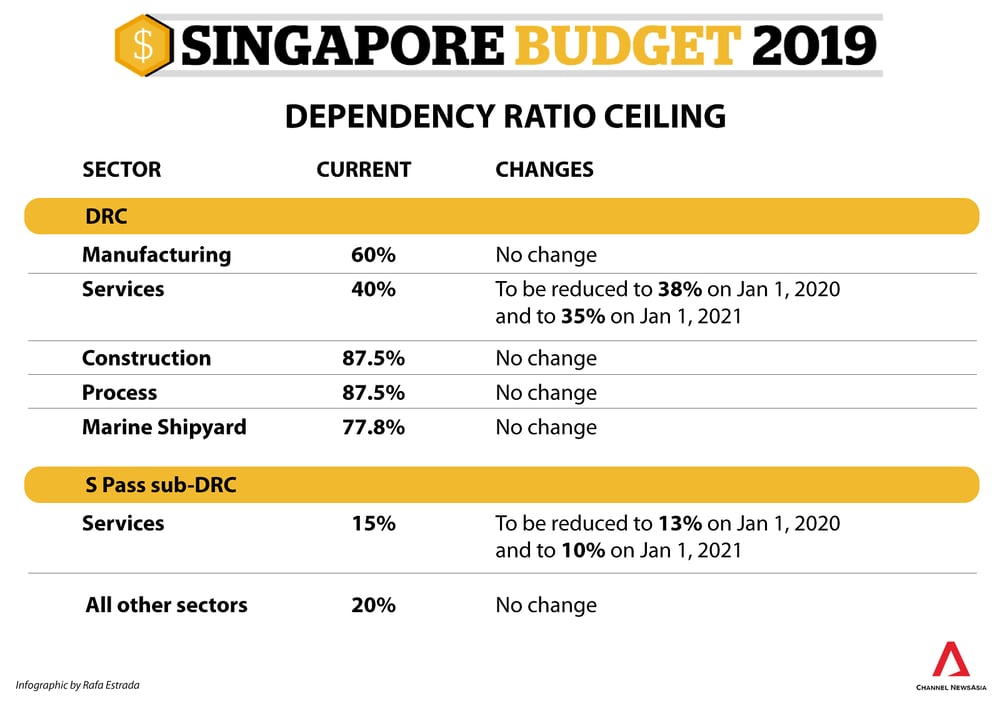 Changes to the foreign manpower quota. Source: Channel NewsAsia
If you're the owner of a small and medium-sized enterprise (SME) in the Service sector and manage a labour-intensive business, you're probably shaking your head at this latest update.
Business is hard to run as it already is.
Add rising material and labour costs, increasing competition, and forecasted difficult economic conditions ahead, and this further reduction of affordable labour sources may seem like an unnecessary tightening of the noose, so to speak.
But on the positive side, you can benefit from the various funding schemes available for SMEs in Singapore seeking to improve productivity with minimal labour.
To help you find out what initiatives could help your Service SME business, we've trawled through schemes mentioned in Budget 2019, and shortlisted some of them below:
Some Silver Linings in Budget 2019 for SMEs
1. SME Working Capital Loan Scheme Extended for Two More Years


Details of the SME Working Capital Loan. Source: SingTel

First launched in 2016 and originally slated to expire this year, the SME Working Capital Loan will be made available for two more years.
On top of that, Enterprise Singapore (ESG) will now share up to 70% of the risk (up from 50%) with partner financial institutions – which should make it easier for small businesses to get financing for short-term operational funding needs.
2. Scale-Up SG


A new programme by ESG, targeted at "aspiring, high-growth local firms", Scale-Up SG will help businesses find areas for innovation, and to expand overseas.
3. SME Co-Investment Programme, Phase III


The SME Co-Investment Programme has brought public and private sectors together to help SMEs scale up since 2010. The programme will return for a third round, with $100 million earmarked this time – one-quarter of the total amount set aside.
4. SMEs Go Digital to Offer Even More Solutions


The SMEs Go Digital programme offers a range of pre-approved solutions for core job functions, such as accounting and digital marketing.
Not only will the number of solutions be expanded, SMEs can also expect new offerings from categories like artificial intelligence (AI) and cybersecurity.
5. Productivity Solutions Grant Can Now Be Used to Defray Training Costs


The Productivity Solutions Grant (PSG) helps defray the cost of adopting solutions through the SMEs Go Digital programme, up to a cap of 70%. This subsidy will remain for another four years.
The PSG's scope will also be expanded to include up to a 70% subsidy for out-of-pocket training costs (at a maximum of $10,000).
6. Enterprise Development Grant (EDG) Extended for 4 More Years

Source: Enterprise Singapore

The Enterprise Development Grant allows businesses to defray up to 70% of qualifying costs, for projects like enterprise resource planning (ERP) implementations. This subsidy was meant to expire next March, but like the PSG, it's been extended for another four years.
Growing and Staying Agile with Technology
The rising costs of doing business amidst a turbulent economic climate make it challenging for any SME to thrive.
In the labour-intensive services sector, the newly-tightened foreign manpower quota feels like the final, near-impossible obstacle to achieving the goals every small business aspires to: growing revenue, reducing costs, and acquiring new customers. Just to name a few.
But with the right investments in technology – think a solution that'll help you streamline your processes, so you can do more with lean resources – the ongoing labour shortage doesn't have to trip your business up.
Our eBook explores how exactly you can surmount challenges and achieve the ten goals of every small business – thanks to the world's leading developer of business solutions.
Simply click the banner below to get your free copy now.