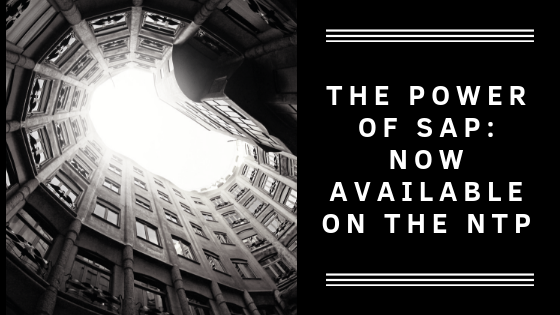 If you're in the import/export trade, raising productivity is probably one of your key concerns. Perhaps you may have heard digital transformation is the way to go, but you're not sure where exactly to start.
Well, we've got good news for you.

CLICK HERE TO SIGN UP FOR OUR FREE SAP ON NTP SEMINAR, AND LEARN HOW YOU CAN ACCELERATE YOUR PRODUCTIVITY!


Last Wednesday, the Singapore government officially launched the Networked Trading Platform. The NTP is a trade and logistics IT ecosystem connecting businesses, community systems and government systems in a single platform.
The service was soft-launched last December and is free to use until 31 December 2018.
At the event, guest of honour Finance Minister Heng Swee Keat gave out appreciation awards to just eight of the 34 pioneering Value-Added Services (VAS) vendors on the NTP.
Our managing director Mr Bernard Ho, receiving a Certificate of Appreciation from Mr Heng.
It's our honour at AFON to have been one of the award recipients. Additionally, at the time of writing, we're the only NTP-approved vendor of SAP's world-recognised ERP systems on NTP.
How Does the Networked Trade Platform Work?
The NTP's launch is part of a Government initiative to boost business productivity through digital transformation.
"If we can stitch the disparate standalone systems, or digital islands, together…the potential value to the economy is significant and transformational," said Mr Heng, in his keynote speech.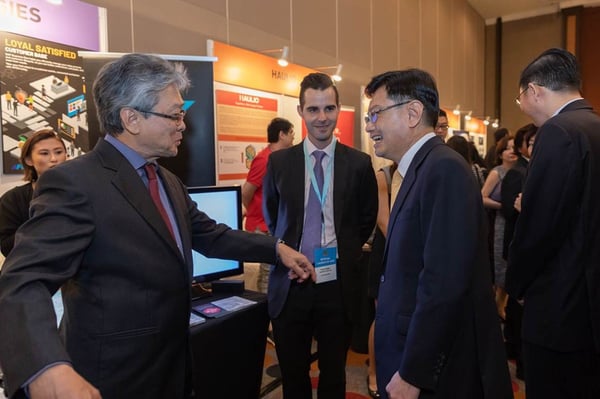 Mr Heng visiting our booth at the event.
Previously, B2B and B2G services were available only on separate platforms, namely Tradenet Singapore and TradeXchange.
The new Networked Trade Platform (NTP) centralises several Business-to-Business (B2B) and Business-to-Government (B2G) transactions. These services include a permit application portal and a one-stop documents hub amongst others.
NTP tools also include a curated list of VAS providers who offer business solutions. NTP users can easily search for VAS services like trade finance, shipment tracking, and ERP systems in the portal.
What Can SAP Business One On The NTP Do For Us?
AFON's unique contribution as a VAS provider is bridging the SAP Business One ERP system and the NTP.
Not familiar with SAP Business One? Simply put, it's an ERP system that collates all the resources of your business into a single platform for easier analysis and tracking. With SAP Business One, you can view inventory data side-by-side with sales orders. That way you can avoid inventory wastage or ordering more materials than you need.
To deliver added efficiency, we designed a proprietary ERP-NTP connector service. AFONTradeLink is designed to work with SAP Business One, but it works seamlessly with Microsoft Dynamics NAV too.
"Together with SAP, we are proud to partner with Singapore Customs on the NTP project in their journey to provide one-stop trade and logistics ecosystems. This will not just improve productivity, but create new opportunities for Singapore SMEs locally as well as globally," said Mr Bernard Ho, managing director of AFON.



If you're an importer/exporter, the NTP is probably welcome news. Making the end-to-end process accessible through a single platform is likely to boost productivity for you.
It's also important to make sure your internal workflow is equally seamless. This is where SAP Business One may come in handy if you don't already have it.
SAP systems centralise all the data, so you can get better insights and make more accurate decisions. Coupled with the NTP, you can manage trading documents centrally. That way, all involved parties are on the same page, cutting down on the risk of costly mistakes.
Your Next Steps
If you'd like to learn how SAP Business One on the NTP can raise productivity, we'll be holding a free breakfast seminar on 26 October where we'll show SAP Business One live.
You also stand to receive up to $8,888 in discounts off your SAP-NTP investment when you sign up and attend this seminar!
If you'd prefer to hear from a consultant, please drop us a note and we'll be in touch as soon as we can.