Update, June 2019: We've added lists of the features added in the May update, and of upcoming features.
Come this April, Microsoft Dynamics 365 Business Central users can expect a major release centred round improving the way things work within the system, by:
Enhancing existing features and introducing new ones,
Making the user interface more intuitive, and
Optimising the back-end to deliver superior performance.
NEW TO MICROSOFT DYNAMICS 365 BUSINESS CENTRAL? SEE WHAT IT CAN DO FOR YOUR BUSINESS. CLICK HERE TO GET YOUR FREE BUSINESS CENTRAL FACT SHEET NOW.
The broader goal? Giving you the time focus on the bigger picture, instead of having to trifle with the small details.
You can find out how exactly they'll be delivering on their vision in the release notes here – but the document comes up to forty pages. So to give you a quick overview of what you can expect, we've combed through the list and picked out some of the more compelling changes.
What's in Business Central April 2019 Release
1. New and Enhanced Features

Easily switch between big picture and granularity. Source: Microsoft
Save custom list views, sorting, and filters.

Easily slice and dice data the way you prefer.
Get the big picture or drill down into specifics: You can also quickly switch between default and custom views.
Custom list settings are tied to users, so you can easily access them, no matter which device you're signing in from.
Set a formula for calculating the expiry dates of sales quotes.

If you've a standard policy on sales quote expiry dates, you'll save time otherwise spent manually keying in the data.
You can now count physical inventory using orders and recording functionalities, instead of working with journals.

It'll be easier to track progress and distribute the counting workload – especially for larger-scale counts.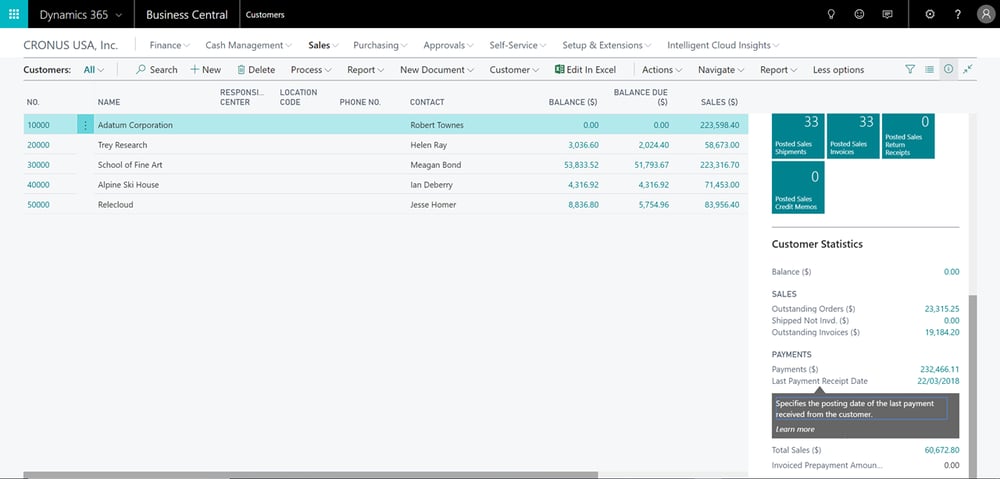 Know how much your customers owe at a glance. Source: Microsoft


Get a quick overview of customer/vendor payments and last payment dates with FactBox.
The intelligent search engine will now recognise alternative search terms and synonyms, such as "client" for "customer" and more.

For example, simply enter "kit" in the Tell Me box. Now you'll get the assembly bill of materials (BOM) page as a search result.
Your vendor can also add company-specific terms to the built-in list containing over 200 alternative search terms.
The search engine will also pull up results from AppSource, so you can easily find ways to extend your ERP's capabilities.
2. Improvements to the User Interface

Avoid costly banking transaction mistakes with the new SWIFT code list. Source: Microsoft
Flexibility in displaying (or hiding) fields and arranging them to suit your needs.

Get a quick overview of only the data that's most important to you by hiding the unimportant parts.
Keep a list of bank SWIFT codes you can draw from when working on bank-related transactions.

Now you'll no longer have to manually enter them with each transaction, saving you time and giving you the assurance that the data is accurate.
Making Data Entry Less Tedious
Data entry is tedious and thankless, especially when you've to toggle between the mouse and the keyboard. Business Central's made the process more keyboard-centric – so you save time and reduce the risk of sore wrists.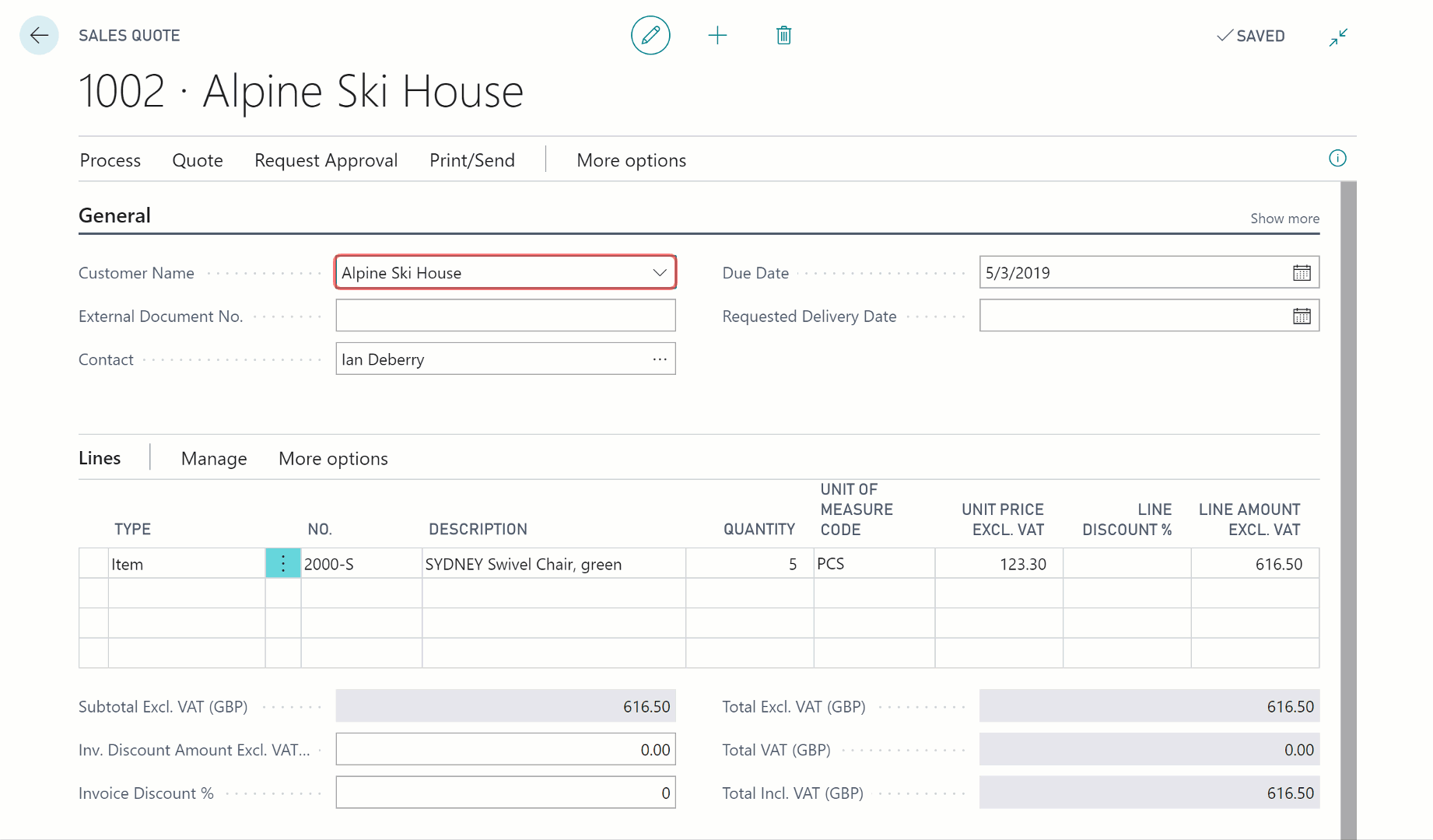 Skip the unnecessary details and save more time for value-added work. Note: the process has been artificially highlighted. Source: Sk Microsoft
With Quick Entry, you can skip filling in selected fields on sales and purchase documents by pressing Enter. Simply pre-define the ones you don't need.
For example, if you don't need to fill in the External Document No. field in a sales order, you can configure Business Central to skip that field every time you prepare a new one.
Additional keyboard shortcuts have been introduced, along with a one-stop page documenting all combinations.
3. Optimised Back-End Systems


Microsoft takes care of your system back-end, so you don't have to.
To complement these new and enhanced features, Microsoft's tweaked its back-end for improved stability and system responsiveness.
Optimised application code, database, and server resources result in:

Shorter loading times, and a higher volume of data retrieved at speedier rates.
Changes made are based on typical usage patterns and operational scenarios.
Enhancements to system availability.
Upgrades scheduled to suit your business's needs.
No more maintenance downtime during working hours.
Increased uptime, thanks to improved service health management.
4. New Features in May 2019 Update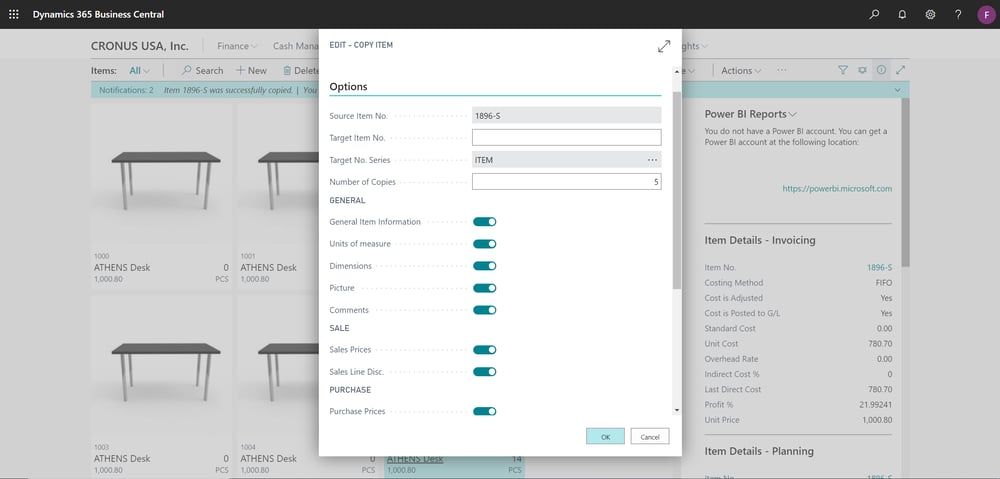 Choose which attributes you want to copy over. Source: Microsoft
Use items in return documents that're blocked in sales and purchasing documents.

Suppose you've a product which you no longer sell, but you need to process returns for that product. You can now add these items to sales/purchasing return and credit memo documents.
Copy item cards.

You can now copy item cards, and use them as templates. Comes in handy if you're creating items with similar attributes.
Select lines from multiple purchase receipts to be used in warehouse transfer orders.

You can now add specific lines from multiple purchase receipts to a warehouse transfer order. Useful if you don't need to transfer the whole contents of a warehouse bin.
5. Upcoming Features

Coming soon: save your personal list views. Source: Microsoft

Microsoft has announced some Business Central features in development; they're targeting a release date between anytime now and September 2019.
Save custom list views, sorting, and filters.

Easily slice and dice data the way you prefer.
You can also quickly switch between default and custom views, to get the big picture or drill down into the specifics.
Custom list settings are tied to users, so you can easily access them, no matter which device you're signing in from.
Add internal notes to business data.

You'll be able to add, edit and delete notes to cards within Business Central. They'll be displayed just next to the cards.
You can also add internet links to these notes.
In a broad way, they work just like the comments feature in Word.
All-feature overview.

An overview of all features will be added to Business Central, making it easier to navigate your system.
This feature overview will be based on individual Role Centres.
How Do I Upgrade My Business Central ERP?

Source: Microsoft

If you're already a Business Central user, there's no action needed on your part – this release (and all future releases) will be automatically deployed.
The upgrades will also be rolled out late at night in your local time, so you won't have to worry about disruptions to your work.
And if you've any extensions from AppSource installed, they'll carry over automatically too. No need for expensive, lengthy changes to the code just to make sure everything works.
In a nutshell, with every release, your newly-improved Business Central system will be ready to go by the time you get to the office.
Accelerate Productivity with Microsoft Business Central

Source: Microsoft
In summary, with Business Central's April 2019 release, you can get things done even faster and shave even more time off your daily work.
If you'd like to learn more about Microsoft Dynamics 365 Business Central – the rebranded, true Cloud version of Microsoft Dynamics NAV (formerly Navision) – click the button below to get your free fact sheet now.