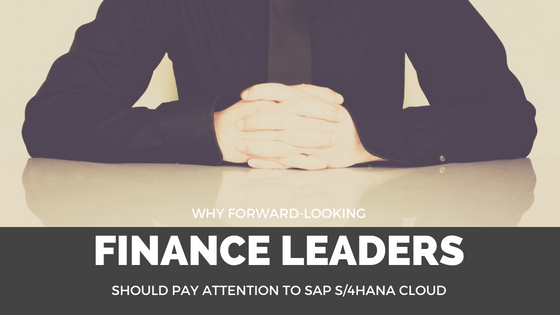 By now, you've probably heard of lot of good things about Cloud ERP systems.
Things like how Cloud ERP gives advantages like scalability, simplified administration, efficiencies, and cost savings.
Or how it opens doors to new ways of running a business, and how others in your industry have seen improvements after investing in Cloud systems.
Perhaps you've even heard about SAP S/4HANA Cloud and wonder whether it's worth its hype.

GET PRACTICAL, ACTIONABLE ADVICE ON USING CLOUD ERP TO CREATE REAL BUSINESS VALUE. DOWNLOAD YOUR FREE GUIDE HERE

In this post, we'll look at three reasons why future-centric Finance leaders should consider S/4HANA Cloud:
Worldwide Cloud ERP trend is expected to grow and continue
SAP's strategic focus on Cloud technologies
Compelling technical capabilities of S/4HANA Cloud
But first, let's have a quick overview of what SAP S/4HANA Cloud is all about.


What Is SAP S/4HANA Cloud?
S/4HANA Cloud is what SAP calls its next generation Cloud ERP business suite.
By integrating every business process and turning real-time data into insightful actions, this ERP suite helps you boost productivity, innovation speed, and competitiveness.
S/4HANA Cloud features include order to cash, procure to pay, plan to product, complete end-to-end support for finances, and more. It's also built on SAP HANA for superfast data processing and analysis.
Organisations with over 1,500 employees, or companies that are subsidiaries and units of larger enterprises, are most likely to benefit from S/4HANA Cloud.
Small and midsized businesses however, may find SAP Business One (SAP's ERP software for SMEs) more suitable for their requirements and budget.

Is S/4HANA the Same as SAP ERP or SAP R/3?
With terms like SAP ECC, SAP R/3, MySAP ERP, SAP HANA, SAP S/4HANA, S/4HANA Cloud and so on, it's easy for even the most tech-savvy Finance leaders to get them mixed up.
So, here's a brief explainer:
SAP R/3 is the classic enterprise SAP system suite everyone's heard of. This was released in the early 90s.
In 2003, SAP redesigned R/3 as 'MySAP ERP'. But just a year later, they adopted the term 'SAP ECC' – short for SAP Enterprise Central Component – instead.
Since then, people have been using the terms SAP ECC and SAP ERP interchangeably, even though 'SAP ERP' is used today to collectively refer to a suite of SAP products – including SAP ECC.
SAP HANA on the other hand, is a relational database management system. A powerful in-memory database, HANA works in the backend to store, retrieve and process data.
Applications like ERP software run on top of SAP HANA. With HANA, companies get significantly improved Online Analytical Processing and Online Transaction Processing speeds out of their applications.
So where does SAP S/4HANA come in?
S/4HANA is SAP's next generation business suite. It's built specifically to run on HANA, and is (reportedly) slated to replace SAP ECC sometime in the future.
S/4HANA also offers far greater flexibility than its ECC predecessor.
Hasso Plattner, SAP's co-founder, offers a simple comparison between the two. He claims that S/4HANA's finance app can shrink data from 593 GB to just 42 GB, "with only 8.4 GB being dynamic, current-year data requiring high availability and backups."
That's more than a 10-fold difference!
And S/4HANA Cloud?
It's basically the true Cloud version of S/4HANA. Like its on-premise counterpart, S/4HANA Cloud offers enterprise-level functionalities, but sweetened with the affordability and ease of a SaaS model.
Why Consider SAP S/4HANA Cloud?

Today's businesses face unprecedented complexity and velocity of change. There's also a clear digital trend where more business users expect their technological interactions to be impactful yet easy-to-use.
S/4HANA Cloud is SAP's response to such changes in business models and user expectations.
There are three big-picture reasons why Finance leaders like yourself should consider evaluating S/4HANA Cloud:
1. Worldwide Cloud ERP Trend Expected to Grow

Cloud technologies have been around for several decades, but it's really in the last few years or so that adoption rate has soared among enterprises and SMEs alike.
Technology experts expect the global cloud ERP market to grow rapidly, with market size projections varying between US$25 - $30 billion over the next few years. Finance systems are leading in the SaaS shift, especially for service-centric organisations.
Others believe we've hit Cloud ERP's tipping point, and that the shift from on-premises to Cloud solutions will continue to accelerate exponentially.
Heiko Mauersberg, vice president of Business Development Cloud Solutions at SAP, believes that Cloud is the way to go, given the already widespread acceptance of Cloud technologies among consumers.


"Because we use it in our private lives, users will embrace the public cloud in the business world." - H. Mauersberg, SAP


The surge in interest among organisations is not surprising, mainly because Cloud ERP gives them the best of both worlds – a combination of true end-to-end integration with the speed, affordability, and convenience of the Cloud.
This not only fosters faster innovation and problem solving across entities, but also empowers employees across all levels by freeing them to focus on tasks that matter to the business.
2. SAP's Strategic Shift to Cloud and HANA
Companies that invest in S/4HANA Cloud can be assured that SAP has set their focus on growing their Cloud portfolio.
In a Forbes article, SAP's CEO Bill McDermott remarked that "Cloud revenue is expected to overtake (their on-premise) license revenue for the first time". He added that they expect "Cloud to grow at again 30% compounded annual growth rate and more than double by 2020."
With their 2017 Cloud revenue at approximately US$4.7 billion, SAP could see up to US$10 billion in revenue from Cloud in 2020.
SAP's Cloud strategy has also seen much improvement in focus, according to industry observers. Unlike its somewhat inconsistent directions in the past, due to the sheer diversity of SAP's customer base, SAP's Cloud ambitions, products, and strategy now work cohesively together.
(We'll not cover that in detail here, but you can hop over here to read SAP expert Dick Hirsch's observations if you want an in-depth look at SAP's Cloud strategy.)
On the SAP HANA front, SAP also has plans to grow this product. They expect to convert half of their non-HANA on-premise customer base to the HANA in-memory platform by 2020.
This bodes well for the future of S/4HANA Cloud, which is both a true Cloud ERP business suite and designed for the HANA platform.
3. Compelling Capabilities of S/4HANA Cloud
SAP has an excellent description of S/4HANA Cloud functionalities here, so we won't go through them in this post.
But to summarise, S/4HANA Cloud comes with compelling capabilities and benefits such as:


i. Superior Flexibility and Scalability
S/4HANA Cloud offers flexibility that traditional on-premise enterprise ERP suites can't match.
The latter tends to have structurally complex databases that are designed to perform specific types of analyses and reporting. If you want to change the data flow, your IT personnel need to redesign the entire structure through extensive re-programming and testing.
However, S/4HANA Cloud (and its on-premise version) does away with both supporting data and rigid structures. This means predictive models can be quickly built to review business decision effects, such as acquisitions and divestments. You can also perform faster real-time cost and revenue analysis, as well as cash flow optimisation.
Plus, you can easily add new capabilities and users as you need them, thanks to the modular set of Editions that give you an extensible, scalable ERP platform.

ii. Data and AI-Driven Insights
S/4HANA Cloud makes monitoring compliance and financials easier for you. By centralizing your data and doing away with redundant data, you don't have to wait until the next month-end closing to get in-depth insights into your financial KPIs.
You can analyse your data in real-time, at any depth, across any range, whenever you want to. This gives you a better picture of your organisation's financial health anytime, anywhere.
S/4HANA Cloud also comes with SAP Co-Pilot. This is a machine learning-powered Digital Assistant designed to help you and your teams cut manual efforts and associated operational costs.
For example, the Co-Pilot can match incoming payments to accounts receivables. By learning from your accountants' historical actions, the assistant can eventually help you automatically process future payments on their behalf.
Another example: the Co-Pilot can serve as a useful connect between Finance and Human Resource during budgeting seasons. By leveraging on existing data, the digital assistant is able to intelligently propose actions given your budgets, career, regional considerations, headcount and more.

iii. Ease of Use, Seamless Upgrades, and Rapid Deployment
S/4HANA Cloud uses best-practice methodologies so customers can deploy and go live in just weeks, not years. This applies even if you require a two-tier deployment between your headquarters and subsidiaries, so you reduce risks that come from heavy effort consolidations and integrations.
For instance, our AFON S/4HANA Cloud packages can get your business up and running in as little as 12 weeks. This not only gives you cost savings, but faster returns on investments and time to value.
In addition, S/4HANA Cloud is designed with native integrations to other SAP solutions, making it easy to integrate with existing SAP applications. And if you're not using any SAP application, you can open interfaces for extensions via the SAP Cloud Platform.
You also get seamless quarterly upgrades that are automatically done after hours. SAP provides a rolling four-quarter roadmap that's available publicly, to help their customers and partners plan ahead.
Finally, S/4HANA Cloud has been designed with end-users in mind. Its SAP Fiori interface delivers a user-friendly and responsive consumer-grade experience. This makes it easier for employees across all levels in your organisation to adopt and adapt to S/4HANA Cloud.
Getting Real Business Value with Cloud ERP
If you're evaluating potential Cloud systems for your enterprise, SAP S/4HANA Cloud offers you both short and long-term value, thanks to its fast deployment time and excellent capabilities. It's also a great product backed by both SAP's strategic Cloud focus and the rising Cloud adoption trend among businesses.
For more information on how S/4HANA Cloud can help you, drop us a note here and our SAP consultants will get back to you.
Or for practical tips on how to create actual value using intelligent Cloud ERP, download your free copy of The Definitive Guide to Value Creation with Intelligent Cloud ERP below. It contains useful, actionable information for business leaders like yourself, including:
The Big 8 Technology Trends according to Deloitte, Gartner, and Forrester
How to create value with the Four Stages of Intelligent Cloud ERP Value Creation
How to build a Compelling Business Case for Cloud ERP with your four key stakeholder groups