As a private equity (PE) firm, your business will always be concerned with supporting the growth of the portfolio companies it's invested in.
One way to build durable portfolio companies with sustainable value is to implement digital innovations into their operations, such as with an ERP software implementation project.
That's because implementing ERP software for your portfolio companies can help your PE firm resolve emerging challenges, by providing accurate data in real-time to help drive its value creation process.


Your PE Firm Is Likely To Face Several Difficulties In 2022 And Beyond. Find Out Why ERP Software Is The Right Solution For Them.

However, carrying out an ERP software implementation is not easy. They're typically projects with multiple phases, including redesigning processes to better exploit the ERP software's capabilities, customising the ERP software to achieve business objectives, data migration, and user training.
Not only can an ERP software implementation project take anywhere from several months to a year depending on the size of your portfolio companies, they can be surprisingly complex as it affects business processes across the whole organisation.
Because of this, you may encounter several different issues when investing in an ERP software implementation project for your portfolio companies.
Here's how you can guide your portfolio companies through these issues, if and when they encounter them during an ERP software implementation project.
1. Lack Of Project Management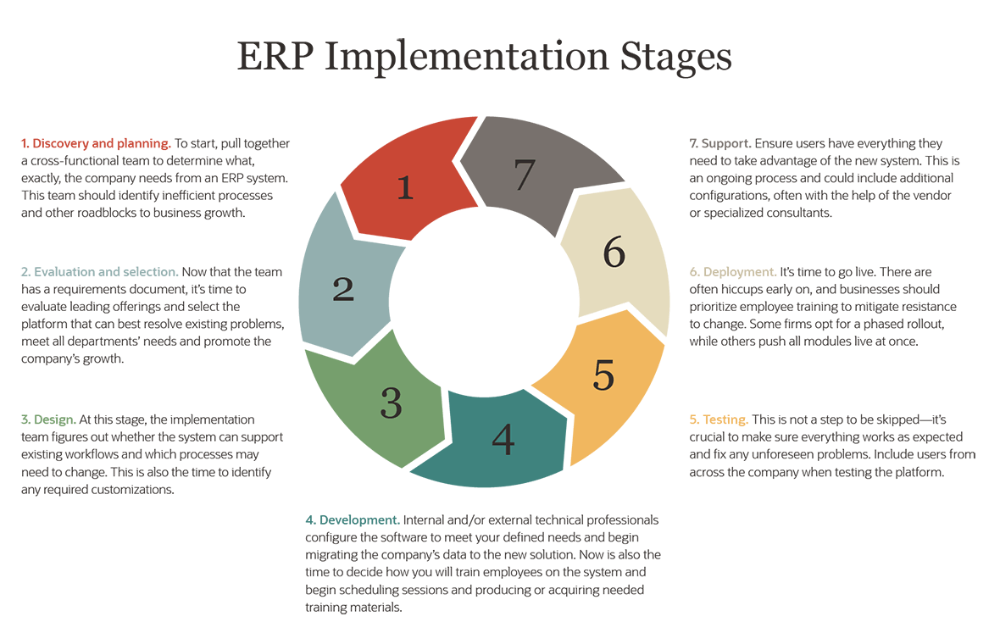 ERP implementation involves multiple stages. Source: NetSuite
As we mentioned earlier, an ERP software implementation is a complex project which involves multiple phases, including but not limited to:
Discovery and planning
Design and development
Data migration and testing
Ongoing support and post-launch updates
That means to successfully implement an ERP software for your portfolio companies, your PE firm needs to identify and establish the right project manager for the job.
Your project manager must possess the ability to set realistic expectations, establish timelines and milestones, and assign individual roles to the right people for each phase to ensure every objective is carried out successfully and on time.
And since multiple stakeholders within your portfolio companies will be involved in developing and utilising the ERP software once it goes live, your project manager must provide timely, two-way communication to ensure participation and buy-in from everyone that is involved.
In other words, establishing a project manager with a strong grasp on both project and people management skills is critical to the success of the ERP software implementation project for your portfolio companies.
2. Under-allocation of Budget And Cost Overruns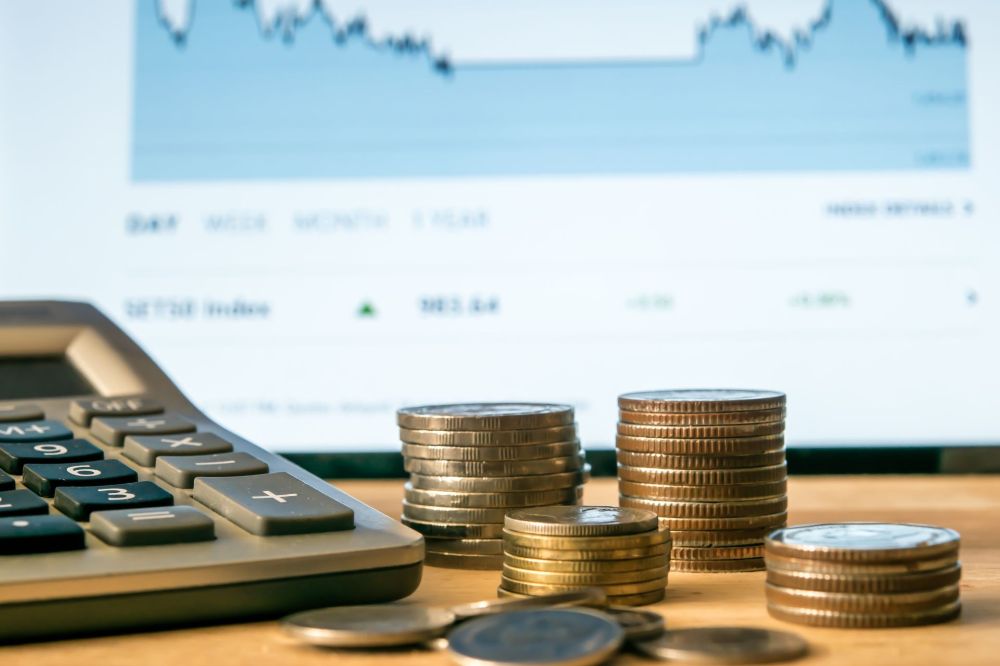 An ERP software implementation project does not come cheap. However, many businesses undertaking such a project tend to underestimate how much time, money, and resources are actually required to move all of their operations unto a new ERP software.
This can lead to issues cropping up during the implementation project itself, which leads to cost overruns, and the actual expenditure bloating over the course of the implementation.
For example, if your portfolio company ends up needing to use the services of the software vendor's consultants more than initially expected due to a lack of in-house resources, that could lead to the project budget blowing up past its estimates.
To avoid this scenario, your PE firm has to get on top of the issue before it ever becomes a problem. You should consider any overlooked expenses that might occur during the implementation, and build in some leeway in the project budget accordingly.
It's also best to ensure that the implementation project is sufficiently staffed, and has a realistic timeline to accomplish every goal and objective that's on the checklist.
Only then will your PE firm successfully carry out an ERP software implementation for your portfolio companies, without facing problems with cost overruns and budget bloat down the line.
3. Overlooking Stakeholder Needs During Change Management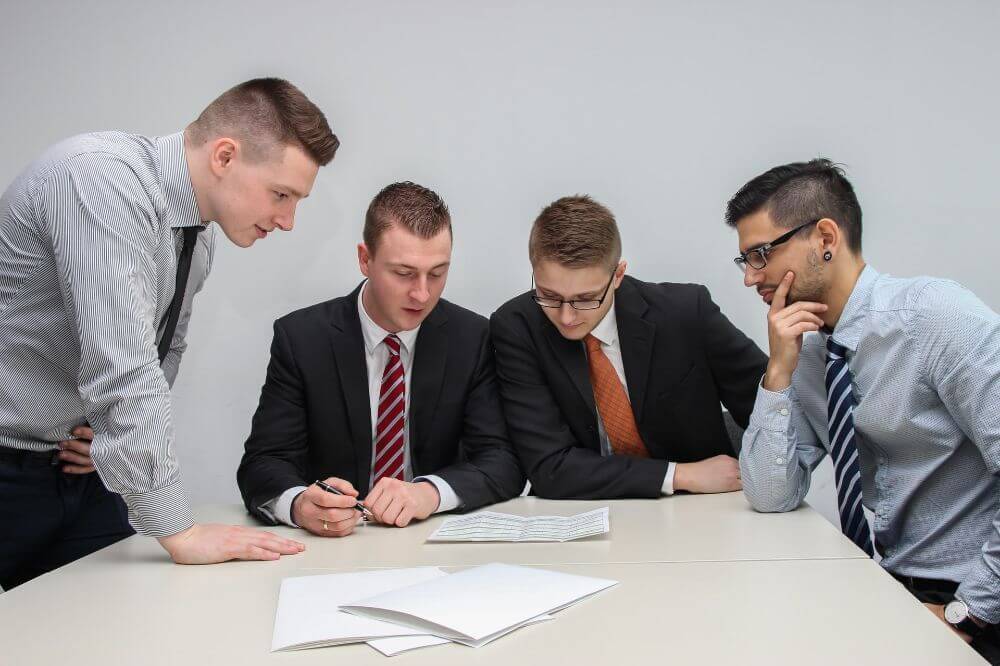 An ERP software implementation project is a major change for the stakeholders in your portfolio companies, as it's going to involve overhauling the entirety of their operations.
These stakeholders are the employees of your portfolio company, who would be most affected by the change as they'll be expected to adapt their work processes to the new ERP software.
Because of this, their resistance to change can pose a challenge to the implementation project. This is why it's crucial that your PE firm gets buy-in from the leadership and stakeholders across departments in your portfolio companies early in the process.
To do this, you'll need to establish an organisational change management approach that focuses on the stakeholders in your portfolio companies.
This will involve the need to communicate the features and advantages of the new ERP software to them throughout the implementation process, especially those who will be the end users of the solution.
You must also arrange for comprehensive training and support to help the stakeholders in the portfolio company to adopt the new ERP software in their work.



A Successful ERP Software Implementation Project Requires Buy-in On No Less Than Three Levels. Find Out What They Are Here.
4. Prioritising The Wrong Features During Project Planning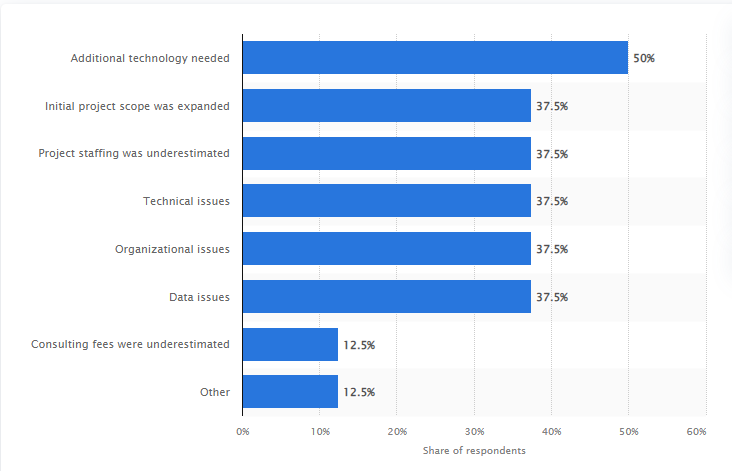 Reasons for budget overage for ERP implementation projects worldwide in 2020. Source: Statista
According to Statista, one of the most common causes of cost overruns in ERP software implementation projects is due to scope creep.
As with any other type of project, scope creep can happen when either your PE firm or the portfolio companies involved lack a clear vision of the goals and objectives to be achieved with an implementation project.
This could tempt your PE firm to choose the ERP software with the most features, which unfortunately leads to investments in tools and features that don't effectively promote the growth of your portfolio companies.
PE Firms Are Turning To Oracle NetSuite As Their Cloud ERP Software Of Choice. Want To Know Why? Click Here.

This is another reason you want to get buy-in from all of the stakeholders involved in the implementation project, especially those in your portfolio companies who would be using the new solution on a day-to-day basis.
Speaking to the managers and department leaders in your portfolio companies will help you and your project managers understand what their pain points are, and what they really need from a new ERP software to resolve them.
With this insight into the needs of your stakeholders, you can then make a realistic project plan that fully takes your stakeholders' needs into account, and also has built-in leeway for any possible issues that might lead to cost overruns in advance.
5. Mishandling Of Data Integration Efforts
A key phase in an ERP software implementation project is the migration of data from your portfolio company's legacy systems into the ERP software's database.
All of this data might be stored in various accounting software, department-specific applications, Excel spreadsheets, and maybe even on hard copies throughout the portfolio company your PE firm is managing.
Because of this, ensuring that the data that's to be migrated to the ERP software is clean, accurate and up-to-date can often be more complicated than your project team might expect.
And if your PE firm fails to plan the data migration properly, it will lead to last-minute scrambles to ensure the integrity and quality of data being migrated to your portfolio company's new ERP software.
This could easily throw the whole implementation project off-course, and impact the go-live date of the ERP software.
On the other hand, proper planning of the data migration process can = help you keep the implementation project on time and within budget.
It can also present an opportunity for your PE firm to help your portfolio companies eliminate obsolete and redundant data, creating further value for the latter.
6. Failure to Ensure Data Quality And Hygiene

When undertaking an ERP software implementation project for your portfolio company, keep in mind that it – like many other businesses – is likely to have duplicate information stored in their legacy systems.
This would be the result of multiple departments within your portfolio company interacting with the same set of customers, products, and orders, and storing the data separately in their own data siloes.
Worse still, the duplicated information could be stored in different formats. This could lead to inconsistencies such as different spellings for names or addresses.
And the fact that some of this duplicated information could be inaccurate or obsolete, such as in the case of customers or suppliers that have gone out of business, doesn't make it easier.
Because of this, ensuring the data hygiene of your portfolio company prior to migration could become a sizable project for your PE firm in itself.
You'll have to plan for phases such as data validation, identifying and removing duplicate data, and filling in any missing values prior to migrating the entire dataset to the new ERP software during the implementation.
7. Lack Of Post-deployment Maintenance And Improvement
Don't expect an ERP software implementation project for your portfolio company to be a one-and-done effort for your PE firm.
In fact, the project manager and team responsible for the implementation will need to continue managing the ERP software after it has been deployed in the portfolio company.
You can expect issues and challenges to crop up after the go-live date, so make sure your project team is prepared to fix issues in, and configure the ERP software to meet new business requirements as they come.
This also presents an opportunity for your PE firm to continue delivering value for your portfolio companies even after implementation.
As new technology and digital transformation trends emerge, a project team that's actively maintaining the ERP software can find ways to further expand its capabilities to better fit business needs at the same time.
Thus, you should set down KPIs that the project team can use to measure how well the new ERP software fits the portfolio company's processes, and when it's time to enhance its capabilities as necessary.

ERP Software Implementations Offer A Growth Investing Opportunity For PE Firms
An ERP software implementation project gives your PE firm an opportunity to invest in the growth of its portfolio companies, and drive value creation through digital transformation.
But they are not simple to manage, and will require significant investments in time, energy and money for your PE firm.
With projects of this scale, you can expect to encounter hiccups and setbacks in the process. However, with proper management, these will not detail your efforts to optimise the business processes of your portfolio companies meaningfully.
But how exactly does implementing an ERP software help your PE firm standardise its portfolio operations? To learn more about that, click on the image below to find out.