Singapore, November 23 2012 - At this year's SAP Customer and Partner Appreciation Awards 2012, AFON won the best deployment award jointly with our customer, Harley-Davidson Asia Pacific Pte Ltd.
This is the 3rd consecutive year that AFON has won this prestigious award, with Nichiyu in 2010, Kenyon in 2011 and now Harley Davidson in 2012. It reinforces the commitment that AFON places on quality deployments and we will like to thank SAP for their support and recognition.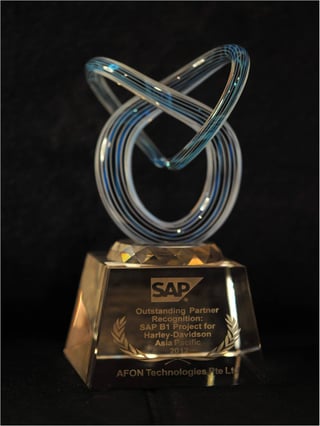 SAP presents the SAP Customer's Appreciation Awards to recognize all its partners and customers who have achieved excellence in planning and executing their SAP projects and programs, delivering significant value to their organizations.

About AFON:
AFON provides the best-of-breed business solutions for the SME market. We believe that all business solutions are designed to fit certain industries particularly well, but not all industries equally well. That's the reason we are the only solution provider in the SME space that offers the four most compelling ERP software: SAP Business One, Microsoft Dynamics NAV, NetSuite and Sage ERP.