AFON Technologies Pte Ltd has officially become a Bronze Partner for LYNQ Limited, which supplies Manufacturing Execution System (MES) solutions.
LYNQ's MES solution integrates with SAP Business One to provide visual planning and scheduling functionalities, as well as comprehensive manual and automatic data collection and analysis from employees and machines.
This extends AFON's portfolio of solutions by providing comprehensive manufacturing functionalities which digitalises and drives the performance of factories, enabling manufacturing companies to maximise their efficiency, productivity, and profitability levels.
This partnership with LYNQ extends AFON's ability to cater to the business needs of its SAP Business One customers in the manufacturing industry, by providing a solution that integrates with the ERP software to provide essential features and functionalities in the manufacturing process.
"We are excited to work with LYNQ to provide much-needed functionalities for our customers in the manufacturing industry," said Simon Soh, General Manager - SAP at AFON Technologies Pte Ltd.
"Through this partnership, we aim to provide a comprehensive solution that optimises the manufacturing processes of our customers with the integration of LYNQ MES and SAP Business One."
A Quick Introduction To LYNQ MES
Source: YouTube
LYNQ is reinventing the manufacturing execution system (MES) solution, to help manufacturers around the world thrive in the competitive market of today.
To help your manufacturing business achieve its delivery, quality and financial goals, LYNQ's MES brings the following core features to the table.
Planning and Scheduling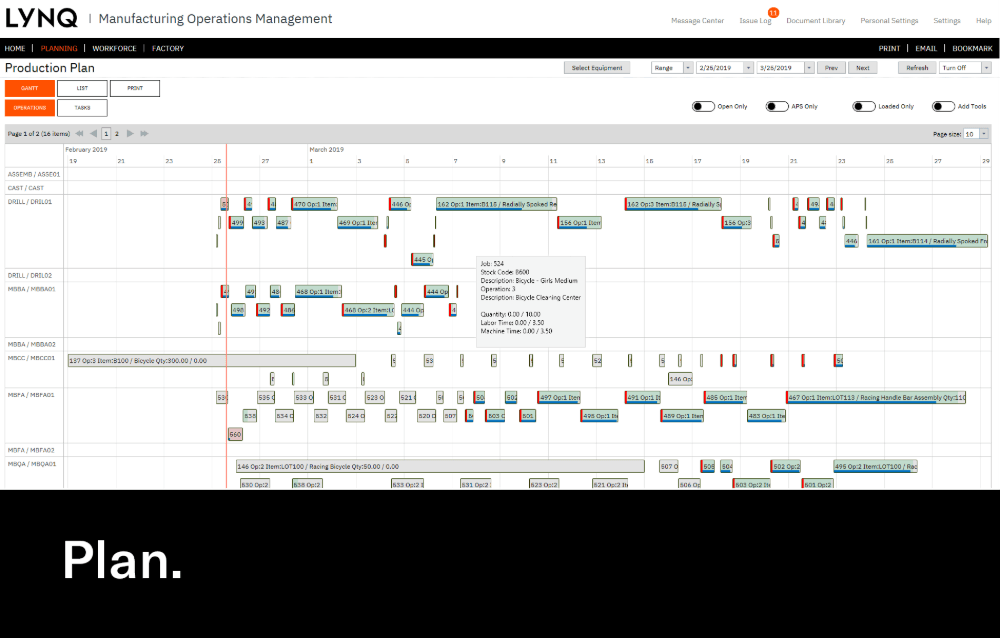 Source: LYNQ
With LYNQ MES, you can schedule your workflow quickly and accurately while minimising downtime in your business. It comes with the following features to help you effectively plan your workflows, and schedule your resources:
Resource Management
Detailed Scheduling
Materials Planning
Capacity Planning
Online Production Plans
Interactive Job Lists
Real-time Data Tracking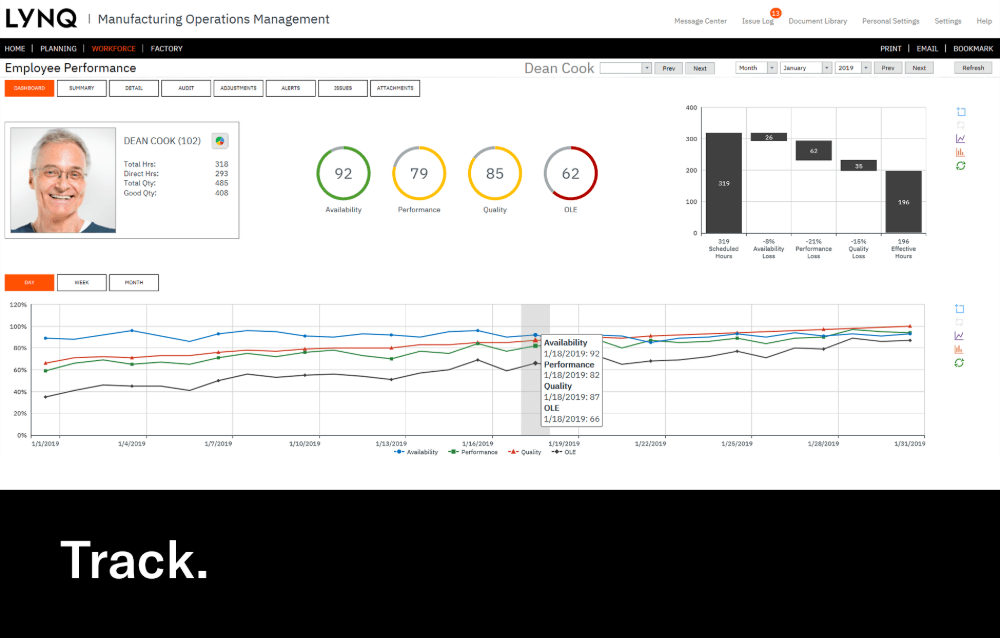 Source: LYNQ
LYNQ MES includes shop floor data collection capability (SFDC) from your employees and equipment. These features give your frontline managers the full visibility and control over the shop floor that they need to resolve issues:
Job Management
Materials Management
Time and Attendance
Real-time Tracking
Performance Monitoring
Supervisory Control
Automation Of Data Capture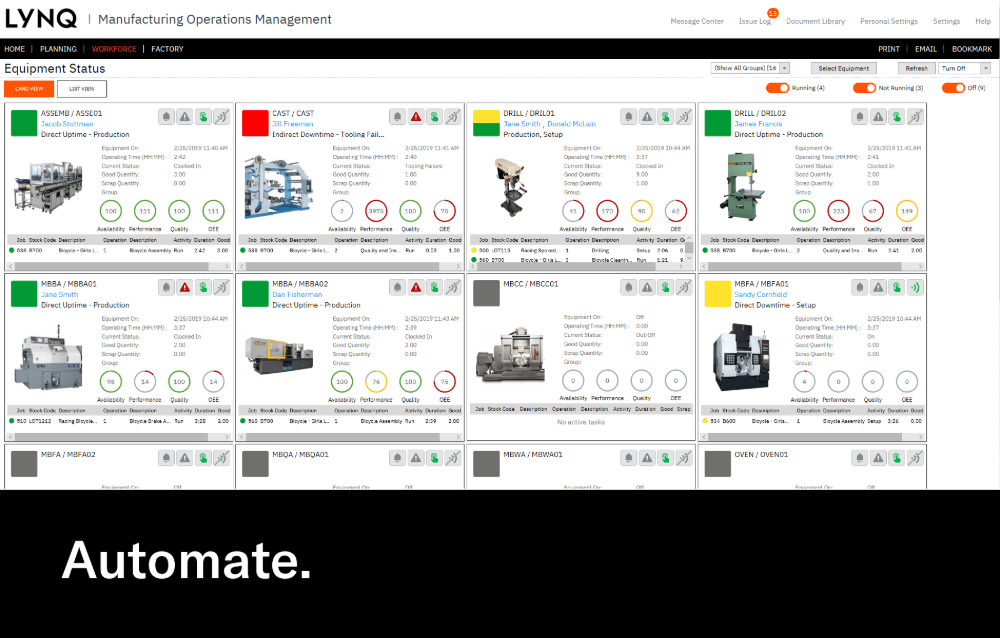 Source: LYNQ
LYNQ MES provides the platform to digitalise your factory, and enable your manufacturing business to thrive in Industry 4.0 with the following features:
140+ industrial device drivers (PLC/IO)
Automatic Data Collection
Human-Machine Interface (HMI)
Data Management
Performance And Loss Analytics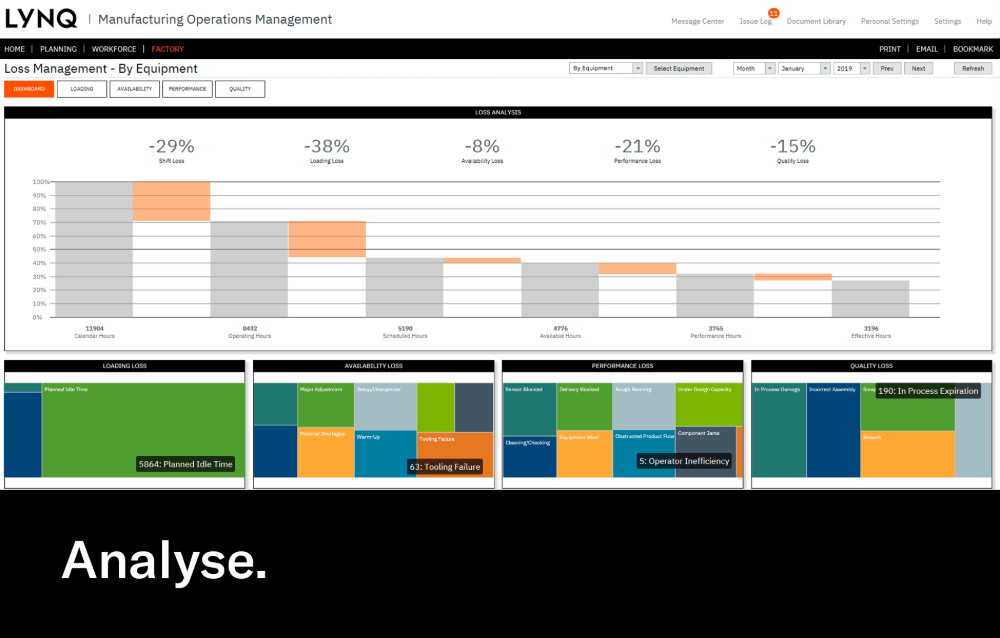 Source: LYNQ
LYNQ MES provides performance and loss analytics tools out-of-the-box, to give you the intelligent insight and visibility of lost time you need to improve the efficiency, productivity and profitability of your manufacturing business. These include:
Factory Performance (TEEP)
Equipment Performance (OEE)
Employee Performance (OLE)
Product Analysis
Loss Visualisation
Workflow Optimisation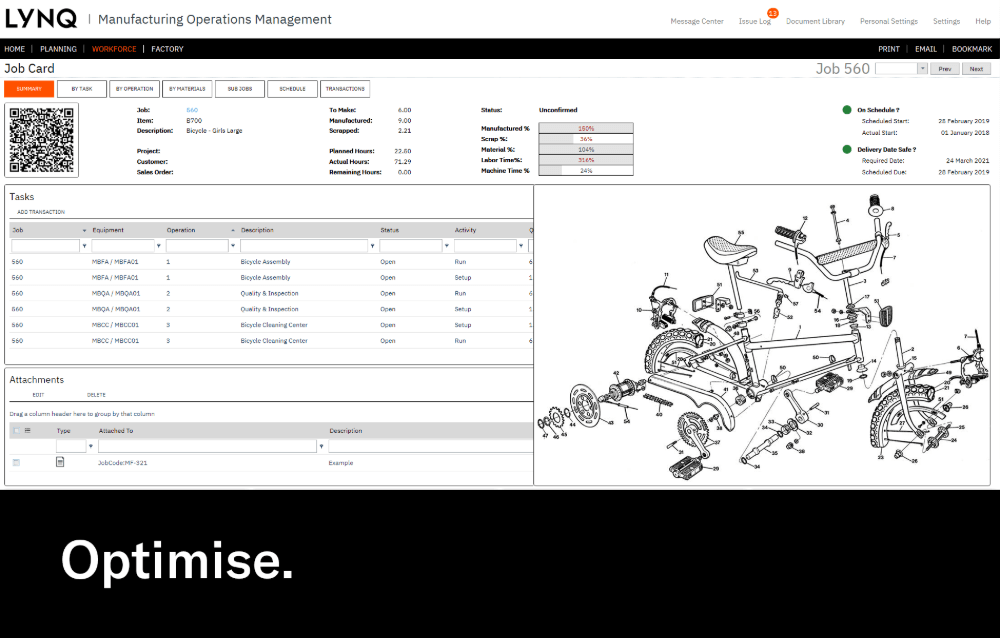 Source: LYNQ
LYNQ MES provides measurement and analysis metrics that help you optimise your workflows, by seamlessly connecting your planning with your production activities. These include:
Instant Messaging
Configurable Alerts
Issue Management
Paperless Shop
Questions About LYNQ MES Or AFON?
Are you looking for a solution which can automate and optimise the processes of your manufacturing business?
In that case, our new partnership with LYNQ MES may just be what you're looking for.
It's designed to be easily integrated with our ERP software solutions like SAP Business One, giving you a solution that can be quickly deployed and employed to resolve your business needs as soon as possible.
If you'd like to know more about SAP Business One, do give us a call at +65 6323 0901, or schedule a free consultation with us today!