Shopping has always been the national pastime of many Singaporeans, which is probably why Singapore is a major market for eCommerce in Southeast Asia.
Nothing underscores this more than how our little red dot ranked in the top 10 of countries that bought from mainland Chinese vendors on Alibaba in this year's record-breaking Singles' Day sales.
And that's only the beginning of a months-long online shopping spree, as not only does eCommerce sales volume peak during the Christmas holidays (which is coming very soon), it will remain high all the way through to the Chinese New Year period.
With almost three quarters of the Internet-using population in Singapore regularly purchasing products and services online, and spending an average of US$1,000 each – more than the global average of US$634 – you'll almost certainly need to focus on eCommerce if you're to capitalise on the festive shopping season.
To that end, you may have started selling your products and services on major eCommerce platforms such as Lazada and Qoo10, or built an eCommerce website for your own business through solutions such as Shopify, to offer your potential customers an online retail experience.
But if you want to achieve success in eCommerce retail, your business must be capable of meeting the expectations of Singapore's online shoppers, which includes;
The ability to shop online through a variety of mobile devices, from mobile phones to laptops,
The availability of same-day or next-day deliveries for purchased products,
A flexible and convenient shopping experience, such as the ability to select a delivery location that works best for them, and
A return policy that makes it easy for them to return unwanted products,
To meet these expectations, your business will require a robust backend logistics infrastructure to process and deliver your customer orders.
But although your eCommerce platform can handle customer-facing processes, they generally don't offer key features for managing other business functions.
That's why you may be struggling with various issues in your backend logistics that are hampering your eCommerce efforts.
Luckily, modern ERP systems are capable of managing business functions that your eCommerce platform aren't designed for, and can even complement the latter by integrating it with the backend of your business operations.
Here are some ways you can use ERP to complement your eCommerce platform, and take advantage of the festive shopping season to its fullest.
Connect Your Shopify Store With Your Microsoft Dynamics 365 Business Central ERP With The Scaptify Connector. Click Here To Find Out More.
1. Prevent Data Errors And Boost Productivity By Integrating eCommerce And Other Functions With ERP Software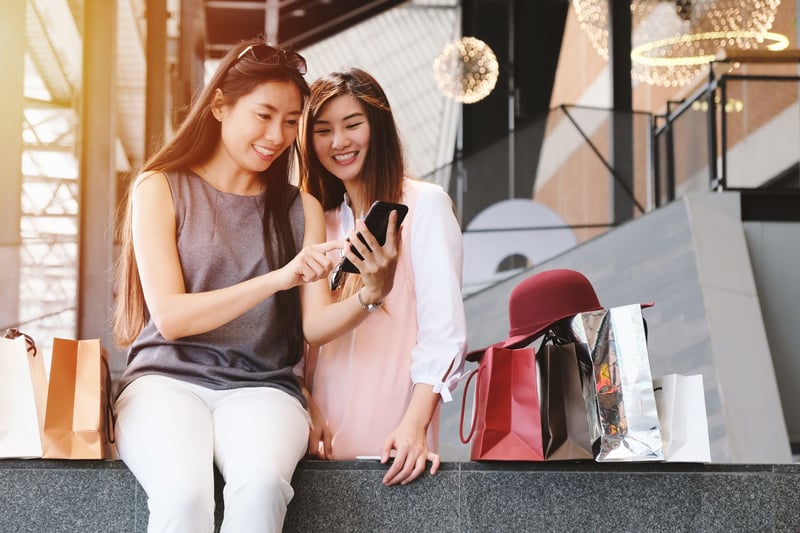 Your eCommerce platform may cover customer-facing processes such as sales, marketing and customer service functions, and generally support your sales strategies well enough.
But they're not designed to integrate with other business functions, which means that if your business is solely reliant on one to manage its online sales channels, your employees have to switch between several other applications to manage and transfer data between other business functions.
And since they're doing it all manually, this hampers the overall productivity of your business processes as a whole, and are likely to impact the accuracy of your product data.
This in turn could cause inaccuracies and contradictions between various versions of your product descriptions and content across multiple sales channels, which may lead your potential customers to question the reliability of the information they're presented with.
As such, this is no way to handle omnichannel eCommerce retail, especially during the festive season. But how can ERP help you in this regard?
By integrating an ERP software with your eCommerce platform and other systems within your business, it allows all of your systems to share critical business data with each other without your employees needing to transcribe data from one system to another.
This means you'll eliminate human errors in your product data, ensuring that each and every one of your sales channels reflect a single version of the truth.
Integrating your systems with an ERP software also helps you reduce the costs of your IT processes, as you only need to train and onboard your employees on a single system instead of multiple disparate applications.
Through this, we can see how using an ERP software to integrate your eCommerce platform with your other business functions is fundamental to enabling a properly-managed omnichannel retail strategy.
Let's now take a closer look at some specific benefits that can be acquired by integrating ERP with eCommerce.
2. Provide An Omnichannel Customer Experience By Using ERP To Integrate Customers' Data
Just because your potential customers are more willing to buy during the festive season between Christmas and Chinese New Year, doesn't mean that it's easier for you to sell your products and services to them.
That's because online shoppers are used to a seamless retail experience throughout their transaction with your business, while shifting from one of your sales channels to another at various points.
And they will get frustrated if your sales channels fail to provide that seamless experience, because they're not sharing the customer's transaction history between each other and thus fail to anticipate said customers' preferences.
It can result in lost sales and revenue for your business if your potential customers abandon their transactions, which you can't afford especially during the festive shopping season.
To meet the expectations of your customers these days, you need to adopt an omnichannel retail strategy that offers your customers the same experience across multiple channels, allowing them to switch from one to another seamlessly throughout the course of their buyer's journey.
And this can only be done by integrating every bit of data about a customer and their interactions with your business, and create a single customer profile that all of your sales channels can access to see the customer's transaction history with your business.
Today's Retail Businesses Achieve Success By Leveraging Big Data. Find Out How They Do So With Some Real-Life Examples.
While some eCommerce platforms may offer third party integration with any other sales channels in use by your business, it's not what they're intended to do.
This means that using an eCommerce platform to integrate your other sales channels may not be a smooth process, and can result in errors and interruptions that could affect your delivery of omnichannel customer experience all the same.
However, an ERP system is designed specifically for the task of integrating data from all your systems – including customer transaction histories – on a single platform, which means they're ideal for supporting your omnichannel customer experience delivery.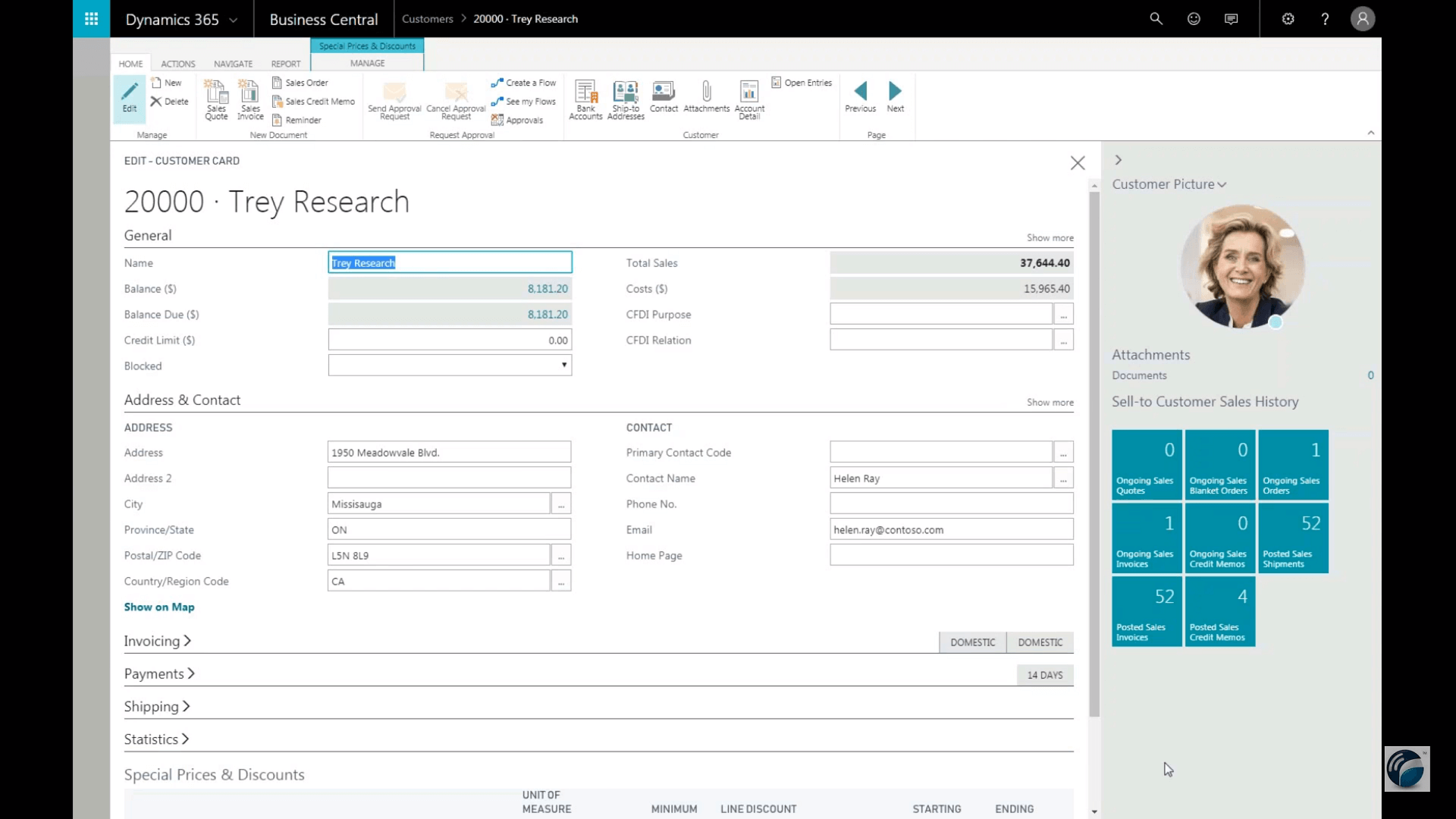 Microsoft Dynamics 365 Business Central gives you quick insight into your customer's data
For example, Microsoft Dynamics 365 Business Central comes with relationship management features that helps you manage your sales efforts, and gives you a precise and timely overview of your customer's data.
This helps inform the design of personalised customer experiences for each of your customers, allowing you to serve their needs more effectively and get increased customer satisfaction.
Apart From Enhancing Your Customer Service Strategies, Microsoft Dynamics 365 Business Central Can Do So Much More. Get Your Fact Sheet About Business Central Here.
3. Facilitate Omnichannel Inventory Management By Using ERP To Integrate eCommerce Platforms With POS Systems
With the anticipated rise in sales volume, you may be concerned about maintaining your inventory levels at an optimal level throughout the festive shopping season.
After all, you wouldn't want to let down your customers with stock-out situations, nor would you want to end up with excess unsold inventory tying up your capital.
And while some eCommerce platforms have apps and plug-ins for integrating POS systems and provide offline stock tracking capabilities, their focus on online retail means they don't offer real-time visibility across your entire supply chain.
Without this real-time insight, you're left with your best estimates on how much inventory your business needs to carry, based on past trends from the festive periods of previous years.
But as if striking the right balance between insufficient and excess stock in your inventory isn't difficult enough, trying to manage it across multiple sales channel makes it so much harder.
This is mostly because many businesses start with separate inventory management streams for each channel, which makes managing all of them even more challenging as the business grows.
To make omnichannel inventory management feasible, you need to implement a centralised inventory management system for all of your sales channels, along with real-time data from fed into it from your warehouses.
This would allow you to manage the inventory levels in every channel, fulfill orders from any of them, and reorder goods to replenish your stock in a timely manner to avoid either stock-outs or excess stock.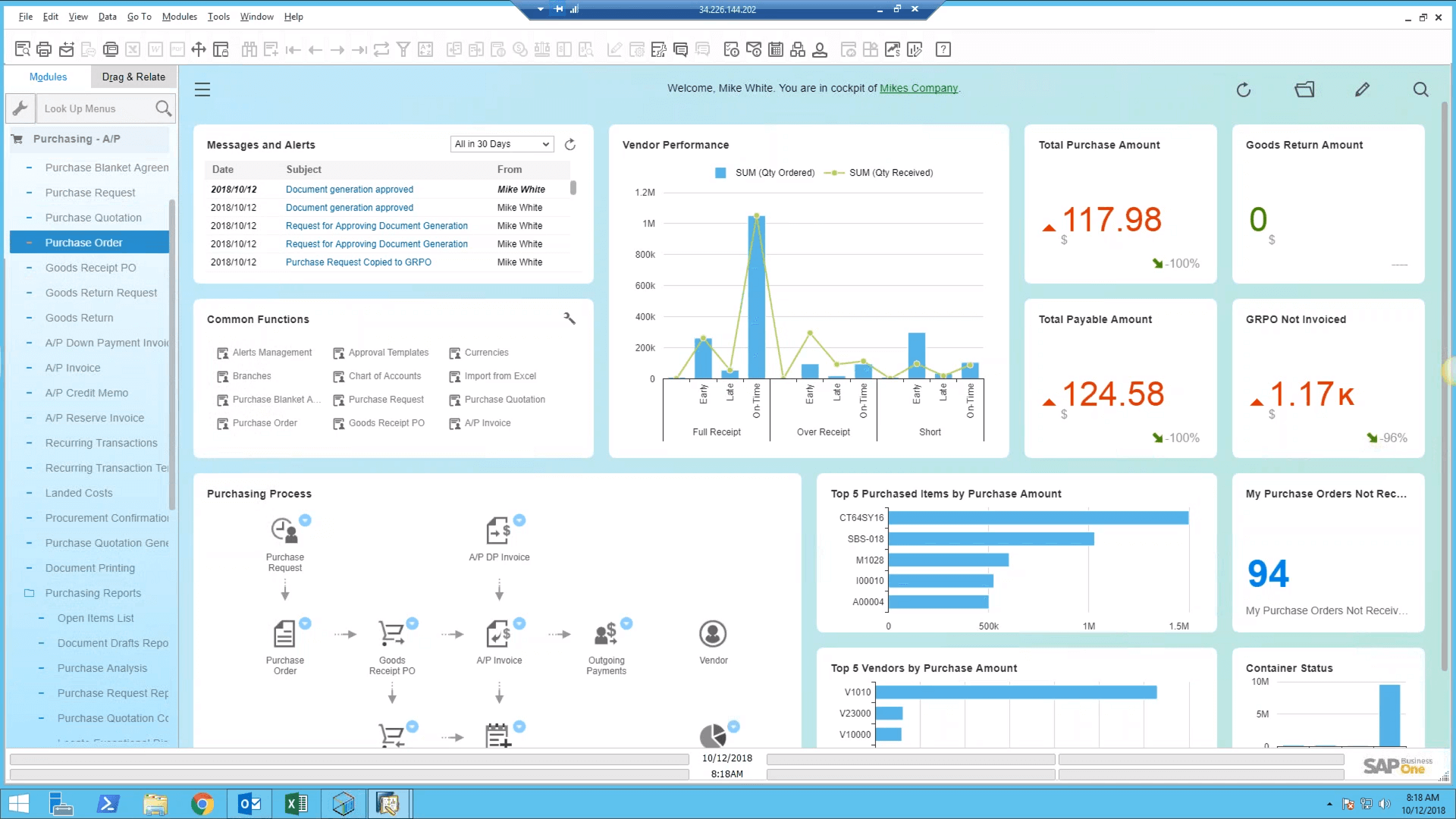 SAP Business One's Inventory Management Module gives you a single view of your inventory and financials,
You can achieve this with SAP Business One's Inventory Management Module, which facilitates efficient inventory management across multiple warehouses in real-time.
The inventory management tools in Business One gives you powerful item management capabilities, by generating up-to-the-minute inventory reports connects inventory and accounting to give you up-to-the-minute inventory levels as soon as you get an invoice.
With real-time updates on your inventory levels, purchase planning is made much easier for you, and you can ensure that all of your sales channels will have inventory on hand for your customers at any time.
ERP Software Can Help You Keep On Top Of Your Inventory In The Run-Up To Chinese New Year. Read This To See How You Can Improve Your Inventory Management And Reporting With Best Practices Made Possible By Modern ERP Systems.
4. Enhance Cross-channel Order Fulfillment By Using ERP to Consolidate Business Activities Across All Channels
Making a large number of sales during the festive season is one thing, but following through with fulfilling your customers' orders is where the hard part begins.
That's because the increased sales volume you can expect during this time also means an increased number of customer orders you'll need to fulfill in a timely manner.
And eCommerce platforms, being primarily a sales channel, don't typically have features for automating backend business functions within your supply chain, warehouses, or packing and shipping.
You'll need to use third-party fulfillment software to handle order fulfillment, and it would still require integration with your eCommerce platform to work properly.
Alternatively, you can use ERP software to consolidate your business activities across all of your sales channels, from your eCommerce platforms to your brick-and-mortar outlets.
This would not only reduce the time and effort that your business needs to process and fulfill each order, it would also let you offer cross-channel services such as online payment options and returning online purchases in-store to enhance your customers' shopping experience.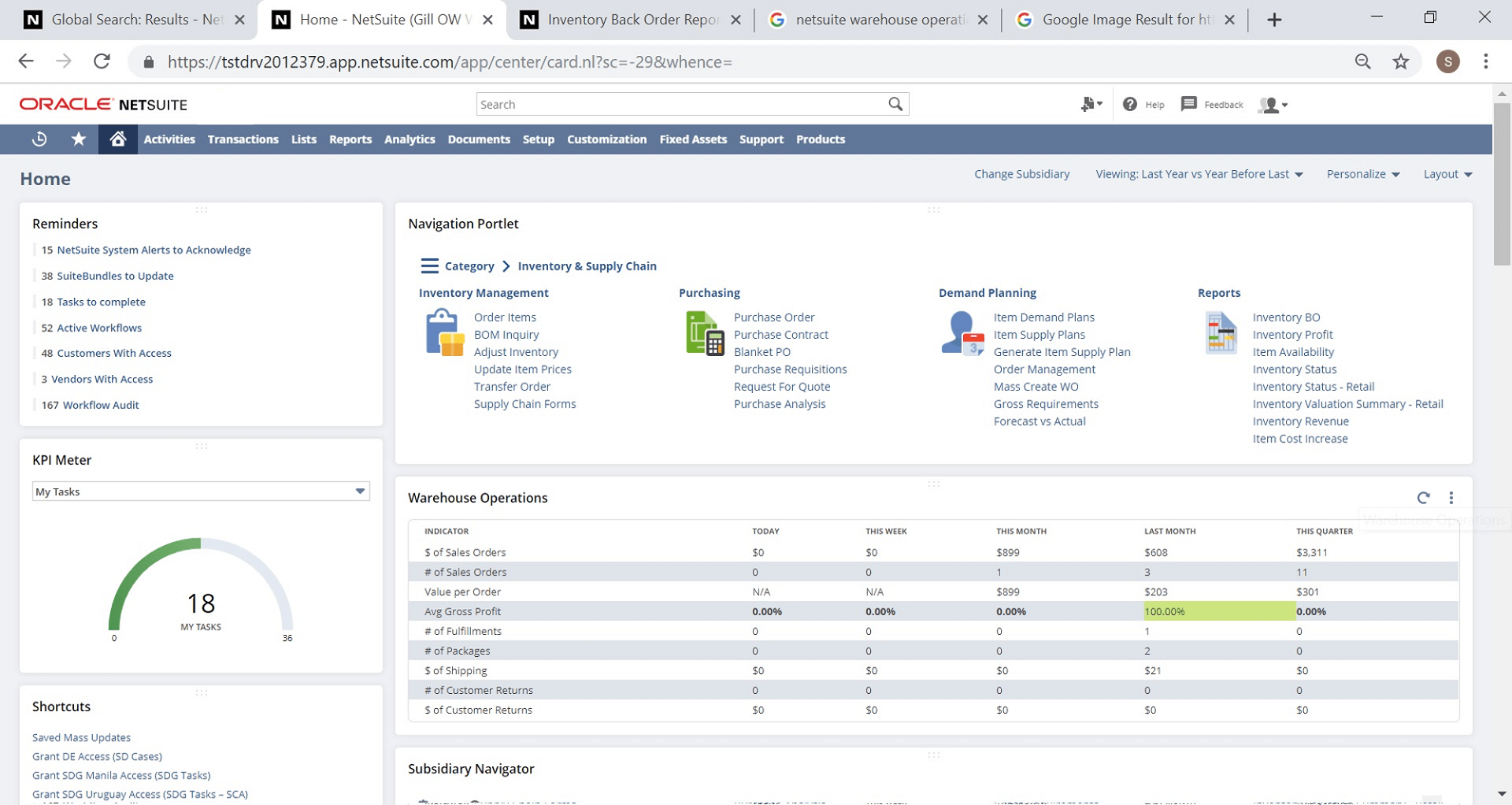 Oracle - NetSuite's WMS functionalities help you deliver on time while minimising your total cost of operations (TCO).
Oracle – NetSuite's Warehouse Management System (WMS) is a powerful tool that helps you manage all resources within your distribution operations optimally, while keeping down costs.
Through advanced capabilities like wave management, cartonization, real-time inventory updates and integration with shipping systems, NetSuite provides out-of-the-box integration with leading carriers such as UPS and Fedex to ensure that your customer orders are fulfilled on time.
How Do You Build A Winning Supply Chain Formula For Your Business? Read Here To Find Out More.
Get Your Business Ready For The Festive Shopping Season
To summarise, while eCommerce platforms alone lack features for managing backend business functions that affect the quality of the customer service your business can offer, ERP software can complement them through integration with other IT systems in your business that handles these processes.
Through such an integration, your business will be able to offer a truly omnichannel customer experience tailored to your customers' preferences, manage inventory through all of its sales channels from a single interface, and fulfill your customers' orders in a prompt and timely manner.
With that, AFON wishes you a Merry Christmas and a Happy New Year!