Microsoft Power BI offers two primary licensing options: Power BI Pro and Power BI Premium. Choosing the right license for your business can significantly impact your ability to analyze and visualize data effectively.
Power BI Pro provides a comprehensive set of features that cater to the needs of most individual users. However, it's important to consider your organisation's size, requirements, and budget before choosing between Power BI Pro and Power BI Premium.
It's important to evaluate your organization's budget and data analysis requirements to determine whether the per-user subscription of Power BI Pro or the capacity-based subscription of Power BI Premium aligns better with your needs.
In this article, we will explore the differences between Power BI Pro and Power BI Premium, enabling you to make an informed decision that aligns with your business needs.
We Looked Into The Various User Licenses Available For Power BI, And Discussed Which Of These Would Work Best For Differing Business Needs. Click Here To Learn More.
What does Power BI Pro And Premium Each Bring To The Table?
Introducing Microsoft Power BI; Source: Microsoft Power BI
Power BI Pro
Power BI Pro is designed for individual users who require advanced analytics and reporting capabilities.
With a Power BI Pro license, users can visualize data with live dashboards and reports, share insights and collaborate with others across the organization,vonnect to various on-premises and cloud data sources, and create interactive reports and 360-degree dashboards.
Power BI Pro is available as a per-user subscription, priced at US$10 per user per month.
Power BI Premium
On the other hand, Power BI Premium is geared towards organizations that require enhanced performance, scalability, and advanced AI capabilities amongst others.
It also offers additional benefits such as increased storage sizes, higher refresh rates, and other performance capabilities based on workload requirements. It provides a dedicated capacity for your organization, eliminating the need for per-user licenses for content consumers.
Power BI Premium is available as a per-user subscription, priced at US$20 per user per month. It also offers a capacity-based subscription at a price of US$4,995 per month, and offers dedicated resources for enhanced performance and scalability.
Power BI Pro vs. Premium – Key Features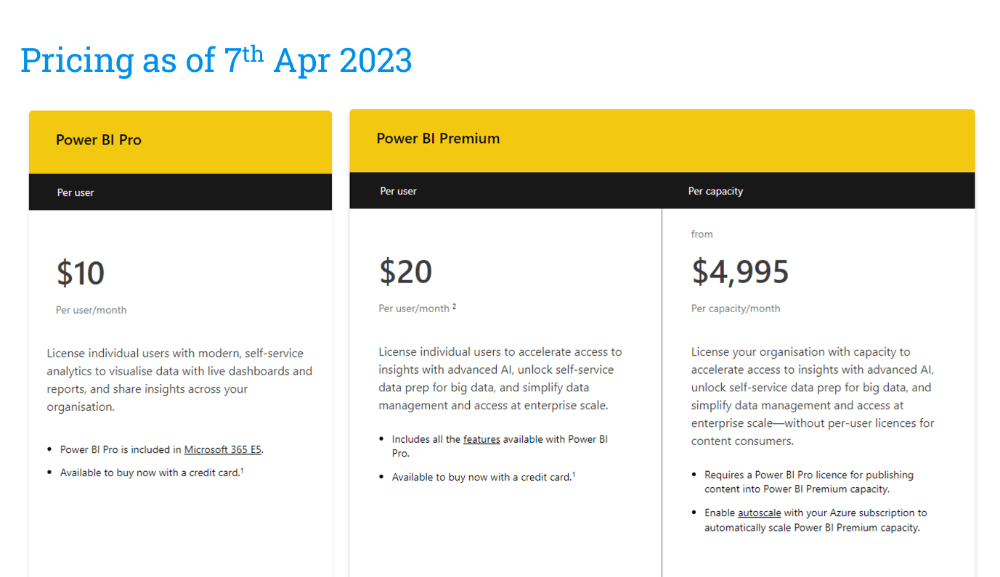 Comparing Power BI Pro with Power BI Premium ;Source: Microsoft Power BI


Let's take a closer look at the key features offered by Power BI Pro and Power BI Premium;
Power BI Pro
With the Pro license, you can generate dashboards and reports as interactive visualisations of your business data, just like with the free Desktop licenses. However, you also get the ability to share your visualisations with other end users across your business.
Those other end users can also share any reports and dashboards they created with you. This enables you to collaborate and work together with them on data analysis.
In addition, Power BI Pro connects to a wide range of data sources including both on-premises and cloud-based systems, giving your end users full access to all of that data. And they can leverage the AI capabilities that come with Power BI Pro to help them acquire deeper insights, and uncover patterns within the data generated by your business.
Take A Look At Our Highlights From Our Webinar, "How To Leverage Power BI For Faster And Smarter Reporting"
Power BI Premium
With the Premium license, you get everything that's also included with the Pro license. In addition to that, you get more advanced features and functionalities for the premium price as well.
This includes advanced AI capabilities which enable your business to leverage machine learning (ML) algorithms in Power BI, as well as predictive analytics. With a Premium license, your end users can also perform self-service data preparation on large datasets, which makes it easier for them to analyse and derive insights from big data in your business.
Power BI Premium also offers enterprise-level simplified data management and access, which can help streamline your workflows and improve the effficiency of your data analysis processes.
And last but not least, with the per-capacity subscription, you get access to Power BI's autoscaling functionality. This allows you to integrate Power BI with your Microsoft Azure subscription, which ensures you'll maintain optimal performance with the tool even during peak usage hours.
How Do You Choose Between Pro And Premium?


Comparing Microsoft Power BI Pro With Power BI Premium
In our recent webinar, one of the topics that our speaker Ho Bing Zhao talked about are the prices for both types of licenses, and the features and functionalities that come with each tier of Power BI.
Take A Look At Some Of The Highlights Of Our Webinar On Microsoft Power BI, And How You Can Leverage It To Achieve Faster And Better Reporting.
The Power BI Pro license is available at US$10/month per user, and is capped at a model size limit of 1 GB; this means you can only use datasets with a total memory requirement of 1 GB or less.
The Pro license also offers a data refresh rate of 8 per day, which is plenty for the data visualisation needs of most businesses. Because of this, you should choose Power BI Pro if you need analytics capabilities for a set number of end users within your business, and have to work within a set budget.
On the other hand, the Power BI Premium license comes in two types; per user, and per capacity. For the first type, it costs US$20/month per user.
For this higher price point, you get a model size limit of 100 GB, and a refresh rate of 48 per day. This makes Premium the ideal choice for businesses that conducts hundreds or even thousands of transactions every day, and thus need the most up-to-date data on an hourly or even half-hourly basis.
The Premium license also comes with advanced AI functionalities, such as text analytics, image detection, and automated machine learning (ML) to help you uncover the insights you need from such a massive volume of data. And if you'd like your IT personnel to create and provision a data warehouse specifically for your business, Power BI Premium also enables it with the datamart creation functionality.
Lastly, if your business is large-scale enough that its data analytics needs can fluctuate significantly during the workday, you might want to go with the per-capacity version of the Premium license. The autoscale functionality that this license offers ensures that Power BI will always have enough capacity to meet your business's peak usage demands.
In short, if your business as extensive data analysis needs, it's worth shelling out more for the Premium per-user or per-capacity licenses.
Choose The Right Power BI License For Your Business Needs
Choosing the right Power BI license is essential to meet the data analysis needs of your business. The Pro license generally offers adequate features and capabilities for the needs of most businesses, and does so at a reasonable price range.
On the other hand, if your business happens to be large enough to require extensive data analytics capabilities, such as advanced AI and autoscaling, you might want to consider paying the asking price for the Premium license, whether per-user or per-capacity.
To find out more about how we can help you with Power BI, do drop us an enquiry here and our consultants will get back to you shortly. Alternatively, give us a call at +65 6323 0901.
Or, if you'd like to find out more about how Microsoft Power BI can transform your data into easily digestible and actionable insights for your business, click on the image below to download our free, all-in-one guide to Power BI today.