Microsoft Dynamics 365 Business Central
Connect your financials, sales, operations, and services for faster processes and smarter decisions in the Cloud.
Streamlined Insightful Financials
Speed up financial processes including reporting and closing, without compromising on accuracy. Business Central also gives you more accurate forecasts that you can use to make smarter decisions about your business.

It automates time-intensive processes like reporting and book closing, so you've more time to analyse your data. With its built in tools, you can slice-and-dice your data, and analyse it across multiple dimensions.
Data for Smarter Decisions
Connect data across accounting, sales, purchasing, stock, & customer interactions for a holistic view of your business. See performance in real time with Power BI dashboards.
Speed Up Reporting & Closing
Streamline accounts receivables & payables, & automatically reconcile accounts for closure & financial reporting, while maintaining accuracy & compliance.
Built-In Slice-&-Dice Analysis
Refine financial forecasts by modelling & analysing data across multiple dimensions. Customise reports using seamless Microsoft Excel integration.
Automated Supply Chain Management
Avoid losing sales while avoiding overstock, stretch your payables, and secure greater control over the purchasing process - so you save costs throughout the supply chain.

Get smart recommendations about your stock levels and lead times, when you should reorder new stock, and when you should pay your suppliers to enjoy discounts or avoid penalties. Standardised purchasing workflows also enforce approvals to reduce needless and fraudulent purchases.
Stretch Your Payables
Use built-in intelligence to predict when & what stock items to replenish. Maximise profitability by purchasing only what you need with dynamically updated stock levels.
Avoid Lost Sales & Wastages
Maintain the right amount of stock by automatically calculating stock levels, lead times, & reorder points. Suggest substitutes when requested items are out of stock.
Maximise Profitability
Get recommendations on when to pay suppliers to use supplier discounts or avoid overdue penalties. Prevent unnecessary or fraudulent purchases through approval workflows.
Optimise Sales & Service Strategies
Recognise where the best opportunities lie across the sales cycle. Business Central's also integrated with Outlook, so you can quote and invoice customers without having to leave your inbox — so you can respond to customers even quicker.

An add-on module makes it easy to manage and track services, from scheduling service calls and resources to estimating and billing — no more spreadsheet wrangling.
Centralise Service Management
Prioritise sales leads based on revenue potential. Keep track of all client interactions & get guidance on best upsell, cross-sell, & renewal opportunities.
Respond to Customers Faster
Accelerate the quote to cash process. Act quickly on sales-related enquiries, manage service requests, & process payments—all from Outlook.
Find Best Sales Opportunities
Gain a comprehensive overview of your service tasks, workloads, & employee skills to effectively assign resources & accelerate case resolution.
Manage Projects On Time & Within Budget
Keep your projects profitable, thanks to detailed planning features and real-time insights into performance metrics.

Business Central's job timesheets give you a single overview of resources, costs (including actual and variance), and project progress - so you can manage everything in one place. The job costing functionality also gives you a more accurate picture of each project's financial value, even if the job is still in progress.
Analyse Project Performance
Make speedy & effective decisions with real-time insight on multiple projects' status, profitability, & resource-usage metrics.
Plan Projects on a Detailed Level
Manage resource levels by planning capacity & sales. Track invoicing for customers against planned costs on orders & quotes.
Keep Projects Profitable and Within Budget
Create, manage, & track customer projects with timesheets, along with job costing capabilities. Develop & control budgets for profitability.
Streamline Operations
Optimise your manufacturing processes while simplifying it, for better visibility of your inventory. With Business Central, you can respond faster to customer demand, without tying up too much capital in inventory.

Business Central can help automate production planning with inventory and sales forecasts, so you get production capacity and resources just right to meet customer demand. You can also track item movements and transactions in detail, making it easier and faster to fulfil orders.
Forecasting to Fulfilment
Use sales forecasts & expected stock-outs to automatically generate production plans & create purchase orders.
Efficient Warehousing
Track every item transaction & movement by setting up bins based on warehouse layout & storage unit dimensions.
Reach Optimal Output Levels
Calculate & optimise manufacturing capacity & resources to improve production schedules & meet demands.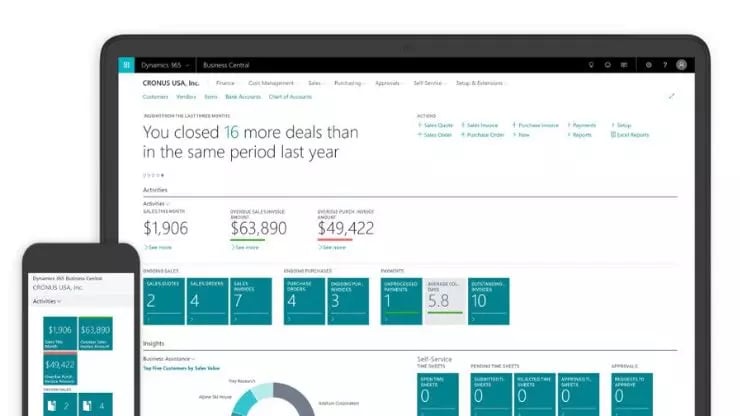 Flexible Deployment Options
Business Central is designed for the Cloud, so you enjoy lower upfront costs and having infrastructure maintained for you, by Microsoft.
But if you would rather host your ERP system on your own infrastructure, Business Central can be deployed on-premise or as a hosted system — and the user experience is almost the same.
Choose Cloud, On-premise, or Hybrid Cloud
Microsoft Dynamics Business Central runs where you need it, in the cloud or on-premises, with the same user experience no matter how you deploy.
Take Your Business on the Go, Anytime
Business Central's mobile app supports cloud & on-premise users with a modern, consistent experience across Windows, Android, or IOS devices.