On 12 August 2021 (Thursday), AFON hosted a joint webinar with Canon and the Infocomm Media Development Authority (IMDA).
The speakers for this webinar were as follows:
Lee Wen Yang, Senior Solutions Consultant at Canon Singapore
Joanne Ng, Senior Manager, E-invoice Project Office at IMDA
Simon Soh, General Manager, SAP at AFON Technologies Pte Ltd
In this webinar, we discussed how you can maximise the profitability of your business by automating your order fulfilment processes, with three different but complementary solutions; the SAP Business One ERP software, Canon's Intelligent Capturing solutions, and the InvoiceNow nationwide e-invoicing network.
Here are some of the highlights of our webinar.
Highlights From "Automating Performance: Intelligent Capturing Solutions"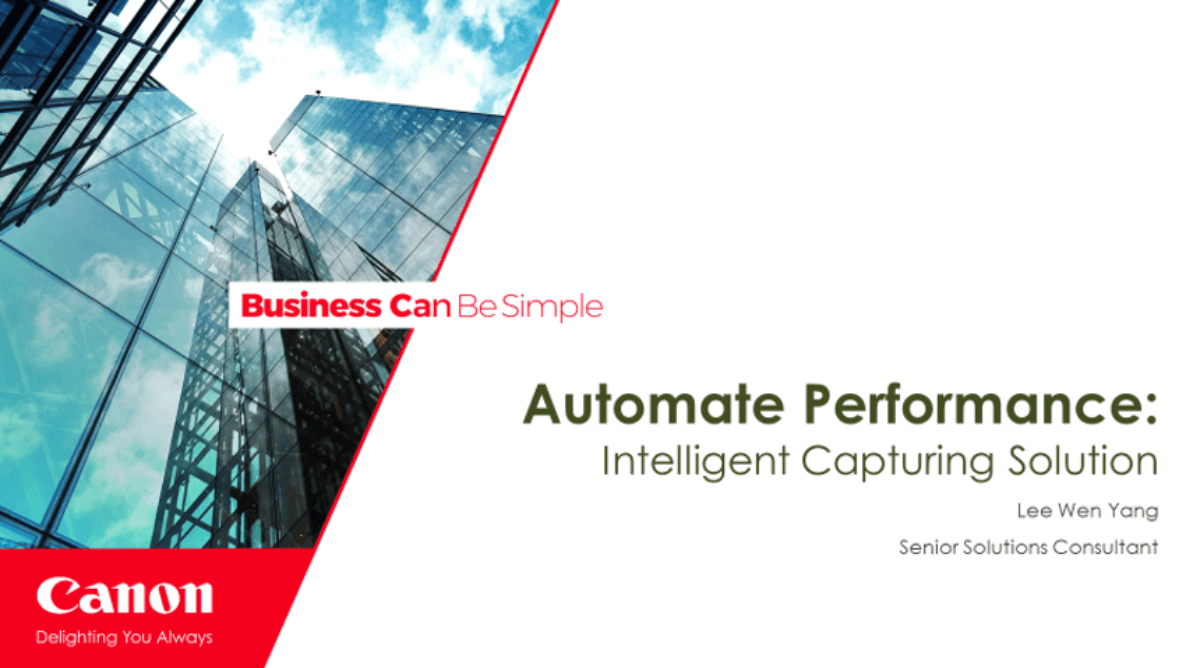 For the Canon segment of the webinar, Lee Wen Yang introduced us to the concept of Canon's Intelligent Document Capture (IDC) solutions.
Because different suppliers use different formats for their delivery orders (DOs), purchase orders (POs) and invoices, optical character recognition (OCR) technology is only the first step towards extracting the necessary data from paper invoices.
Canon Singapore Intelligent Capturing Solution Demo
Canon's IDC solutions are designed to resolve this issue by being layout-independent; that is, it will work on DOs, POs and invoices with all kinds of layout formats.
In the live demo, Wen Yang showed us how Canon's IDC solutions can automatically determine the type of digital document (DO, PO or invoice) uploaded to it, and capture the information regardless of the layout used by the originating supplier.
He also showed how Canon's solutions are smart enough to cross-check your suppliers' DOs with corresponding POs, and highlights discrepancies in data to help you identify data entry errors without fail, and correct them instantly.
Wen Yang also demonstrated how Canon's IDC solutions can be integrated with other software – such as an ERP software like SAP Business One – in order to share data across both systems, and how you can make use of this to validate and ensure the data in your records is correct at the end of the day.
Find Out How Doing Away With Paper Invoices And Automating Your AR Processes Can Optimise Your Billing And Invoicing.
Highlights From "Going Paperless: Joining The InvoiceNow Network"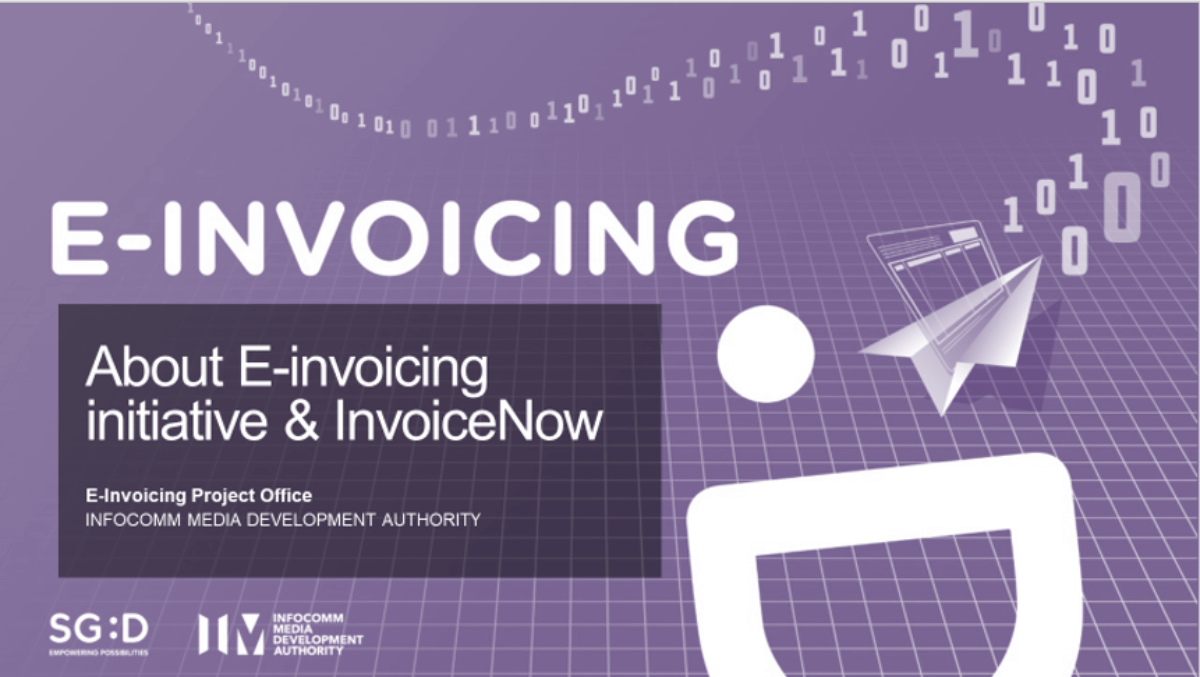 For the IMDA segment of the webinar, Joanne Ng provided a brief introduction of the InvoiceNow nationwide e-invoicing network.
To understand InvoiceNow, it's critical to understand that e-invoicing is not merely using OCR technology to scan paper invoices, sending suppliers a PDF file of a paper invoice, or uploading a digital invoice to an extranet online portal.
In fact, the definition of e-invoicing is the ability to directly send an invoice to the other party via a secure network, without the need for manual intervention (such as manually converting a paper invoice into a PDF).
InvoiceNow - Understanding how the network works
The selling point of InvoiceNow is that you'll be able to connect directly with the financial management systems of your suppliers and customers to send, receive and verify invoices accordingly. This is true, even if either side is using a different system from the other.
Because of this, InvoiceNow greatly optimises your order fulfilment processes by breaking down what would be a tedious invoicing process into 3 simple steps:
Sending an invoice via InvoiceNow to the UEN of your customer.
Your customer receives and verifies the invoice, then makes payment via a digital payment channel.
You're then notified of the payment, completing the invoicing process.
With more than 100 vendors and resellers of accounting and ERP software signing on as partners for InvoiceNow, you'll be able to enjoy the benefits of the e-invoicing network with a significant number of clients.
These benefits includes lower costs, faster payments, and reducing usage of paper to enable an environmentally-friendly way of doing business.
We've Provided Some Answers To Some Of The Most Common Questions About InvoiceNow. You Can Find Them Here.
Highlights From "The Power Of SAP Business One"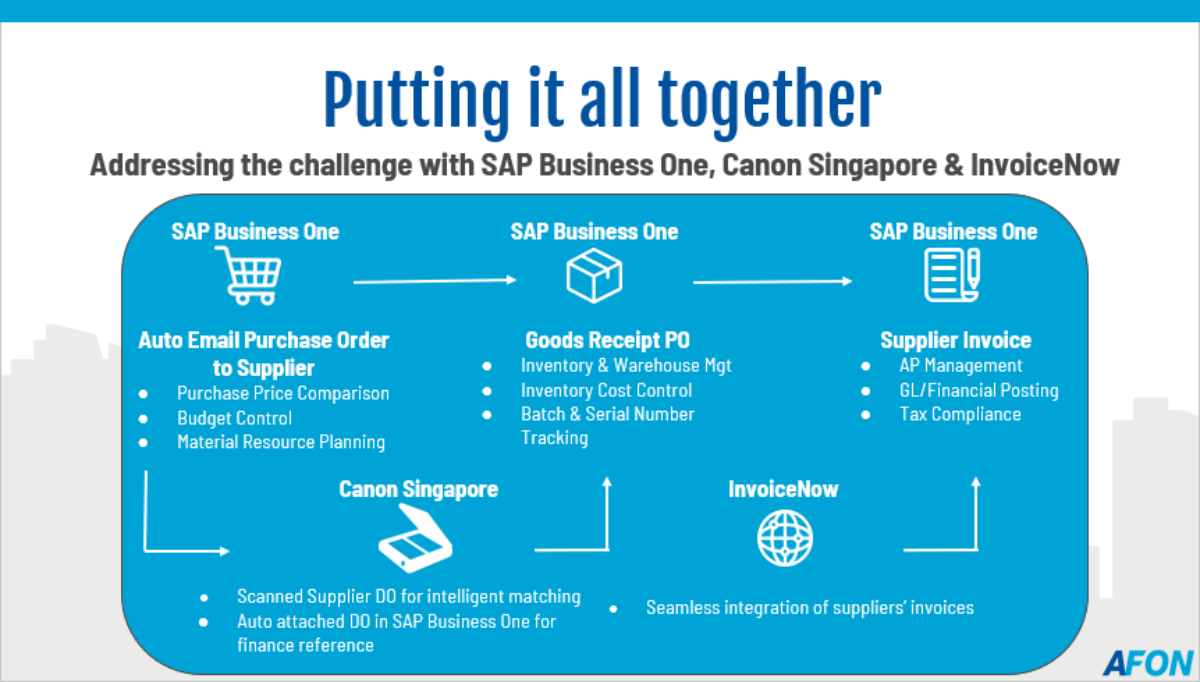 The speaker for the AFON segment of the webinar is none other than Simon Soh, our General Manager, SAP.
In his segment, he showed us how SAP Business One can resolve all of the issues with manual invoicing, and significantly automate and streamline your business's order fulfilment processes by integrating Canon's IDC solutions and InvoiceNow.
For A Refresher On What SAP Business One Is And What It Can Do For You, Take A Look At Our Comprehensive Guide To The ERP Software From One Of The Market Leaders In The Industry.
SAP Business One Demo
In the live demo, Simon demonstrated how SAP Business One offers a Relationship Map of your invoices. The Relationship Map gives you a graphical overview of the various transactions that are linked to a particular invoice, and shows you the entire buying cycle from end to end.
Simon also demonstrated how integrating Canon's IDC solution and InvoiceNow with SAP Business One gives you a unified platform that automates the entirety of your order fulfilment processes.
The procurement process begins when you send a PO to your supplier from within SAP Business One. Once the supplier has delivered the requested goods to your warehouse or retail location, your employee at either location can scan the supplier's DO with an integrated Canon IDC solution.
This triggers a notification for your finance department in SAP Business One, alerting them to the DO being scanned and updating the relevant information in the ERP software.
After the good are received, if both your business and your supplier has InvoiceNow integrated into your respective financial management systems, your supplier can send you an invoice through the e-invoicing network.
Your finance department will subsequently get a notification in SAP Business One, alerting them to the invoice being received from InvoiceNow into the ERP software.
They'll also be able to see a list of these invoices from the e-invoicing network, allowing them to pull up the invoices and cross-check them with your other records.
You Can Also Optimise Your Order Fulfilment Processes By Digitalising Your Inventory Management. Here Are 5 Ways To Do This.
Questions About The Webinar?
We hope that this summary of the webinar has helped you learn more about how Canon's IDC solutions and InvoiceNow, especially when integrated with SAP Business One, can significantly automate your order fulfilment processes, and improve the profitability of your business in the long run.
If you'd like to learn more of the details that were covered in the webinar, the image link below will bring you to the on-demand webinar we have set up just for you.