Microsoft Azure and Amazon Web Services (AWS) are not the only leading names when it comes to cloud Infrastructure as a Service (IaaS).
In Gartner's 2021 Magic Quadrant for Cloud Infrastructure and Platform Services report, Google Cloud Platform (GCP) is ranked as one of only three Leaders in the Quadrant, with AWS and Azure making up the other two.
And while AWS retains the largest share of the market, both Azure and GCP have made gains in their market share since 2018.
Source: Gartner (2021).
Although it is the youngest of the leading cloud services, GCP does have several advantages over its more-established competition in AWS and Azure.
These include strong support for open-source technologies such as containers due to Google's central role in developing the Kubernetes standard – which both AWS and Azure now support.
It also stands out as the cloud platform of choice for customers looking to tap into the machine learning (ML) expertise, that has powered the Google search engine to such a dominant position over the past two decades.
That said, Azure does have several compelling advantages over GCP, which you should keep in mind if you're planning to choose either of these two cloud platforms to transition your business to a cloud computing model.
Let's take a look at three key reasons you might want to choose Microsoft Azure over AWS as the IaaS platform for the cloud computing needs of your business.
Superior Track Record In Serving The Needs Of Enterprise-Level Customers
Source: Microsoft Azure (2018).
Microsoft Azure has a proven track record in catering to the needs of enterprise-level customers, as evidenced by 95% of Fortune 500 companies making use of it.
In fact, according to Gartner in their 2019 iteration of the report, "Enterprises that are strategically committed to Microsoft technology generally choose Azure as their primary IaaS+PaaS provider."
This is thanks to the ease of integration that Azure enjoys with other software products within the Microsoft ecosystem.
Therefore, if your business is one of those enterprises which are already reliant on their products, going with Azure will greatly simplify your sourcing for business software, making it the obvious choice of PaaS for such enterprises.
Source: Google Cloud Tech
On the other hand, although GCP is known for their great track record with cloud-native businesses and standing within the open-source community, it has traditionally struggled to break into the enterprise market.
This is due to Google focusing the market strategy of GCP as a solution for supporting small, innovative projects being carried out in large enterprises, as opposed to being a strategic cloud partner like AWS and Azure.
According to Gartner, "Google's overall enterprise coverage from a field sales and solutions perspective is behind its competitors. Further, enterprises often lament about Google's inability to craft appropriate solutions for enterprise requirements when engaging with solution architects."
That said, Google is currently shifting GCP towards an increasingly enterprise-friendly strategy under its CEO, Thomas Kurian.
Preferential Discounts For Existing Microsoft Customers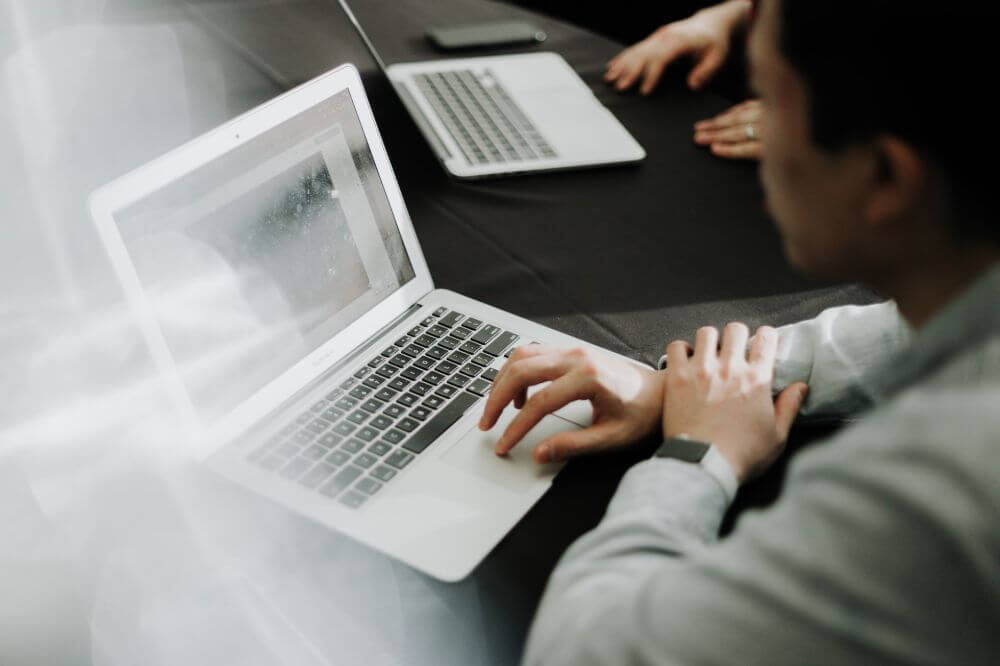 Another reason to choose Azure over GCP is if your business has already signed an Enterprise Agreement with Microsoft, and thus is already using Microsoft software
This makes your business eligible for significant discounts if it opts for cloud computing services hosted on Azure.
Additionally, if your business uses Microsoft software that's hosted on-premises, you can also apply for an Azure Hybrid Benefit discount of up to 40%.
GCP does offer several discounts. For example, if your business uses the same GCP instance for most of any given month, your business would be available for a sustained use discount of up to 30%.
Or if you've made a long-term commitment to use a virtual machine (VM) from GCP, your business could be eligible for discounts of up to 57%.
Nevertheless, if your business is an existing Microsoft customer, you'll find that Azure is probably the more affordable choice for your budget when compared to GCP.
Greater Maturity Of Hybrid Cloud Deployment Options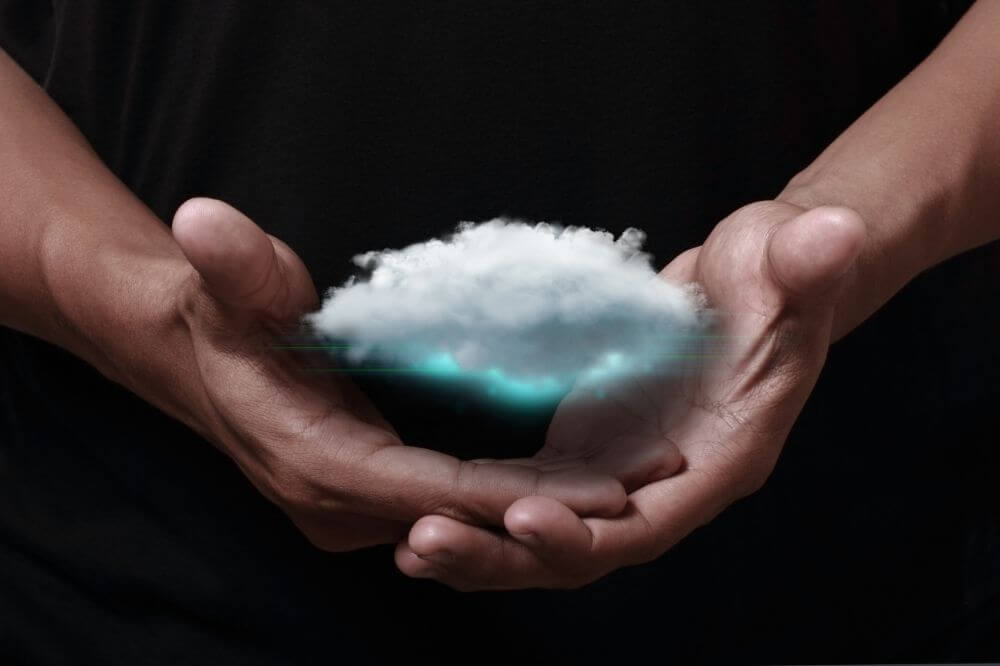 Microsoft's cloud platform has long been the go-to options for customers interested in a hybrid cloud deployment, thanks to the Azure Stack true hybrid cloud computing platform.
First introduced in 2017, Microsoft Azure Stack allowed businesses like yours to retain their most critical data within their own on-premise servers, while being able to access the Azure public cloud at the same time.
And since it also integrates well with other key Microsoft on-premise systems such as Windows Server, System Centre and Active Directory, Microsoft Azure Stack is definitely the hybrid cloud solution of choice for your business.
On the other hand, Google only entered the hybrid cloud market with the launch of Anthos in 2019.
A rebranding of the Google Cloud Services platform which combines the Google Kubernetes Engine (GKE), GKE On-Prem and the Anthos Config Management Console, Anthos is Google's answer to Azure Stack as a hybrid cloud platform which can run applications both on-premise and in GCP.
However, the key selling point that sets Anthos apart from Azure Stack is its multi-cloud capability. According to the article which introduced Google Anthos, "Anthos will let you manage workloads running on 3rd-party clouds like AWS and Azure, giving you the freedom to deploy, run and manage your applications on the cloud of your choice, without requiring administrators and developers to learn different environments and APIs."
This level of interoperability with other cloud platforms is a capability first introduced by Anthos, and makes it easier to adopt if your business is already using another cloud platform.
That said, Microsoft has responded with the introduction of Azure Arc at the 2019 Ignite conference. A multi-cloud management layer, Azure Arc provides a similar capability to Anthos in that it extends Azure Stack to other public cloud platforms, including AWS and GCP.
This means that if you'll like your business to acquire multi-cloud capability while still sticking with Azure and other Microsoft products, you can always choose Azure Arc instead of switching over to Anthos.
Azure Serves Enterprise-level Business Needs Better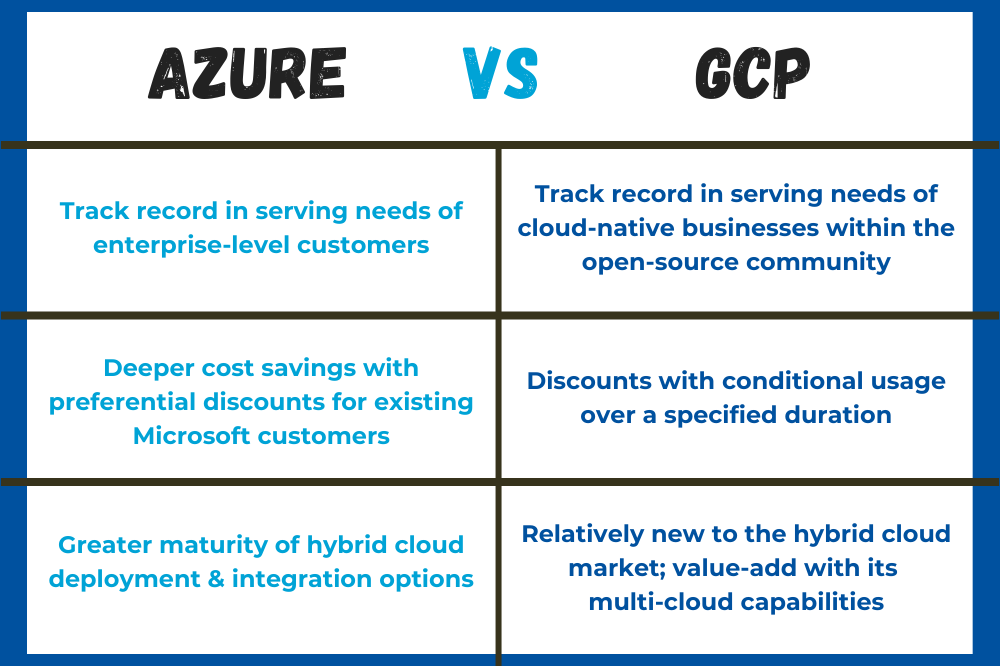 Azure and GCP are both challenging AWS in the market, and both cloud platforms have their respective strengths.
While Google is investing greatly into developing GCP as a cloud platform solution for enterprise-level customers, it's currently still better suited for smaller, cloud-native businesses with a focus on innovation.
But Microsoft Azure is still the more mature cloud platform between the two, with s superior track record when it comes to meeting the more complex business needs of larger enterprises, especially those that are existing customers of Microsoft products.
And Microsoft Azure Stack is still the gold standard when it comes to hybrid cloud options, even in the face of multi-cloud innovation introduced by Anthos for GCP.
If you're intending to go with Microsoft Azure as your cloud computing platform, you may like to know that AFON is an official vendor for Microsoft, with the resources and expertise to assist you with an implementation and deployment of both Azure and Azure Stack.
And if your business is currently using SAP Business One, we can also help you migrate your ERP software to Azure, being the first Microsoft vendor in Singapore to successfully host SAP Business One in Azure for our customers.
Give us a call at +65 6323 0901 if you'd like us to implement Microsoft Azure or Azure Stack in your business, or drop us a note here and we'll get back to you shortly.