If you're looking for a new Cloud solution for your business, chances are you've encountered terms like 'Microsoft Azure', 'Azure', 'Cloud Azure' and 'Windows Azure'. They all mean the same thing.
Microsoft Azure is Microsoft's Cloud computing service and forms a huge part of Microsoft's business. It went by the name Windows Azure until a re-branding exercise in 2014 to reflect Microsoft's renewed strategic focus on Cloud Azure as the public cloud platform for its customers.
The bigger question however (and certainly what brought you to this page) is how useful Azure is for businesses like yours.
Traditionally, companies host their web or email server on their own hardware. This gives them more control, but also costs them a fair amount to get started; they'll need to pay for the hardware (and subsequent hardware purchases) and hire an IT professional to set it up for them.
But with Cloud computing services, you eliminate this need to create an in-house infrastructure stored on an internal hard drive. You also reduce the cost of purchasing hardware and hiring someone to create and maintain the network.
Instead, you pay to access a large pool of computing resources. This includes (but aren't limited to) web and email servers, databases, file storage servers, websites, virtual machines, and more. You don't need to get all of these resources at one go; simply pay for what you need, and get more along the way as your business grows.


Microsoft Azure Explained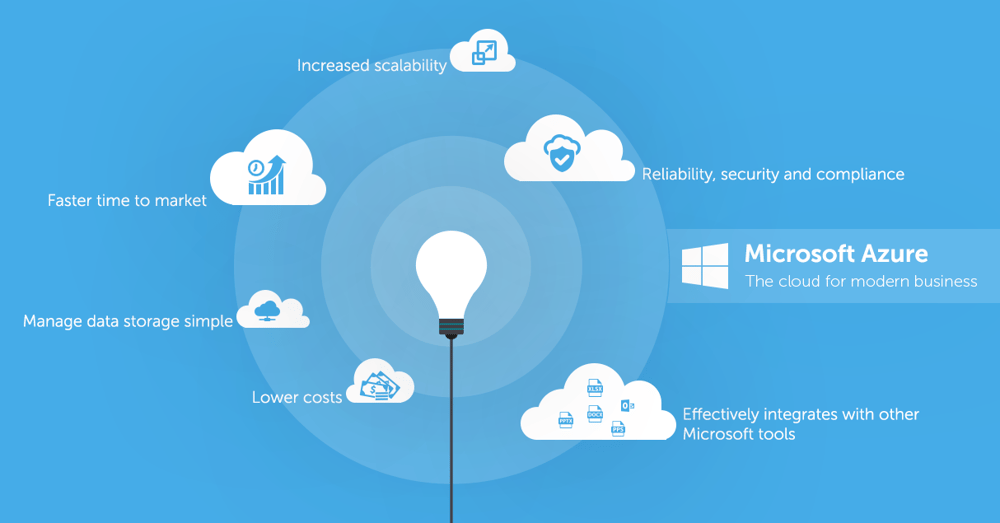 As mentioned above, Microsoft Azure is a Cloud computing service. Or to be more precise, it's a Cloud platform that lets companies build, deploy, and manage services and applications wherever they need to. Similar competitors include Amazon Web Services (AWS) and the Google Cloud Platform.
With Microsoft Azure, you can either let Microsoft handle all your network and computing needs through an infrastructure as a service (IaaS) model, or add Cloud capabilities to your own current network via a platform as a service (PaaS) approach.
Plus, Microsoft gives you access to a growing service directory. You get access to everything you need to achieve the above, including:
Virtual Machines - Tap onto pre-existing templates or use your own machine images to create Microsoft and/or Linux Cloud-based virtual machines in mere minutes. The benefits? You can host apps and services on this virtual machines like its your own data center.
Application Services - Quickly deploy business or enterprise applications like so you gain easy, scalable access with minimal downtime risks, saving you time and money
Active Directory Domain Services - Easily manage group policy, authentication, and so forth remotely. With just a few clicks, you can move security structure to the Cloud with minimal risks
Storage - Keep your critical data safe and secure with Microsoft's robust infrastructure -- all at a highly affordable rate
SQL Databases - Get unlimited SQL relational databases as a service from Microsoft, saving you from costly hardware, software etc. expenses
And more!
All of these can be run on Windows or Linux.


Why Use Azure Cloud


Let's take a deeper look into one of the earlier points on application services, using ERP software as an example.
ERP software like SAP Business One can be hosted in Microsoft Azure, giving you the advantages of SAP Cloud computing, but with the control similar to that of an on-premise system.
Free Article: Find Out What Makes On-Premise ERP Systems Different from Cloud ERP Systems. Click to Read Now.

The benefits of hosting an ERP solution like SAP Business One in Microsoft Azure are many:
1. Flexibility
Whether you've experienced a positive spike in business or the demand for a more efficient solution has become apparent, Azure has you covered. Launch innovative new services at lightning speed, and scale data storage and capabilities instantly.
2. Cost Savings
The migration will have fewer expenses upfront and ongoing. This goes beyond the costs for hardware and energy consumption, because you'll also reduce other costs. Since your Cloud provider is responsible for security, your security costs are also built-in, saving you money in ongoing updates.
Microsoft takes their customers' confidence seriously, which is why they invest heavily in modern security measures to safeguard their customers' critical data. And with an enterprise-grade cloud, you can expect to pay only for the resources you use. If you need more, you can easily scale to meet your volume or demand, without reworking your entire setup.
3. There's a Service for Anything You Need
There are literally hundreds of a la carte services in Azure. This means the next time you need an app or service, Azure is where you or your IT team should search first. No need to start from scratch as many apps can be integrated into your existing frameworks and tailored to meet your needs. You also have access to substantial licensing discounts for migrating apps to Azure.
4. Fully Managed Services
Aside from cost savings, the time your IT and development teams will save once you migrate is astounding. They'll no longer need to research the latest security threats and design, test and implement new security strategies. That means no more time invested in redesigning or optimising your network. This is all included as part of your monthly managed services.
Yes, you may still need your IT team to integrate and customise your software, but the majority of their time can be invested elsewhere. You may even be able to downsize your IT department.
5. Disaster Recovery
Even the most advanced in-house and on-site recovery models have their weaknesses. For example, most data would be lost in the event of a fire. Take the stress out of backing up your data and securing your sensitive client, company and proprietary data with a geographically decentralised disaster recovery plan. By hosting your ERP solution on Microsoft Azure, you can recover lost data in minutes, not hours or days!
6. Remote Access
With the rise in employees working while on-the-go, working after hours, logging into work while traveling, working remotely, and serving a global base of internal and external customers—comes the need for ease of access. Microsoft Azure supports this need by empowering your enterprise to tailor your remote login options. You may not choose to provide full access but can pick and choose what is most pertinent to offer remotely.
Even SAP Customers Use Microsoft Azure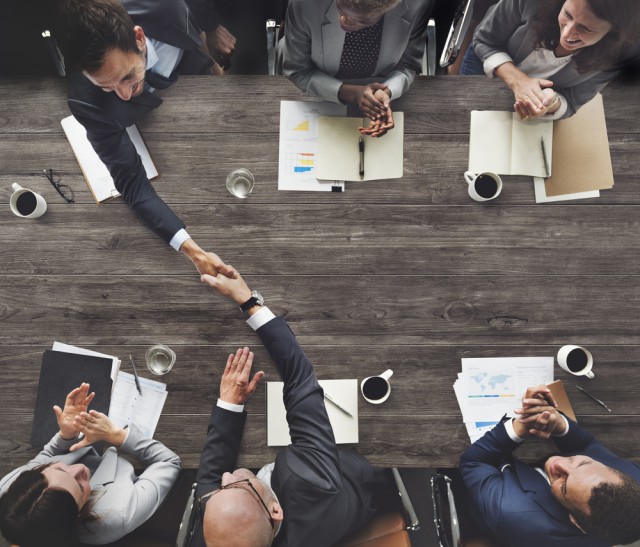 There's a misconception that SAP products don't run as well on Microsoft Azure, as compared to running on Cloud competitors like AWS.
That couldn't be further from the truth. In fact, a recent article by Forbes shared how some of the largest organisations out there are moving their production SAP workloads and other mission-critical business applications to Azure Cloud.
Microsoft corporate vice-president and head of Cloud and Enterprise Marketing Takeshi Numoto spoke candidly about the growing demand for Azure capabilities to Forbes:
"Today we're seeing some of our largest customers move their production SAP workloads to Azure. And so, what's getting migrated is becoming bigger and more substantial and more mission-critical, and that's also driving growth as well. It's not just SAP — it's an example of more critical, big workloads that have a lot of consumption associated with it."
"There's also, I like to think, increasing recognition in the cloud as that place where you can really realise very high agility and sort of dynamic changes that you need—and so as people think about various technologies, cloud becomes much more of a mainstream conversation."
Now the Forbes writer was, in all likelihood, referring to SAP's enterprise-level solutions. But Microsoft Azure also works well with SAP Business One, which is SAP's ERP solution for the small and mid-market space.
Here at AFON IT, we help our SAP Business One customers reap the benefits of SAP Cloud computing by hosting their ERP system in the Cloud. Not only that, we're also the first Microsoft vendor in Singapore to successfully help our SAP customers set up their SAP Business One system in Microsoft Azure.
Have a question on SAP Cloud computing? Click here to leave us a note for our consultants to contact you shortly
Learn More About Azure
Want to learn a few more benefits of migrating to the Microsoft Azure Cloud? How hosting your ERP solution on Azure can transform your internal operations? Enlighten your key stakeholders on why they should consider SAP Business One on Azure?
Do give us a call at +65 6323 0901, and ask to speak to our consultants. Alternatively, drop us a note and we'll get back to you soon.