Oracle recently announced the 2023 Release 2 update for Oracle NetSuite, which brings new innovations across the board to help businesses like yours do more.
Some of these new innovations include new features and functionalities designed to drive smart financials and operational excellence in your business, improve the efficiency of your warehouse and manufacturing processes, and help you empower and engage your employees.
Introducing NetSuite 2023 Release 2; Source: NetSuite
Through this, the 2023 Release 2 update helps you increase the accuracy and productivity of your financial management and production processes, makes it even easier for you to gain insights from your business data, and gives you even more resources to get your end users up to speed with the effective usage of Oracle NetSuite.
Smart Financials and Operational Excellence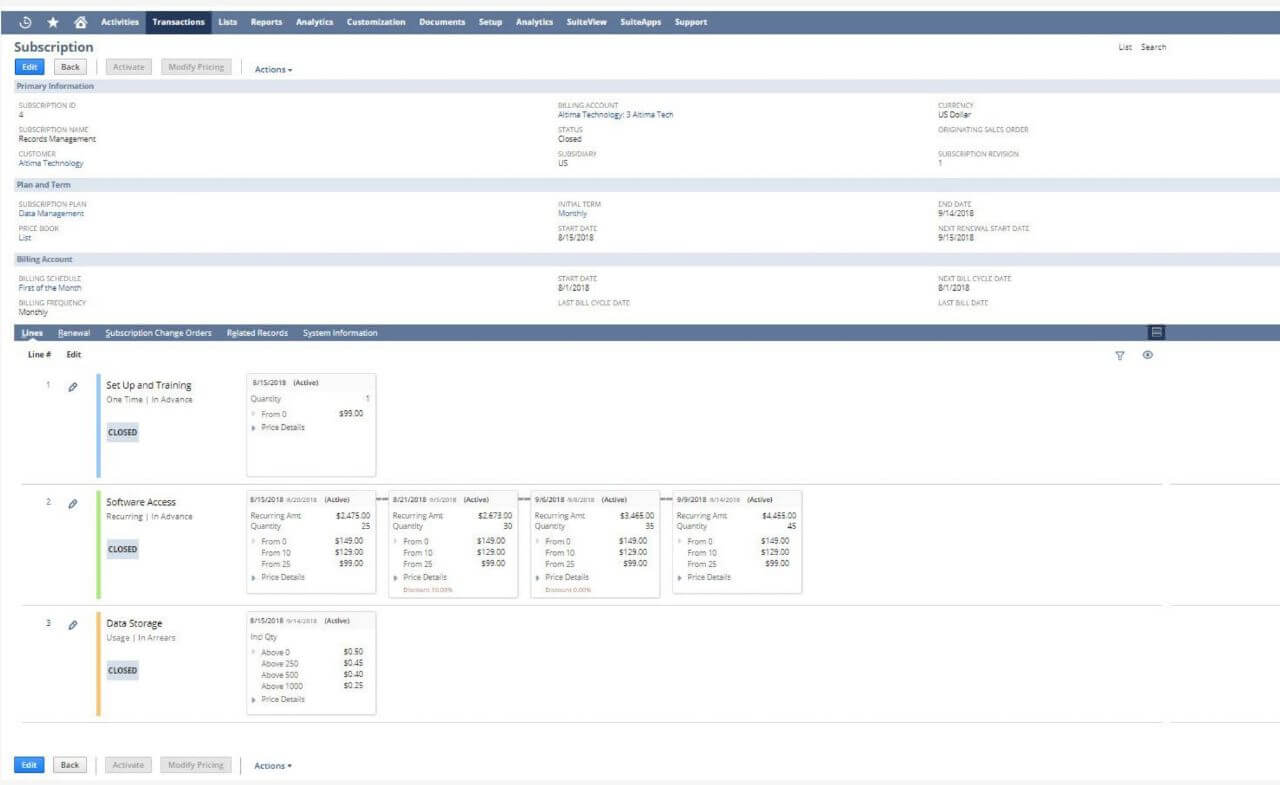 NetSuite's SuiteBilling Subscription and Renewal feature; Source: NetSuite
The 2023 Release 2 update introduces new features and functionality that brings more automation and visibility than ever, enabling your finance professionals to boost productivity, efficiency and engagement without impacting your bottom line.
NetSuite SuiteBilling now comes with a new SaaS Metrics dashboard, which provides a single view of essential metrics such as annual recurring revenue (ARR), monthly recurring revenue (MRR) and churn rate, as well as a 12 month rolling forecast that projects your revenue based on your current customer base.
The Cash 360 Dashboard has also been updated. Now, it will give you consolidated, cross-subsidiary, and single-subsidiary views of your business's metrics and cash position.
Enhancements To Supply Chain Management Mobile App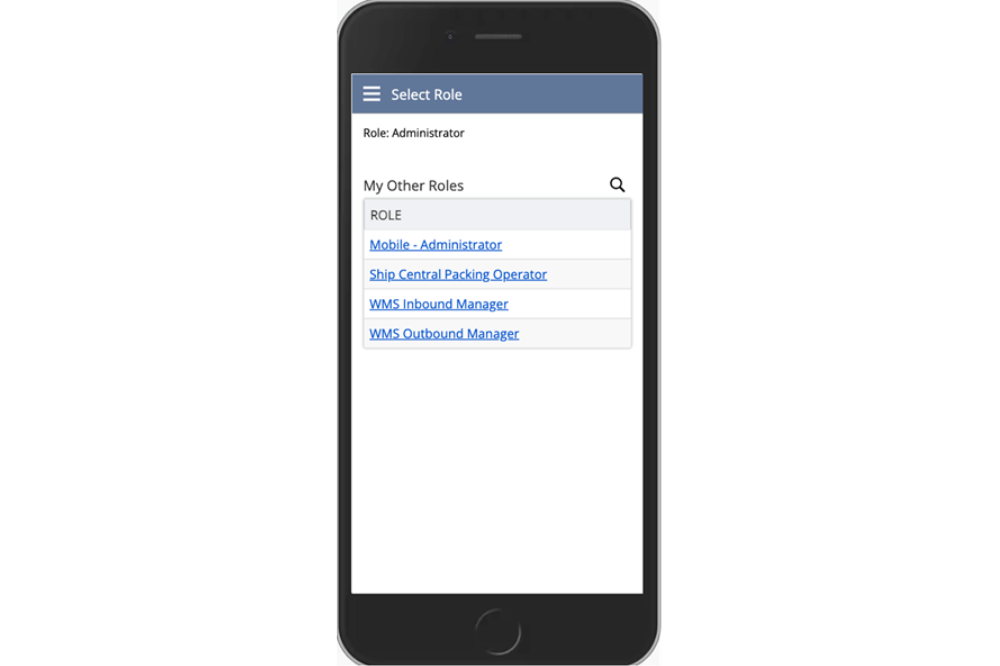 NetSuite's Supply Chain Management (SCM) mobile app; Source: NetSuite
With 2023 Release 2, the Supply Chain Management (SCM) mobile app will be enhanced; it will now allow your end users to change their roles between NetSuite Warehouse Management System (WMS), Quality Management System (QMS), Manufacturing Mobile, Smart Count (introduced in 2022 Release 2), and Ship Central, all directly from within the app.
This means your staff will no longer need to log out or return to the native NetSuite screen anymore, and can perform multiple functions without interruption.
There are also new enhancements to the aforementioned features. Your supervisors can now use the new Bulk Pick Assignment feature in NetSuite WMS to assign or reassign pickers to multiple pick tasks.
NetSuite Ship Central now allows you to shop for the best shipping rates, generate international shipping and returning labels, and perform advanced weight cost calculations using your business's averages and carton tare weights.
And when using NetSuite Smart Count, your operators can now scan GS1 GTIN advanced barcodes. This allows them to sort through and capture data elements housed in these barcodes, such as units of measure, serial number, and lot number.
Improvements To NetSuite Analytics Warehouse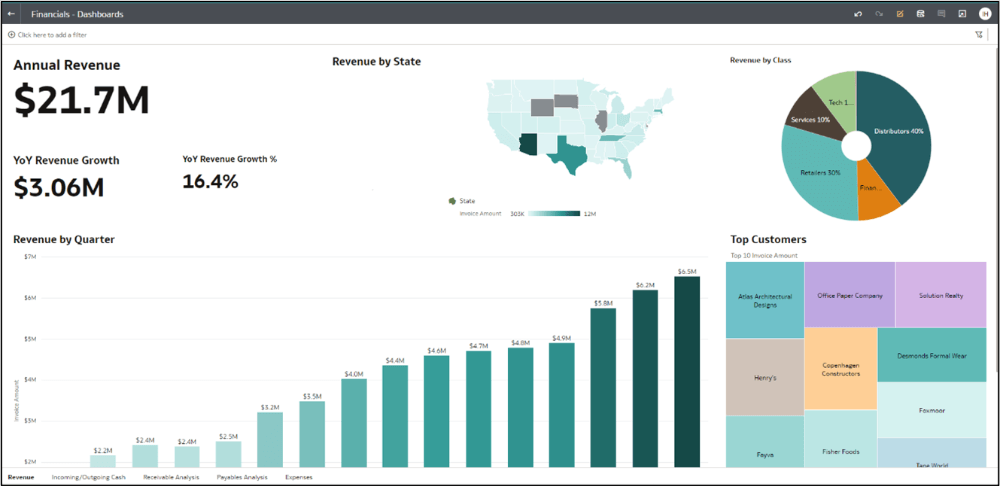 New dashboard layout available in the 2023 Release 2 update; Source: NetSuite
Since the release of the NetSuite Analytics Warehouse in 2023 Release 1, the cloud-based data management platforms have helped users like yourself consolidate data from NetSuite and numerous other business applications.
With the 2023 Release 2 update, the Analytics Warehouse will now get new and improved features to deliver more efficient and deeper access to role-based business insights, which enables better decision-making at all levels for you and your business.
The Analytics Warehouse will now deliver more ready-to-use metrics, giving you quicker access to insights by doing away with the need to join datasets and apply complex calculations. It will also come with a new dashboard layout that creates a more intuitive user experience, allowing you to access key metrics more quickly, and build analyses to share across your entire business.
The new Pipeline Settings menu will also give you greater flexibility in scheduling the frequency and time of refreshes for your financial and sales data in NetSuite Analytics Warehouse. For example, you can schedule data refreshes more frequiently than the default once-a-day setting, giving yourself better access to real-time data to power your reporting and decision-making in today's fast-paced environment.
A New Learning Resource For Your Employees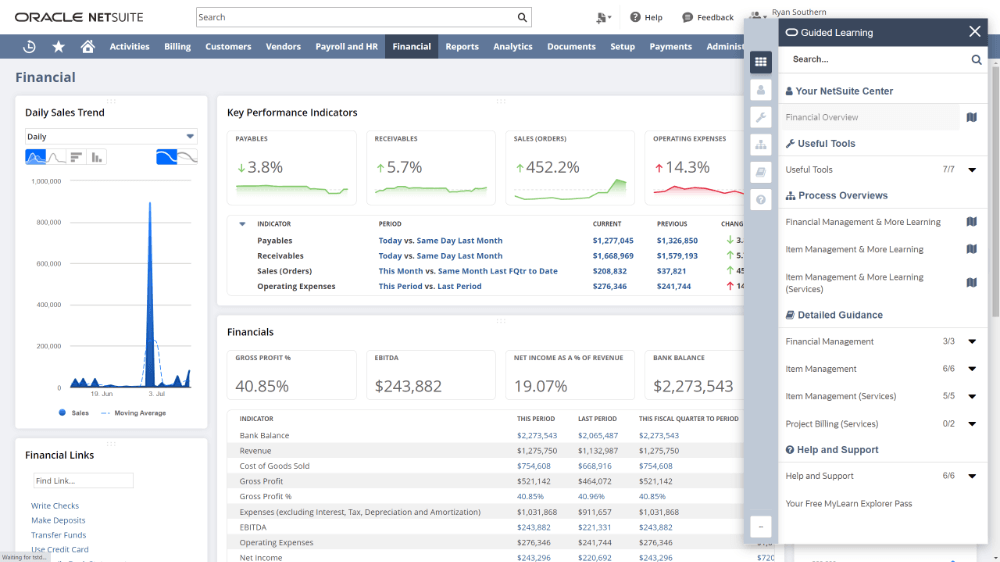 In-application learning made available for users; Source: NetSuite
With the 2023 Release 2 update, NetSuite Education Services has rolled out a new learning resource for your employees. NetSuite Guided Learning will deliver in-application learning for the end users of the cloud ERP software in your business, through an embedded step-by-step guidance that helps educate them about NetSuite's functionalities and features.
While you're using NetSuite, this resource offers contextual, on-demand guidance for specific tasks and features such as customizing dashboards, working with reports, managing leads of activities through pre-build lists and KPIs etc.
You can also access more than 50 interactive learning guides, all of which are role-based to help get your employees up to speed according to their role; finance, project management, marketing and sales, and more.
Additional learning and support resources are also available, such as from NetSuite MyLearn, SuiteAnswers, and the NetSuite Support Community.
Questions About Oracle NetSuite's 2023 Release 2 Update?
To find out more details about the enhancements that will come with the 2023 Release 2 update, check out the following links:
Alternatively, you can find the release notes for Oracle NetSuite's 2023 Release 2 update here.
With the new features and functionalities introduced with the second major update for Oracle NetSuite in 2023, your business will be able to achieve increased accuracy and productivity in your financial management, warehousing and manufacturing processes, acquire insights more easily than ever from NetSuite Analytics Warehouse, and onboard new employees and users to NetSuite more easily than ever.
Highlights Of 2023 Release 1
Oracle recently announced the 2023 Release 1 update for Oracle NetSuite, and it brings added efficiencies across the board to help businesses like yours do more.
To that end, it brings new features and functionalities to help optimise your financials, warehouse management, data analytics, customer experience, and project lifecycles.
Through this, the 2023 Release 1 update helps you manage human resources more tightly, find savings where possible, and automate as many of your operations as possible to position your business well for exciting times ahead.
Take A Look At Some Of The Most Useful Tips And Tricks We've Collaged To Help You Get The Most Out Of Oracle NetSuite.
Just like the previous update, 2023 Release 1 focuses on adding new features and functionalities to NetSuite across the board.
Let's take a look at the highlights of the first major update of 2023 for Oracle NetSuite.
Disclaimer: The following is solely intended for informative purposes, and Oracle is not committed to deliver any material, code or functionality. The development, release, timing, and pricing of any features or functionalities described may change at the sole discretion of Oracle Corporation.
Trying To Decide If Oracle NetSuite Is The Right Fit For Your Business? Here's Our Comparison Of The True Cloud ERP Software With Its Closest Competitors To Help Inform Your Decision
Improvements To Employee Engagement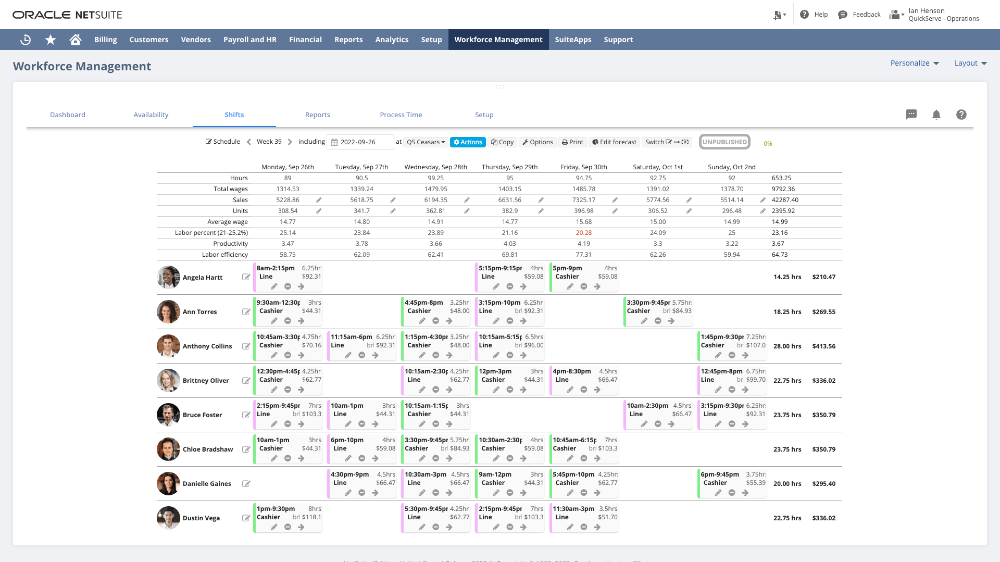 Overview of Workforce Management ; Source: Oracle NetSuite
2023 Release 1 will see improvements to SuitePeople Workforce Management that benefits your finance professionals, managers, and employees.
Streamlined shift scheduling provides your managers with essential workforce insights, such as sales data, to help you align your labour supply with business demand. This ensures you can have the right number of people to serve your customers at any time.
Your managers will also receive workforce insights, such as sales data, to help match your labour supply to business demands. This ensures that your business will always have enough people on hand to serve your customers.
Your employees will be able to capture their time and attendance, view their schedules, clock in and out, and request to swap shifts from any device, anywhere and any time.
For those of your employees who work on multiple tasks or for multiple clients, or under regulated conditions, they will also find it easier to change their status throughout the day and keep track of pay rates and hours worked by location and task.
Your financial professionals will benefit from the built-in wage rules engine, which automatically calculate hours, overtime, and holidays. With this information, you can avoid overscheduling your employees and thus violating regulatory requirements.
Smart Financials and Operational Excellence
If your business offers subscription services, SuiteBilling now has a new uplift at renewal feature which automatically applies a percentage price increase to a customer's renewal pricing. This can be particularly valuable for keeping pace with inflation, or for shifting to the latest pricing.
The Rebates and Trade Promotions SuiteApp will now be able to automate rebate and trade promotion calculations on kits and assembly items, on top of your standard inventory items. This helps you error-prone and inefficient manual calculation on more item type than before.
If your business operates with tax-exempt units, you can now assign nexuses to a subsidiary, classify it as tax exempt, and skip the assignment of a tax engine. This would effectively disable tax calculations on transactions for that nexus. With this flexibility, you'd now be able to run both tax-exempt and tax-registered businesses on the same NetSuite account.
Lastly, if your business is a non-profit organisation (NPO), you can now improve your indirect cost allocation by entering a provisional rate for a custom segment, like a grant. You can then tag which direct costs on the custom segment are allowable according to the agreement, and specify any amount limits.
Indirect costs are then automatically calculated and posted to the custom segment each month. With this information, your NPO will now be able to recover these indirect costs from a custom segment.
Building An Autonomous Supply Chain
Enjoy ease of picking with NetSuite Warehouse Management System; Source: Oracle NetSuite
The 2023 Release 1 update makes picking more efficient with the NetSuite Warehouse Management System (WMS). Multiple employees can now pick the same kit based on zones, and new picking flows allow your warehouse employees to mark partially picked orders as complete, which can be useful if you want to reserve low-stock items for other customers.
Your pickers can also mark a specific bin as empty, which prevents their colleagues from wasting their time walking to empty bins, and also sends an alert for the bin to be restocked.
Other improvements that come with 2023 Release 1 include NetSuite Smart Count, which allows your employees to perform cycle counts without shutting down poerations. It has been improved to handle serialized and lot-numbered items to enable forward- and back-tracing.
The new Costed BOM SuiteApp will provide you with a breakdown of all expenses related to producing assembly items, such as material, labour, machinery, setup, and overhead costs. This helps you better control costs, set the right expectations when setting budgets, and help your R&D teams evaluate how viable and profitable new products will be.
The Manufacturing Mobile SuiteApp will now support standalone assemblies without an associated work order. This can come in handy for simple manufacturing processes, or the occasional case when you need to build a product quickly on short notice, such as when you need a replacement for a demo model.
Last but not least, if your business uses contract manufacturers to produce your goods, your quality assurance (QA) teams will now be able to create inspection requests in NetSuite Quality Management for items that were made by them. This allows you to inspect items to ensure these third-party manufactured products meet your quality standards and customer expectations.
New Features For Analytics Warehouse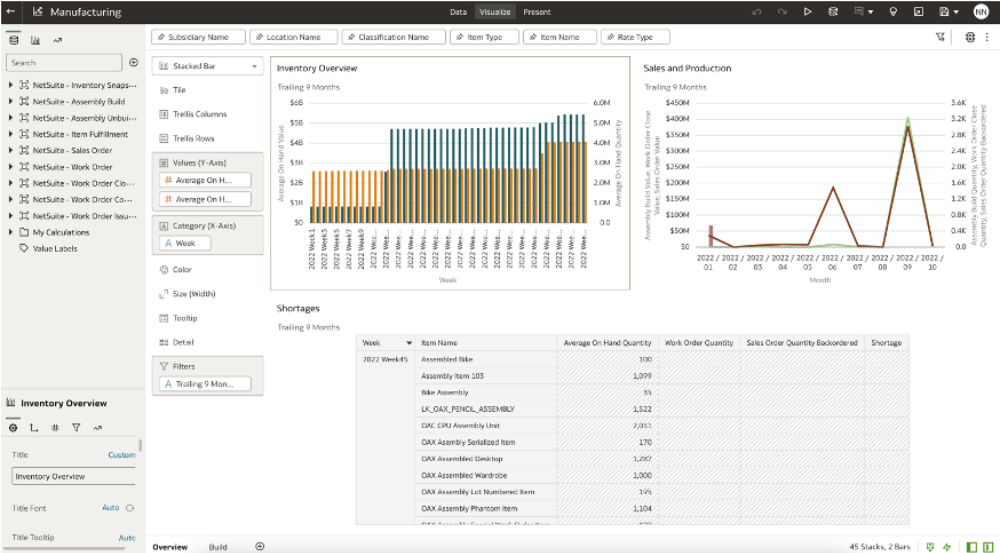 The manufacturing dashboard captures an inventory overview, sales and production by period, and shortages by item; Source: Oracle NetSuite
With NetSuite Analytics Warehouse, small- and medium-sized enterprises (SMEs) like yours have been able to leverage data analytics to derive useful insights on the level of large enterprises, while avoiding the cost and complexity problems of building out their own analytics capabilities.
With 2023 Release 1, you'll gain access to nearly 90% of NetSuite transactional record types, and the ability to enhance their analyses with new data sets in areas such as sales, inventory, financials, purchases, and support management.
Other new improvements that 2023 Release 1 brings to Analytics Warehouse include:
An expanded collection of pre-built industry-specific dashboards and visualisations for professional services businesses, software vendors, and manufacturers
Direction connections to Salesforce, Shopify, and Google Analytics
The ability to connect to other applications via CSV files or spreadsheet import.
Enhanced Customer Experiences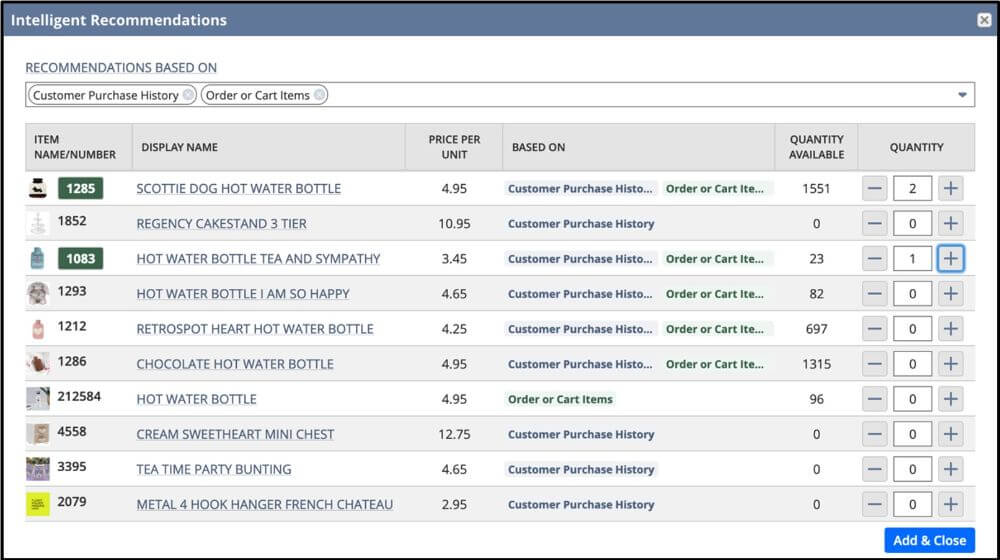 Intelligent Recommendations Feature Based on Customers' Purchase Behavior/History; Source: Oracle NetSuite
The 2023 Release 1 update includes a slew of enhancements to ensure that your customers' digital experiences exceed expectations, across multiple touchpoints.
For example, the Intelligent Recommendations feature compiles data from purchase histories, transactions, customer behaviour, and other sources to provide you with a better understanding of your customers, so you can make smarter product recommendations. However, it was usable only by accounts with a large number of inventory items and historical transactions.
With this update, Intelligent Recommendations will now be available for most accounts, regardless of transaction history and inventory size. With this, your sales representatives can benefit from the feature much earlier in the sales funnel.
Another feature which will see enhancements with 2023 Release 1 is NetSuite CPQ, which enable businesses to capture complex customer requirements, and ensure that configurations are not only manufacturable, but also that accurate prices and final quotes are generated.
The update will introduce a new dropdown helper on the ruleset maintenance page, which makes building configuration rules quicker, easier and less error-prone. Your managers will also be able to limit access to the CPQ Maintenance UI to specific individuals or groups.
Last but not least, SuiteCommerce and SuiteCommerce Advanced web stores will now support Google Analytics 4 and ACH payments in the checkout flow.
New Tools For Optimising Project Lifecycles

Cost-Based Percent Complete Method for Recognizing Revenue; Source: Oracle NetSuite
If your business is a professional services firm, you'll gain new tools such as an improved Project 360 Dashboard, and project costing capabilities, with 2023 Release 1.
With the Project Cost to Cost Percent Complete SuiteApp and Advanced Revenue Management, your finance teams can gain the insights they need to accurately recognise revenues and costs over accounting periods, even during years-long engagements.
And NetSuite's charge-based billing, you can now configure customer-specific rules that align with your company's accounts receivable (AR) process and customer preferences, as well as create charges through project records or directly against a customer record.
Easier Platform Development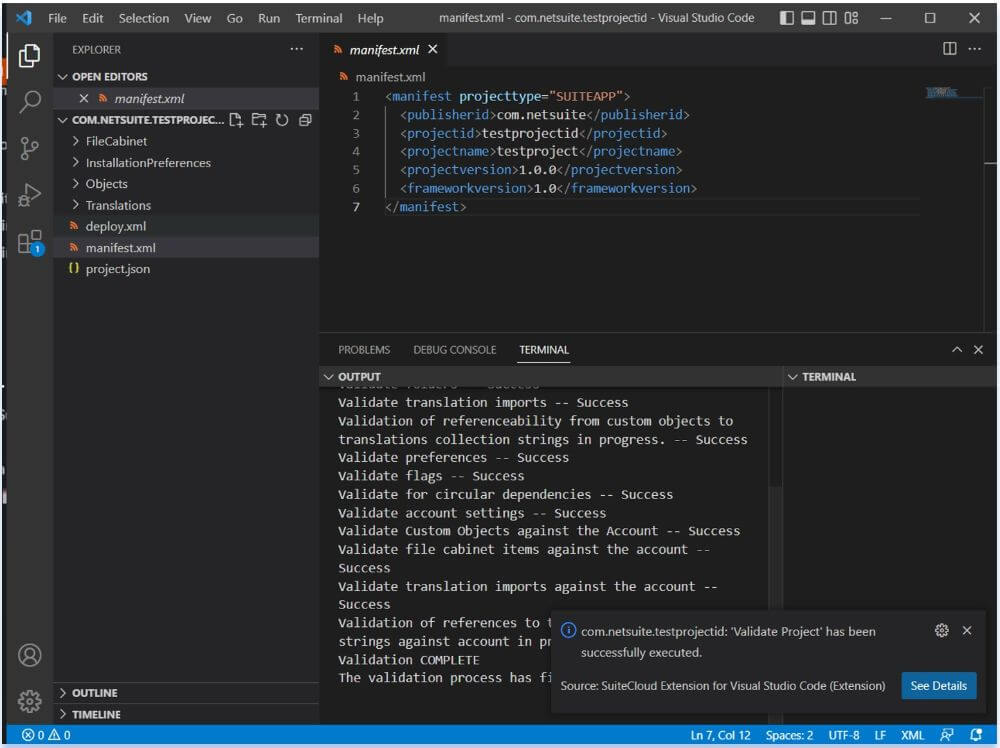 Developers can leverage on SuiteCloud Development Framework to perform server-side validation. Source: Oracle NetSuite
With 2023 Release 1, you'll find a new Visual Studio Code Extension and other capabilities in SuiteCloud Platform. This includes eight new standard REST records, support for Java 17, and other enhancements that make it easier to build and manage customisations, as well as integrate with other applications.
Questions About Oracle NetSuite's 2023 Release 1 Update?
Just like the previous update, the 2023 Release 1 update focuses on providing new enhancements to its feature set, which you can read about in more detail in the following links:
Alternatively, you can find the release notes for Oracle NetSuite's 2023 Release 1 update here.
With the new enhancements introduced with the first major update for Oracle NetSuite in 2023, your business will have more tools to manage employees, maximise savings, and increase automation of poperations, putting it in a better position for challenges in the near future.
To learn more about Oracle NetSuite, and what the true cloud ERP software can do for your business, click on the image below.