As a manufacturer, one of the most important key performance indicators (KPI) for your business is your on-time delivery (OTD) performance.
While there are several ways to measure the OTD performance of your business, it can be easily understood as the percentage of finished goods that your business has shipped and delivered to customers on time and in full (OTIF) – that is, within the promised delivery date, and in exactly the amount that was ordered by the customer.
If your manufacturing business is consistently producing less-than-satisfactory OTD figures, it can lead to greater customer dissatisfaction with your business, and negatively impact the reputation and overall performance of your business.
Apart from this, poor OTD performance could indicate deep-seated issues that are hindering the supply chain operations in your business. This makes OTD an important metric for gauging just how efficient and effective your supply chain is.
If you're concerned about the OTD performance of your business, and are looking into how you can resolve the underlying issues so as to improve it, this blog post will discuss one of the most common causes and what you can do about it.
What's The Main Cause Of Poor On-time Delivery Performance?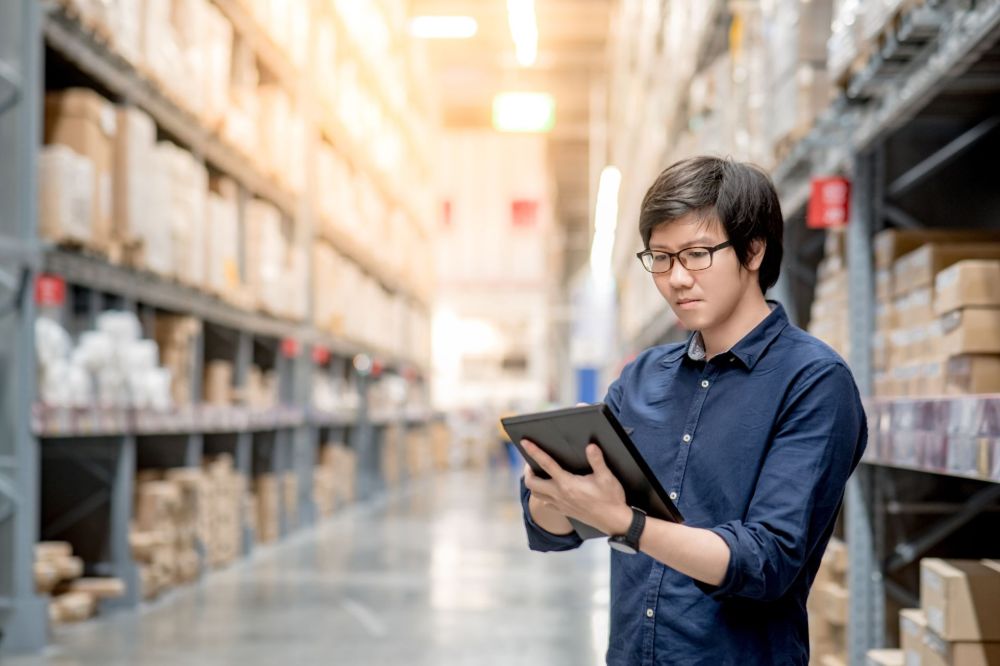 As mentioned earlier, poor OTD performance on the part of a manufacturer is usually indicative of inefficiencies in your supply chain.
For example, bottlenecks might have formed at one part of your supply chain or another, and could be the cause of various issues in your production processes such as shortages of raw materials to delays in delivery of finished products to your customers.
You may also have encountered times when your sales staff promised delivery dates to your customers that your business was later not able to fulfill, for one reason or another.
If such incidents happen too frequently, it may serve to undermine your customers' trust, and impact the reputation of your business negatively.
While there may be any number of reasons why bottlenecks might crop in parts of your supply chains, and/or why your business has difficulty fulfilling orders on time and in full, the issues that are contributing to the negative impact on your business's OTD performance share a common factor; a lack of visibility in your supply chain.
For example, if your production managers lack access to real-time data, they will find it difficult to locate any bottlenecks or any other factors that might have contributed to delays in the supply chain process.
Without the visibility they need, your managers would not be able to resolve these issues promptly, and thus prevent your business from failing to meet OTD for a significant percentage of your customers.
A lack of visibility into your supply chain also contributes to your sales staff promising unrealistic delivery dates for your customers as well.
That's because without real-time access to critical information such as lead time, inventory, supply and production data, your sales teams can only offer delivery dates based on their assumptions of what your business currently has in stock.
This can lead to mix-ups between your sales teams and your supply and production chains, causing shortages of products when they are needed, and potentially causing your business to lose customers who choose to seek out alternatives instead of dealing with delays in delivery.
How Does Optimising Your Supply Chain Improve Your On-time Delivery Rates?
Of course, this is not a new issue; to enhance visibility in their supply chains, manufacturers have always made the breaking down of data siloes between individual business functions and establishing communications between every step of the supply chain a strategic focus.
However, the manufacturing industry has been especially affected by the emergence of the COVID-19 pandemic this year, which has highlighted supply chain visibility as a business-critical priority for businesses like yours.
With the increased challenge in maintaining material and distribution supply routes due to quarantines, difficulty in acquiring sufficient labour to process raw materials in your production lines due to lockdown measures, and record demand for the services of logistics providers and distribution centres, your business's OTD performance has probably been greatly affected by these factors.
That said, the pandemic has also served as a driving factor in convincing manufacturers like yours to recognise the benefits of digital transformation, which has been proven to greatly improve OTD performance.
That's because business management software have shown themselves to be indispensable when it comes to increasing your operational and supply chain visibility, and equip your managers and sales teams with the real-time data they need to remove obstacles and coordinate perfectly to ensure that your customers receive their goods on time, in full.
Here are some ways that digital transformation can improve visibility into your supply chain, and thus improve the OTD performance of your manufacturing business.
Improved Collaboration
Get intelligent insights on inventory management, supplier payments, and costs and stock wastage reductions with Microsoft Dynamics 365 Business Central.

With an integrated software solution that automates the flow of information across your supply chain, every part of your business will be better equipped to coordinate and collaborate with each other, and ultimately work together to fulfil your customers' orders that much more efficiently.
For example, Microsoft Dynamics 365 Supply Chain Management unifies data from your business's inventory, warehouse, manufacturing lines, service and logistics to give your production managers a big-picture view into your supply chain.
Microsoft Dynamics 365 Also Comes With Applications For Optimising Every Business Function In Your Organization. Find Our Cheat Sheet To The Enterprise ERP Software Here.
With this, your managers can coordinate every part of your supply chain that much more effectively, streamlining the movement of raw materials and products through the supply chain to achieve a greater percentage of deliveries to your customers on time, in full.
Collaboration need not be limited to within your organization; your customers can play a part as well. For example, you can extend visibility into your supply chain to your customers by customising an external-facing website with the Customer Portal template, allowing your customers to view data such as the status of their orders, as well as their order histories.
By keeping them up-to-date with the progress of their orders, your business can build a high level of trust with your customers by keeping them in the loop as to the progress of their orders, and retaining that trust even in the occasional event that your business fails to make the delivery OTIF due to unforeseen external circumstances.
Resolving Supply Chain Disruptions
Disruptions in your supply chain could result from unforeseen circumstances, such as an equipment breakdown in your production lines, or for reasons beyond your immediate control such as a lack of available raw materials from your main supplier.
ERP Software Can Be Instrumental In Helping You Prepare For Supply Chain Disruptions. Click Here To FInd Out Why This Is The Case.
However, with business management software that increase visibility in your supply chain, your production managers will be able to react quickly to these disruptions and implement immediate backup plans to resolve them, minimising the delays to your production processes and increasing the chances of following through on delivering products to your customers on time, in full despite these disruptions.
For example, with access to real-time data about the availability of raw materials, you'll find out quickly if your main supplier is unable to fulfil their obligations to your business for one reason or another, buying you time to source the raw materials you need from an alternative supplier.
In addition, business management software can further increase visibility in your supply chain with automated alerts that draw attention to issues that can potentially create a bottleneck. For example, Dynamics 365 Supply Chain Management comes with Dynamics 365 IoT Intelligence Scenarios, which your production managers can use to set up automatic notifications for all sorts of circumstances.
In the case of mechanical failures in your production processes, a pre-set 'machine down' scenario can enable your production floor to automatically detect such failures through IoT signals and automatically notify your managers of the bottleneck, alerting them so they can proceed with resolving the issue.
Managing The Bullwhip Effect
As a business owner, you'll probably well-aware of the bullwhip effect, which poses additional difficulties when it comes to maintaining the right inventory levels for shifting customer demands for your product.
You may even have accounted for it by maintaining an inventory buffer, so that you have the stock to fulfil customer orders even when demand spikes for your product.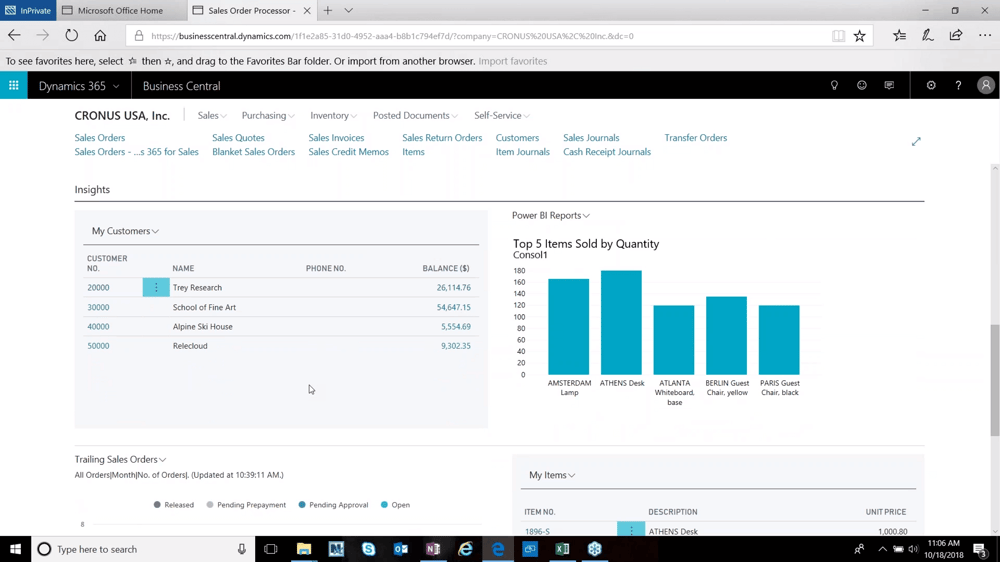 Overview of Microsoft Dynamics 365 Business Central.
Even then, the buffer you're maintaining may not be sufficient, which would still lead to product shortages, an inability to deliver promised good on time, and possibly impacting the OTD performance of your business as well.
The bullwhip effect has only been exacerbated with the impact of the COVID-19 pandemic on global supply chains, which has made it even more difficult for manufacturers like your business to accurately predict the actual demand for your products.
With the increased level of unpredictability in demand due to COVID-19, you need business management software that can unify data in your supply chain, and give you real-time insight into demand and supply levels in the market more than ever.
Even if your manufacturing business is a small- to medium-sized enterprise (SME) that cannot afford an enterprise-level solution, there are solutions scaled for SMEs which can give you the real-time view you need to manage your supply chain effectively.
Microsoft Dynamics 365 Business Central is one example of this, and it comes complete with supply chain management features that are scaled to the needs of manufacturing SMEs.
To Learn More About Microsoft's ERP Software For SMEs, Take A Look At Our Product Page Here.
It comes with built-in intelligence to help you predict the best times to replenish your stock, and help you manage the bullwhip effect by ensuring that your business only purchases the necessary quantities of raw materials and components based on actual and forecasted demand and stock levels.
Ensuring High On-time Delivery Performance With Business Management Software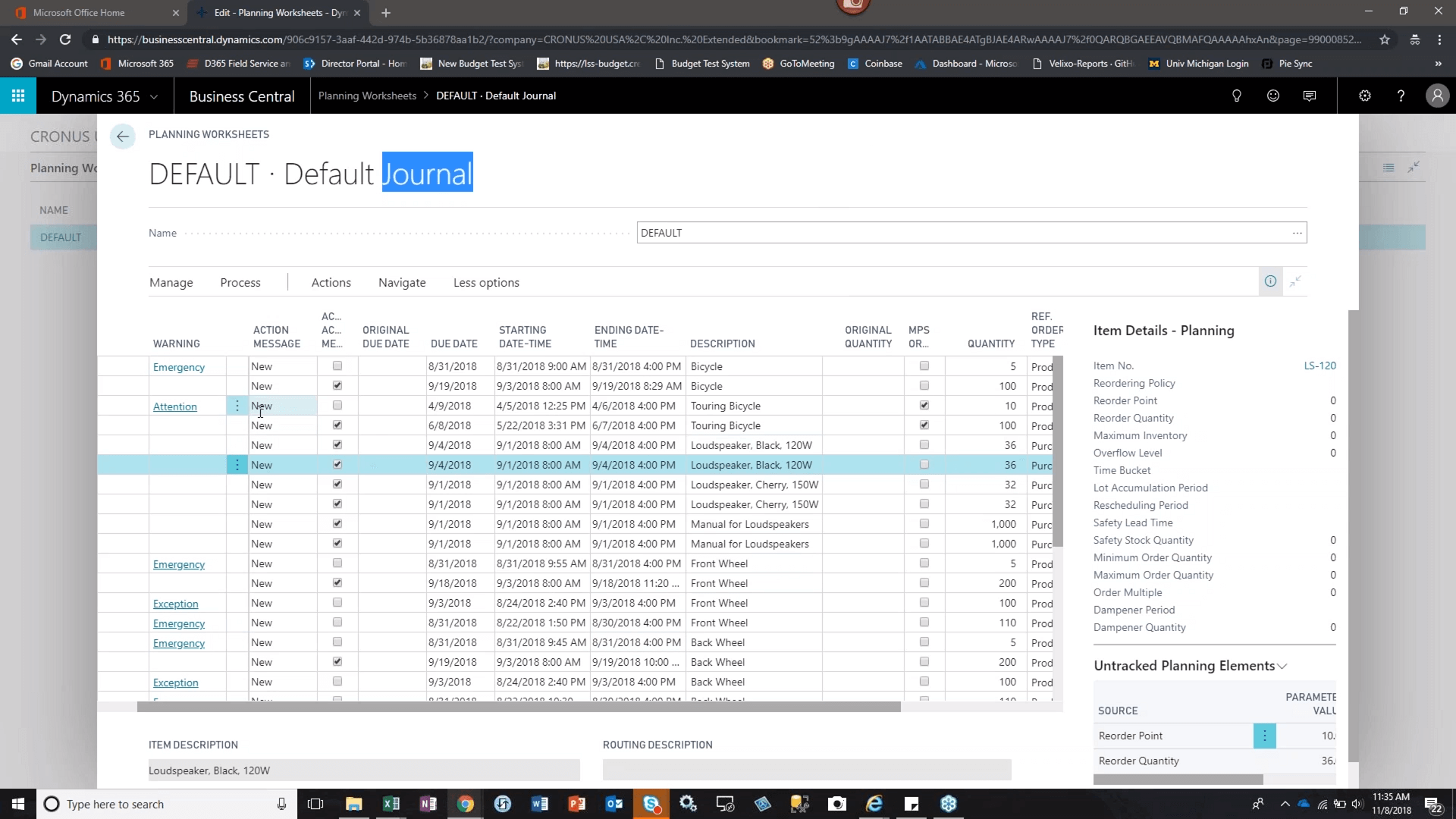 Overview of Microsoft Dynamics 365 Business Central.

On-time delivery is one of the most important metrics for measuring the efficiency of your supply chain, as it's tied to customer satisfaction, and thus the reputation of your manufacturing business itself.
And to maintain a consistently high OTD performance, you need to gain full visibility into your supply chain operations to identify bottlenecks or other factors that are contributing to inefficiencies within your business.
To achieve this level of visibility, you need to be able to access data generated by every part of your supply chain in real-time. This is only possible with business management software – such as ERP software – that are designed to integrate of this data to present you with a single source of truth.
With a digitally transformed supply chain, your production managers will be able to determine and resolve any inefficiencies that are preventing your manufacturing business from fulfilling customer orders on time, and in full.
But knowing the importance of digitalising your supply chain is one thing; how do you begin the process of doing so in the first place?
We've got you covered there. Click the banner below to find our four-step formula that will help you build an agile, cost-effective, and resilient supply chain.