SINGAPORE, August 03 2012- AFON is pleased to announce that for the fourth consecutive year, AFON has won the SAP Outstanding Value-Added Reseller(VAR) B1 Award 2011 at the SAP Partner Appreciation Awards ceremony held in Marina Bay Sands yesterday.
This award recognises the best performing SAP Business One solution provider last year, not just in terms of new customers' contributions, but also having a professional team that is able to deploy them successfully, to the standards expected of SAP.

Bernard, managing director at AFON, commented, "We are very pleased and honoured to receive this award again for the fourth year back-to-back. More importantly, it reaffirms the consistency and performance of AFON, which is not possible without a loyal and dedicated team that we have, the strong support
and collaboration with SAP and new customers who believe in us."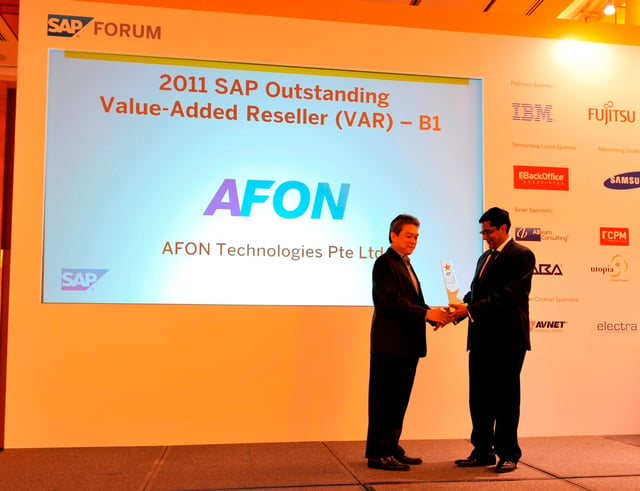 About AFON:
AFON provides the best-of-breed business solutions for the SME market. We believe that all business solutions are designed to fit certain industries particularly well, but not all industries equally well. That's the reason we are the only solution provider in the SME space that offers the most compelling ERP software: SAP Business One, Microsoft Dynamics Navision, NetSuite and Sage Accpac.