Disclaimer: This blog post was originally published in November 2019, and has been updated to include the latest information as of February 2023.
Since SAP Business One Version 10 was released in 2019, the ERP software has been receiving regular updates from SAP via Feature Packs, or FPs.
These FPs serve as incremental steps on SAP's vision of making Business One the ERP software of choice for small- and medium-sized enterprises (SMEs) in the digital economy, as laid out in the SAP Business One Road Map document.
Overview of what's new in SAP Business One 10.0 FP 2208; Source: SAP Business One
The latest Feature Package update, FP2208, brings enhancements to a wide range of features and functionalities. However, the highlights of this update revolve around improvements to identity and authentication management, as well as to the Web Client.
Let's take a look at some of the most important highlights that FP2208 brings to end users of SAP Business One such as yourself.
Web Client
Many of the most important enhancements that come with the FP2208 update is for the Web Client. Here are some of the most relevant improvements.
Production Apps
With FP2208, a new "Production" group will now be available, with 7 new apps that you can choose from.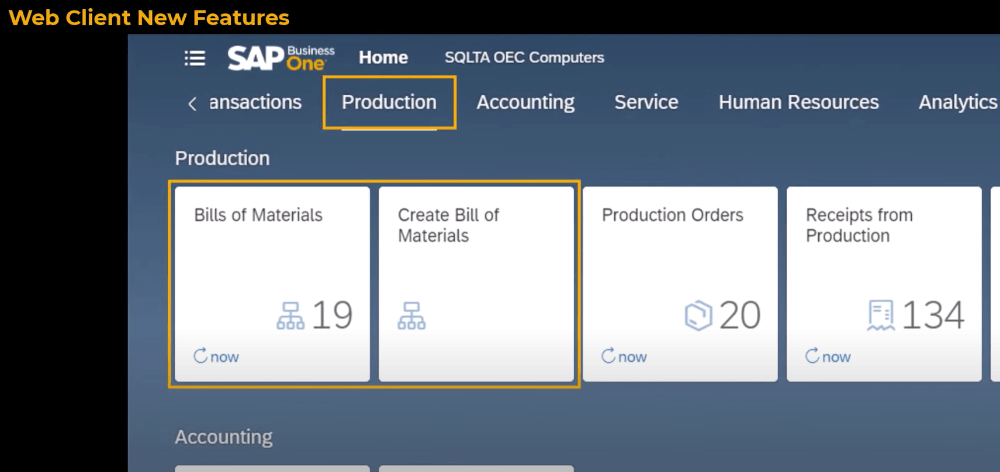 The new "Production" group application ;Source: SAP Business One
These include Bill of Materials and Create Bill of Materials, which you can use to create, process, review and analyse your bills of materials. It also provide visualisations of your bill of materials relationship maps.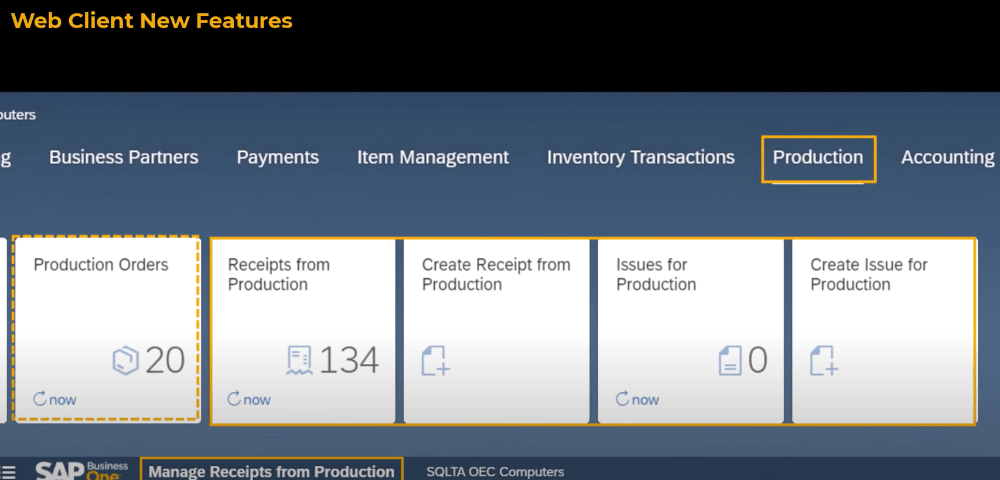 Overview of "Production" group functionality ;Source: SAP Business One
The Receipts from Production and Issues for Production apps will allow you to create, process, review, and analyse receipts from your production and issues from production. On top of that, you can use the Production Orders app to view, filter, and analyse your existing production orders.
Other new apps that come with the Production group include;
Create Issue for Production
Create Receipt from Production
Inventory Transaction Apps
Four new apps have now been added to the Inventory Transactions group. These are as follows:
Goods Receipts
Create Goods Receipt
Inventory Counting Transactions
Create Inventory Counting
With these apps, you can;
Search and filter goods receipts and inventory counting
View and manage different views of goods receipt and inventory counting lists
View, edit, and create goods receipts and inventory counting documents
Close one or more inventory counting transactions
Microsoft Teams Integration
You'll now be able to present list views and detailed views of various apps in the Web Client through the Microsoft Teams tab, if your business has set up the SAP Business One app in Teams.
These apps include the following;
Goods Return Requests
Return Requests
Purchase Requests
Goods Receipts POs
Inventory Countings
A/P Reserve Invoices
Bills of Materials
Receipts from Production
Issues for Production
Service Contracts
Identity and Authentication Management
SAP Business One Identity and Authentication Management feature ;Source: SAP Business One
With FP2208, SAP Business One now supports Identity and Authentication Management (IAM).
An identity provider (IDP) is a trusted provider which allows you to use single sign-on (SSO) to access other websites. It provides better security by decreasing the potential attack surface malicious actors can exploit to get into your business systems.
SSO also improves usability by reducing password fatigue among the end users in your business, as they're no longer required to remember multiple passwords in order to access multiple websites.
You can use the SAP Business One System Landscape Directory (SLD) control centre to configure your identity providers and user bindings.
When you bind users in the SLD control centre, you can perform central user management actions such as resetting user passwords for SAP Business One authentication server users, and activating or deactivating external IDP user accounts, which affect all bound users across companies in the ERP software.
Questions About SAP Business One Version 10 FP 2208?
As the latest in a series of Feature Packages released for SAP Business One Version 10, FP 2208 brings several major functional enhancements to the ERP software.
Apart from the highlights such as enhancements to the Web Client, and the introduction of identity and authentication management features, FP 2008 also comes with several other enhancements that may be relevant for your business. Check out what's new in SAP Business One 10.0 FP 2208.
If you'd like a refresher on what's new in SAP Business One Version 10 compared to earlier iterations of the evergreen ERP software, click on the image below for our resource on the changes it brought with its release.
Highlights Of SAP Business One Version 10
SAP Business One Version 10 is the first major update for the popular ERP software in more than two years, and has now been officially released by SAP.
With the release of Version 10, SAP is fulfilling its vision of making Business One the ERP of choice for small- and medium-sized enterprises (SMEs) in the digital economy, as it was laid out in the SAP Business One Road Map document.
To achieve this goal, SAP is positioning a cloud-hosted instance of SAP Business One on the SAP HANA database, accessible through the new Web Client, as a global and highly scalable real-time ERP software.
Some of the next steps that are planned include fully committing to leveraging the strengths of SAP HANA, adopting the Integration Framework 2.0, and accelerating the transformation of SAP Business One into a cloud solution accessible through mobile apps for an increasingly mobile workforce.
In the meantime, SAP Business One Version 10 lays the groundwork with a comprehensive list of new features and enhanced functionalities, with more still to come in the pipeline.
If You Need A Reminder Of The Key Features And Strengths Of SAP Business One, Do Refer To Our Comprehensive Guide Here.
While Version 10 comes with more than 30 new features and enhancements, let's look at some of the biggest highlights that it has in store for SAP Business One users such as yourself.
1. Web Client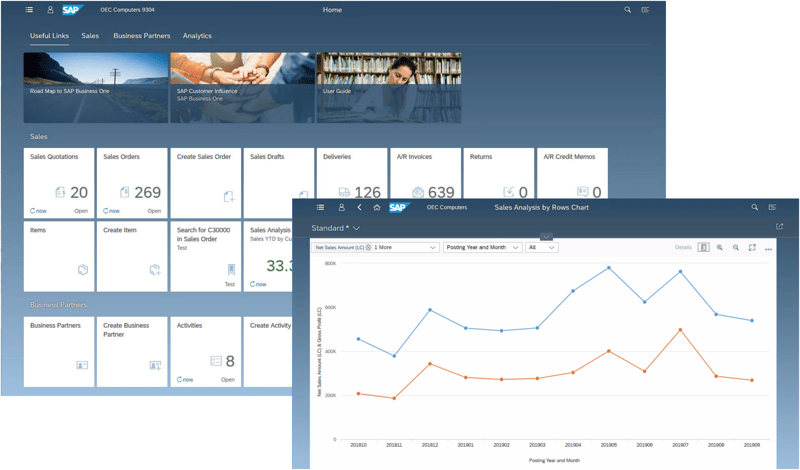 The Web Client lets you access the core features of SAP Business One from Chrome or Firefox

With the launch of Version 10, SAP Business One will come with a native Web Client for the first time.
While you might have had to rely on third-party web clients in the past, the new Web Client means you can now access SAP Business One through either the Google Chrome or Mozilla Firefox web browsers, from your mobile devices such as laptops or tablets.
The Web Client is also designed with side-by-side usability with the desktop application in mind, allowing you to launch it directly from the desktop application.
Based on SAP Fiori design principles, the Web Client supports the core processes and business logic of SAP Business One, such as;
Sales Orders
Additional Sales Documents
Business Partners
Items
Activities
Analytics
Do keep in mind that the Web Client will only be available if you're running your version of SAP Business One on the SAP HANA platform.
2. Usability Enhancements
The Belize Deep skin aligns the look of the desktop application with the Web Client.
If you plan on using both the desktop application as well as the Web Client, you'll be glad to know that SAP has taken steps to harmonise the look and feel of both applications.
They've done so by introducing the new Belize Deep skin for the desktop application, which is inspired by SAP Fiori and utilises SAP UI5 technology. It is currently available when you're using the Fiori-style Cockpit.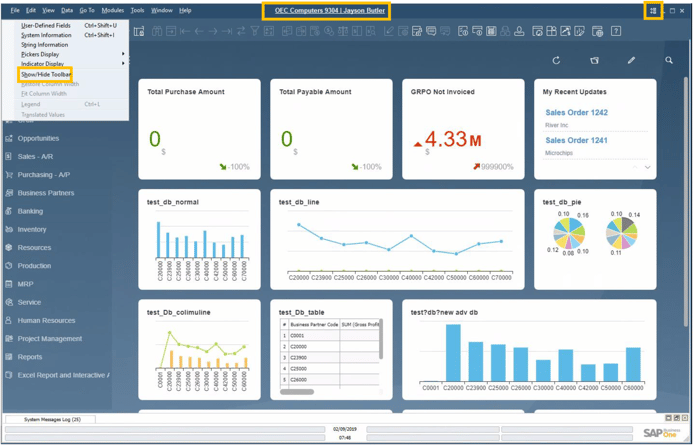 If you need more space to work with, now you can hide the toolbar.
Version 10's enhancements to the usability of SAP Business One does not end with refreshing of the desktop application with a modern UX design. The user interface itself has also been enhanced with new functionalities.
For example, you can now enable the showing or hiding of the toolbar through a new option under the View menu, or alternatively via a new icon at the top right corner of the screen.
If you need to enlarge your working area, the ability to hide the toolbar should be of use to you.
In addition, the User Name and Company Name have now been moved to the top centre of the SAP Business One screen. You can click it to open the Choose Company window directly.
This allows you to switch between company databases and users with one click, making it much more convenient for you to access and work with the databases of several companies at any time.
3. Financial Management Enhancements
Use the golden arrows to drill down into the G/L Account
Version 10 comes with enhancements to functionalities for business processes across the board, but one category which applies to every user is Financial Management.
You are now able to drill down into the General Ledger Account within the Chart of Accounts. This is indicated with golden arrows that have been added next to the account codes in Balance Sheet, Trial Balance, and Profit and Loss Statement.
This gives you direct access to account details and the account balance of relevant accounts, making these financial reports more usable and transparent than before.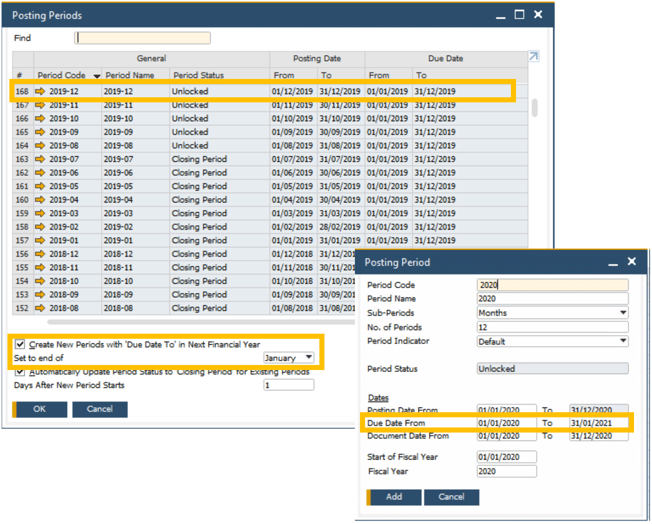 You can now create new posting periods with additional defined dates.
In addition, the Posting Periods window has also been enhanced to simplify and streamline the creation of new financial periods in the following ways;
A new check box to define the default "Due Date To" when creating new posting periods.
Column sorting is now enabled within the Posting Periods form.
Filtering is now enabled within the Posting Periods form.
The Find field allows for quick free-text searching.
These enhancements have made it easier for you to make use of the Posting Periods table, and will prove especially useful if your business has a long list of posting periods.
4. Interactive Gantt Charts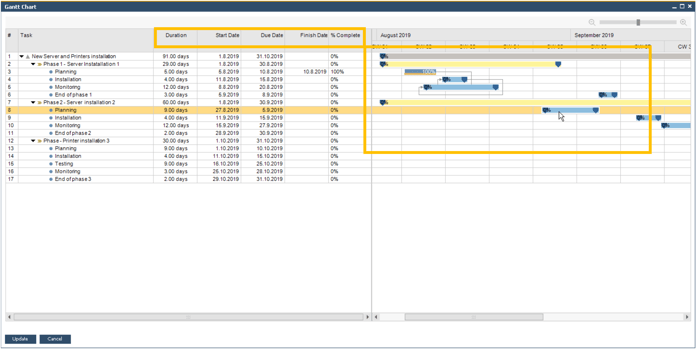 You can now use your Gantt Charts as one of your project planning tools.

You'll find that Project Management has become easier than ever, with the introduction of Interactive Gantt Charts as a new planning tool in your repertoire.
The Interactive Gantt Charts that come with Version 10 are no longer static overviews that merely reflect any changes and adjustments in your project; you can now drag-and-drop elements in them to update your project details directly.
For example, you can update your project timelines by moving the time bars of your sub-projects and project stages directly within the Gantt Chart. Changes you made will also be reflected in your data source.
In addition, there are now new fields available in the Gantt Chart window that represents Project Due Date and Finish Date, allowing you to designate these two data points within your chart.
With this change, Gantt Charts in SAP Business One transform into dynamic project planning tools that facilitate visual planning of your projects
5. Microsoft Office 365 Integration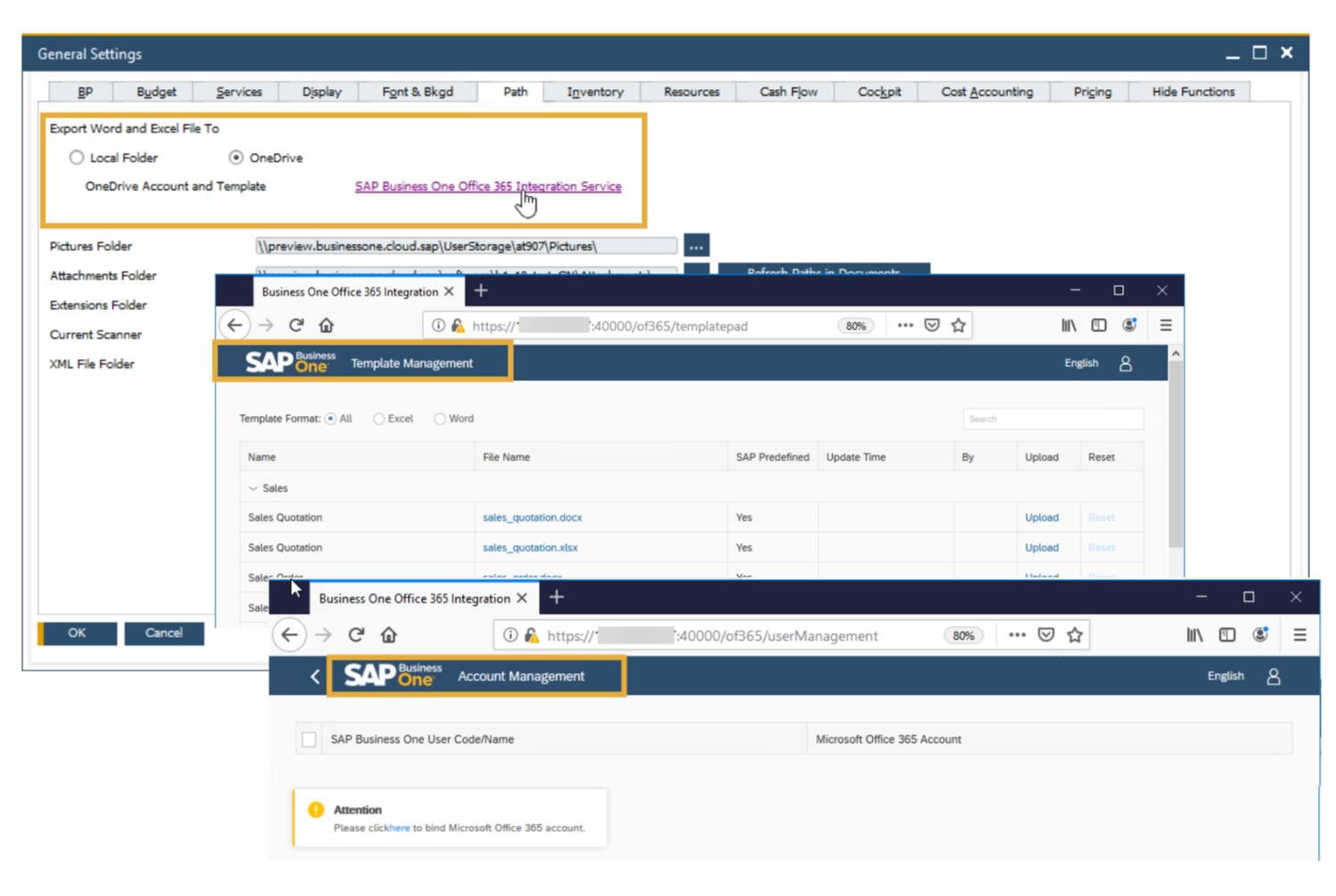 You can now directly export your data to OneDrive as Word or Excel files.
Starting from Version 10, SAP Business One will be integrated with Microsoft Office 365, as well as Microsoft OneDrive.
Prior to this, users have integrated certain features of Outlook with third-party add-ons that exchange data with Business One. However, this new development means that you no longer need to rely on external solutions for integrating Business One with Office 365.
You can now export your document layouts, grid results and reports as either Word or Excel files, which will then be automatically exported to OneDrive to give you access to your files from any location.
The new SAP Business One 10.0 Template Management feature also offers more flexibility for reporting and managing your documents. This means you can design your own templates for exporting data out of Business One.
6. 64-Bit Only Support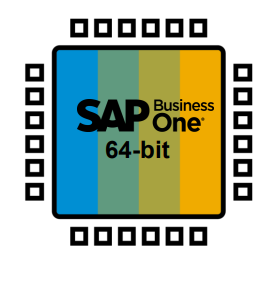 SAP Business One will be 64-bit only starting from Version 10.
As of Version 10, SAP Business One will support only the 64-bit Windows operating system.
This extends to add-ons; only the 64-bit versions will continue to be supported by SAP Business One Version 10.
In line with this change, the following 32-bit components will be removed from the SAP Business One product CD;
Add-ons
SAP Business One Studio
SAP Business One Client
Crystal Server Integration
Data Transfer Workbench
DI API
Outlook Integration Standalone
Solution Packager
It is not possible to automatically migrate 32-bit components that have been removed to their 64-bit components. To do this, you need to uninstall them manually, and use the Setup Wizard to install their 64-bit equivalents.
That said, future software package downloads will be smaller in size, thanks to the removal of redundant 32-bit executables. You'll find that it will be faster to update Business One from now on.
Questions About SAP Business One Version 10?
SAP Business One's Version 10 release marks a new era for the evergreen ERP software solution for SMEs.
With a major shift towards improved cloud deployment and new capabilities like the Web Client, SAP is positioning Business One to compete with Oracle – NetSuite and Microsoft Dynamics 365 Business Central for the cloud-hosted ERP market.
To find out what other new features come with SAP Business One Version 10, click the image below to download the resource that will show you the full set of changes that came with the new update.