The hotel industry is on a roll—even in the aftermath of the COVID-19 pandemic.
In 2021, for example, the global hotel industry was worth $4.13 billion and had a growth rate of 18.5%. Experts expect the industry's worth to increase dramatically in 2022 and beyond.
Tapping this growth, however, won't be easy as hospitality is a fiercely competitive industry. To survive in this type of industry, hotel managers must take their businesses to the next level.
But first, they need to overcome the critical industry challenges that can hinder the performance of hotels like yours.
In this article, we'll examine six of these critical industry challenges that hotels commonly face, and what you can do to overcome them.
These Are Some Of The Technology Trends Which Will Define The Hospitality Industry Post COVID-19 Pandemic.
Six Key Challenges That Hotels Face In The Industry
1. Personalisation Of Guest Experience: Meeting The Modern Guest's Demands
Overview of guest experience flow ; Source: Extreme Networks
Modern hotel guests are demanding. So, boosting customer satisfaction is a significant industry challenge—one that's set to intensify thanks to growing competition and the increased use of customer management tools.
Take Airbnb; it's become among the hotel industry's biggest threats. Hospitality Net puts Airbnb's valuation at over US$10 billion—and growing. That's higher than many large hotel chains, including Hyatt.
Customers who choose hotels over AirBnB do so because they want a more personalised guest experience.
To drive truly personalised and superior customer experiences, however, you need powerful data management technologies to capture, store, analyse, and interpret customer insights on a macro level and in real time.
For example, an ERP software unifies customer data, and uses it to generate accurate business insights. These help you make informed decisions and makes it possible to personalise the customer experience for each guest.
2. Constantly Changing Guest Demands

The importance of contactless technology in hospitality ; Source: Intelity
The COVID-19 pandemic showed hotels how vulnerable they are to external factors outside their control.
It also led customers to expect contactless hotel services to ensure a safe, enjoyable stay, as well as demand conveniences such as free Wi-Fi and fast check-in/check-out.
A way of generating resilience and business continuity in hotels is to focus on local marketplaces. As a result, staycation bookings rose by 18% between 2020 and 2021.
That's great. But business travel has been slow to recover from the pandemic, largely thanks to remote and hybrid working models.
As a result, hotels must offer superior working space experiences to attract the business travellers as well.
To attract and retain customers for the long term, hotels like yours need to be able to better understand their needs and wants. This particular challenge will remain one of the toughest in the hospitality industry going forward.
Utilising technology that can help you keep track of your customers' demands and requirements. With this knowledge, you can more easily predict trends in your customers' requests such as these, and ensure your hotel is equipped to fulfill them in the future.
3. Ineffective Marketing Efforts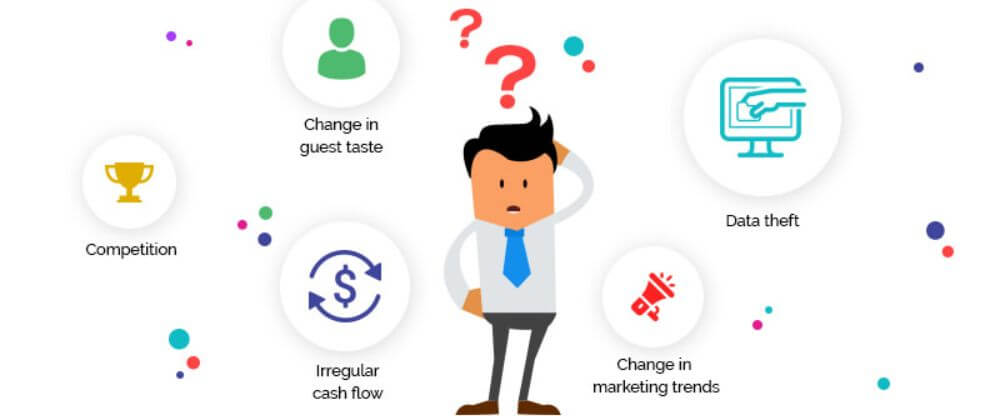 Change in marketing trends require a proactive approach towards effective marketing in the hospitality industry; Source: eZee Absolute
A hotel manager's most critical goal is to demonstrate the hotel's value proposition—what makes your hotel stand out from the competition?
While some hotels are embracing the Internet and digital marketing, many still rely on traditional marketing practices. Thus, customer sales and brand recognition suffer, which affects a hotel's success.
Engaging guests on social media, messaging apps, and other online outlets can greatly boost recognition and sales.
Additionally, the data stored in a hotel's customer relationship management (CRM) software or ERP software can drive an effective retargeting strategy, and help hotels quickly generate new and repeat business.
4. Maintaining A Positive Online Reputation
The Power Of Reviews; Source: TripAdvisor
Effective reputation management is imperative in the hospitality marketplace, where customers often leave reviews and complaints on TripAdvisor, Facebook, and Google.
According to TripAdvisor, 83% of its users will "usually" or "always" check reviews before deciding to book a hotel.
What's more, 85% of TripAdvisor users agree that a thoughtful response to customer reviews is necessary and determines their impression of the hotel.
This is another reason to invest in social media engagement. Encouraging your guests to leave positive reviews of your hotel and the service it provides, is key to gaining new guests and boost your profits in the long-term.
5. Addressing Rising Operational Costs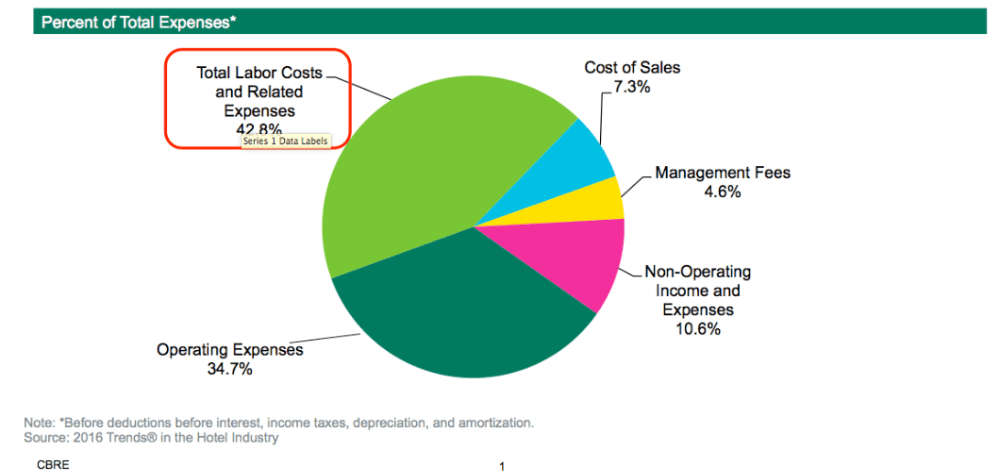 Example of different hotel operating cost; Source: Hotels and Discounts
Hotels likes yours are facing rising operational costs from various sources. These include inflation, the need to increase salaries for staff due to rising costs of living, and rising energy prices due to world events.
One way to address this challenge is to integrate automation technologies wherever possible to take over time-consuming, labourious processes.
For example, an ERP software can help you monitor your inventory and control your stock levels in real-time, reducing wastage dramatically.
Hotels Face Unique Accounting-related Challenges Due To The Nature Of Their Business. Find Out How Cloud ERP Can Help You Resolve Them.
6. Hiring And Retaining Qualified, Experienced Staff
Hospitality industry facing labour shortages; Source: Harver
Finding the right people has always been among the hotel industry's toughest challenges. It's especially tough for small hotels, such as yours might be.
But you can attract and retain top professionals by offering a whole career package instead of just a wage. Such packages may include a commitment to career progression, ongoing training, and critical benefits, such as medical insurance, stock options, and travel expenses.
You can also investing in upskilling your staff. Pinpoint where there are knowledge gaps or room for improvement within your workforce and arrange for the necessary training.
Upskilling boosts your staff's confidence in making critical decisions and empowers them to solve problems as they arise. This not only increases efficiency and productivity, but also enhances customer service.
ERP Software Helps Your Hotel Tackle Key Industry Challenges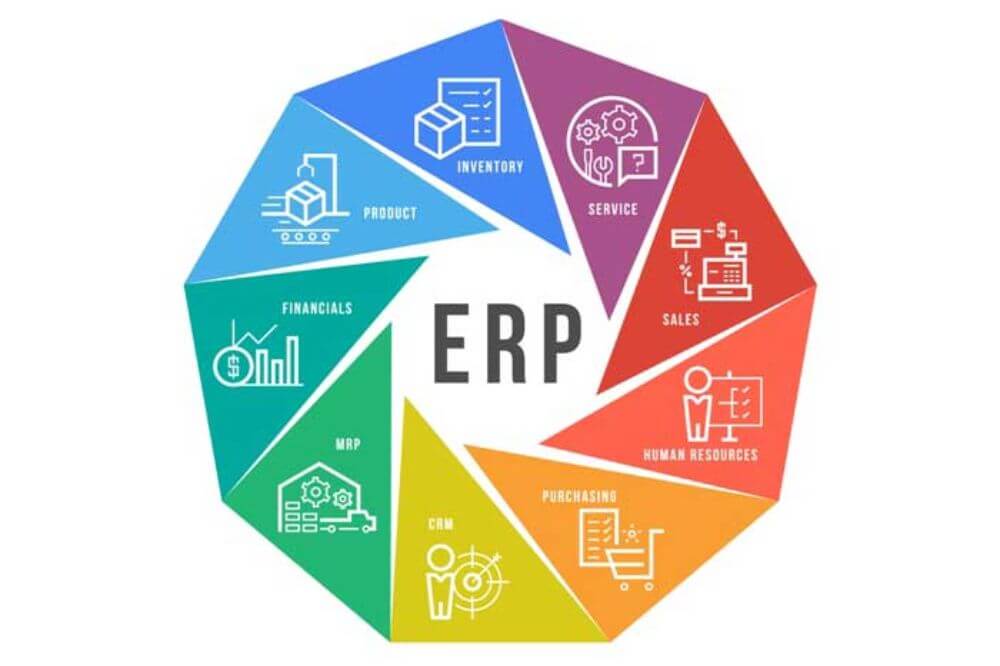 Overview of ERP features; Source: Reliance Hope
Savvy hotel managers know that effective use of ERP software can help overcome some of the aforementioned key challenges, and eliminate roadblocks to performance.
It provides a real-time look at what's happening within your hotel, which helps you streamline your operations, and drive business performance to the highest level.
Some ways the right ERP software can benefit your hotel business includes:
Seamless Integration With Hotel-specific Software
An ERP software is designed to integrate various software solutions in use by different departments in your hotel, and unify data in a centralised database at the back-end to give you a holistic view of your hotel's business operations in real-time.
Front-end systems used by your hotel, such as a customer relationship management (CRM) software or a property management system (PMS), can then retrieve data from your ERP software's database as needed.
This means your front-desk staff can access the necessary data in real-life from the systems they're using, enabling them to provide personalised customer service for your guests.
Enables Business Intelligence For Marketing Efforts
To effectively market your hotel's services to potential guests, you need to factor in data generated through multiple channels; this includes your website, digital marketing campaigns, and social media platforms amongst others.
This involves gathering said data in a database accessible to your marketers, and conducting data analytics with a business intelligence (BI) tool to generate actionable insights for your marketing team.
An ERP software like Microsoft Dynamics 365 Business Central can provide this centralised database of relevant data for marketing purposes. It also works well with Microsoft Power BI, one of the most powerful BI tools in the market today.
With this, your marketing team will be able to target their efforts towards your customer base, and are better able to manage the online reputation of your hotel through social media engagement.
Improves Your Inventory Management
ERP software can help you cut operational costs with its inventory management capabilities. It creates a central database to show buying, selling, and consumption trends.
You can also track internal and third-party users, vendors, suppliers, order management, and complete audit reports through the ERP software.
Minimises Your IT Overheads
Another way an ERP software can help address the rising operational costs of your hotel is by minimising your IT-related overheads.
It achieves this by unifying your financials - even across multiple establishments - and generating actionable reports with in-built data analytics, enabling you to identify and address potential issues without needing a large IT team to handle such a large volume of data.
Find Out About The Powerful Benefits That Your Hotel Can Derive From Implementing A Cloud ERP Software Here.
ERP Software Enables Hotels To Address Key Challenges In The Hospitality Industry
An ERP software can help you overcome many of the key challenges your hotel will face in the hospitality industry.
These include unifying separate systems across your hotel's departments to ease management, minimising your operational costs by optimising inventory management, and unifying data across every part of your hotel to enable the provision of personalised customer service.
But that's not all they can offer for your hotel. The right ERP software can also provide other benefits such as reduction in IT overhead, optimising your reservations management, and informing your marketing activities etc.
That said, every ERP software is different. Depending on the features and functionalities each solution provides, they can be more or less suitable for the unique business needs and challenges of small hotels like yours.
For our part, we recommend that you switch to a true cloud ERP software, such as Oracle NetSuite, to help you navigate the business challenges that your hotel faces.
To find out why, click on the image below to learn more about how cloud-based technologies and solutions like NetSuite are the ideal choice for you.
Checkout our hospitality & travel ERP solutions are suitable for your business. Speak to a sales consultant for a quick phone assessment today.