There's some truth to a meme that you may have come across in recent months: "Who led the digital transformation of your business? The CEO, the CIO, or COVID-19?"
While digital transformation has been emphasised as a necessity for businesses to maintain their competitive edge for the last few years, the COVID-19 pandemic has accelerated the pace of digital transformation by SMEs in Singapore like yours.
Here's A Refresher On The Differences Between Digitisation, Digitalisation, And Digital Transformation.
But even though we're seeing the light at the end of the tunnel with the COVID-19 vaccination programme under way, the trend towards the acceleration of digital transformation is unlikely to slow down.
In fact, the post-pandemic new normal will see long-lasting, or even permanent changes in consumer behaviour and market dynamics, such as the shift towards e-commerce and online retail.
And the government in Singapore has recognised that as well, which is why Budget 2021 extends many of the existing enhancements to government funding for digital transformation efforts that were introduced last year, as well as introduce new grants and funding initiatives for the same purpose.
As such, if you're seriously considering the merits of a full-fledged digital transformation for your SME at this time, 2021 may be a good starting point to kick off such an effort.
With consumer behaviour and market dynamics evolving as a result of the pandemic as well, and Budget 2021 introducing new enhancements in government funding, this year may be a good time for your SME to get started with a digital transformation initiative.
Here are some reasons why this is the case.
COVID-19 Has Proven The Viability Of Remote Work
Digital transformation brings many changes to how a business operates, which may be overwhelming at the early stages in normal times, much less in the midst of the COVID-19 pandemic.
But now is in fact a good time to commence a digital transformation of your business processes, and get buy-in from your employees at the same time.
Before COVID-19 hit, many businesses like yours were reluctant to take up a full-scale digital transformation. Concepts such as remote working and cloud collaboration tools were viewed skeptically, with concerns about the impact on productivity and security.
For instance, it was a long-standing myth that remote working would lower productivity levels.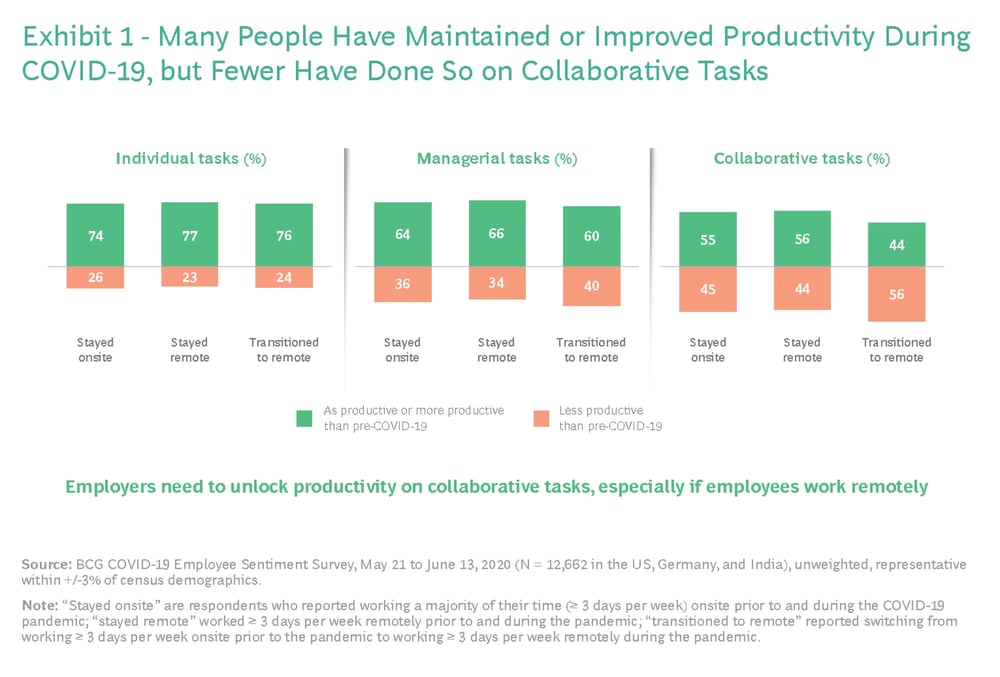 Survey showing 75% of employees have maintained or improved productivity on their tasks. Source: BCG
However, with the pandemic having pushed us all into adopting digital solutions to work-from-home (WFH) arrangements, a survey of more than 12,000 professionals conducted by BCG showed that 75% of respondents have been able to maintain or improve productivity on their tasks.
Employers worldwide are realizing this, which is why major companies like Facebook and Shopify have announced permanent WFH options.
The previous concerns about security and remote work are also getting addressed with stronger security policies and robust network monitoring solutions.
This has led to a growing recognition of the value of digital transformation for businesses, helped by the emergence of cloud-based collaboration tools such as Microsoft Teams.
This is already evident in a report from McKinsey, which revealed that the level of remote work arrangements rose to about 84% in the IT industry, 74% in business services, 70% in financial services, and 36% in the education and health sector. These numbers are expected to stay high in the long term.
Remote working has thus been proven to be a viable work model for many businesses like yours, in terms of driving faster project executives and maintaining productivity levels.
This will drive a more permanent shift towards remote work arrangements in the post-pandemic economy, and you'll need to prepare your business to enable such arrangements with the necessary IT infrastructure.
The Effect That COVID-19 Has Had On Customer Behaviours
Because of COVID-19, customer preferences and behavior have become used to the convenience of digital channels. It is expected that around 75% of customers will continue to use these channels in the post-pandemic era.
That's because the pandemic forced people to stay indoors and look for online solutions to their daily needs. People have gotten used to the convenience and efficacy of such solutions, and their consumption habits will lean towards such services in the future.
That means online services and customer interfacing solutions will continue to grow. Digital services would become primary business channels even if mobility restrictions were loosened entirely in the post-pandemic world.
For instance, the e-commerce app Lazada reported that its online grocery sales increased by four times during the Circuit Breaker lockdowns. In response, they have increased their capacities to more than 50% and are continuing to grow since then.
This has led to an increasingly open mindset with regards to digital transformation by businesses like yours all over the world, with global surveys showing that adoption of digital solutions has leaped forward an estimated five years of growth in eight weeks during the COVID-19 pandemic.
Therefore, to succeed in the post-pandemic era, your business must adapt to the lifestyle, economic and business changes that COVID-19 has brought about, and undergo a digital transformation that takes these factors into account.
When the new vaccines for COVID-19 have been distributed and paved the way for economic recovery, demand recovery will be uneven and unpredictable. Technologies such as data analytics and artificial intelligence (AI) will be instrumental in helping you make the right business decisions to meet evolving customer demand.
The High Availability Of Government Funding In Singapore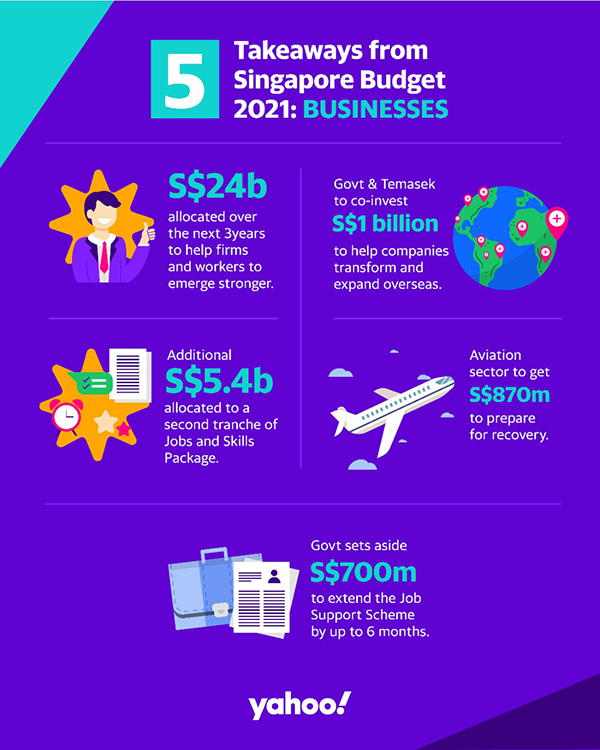 S$24 billion will be allocated to help businesses and workers adapt to the post COVID-19 period. Source: Yahoo!
The Singapore Government has always encouraged businesses like yours to undertake digital transformation initiatives, even before the arrival of the COVID-19 pandemic.
But with the impact of the pandemic underscoring the need for businesses to digitalise their business processes in order to adapt, the Government has gone to great lengths to support the digital transformation of businesses by funding digitalisation efforts.
This can be seen in the Fortitude Budget announced in August 2020, which put aside around S$500 million to help SMEs and local businesses manage the COVID crisis through digital transformation.
More recently, Deputy Prime Minister Heng Swee Keat also announced that Budget 2021 includes a S$24 billion plan to help businesses like yours transform and adapt to the post-pandemic world.
This includes extensions of the enhanced maximum support levels of the Productivity Solutions Grant (PSG) and Enterprise Development Grant (EDG), as well as new schemes to further assist businesses like yours with funding for your digital transformation efforts.
To Learn More About The Other Highlights Of Budget 2021, Click Here.
If you're willing to take up any government grants to help fund your efforts, but don't know what you're eligible for, don't worry.
According to a study by ASME-Microsoft, many SMEs like yours are unaware of the government grants available to them, but 60% of these SMEs also indicated that they would been keen to leverage such grants to fund their digital transformation.
If Lack Of Awareness About Available Government Grants Is Also Preventing You From Taking Advantage Of Them, Here's Our Guide To These Grants For Your Reference.
With a plethora of enhanced funding support available from the Government precisely because of the COVID-19 pandemic, now is an excellent time to begin the digital transformation of your business before the enhanced funding is eventually phased out.
The Best Time To Commence Digital Transformation Is Now
The COVID-19 pandemic has caused unprecedented disruption to the economy, but also presents a unique opportunity for businesses that are considering a digital transformation of their operations.
With the Circuit Breaker necessitating the adoption of WFH and remote work arrangements, not only have the teething issues of the transition been worked out, but remote work has also proven that it can maintain pre-pandemic levels of productivity, justifying the digital transformation required of businesses like yours to enable such arrangements.
With customers increasingly resorting to online channels for their consumption needs, you'll also find that you need to digitally transform your business in order to enable the provision of digital services that can cater to shifting customer demands as well.
And with the Singapore Government offering enhanced funding that will eventually lapse when vaccines for COVID-19 are made available to the entire populace, you may never find a better opportunity to acquire funding for your digital transformation efforts than now.
Therefore, stalling any further on carrying out a full-fledged digital transformation will only hurt your business in the long term. Now would be a good time to learn more about your options, and then get started on your digital transformation journey today.
But recognising the need to get started on the digital transformation of your business is one thing; getting buy-in from the other stakeholders is quite another. To help you with that, we've provided a resource that should be useful for you; click the image below to download it.