All businesses are trying to stay relevant in the age of Industry 4.0. Many organisations across the board feel the pressure to update their systems and go digital. You might have heard of the terms "digitisation", "digitalisation" and "digital transformation" when researching methods to improve your processes.
To Prepare For The Digital Transformation Of Your Business, These Are The Six Top Priorities You Must Keep In Mind.
While these terms might seem interchangeable, they do not mean the same thing. For example, it's correct to use the word "digitisation" for uploading data onto your company's server
However, using the same term to describe the redesign of your business processes to make better use of technology could cause some confusion and misunderstandings.
Knowing the differences in meaning between the three terms would prevent such misunderstandings, and it would also provide clarity for your planning should you decide to pursue a digital strategy for your business.
In this article, we will break down Digitisation, Digitalisation, and Digital Transformation. We will also cover how each term relates to each other, and why digitisation and digitalisation plays important roles in the formation of a successful digital transformation strategy.
What Is Digitisation, Digitalisation and Digital Transformation?
To understand the differences between these three terms, consider scale and time.

1. Digitisation
Source: Sage

Digitisation involves converting information from a physical format to a digital one. In simpler terms, it means moving from analog to digital, or paper to computer.
As per Forbes, this is defined as "taking analog information and encoding it into zeroes and ones so that computers can store, process, and transmit such information".
First used for commercial purposes in the 1950s, this was a part of Industry 3.0 over the past 15 years. Information went from paper folders in cupboards to computer files on office computers. Usually, this a manual process that involves data entry specialists.
You can thus say that you're digitising most of your company's files and data. This can be inputting financial data or vendor information into an Excel spreadsheet.
If you say that you're 'digitising your whole company', though, expect to get confused looks. This, in practical sense, would involve making all your employees redundant, to be replaced by computers.
2. Digitalisation
SAP Business One Interface

Digitalisation is the process in which digital technologies are used to make business processes better.
Gartner's IT glossary defines Digitalisation as 'the use of digital technologies to change a business model and provide new revenue and value-producing opportunities; it is the process of moving to a digital business.'
For example, a business may use enterprise resource planning (ERP) software to help manage invoices or keep track of inventory. The aim is for ERP software to provide some savings in time and/or accuracy. This will then generate more revenue in the future.

Digitalisation usually comes into play after digitisation. Companies look to digitalisation by using software to change or improve part of their business.
3. Digital Transformation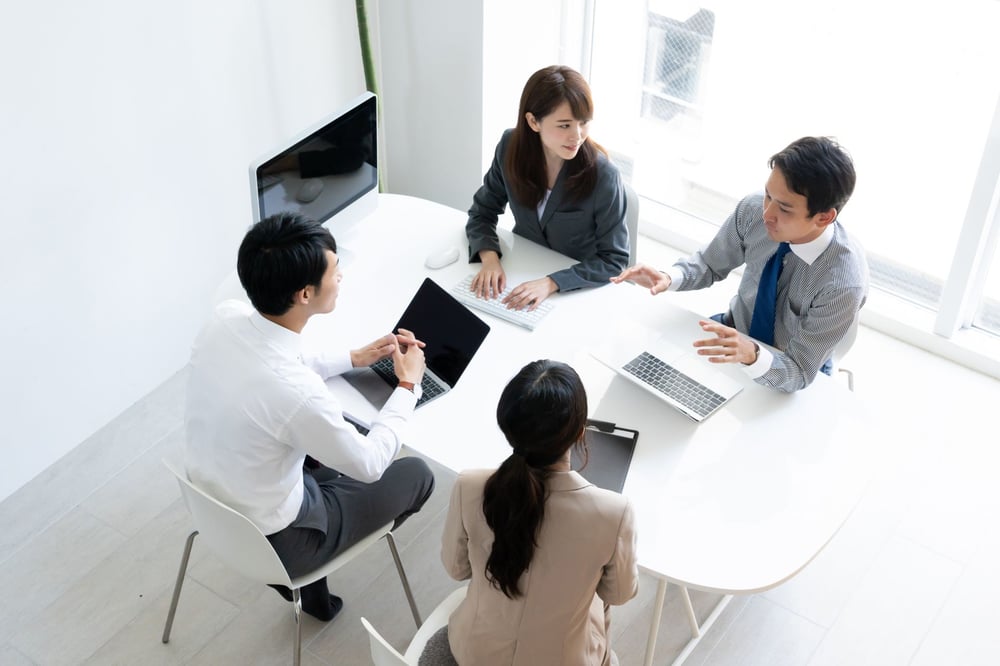 An entire Digital Transformation strategy combines the two in a much larger scale. Per the same Forbes article, Digital Transformation is 'the customer-driven strategic business transformation that requires cross-cutting organizational change as well as the implementation of digital technologies.'
What this means is that digital transformation is usually not confined within a single department.
Digital Transformation will involve cross-department collaboration. The company's processes will go through a complete overhaul. There will be a need to plan an entire strategy and execution process. Usually, this will be a company-wide initiative.


How are Digitisation, Digitalisation and Digital Transformation Linked?
Many digitisation projects can be a small internal project. Updating information into an Excel spreadsheet is commonplace in workplaces.
Sometimes, there might not be a need to have that information accessible to others in the company. That information might hence be only stored locally. In this case, digitisation does not automatically lead to digitalisation.
If the data uploaded so that it can be entered into a specific software, then that's when digitalisation comes in. For example, financial data inserted into an Excel spreadsheet might then be uploaded into a financial module of an ERP software.
This makes the data easily accessible for the relevant staff, such as the financial personnel who are responsible for the monthly financial closing. Therefore, the financial closing process has been digitalised.
A business which has completed its digital transformation would now be equipped to apply its digitised financial data and digitalised financial closing to other business functions.
For example, management will have real-time insight into the financial state of the business with the data from the monthly closing. This empowers them to make other business decisions – such as budgeting, procurement or hiring – much more quickly than before.
For Another Example Of Digital Transformation In Action, See How Small And Midsize Wholesale Distributors Can Create A Digital Edge For Themselves.
Planning A Successful Digital Transformation Strategy
'Digital transformation' has become a key phrase for forward-thinking companies. To ensure that your initiative works, here are some tips:
1) Be customer-driven.
Businesses that succeed in digital transformations focus on the customer experience. After all, better customer experience equals to more sales. Research shows that 'companies with a customer experience mindset drive revenue 4-8% higher than the rest of their industries.'
Ensure that your strategy provides a more streamlined experience end-to-end. This usually requires one single source of truth when it comes to your business data. Less silo-ed data means less delays and confusion.
2) Learn where your weaknesses are.
Don't immediately digitalise everything. It is crucial to find out where the inefficiency sits within your company. Problems might be limited to a few departments. This means that your digital transformation project will be easier than most.
Of course, there are often inefficiencies within all departments. In this case, each phase of the initiative can be implemented based on priority. Choosing software that allows for scalability, such as with the ERP implementation, also helps with planning and flexibility.

3) Include both digitisation and digitalisation.

To go digital requires digitisation as well as digitalisation. As mentioned above, digitisation usually comes before digitalisation. This will help you plan the different phases of your initiative and ensure that it goes smoothly.


Going Digital Is Crucial For Businesses in 2020

In the end, it's all about digital. Knowing the difference between digitisation, digitalisation and digital transformation allows for clarity, and allow you to clearly communicate your intent. This, in turn, will allow your employees to be able to plan sequentially and prepare for change.
Businesses can't stay analogue forever, especially when the competition has gone online. It is imperative to reduce inefficiency and improve processes.
To plan and successfully execute a digital transformation strategy for your business, you must plan for the digitisation of your critical business data, as well as the digitalisation of the business processes in every department.
Now that you have a better idea of the differences between digitisation, digitalisation and digital transformation, do click on the image below for a resource that will better inform your efforts at digitally transforming your business.