When it comes to the basic task of managing the day-to-day financial transactions of your business, a basic accounting software comes with the basic features needed to carry it out.
However, the financial year-end close is a much more complex challenge for any business, and if your finance team is using an accounting software, it may not have the necessary capabilities to support that process satisfactorily.
This can lead to financial statement inaccuracies and hinder your stakeholders from assessing the overall financial health and performance of your business, potentially impacting its stability in the long run.
Where accounting software fall short in the year-end close, a cloud-based ERP software has the robust financial management features needed to help your team close your business's books properly at the end of the fiscal year.
Here are 4 examples of where accounting software falls short in the closing process, and where cloud ERP software typically perform better.
Troubled By The Financial Year-end Closing Process? Here Are Four Steps For Easing Into It.
1. Lack Of Customisable Reporting And Data Visualization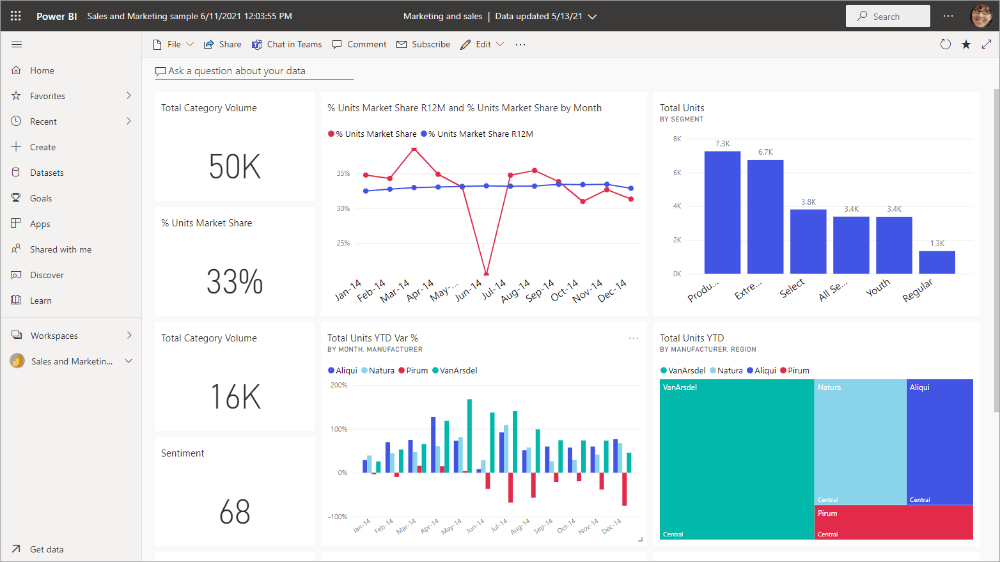 Tap On Microsoft Power BI For Your Reporting Needs; Source: Microsoft
When carrying out the financial year-end closing process for your business, the ability to customise financial reports that best fit your unique business needs is invaluable to your finance team.
However, while a basic accounting software usually comes with financial report templates that works for your day-to-day operations, they usually cannot be customised for more complex business needs, such as the year-end closing process. This limits your finance team's ability to achieve the depth they need for the closing process.
A fully-featured cloud ERP software like Microsoft Dynamics 365 Business Central, on the other hand, comes with powerful financial reporting capabilities, as it utilises modern technologies such as artificial intelligence (AI), machine learning (ML) and advanced analytics to help you acquire insights from your financial data, through customisable financial reports and real-time dashboards.
As with any other Microsoft product, Business Central can also be used in tandem with Microsoft Power BI, which provides the data visualisation capabilities needed to help your finance team derive useful insights from your business's financial data.
With Power BI, your finance team are better able to analyse the financial data generated by Business Central, and more easily acquire the actionable insights that will help them optimise the year-end closing process for your business.
Which Of The Power BI Licenses - Pro Or Premium - Fit The Needs Of Your Business Best? We Compare What Each License Offers Here.
2. Limited Planning, Budgeting And Forecasting Features
Overview Of NetSuite Planning And Budgeting; Source: NetSuite
The year-end financial closing process is crucial to informing the subsequent planning, budgeting and forecasting (PB&F) process for your business, ensuring that it starts the next fiscal year on a solid foundation for continued growth.
However, if your business is reliant on a basic accounting software for its financial management needs, you may find that the limitations of such a solution will become apparent during the PB&F process.
For example, basic accounting software may lack necessary capabilities such as collaboration and workflow management, version control, and scenario modelling and analysis. They may also not be able to integrate perfectly with dedicated budgeting and forecasting solutions, which may lead to further inconsistencies in your business's finance data.
However, a cloud ERP software like Oracle NetSuite integrates with all of the software in your business, unifying financial and non-financial data throughout your business to give you a single source of truth in real-time, which makes version control possible and greatly enables collaboration within your finance team during the PB&F process.
It also serves as the database from which NetSuite Planning and Budgeting (NSPB), a separate PB&F solution, can draw from and leverage to drive actionable insights through dedicated features such as scenario modelling and analysis, predictive analytics, and rolling forecasts, greatly optimising the PB&F process for your business.
NetSuite Planning And Budgeting Offers Your Business A Better Way To Carry Out Your PB&F Process. Click Here To Find Out Why.
3. Failure To Account For The Impact Of Inventory On Financials
One thing that's often overlooked when businesses like yours embark on their year-end financial closing, is how the year-end inventory audit can impact said closing process.
For example, any errors in your inventory audit can directly affect the accuracy of your financial reports. It can also affect your business's compliance with tax obligations, trigger regulatory compliance issues, and impact the budgeting and forecasting of your finance team; all issues that snowball into your year-end financial close at the end of the day.
And since they are primarily financial management tools, basic accounting software generally lack the features needed to manage your inventory, much less integrate it with your accounting.
However, a cloud ERP software like Business Central come with both financial and inventory management features built-in, amongst other features.
And because it collects data from both aspects of your business, Business Central not only calculates how your current levels of inventory affects your cost of goods sold (COGS), but also automatically reflects how this impacts the net profit reported on your financial reports, providing more accurate data to your finance team for their year-end closing process.
4. Inability To Consolidate Multiple Entities
Introducing NetSuite OneWorld; Source: NetSuite
If you're managing several business entities, consolidation will also be an important part of your financial year-end close process. By combining the financial data of all the entities under your business group into a singular whole, you get a much more comprehensive insight into the financial health of your group of companies as a whole, which is key to completing the close process for all of them successfully.
However, most accounting software do not offer robust multi-entity consolidation features. This makes them unsuitable for businesses with multiple entities like yours might be structured, and subsequently for conducting the year-end financial closing for your business as well.
On the other hand, some cloud ERP software is designed specifically to handle multi-subsidiary financial operations. This is especially the case with Oracle NetSuite OneWorld, which is designed to consolidate the business finances of all your business entities in real-time.
With NetSuite OneWorld, your finance team will get a real-time view into the financial health of your group of companies as a singular whole, and thus be able to close your business's books without spending undue time and effort going through the finances of each entity at the end of the year.
Cloud ERP Software Comes With The Features That Accounting Software Lacks To Properly Conduct Your Financial Year-end Close
An accounting software is capable of the basic financial management needs of your business, but they tend to lack the necessary capabilities for the job when it has grown enough to require due diligence in the year-end financial closing process.
These include the lack of customisable reporting and data visualisation, features which enable planning, budgeting and forecasting for the coming fiscal year, the inability to account for the impact of your inventory on your financials, and the lack of ability to consolidate the financials between multiple business entities.
However, cloud ERP software such as Oracle NetSuite and Microsoft Dynamics 365 Business Central come with these capabilities. This makes them a solid choice for when you need to upgrade from a basic accounting software, to a solution that's better able to handle your business's year-end financial closing needs.
To learn more about how a fully-featured ERP software differ from an accounting software, and why you should upgrade your business to one, click on the image below.