Microsoft Office 365 remains the Swiss knife for accounting and finance professionals. According to a survey by recruitment firm Robert Half, 69% of finance professionals in small businesses use Excel not just for day-to-day needs like invoicing and reporting – but for higher-level functions like budgeting and planning too.
It's no surprise that Office staples like Word, Excel, and Outlook remain popular, because they've always offered a robust set of fundamental tools. And with Office 365, Microsoft's subscription-based, Cloud version of the traditional Office suite, these tools are even more affordable.
LEARN HOW MICROSOFT OFFICE 365 DELIVERS VALUE FOR SMEs. CLICK HERE TO DOWNLOAD YOUR FREE BROCHURE ON OFFICE 365 FOR BUSINESS NOW.
Fundamentals aside, I'd also venture to say that Office 365 remains popular because it's easy to extend its capabilities as well.
From add-ons to standalone solutions that integrate with the suite, there's a vast range of integrations that're designed to bring new, value-added functionality help you do your work better.
With accounting and finance professionals in mind, we've compiled five Office 365 integrations you should consider, aimed at:
Freeing you up from manual work like tedious data entry,
Delivering faster, richer, more visual business insights,
Helping you maintain high standards of data accuracy, and more besides.
Office 365 Integrations That Can Help Boost Your Financial Productivity
DocuSign

Enter your signature once, and simply add it to every document from now on. No more print-outs. Source: DocuSign on AppSource

Try this instead of printing, signing off, scanning, and emailing expense approval documents. With electronic signature add-on DocuSign, you can digitally sign off emails and documents, or request signatures from others in Word and in Outlook.
You can also configure DocuSign to automatically save documents to OneDrive, helping you create a clear paper trail that satisfies your auditors -- without having to manage literal stacks of documents.
Microsoft Dynamics 365 Business Central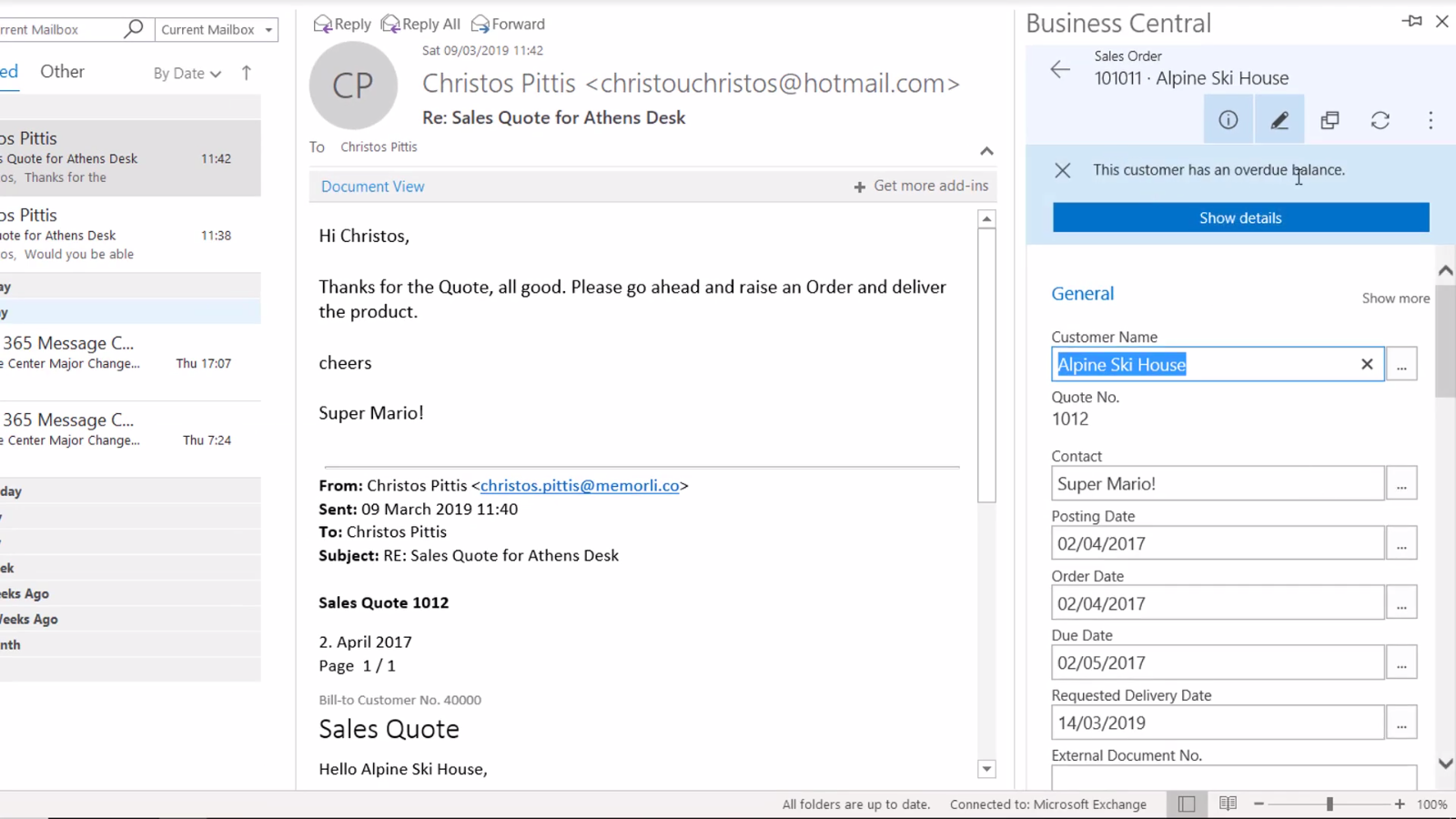 Business Central's Outlook integration gives you not just a quick overview of your customer, but the ability to create quotes, orders, and invoices as well. Source: Christos Pittis, YouTube

Microsoft Dynamics 365 Business Central is an enterprise resource planning (ERP) system, connecting key business parts including accounting and operations together. That's already a boost to your financial productivity, since you won't have to collate data from other departments just to create reports.
As a Microsoft product, Business Central doesn't just share its look and feel with Office 365. It's also tightly integrated with programs - including Word, Excel, and Outlook.
For example, you can quote and invoice customers (plus post invoices) within Outlook thanks to an add-in – saving you the hassle of dealing with attachments, switching between separate programs, and so on.
You've also the option of customising Business Central's report layouts in Word – even creating new ones from scratch – in other words, no technical knowledge required.
Finally, not only can you export data to Excel, you can also edit that data, and have it synced back to Business Central. It's useful if you need to update customer payment terms all in one go, for example.
LEARN MORE ABOUT BUSINESS CENTRAL AND HOW IT CAN GIVE YOUR OPERATIONS AND FINANCE A BOOST TODAY. CLICK HERE TO DOWNLOAD YOUR FREE BUSINESS CENTRAL FACT SHEET.
Jet Reports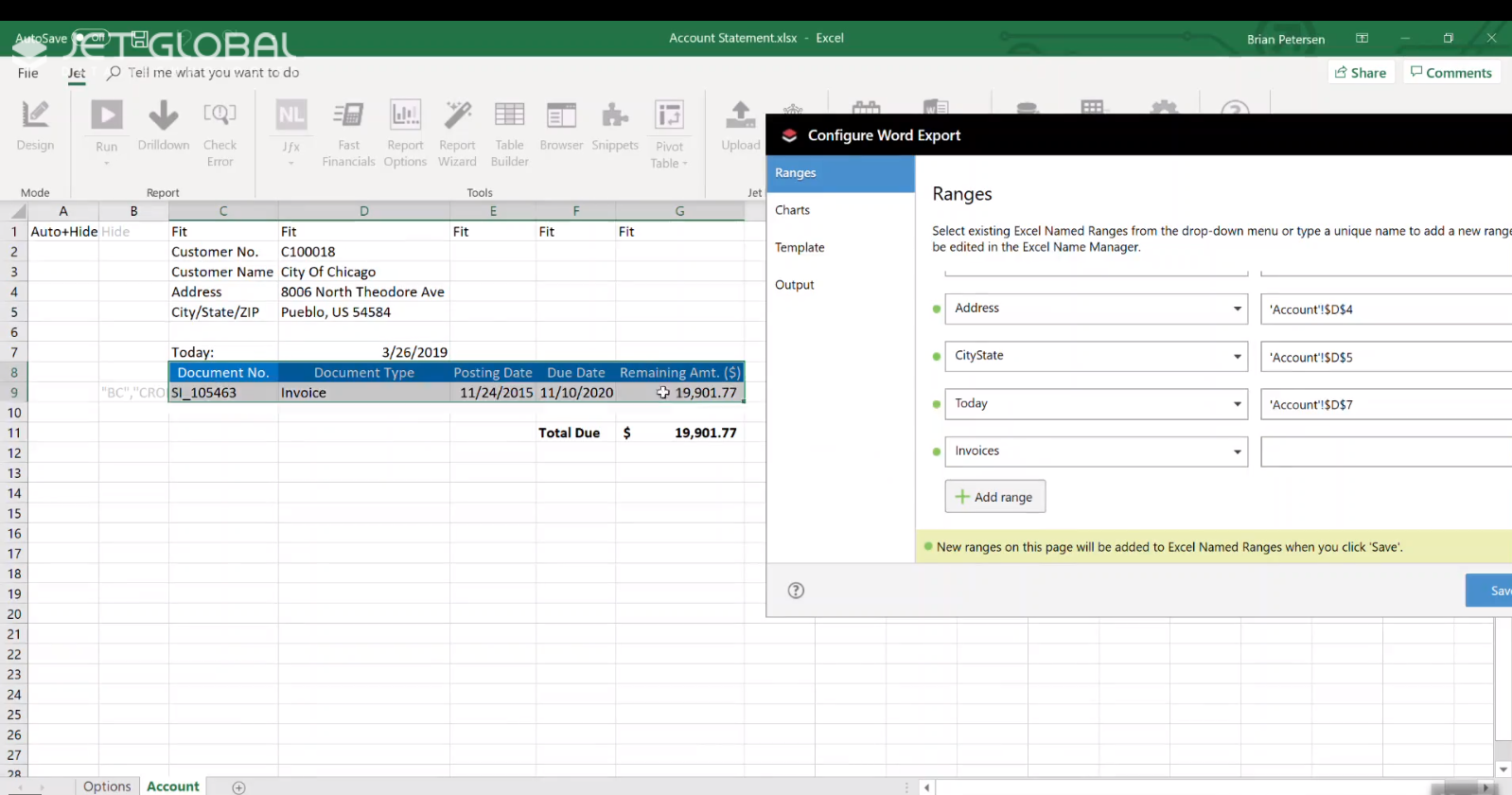 With Jet Reports, you can quickly create high-impact reports in Excel - and export real-time data to Word. Source: Jet Global.

This advanced reporting add-on for Microsoft Dynamics ERP systems can be useful if you've more comprehensive reporting needs.
Jet Reports integrates with Excel, so you don't need programming knowledge to start creating reports, whether from scratch or with one of many free samples and templates.
Options for creating reports on your own include easy-to-use point-and-click tools, and a more advanced table builder.
If you need to create say, invoice cover sheets, Jet Reports also integrates with Word, letting you pull data and embed charts in real-time.
For finance managers who need to send regular reports (e.g. weekly cash flow statements), there's also a connection with Outlook letting you schedule reports to be sent by email.
IMPROVE YOUR FINANCIAL REPORTING WITH THESE 10 BEST PRACTICES. CLICK TO DOWNLOAD THE FREE GUIDE NOW.
Power BI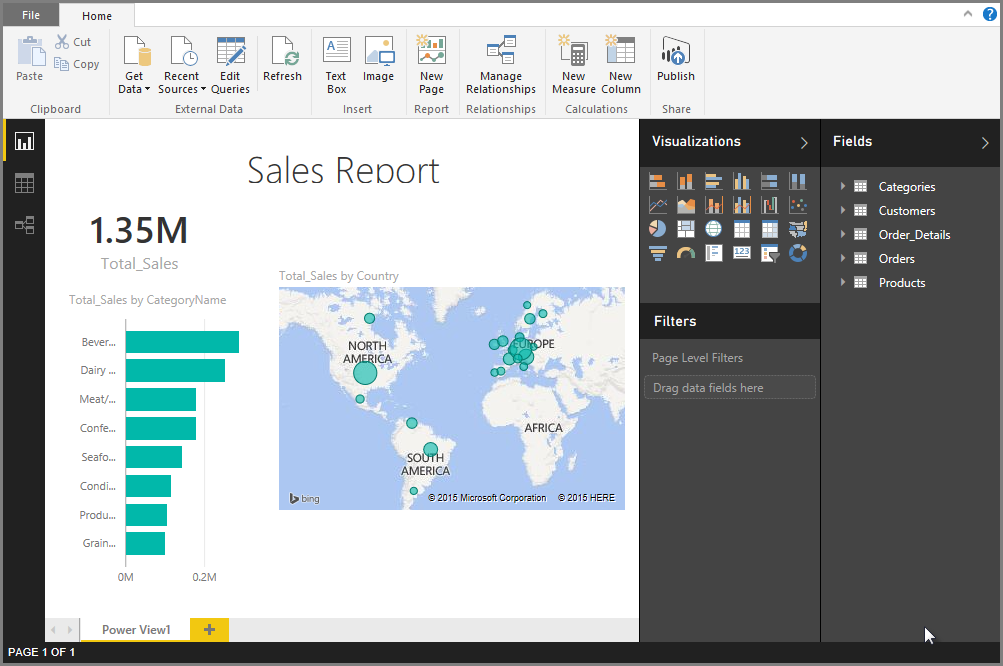 Turn a spreadsheet into immersive, easily understandable visual insights with Power BI. Source: Microsoft

A Cloud-based business intelligence (BI) suite developed by Microsoft, Power BI lets you connect different data sources – including Office 365, Business Central, and more – and pull it into a single dashboard for highly visual insights.
For example, you can upload existing Excel workbooks to Power BI, turn it into illustrative charts, or query that data with natural-language questions.
Best of all, the basic version is free for Office 365 users.
POWER BI: FREE OR PRO VERSION? CLICK HERE TO LEARN IF YOU SHOULD INVEST IN POWER BI PRO FOR YOUR COMPANY.
LucidChart Diagrams
Go beyond numbers with LucidChart Diagrams, a diagram drawing add-on for Excel, Word, and PowerPoint. More than the usual pie charts, templates you can choose from include:
Business process models
Flowcharts
Mind maps
Value stream maps, and more.
This'll come in handy if you want to map out common work processes so everyone's on the same page – for example, sales and purchasing approvals above a certain value.
With the Right Office 365 Integrations and Apps, You Can Boost Your Productivity
In summary, you can extend the value of Office 365 with a vast range of integrations and apps that'll help you boost your productivity by:
Simplifying work processes,
Gain richer business insights, faster,
Reducing the need for manual work and hard copies, and more.
If you've yet to invest in Office 365, and want to learn more about it, click the button below to get your free Office 365 brochure today.