The latest Jet Global release is here, and it brings improvements that'll help make it easier to get the data you need to make better business decisions.
These improvements – which apply not just to their signature advanced reporting solution Jet Reports (formerly Jet Professional), but to supporting components like the Jet Browser – flesh out a roadmap for continuous improvement that they talked about at the end of last year:


Now, Jet Global has published a page of videos demonstrating every new feature here. But you're short on time, read on to learn about the ones you should really know about.
Jet Reports 2019 R2: Easily Export Data with New Microsoft Word Integration

Simply define the data range using the Excel add-in... Source: Jet Global.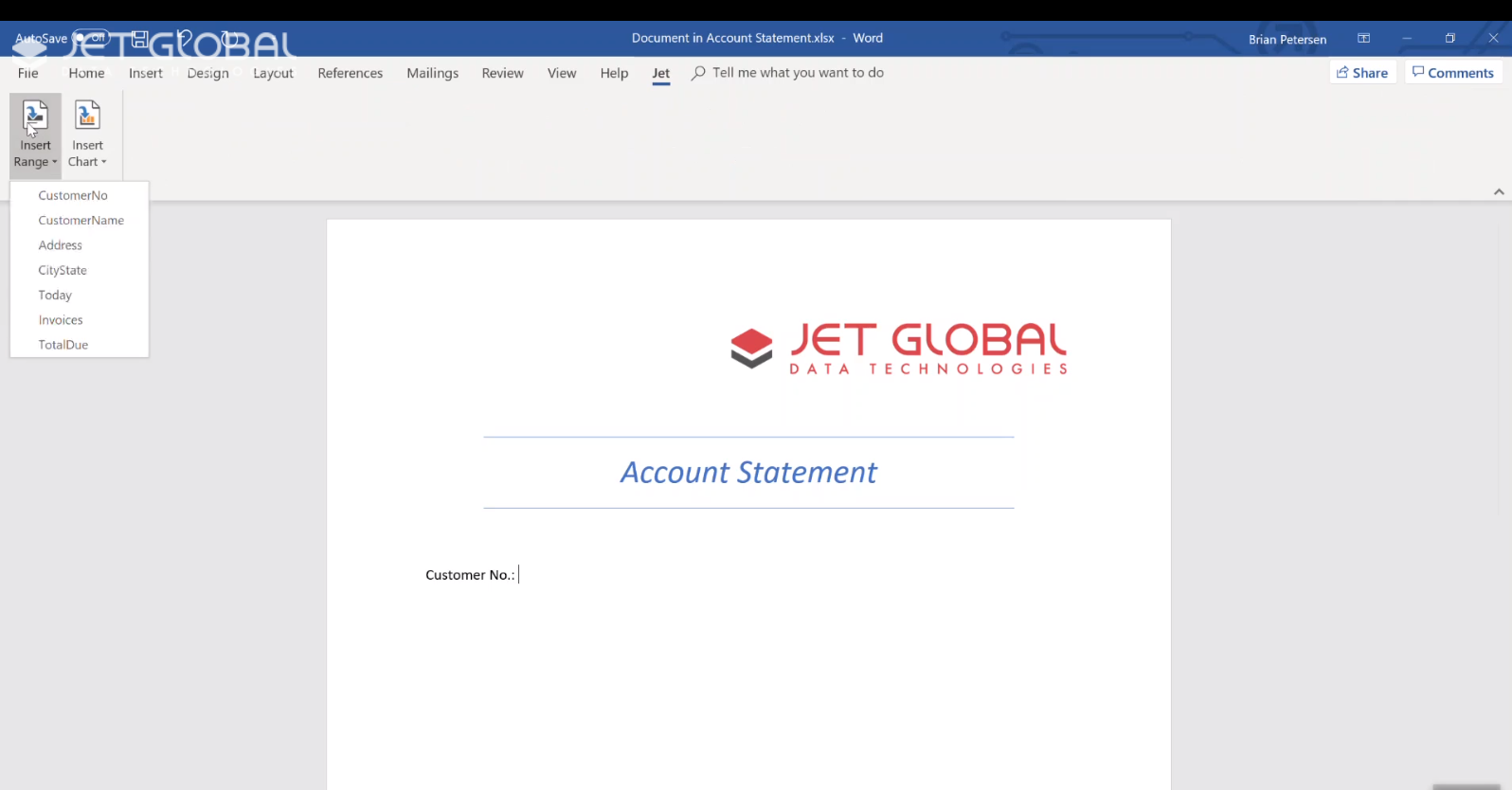 ..

And then plug the data into your Word document. Source: Jet Global.

You can now automatically pull in data and embed charts from Jet Reports into Word in real-time. This'll come in handy if you've been copy-pasting data from Jet Reports into Word to create invoice cover sheets, for example.
The process is as simple as this:
Define the data ranges (data from a selected range of cells in a report) you need in the Excel add-in (Jet > Configure Word Export)
Once you're done formatting your Word document, head to Jet > Insert Range, or Jet > Insert Charts.
Jet Reports 2019 R2: Jet Browser Is More Intuitive

Some of the most requested features, now available in Jet Browser (v20.0). Source: Jet Global.
Jet Browser's the go-to place for quickly creating reports based on tables and fields in your database. This release brings user interface (UI) improvements that make it even easier to find the right ones.
With the Jet Ribbon, easily access functions like Drilldown and Drag & Drop Output. Or switch between data sources and companies with a click of the mouse.
It's easier to find what you're looking for, thanks to new search bars with search history for the Tables and Fields columns.
Know more about the Tables and Fields you're exploring with the new Details pane.
You can now add Tables and Fields to your Favourites, independently of each other.
Check that OLAP cube and be sure it's up-to-date

Know how up-to-date your data is exactly. Source: Jet Global.

To be sure you're getting the most up-to-date analyses in your report, you can now check when an online analysis processing (OLAP) cube was last processed. Simply hover over an entry on the Cubes list to get the time and date, right down to the second.
On that note, if you've OLAP cubes hosted in the Azure Analysis Service, this release also adds support for using them as a data source.
EVEN SMALL AND MEDIUM-SIZED BUSINESSES CAN BENEFIT FROM ARTIFICIAL INTELLIGENCE TODAY. READ THIS BLOGPOST TO FIND OUT HOW AI CAN STREAMLINE EVERYDAY PROCESSES AND HELP YOU IMPROVE YOUR CUSTOMER SERVICE STRATEGIES.
Access Administration Controls from the Jet Hub (formerly Jet Web Portal)


Manage users and data scopes online. Source: Jet Global.

Traditionally, the Jet Administration Console was the only place where you could access controls like:
Setting up and managing users and groups, and
Creating data sources and managing their scopes.
In release 20.0, you can now access these controls in the Jet Hub too, from the main menu (see screenshot above).
But don't worry if you prefer using the Jet Administration Console, because it'll still be available.
Sign in with Office 365 Credentials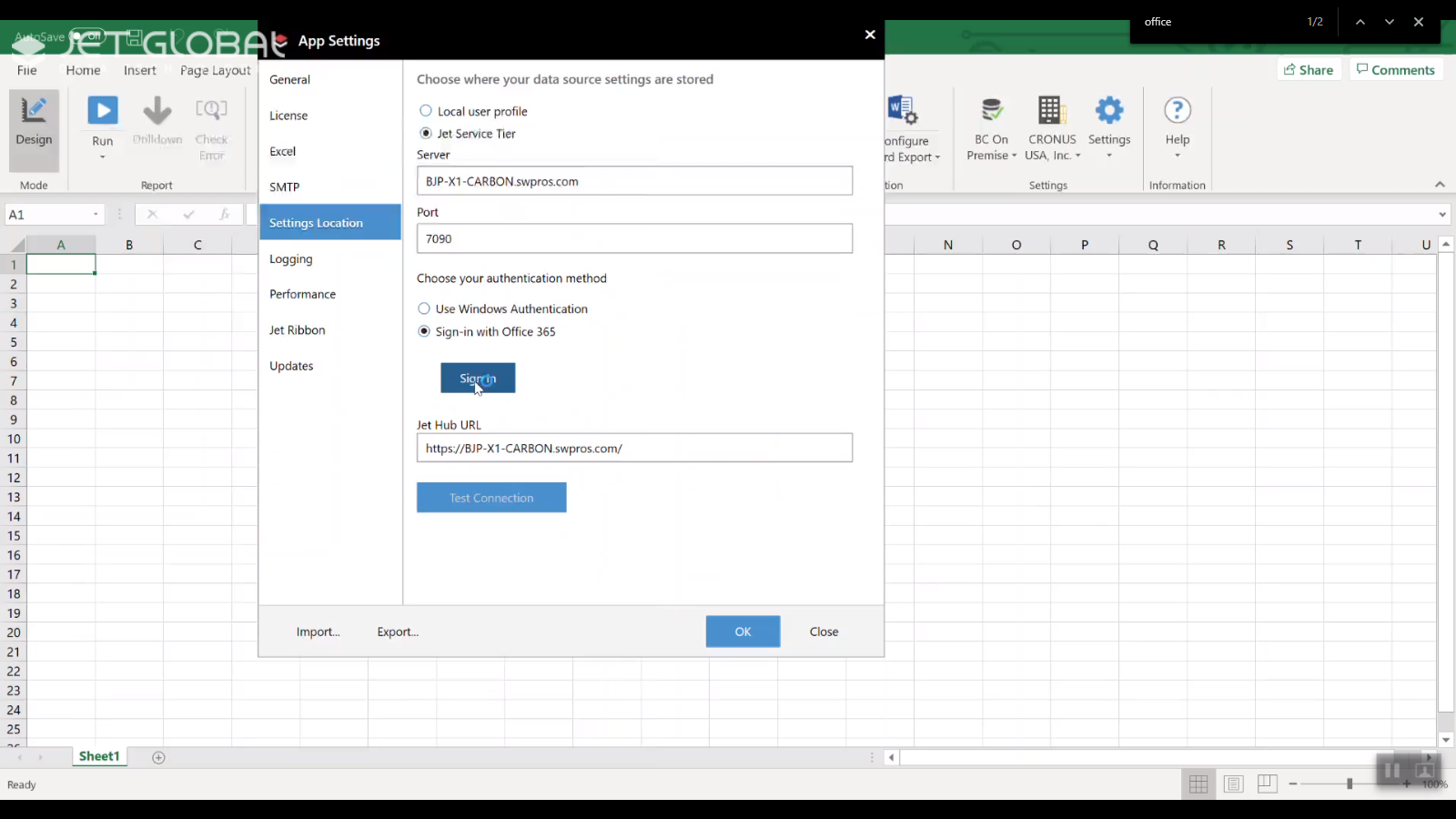 New Office 365 sign in option: one less set of login details to forget. Source: Jet Global.

Here's another tip for system administrators. If your instance of Jet Reports is installed in an Azure Active Directory environment, you've the option of enabling users to sign in with their Office 365 details. That's one less set of login details for them to remember.
Jet Reports Now Supports Business Central, On-Premise

Whether on-premise or in the Cloud, you can get even more comprehensive reports from Business Central with Jet Reports. Source: Jet Global.

If you've invested (or plan to invest in) a Microsoft Dynamics 365 Business Central on-premise system, good news: Jet Reports now adds support for using on-premise Business Central systems as a data source.
Jet Global's Spring 2019 Release (v20.0): One in a Series of Continuous Improvements
In summary, Jet Global's latest release sticks to their mission of enabling data access and helping you make better business decisions by:
Simplifying the process of generating reports in Word, and
Making the UI across all Jet products more intuitive – so you can generate reports even quicker.
If you'd like to learn more about Jet Global's reporting solutions for Microsoft Dynamics, and how they can help you achieve reporting best practices – simply click on the button below to get your guide on the Top 10 Microsoft Dynamics Reporting Best Practices now.