There are several reasons why you might choose a Cloud ERP system like Microsoft Dynamics 365 Business Central.
The affordability of Cloud systems might be one reason. You get lower upfront investment costs, because you'll only have to pay for subscription fees. There's no need to invest in hardware like servers.
Gaining better insights into your business is probably another reason. You can now have a better overview of your business, thanks to the built-in reporting tools.
Most ERP systems include reporting tools that present your business's data in accessible charts and graphs. And for the most part, Business Central's built-in reporting tools will do the job well.
But if you want more comprehensive reports, there're several third-party integrated solutions.
UNSURE ABOUT THE DIFFERENCE BETWEEN BUSINESS INTELLIGENCE AND REPORTING TOOLS? READ OUR BLOGPOST.
The Significance Of Jet Global's Rebranding
Long-time Dynamics NAV (Navision) users might be familiar with Jet Reports, an advanced reporting solution. The product was developed in conjunction with Microsoft for use with their Dynamics range of ERP systems.
But that's just one of their several products.
To better reflect its evolution toward intelligent analytics and reporting, Jet Reports rebranded itself as Jet Global Data Technologies earlier this month.
"The speed of development in technology isn't slowing down," said Joe Little, CEO of Jet Global in a press release. "With the launch of Dynamics 365 and our continued jump into the Cloud, it was clear that our product line-up went far beyond reporting.
"For years, we've helped people with their analytics, data management, and report portability, but that message was increasingly lost as we grew beyond our core reporting focus. Moreover, with the introduction of our new Jet Budgets product, we thought the time for re-invention was now," he added.
Several product names have also changed in tandem. For example, the premium edition of Jet Reports formerly known as Jet Enterprise is now Jet Analytics, while Jet Professional has taken on the familiar Jet Reports name.
The table below details these changes and summarises each product's function.
What Can Jet Global's Reporting Tools Do For Me?
As we noted earlier, built-in reporting tools should be good enough for most users.
There may come a point though, when an advanced reporting tool would be worth investing in.
LEARN HOW JET REPORTS CAN HELP YOU MAKE INFORMED BUSINESS DECISIONS!
For one, it may be time to upgrade if you're reliant on expensive, programmer-customised reports to get around template limitations.
Jet Reports lets you design and generate reports to your requirements. It's also integrated with Excel, so you can customise reports easily and off the bat within Excel itself.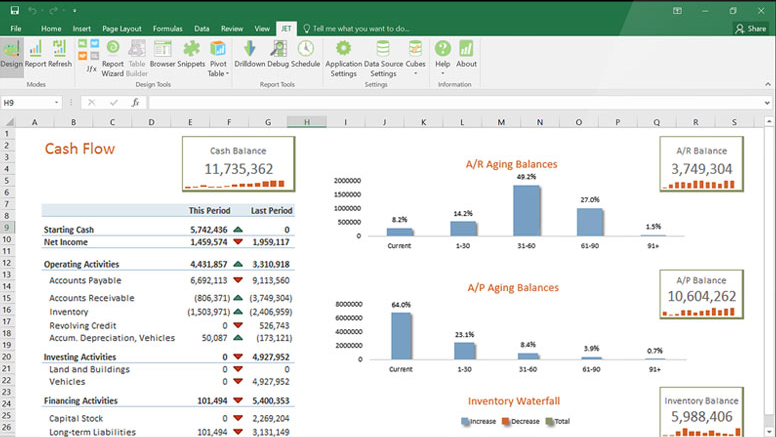 Jet Reports is integrated with Excel as an add-in, so you can customise reports in a familiar environment. Screenshot courtesy of Jet Global.

That way, you can get insights into your company, in the format you need.
Or suppose you want your system to go even further, and help you easily interpret the data and present actionable insights.
For that, you may want to consider a reporting tool with business intelligence (BI) capabilities like Jet Analytics.
Jet Analytics goes beyond reporting to give you a comprehensive analysis of your business. It helps you understand data patterns and relationships.
For example, you can manage your inventory using insights computed from sales and employee data. You can then avoid stocking products that aren't moving, or introduce incentives to increase sales.
"Our mission has always been to help customers access their data to make decisions that drive better business outcomes, and we do that with more than reporting, " says George Brown, VP of Sales & Marketing.
"With the new Jet Global branding, we're best able to help people understand how we can help them with total data access.'
Make Better Decisions With Jet Global
Want to know how you can make better business decisions with Jet Reports? Drop us a note here and we'll be in touch.