Over the past year, Oracle NetSuite has hosted a series of 7-Minute Workshops, which are videos where complicated or timely topics that affect the businesses of NetSuite customers are discussed and broken down in the eponymous 7 minutes.
Hosted by Fritz Nelson, the Editor-in-Chief of Oracle NetSuite, the 7-Minute Workshops covers a new theme each month.
For the month of October 2021, that theme is Project Management and Profitability, and Nelson was joined by a guest speaker; Adam Mayo, the Vertical Product Manager of Oracle NetSuite.
Under this theme, there are three videos that cover the unique business needs of professional services firms like yours, and how NetSuite can be instrumental in helping your business meet these needs.
Here's a quick summary of the 7-Minute Workshops under the Project Management And Profitability theme.
Want To Differentiate Your Professional Services Firm From The Competition? Here Are Six Ways To Do So.
Resource Management (Released 6 October 2021)
Source: NetSuite
In this video, Nelson and Mayo covered the topic of Resource Management, and why it's a critical factor for professional services firms like yours.
The main source of revenue for businesses like yours are the billable hours that the resources they've invested into their projects have brought in. Because of this, they are all concerned about Resource Management in one way or another.
Resources which are 'on the bench' and not currently used to staff projects are not bringing in revenue, but still incurs an ongoing cost for such businesses.
Therefore, a key metric associated with Resource Management is the utilisation rate, which is calculated based on the billable hours that each resources is spending on working billable hours on each project.
On the other hand, it's important to find a balance between achieving a high utilisation rate for the resources available to your business, and avoiding burnout especially for the most sought-after resources.
Another issue for professional services firms like yours is that project managers which use their own project management tools in their work, have their view of your business's resources limited only to what's assigned to their own projects.
Because of this, project managers tend to manage in their individual data silos, and lack visibility into the overall availability of resources for all the projects being undertaken by your business.
Here Are 7 KPIs Your Professional Services Firm Should Track To Achieve Next-level Performance.
How Does NetSuite Help Solve The Resource Management Challenge?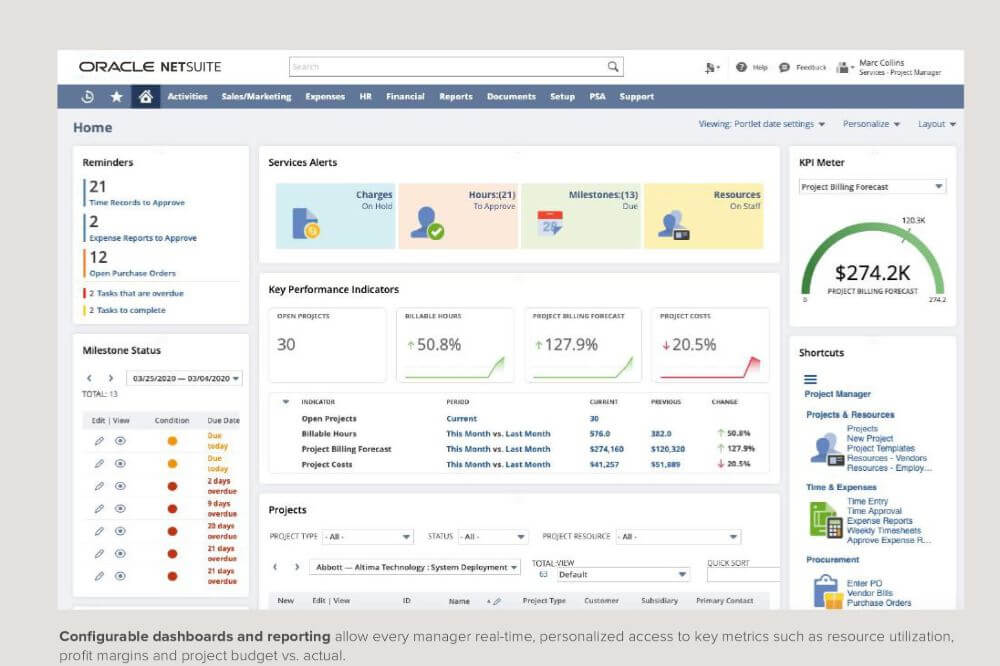 Overview of NetSuite SuiteProjects Dashboard; Source: NetSuite
Oracle NetSuite comes with professional services automation (PSA) modules, such as NetSuite OpenAir and SuiteProjects, which provides project management capabilities while unifying Resource Management together with Project Billing and Reporting.
This means that everything is managed in a single system, giving you a complete view of your staffing resources while still being able to dig down into the details for each of your projects.
Overview of NetSuite OpenAir Dashboard; Source: NetSuite
The unification of Resource Management with Project Billing also allows you to forecast your billable hours, and subsequently drive your revenue forecast.
These forecasts will be automatically updated as resource staffing changes, and NetSuite also automates notifications to alert your businesses's resources when they're staffed, or when there's been changes to their schedule.
Project Accounting And Managing Project Profitability (Released 13 Oct 2021)
Source: NetSuite
In this video, Nelson and Mayo covered the topics of project accounting, and how to manage the profitability of your businesses's projects.
Project accounting includes the following:
Cost Tracking: cost of time for resources working on each project
Budgeting: For various business expenses such as billable hours worked, travel expenses, material costs, pass through expenses, and inventory
Billing: Generating invoices for custoemrs
Revenue: Various methods to measure the delivery of performance obligations to customers so as to properly recognise revenue.
By subtracting the total costs of a project from the revenue that the project brought in, one can measure the profitability of that project.
It differs from corporate accounting, which encompasses all the debits and credits, running financial statements, budgeting, and financial planning for the entirety of your professional services firms.
Project accounting on the other hand aligns with a service contract that was sold to the customer, and defines the contract amount and what the project is worth. It focuses on translating the service contract into tools to properly invoice the customer, and recognise revenue for your business.
Smaller professional services firms may find that project accounting becomes much more difficult when they start getting overwhelmed with projects, or alternatively when available projects start to dry up.
In both cases, the business must be able to figure out which projects and services are most profitable, so that they can focus on the projects that can bring in the most revenue and profits.
However, because project managers might be managing their project and budget in separate software tools, they can't mirror transactions against their own project.
This means that they might not have access to your business's finance systems, and thus may not know what resources may be available to assign to their project.
Your Role As A Finance Leader In A Professional Services Firm Is Shifting From Accounting Towards Accountability. Find Out What This Means For You Here.
How Does NetSuite Mitigate These Risks In Project Accounting?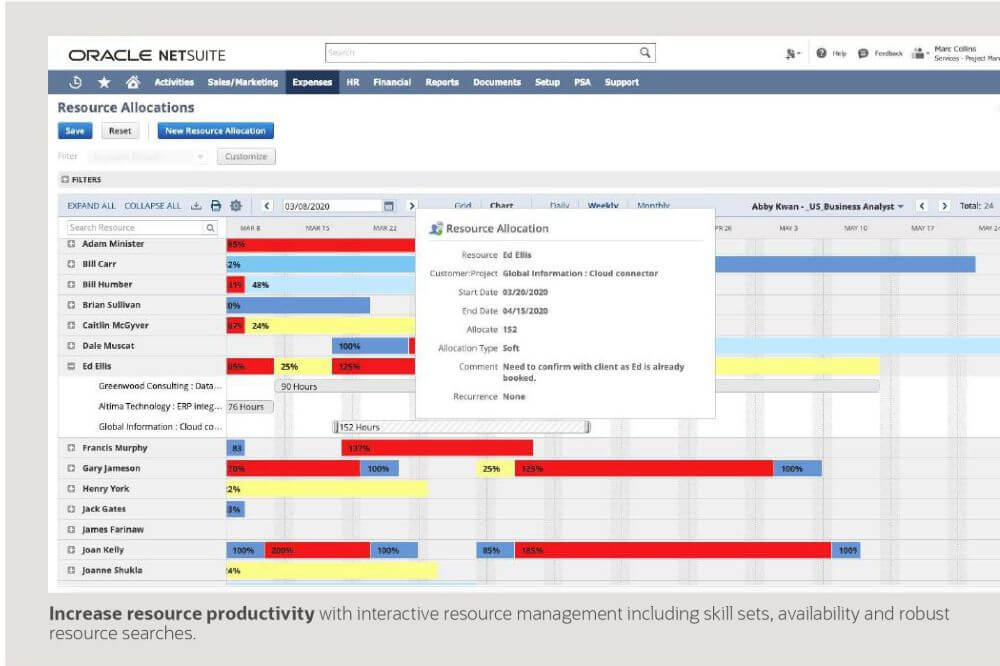 NetSuite SuiteProjects Resource Allocations; Source: NetSuite
NetSuite OpenAir and SuiteProjects integrates your sales, operations and accounting functions to give you complete visibility into your professional services firm.
In addition, both of NetSuite's PSA solutions automates billing and revenue with a flexible billing rules engine which supports the following:
Time and materials
Fixed fee
Milestones
Percentage Completion of Service Contracts
Purchase Transactions
Project Billing (Released 27 Oct 2021)
Source : NetSuite
In this video, Nelson and Mayo cover how project Billing is a big part of project accounting, as it's one of the main pillars that drives how your professional services firm generates invoices for your customers.
That's because if invoicing isn't done correctly, it can delay project billing and cash flow, which in turn can impact the overall profitability of your business.
Another reason why project billing is so important for professional services firms like yours, is because it differs from the way businesses that deals in products bill their customers.
While businesses that sells products or software licenses have bills with more defined and discrete items, billing for services has to take into account multiple variable that go into delivering a project, such as:
Labour Hours
Fees
Pass Through Costs
Travel Expenses
Of course, professional services firms like yours often face some common challenges when it comes to project billing. For example, it's an additional burden on your business's finance function, which is especially likely if your business is a smaller firm.
Many professional services firms like yours also use separate systems for different functions, such as time sheets, expense reports etc.
These require manual data entry to transfer business data between systems, which can lead to user errors and cause delays when it comes to billing your customers
How Does NetSuite Help With Your Project Billing Challenges?

Capturing expenses in NetSuite SuiteProjects; Source: NetSuite
NetSuite's PSA solutions OpenAir and SuiteProjects provides billing automation capabilities, which eliminates the need for manual data entry and thus any user errors that might result from them.
These PSA solutions also helps you set up your project and create billing rules, and its flexible billing rules engine allows you to add rates to your billable hours and mark up your expenses, amongst other functionalities.
OpenAir and SuiteProjects also allows you to carry out setup on the front end of your project, which will then automatically generate invoices for your customers based on data inputs such as time and expense.
Take Advantage Of PSA Solutions From Oracle NetSuite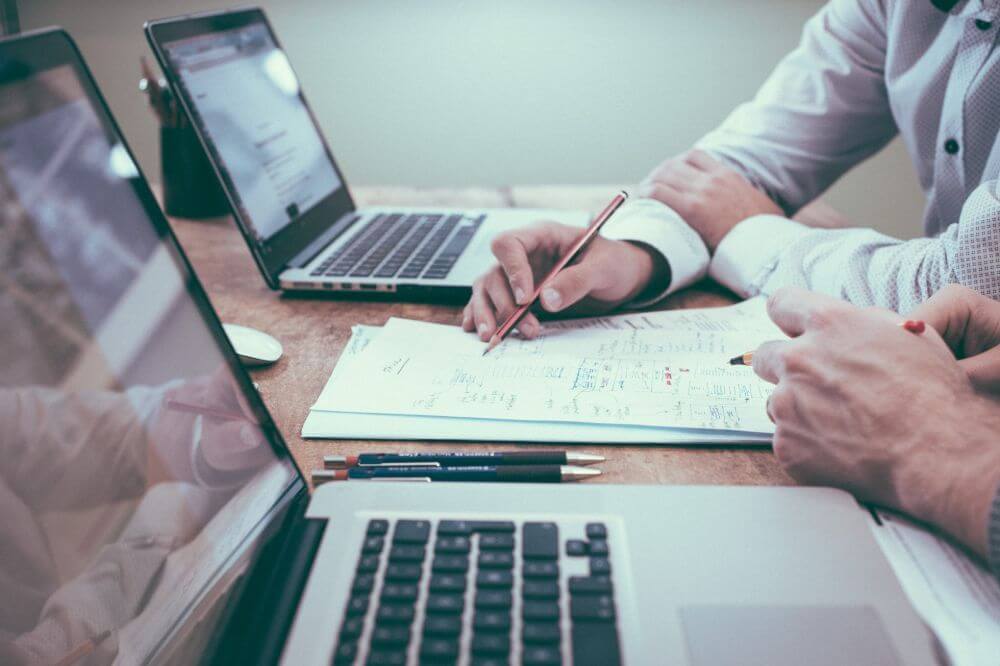 Oracle NetSuite is the ideal true cloud ERP software for professional services firms like yours, thanks to its native PSA modules OpenAir and SuiteProjects.
With these modules, you'll get a solution with the capabilities to automate the project-related accounting needs of your business, such as resource management, project accounting and project billing.
It also unifies the unique accounting needs of your professional services firms with other functions throughout your organisation, giving you a single source of truth in your business at the same time.
Trying To Decide If Oracle NetSuite Is The Right Fit For Your Business? Here's Our Comparison Of The True Cloud ERP Software With Its Closest Competitors To Help Inform Your Decision
To learn more about how a cloud ERP software like Oracle NetSuite can promote growth in your professional services firm more effectively than relying on spreadsheets, click on the image below to learn more.