What kind of year did you have in 2020? If you were a professional services firm, you probably had a bad one—thanks in large part to the pandemic.
COVID-19 hit professional services firms like yours especially hard in 2020. Many had their toughest year ever, and some even closed for good.
Overall, revenues at professionals services fell 20-30 percent last year. That's a big drop in annual profitability for any business.
But the pandemic wasn't the only factor that short-circuited the profit levels of the industry last year; several other longstanding industry challenges also contributed.
Difficulties in acquiring new customers and maximising billable hours, as well as shifting customer priorities were all drags on the profitability of professional services firms in 2020.
The increase in work-from-home (WFH) arrangements also hurt overall productivity and efficiency.
If you're a professional services firm struggling to survive, you can't afford another year like 2020. To thrive in 2021, you must boost your profits by increasing your revenue, while cutting down on your costs.
But doing so is easier said than done, even in good years. That's where Cloud ERP software can help.
Cloud ERP Delivers Enormous Benefits
Cloud-based ERP software delivers enormous benefits to professional services. It helps them better orchestrate people, projects, and processes.
Here Are Five Of The Critical Benefits That Cloud ERP Provides Small Businesses In The Post COVID-19 World.
More importantly, it helps them make sure their projects run smoothly—on time, on budget, and on value.
That's the kind of customer service today's clients want and expect, and what you need to provide in order to beat out the competition and boost profitability and growth in 2021.
Below are three examples of how Cloud ERP can help professional services firms deliver exceptional customer service which customers would clients rave about.
1. Cloud ERP Helps Minimise Wasted Costs By Enhancing Operational Visibility
Delivering a project on time, on budget, and on value is easier said than done. On average, for example, large scale IT projects run 45% over budget and 7% over time while delivering only 56% percent less value than forecasted.
Wasteful practices like poor prioritization, over/under-staffing on projects, or lack of actionable milestones can produce project delays and consume time and resources.
Accurately tracking overall progress on a project keeps your team on track, and ensures that resources invested into your projects don't go to waste. But this is hard to do when your most critical data is locked away in disparate silos.
Cloud ERP software breaks down these silos and unifies data generated across your professional services firm, allowing you to track operational metrics and generate real-time insights.
This also eliminates the chances that leadership gets conflicting information and keeps everyone on the same page. That way, you make more informed business decisions that helps you minimise unnecessary costs in a project.
How NetSuite Helps Enhance Project Visibility For Professional Services Firms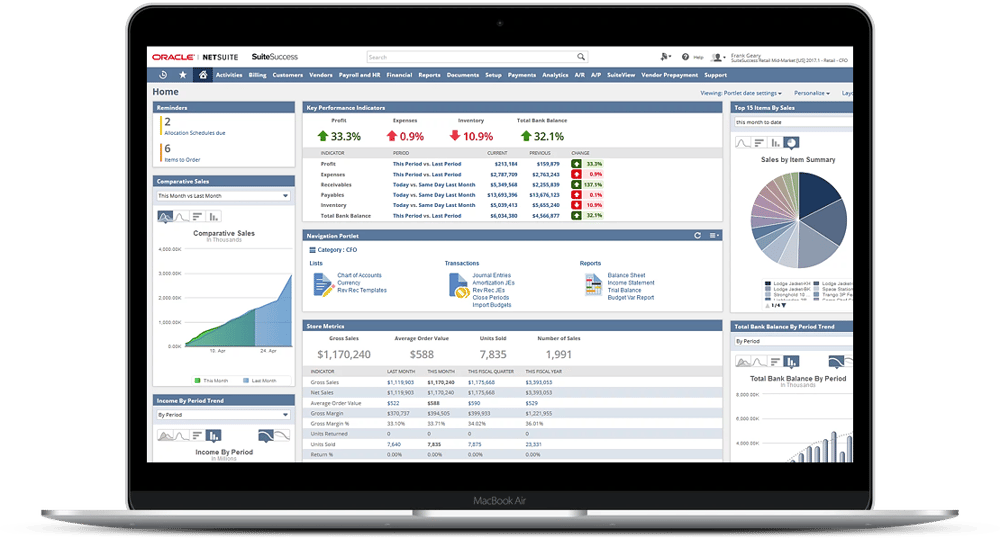 Oracle NetSuite provides easy-to-read dashboards that generate insights on critical project metrics. These include key performance indicators (KPIs) accompanied by insightful graphics on NetSuite's dashboard.
NetSuite also displays current projects with rich information regarding critical variables, such as the project manager and progress updates. These features make it easy to determine how projects are going.
2. Cloud ERP Helps You Build A Good Reputation And Demand For Your Services
As a professional service firm, your business needs to know the needs and demands of your customers, so that they can tailor their services accordingly to meet them.
By anticipating your customers' needs and exceeding their expectations, you can strengthen your business's relationship with your customers, and boost demand for your services (and thus your overall revenue) through positive word-of-mouth advertising.
Differentiating Your Services From Your Competition Is Also Key To Boosting The Growth Of Your Professional Services Firm. Here Are Six Ways To Do So.
Cloud ERP software are designed to generate critical customer insights when you need them most. It reconciles your back-office operations with front-end processes (such as CRM) to deliver customer data to you in real-time, enabling faster reaction time to customer queries and instant communication with key stakeholders.
And since you can access your business's cloud ERP through mobile devices with an Internet connection, you can get updates about your customers even when you're away from the office.
How NetSuite Provides Insights Into Your Customers' Needs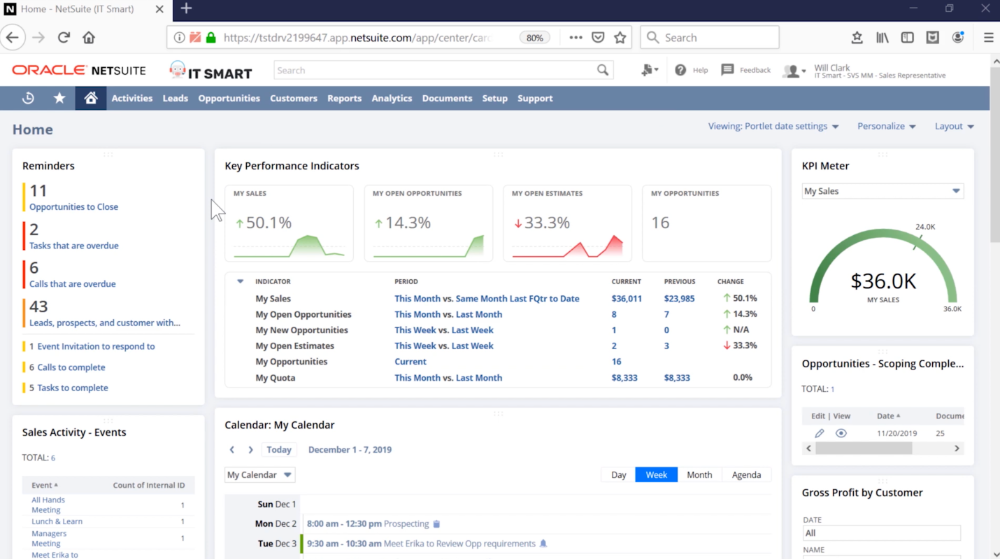 Interface of NetSuite CRM. Source: NetSuite

NetSuite's CRM module gives you a 360-degree view of the customer, and provides a seamless flow of information across the entire customer lifecycle.
It allows you to see customer interactions and transactions, know what customers want and what they bought, and view service orders, pending issues, and overdue invoices.
In addition, it allows you to manage upsell, cross-sell, and renewals of existing customers.
3. Cloud ERP With PSA Automates Billing And Manages Operational Costs
To ensure that your professional services firm remains solvent and profitable, you'd need to maximise your revenue while controlling your business costs at the same time.
As a professional services firm (especially those that are project-based), the ability to maximise billable hours per employee is among the most critical keys to increasing revenue, thus maintaining cash flow and increasing profits.
Yet, the fast-paced work environments of professional services firms can lead to your employees forgetting to log billable hours, which not only costs your business revenue but also creates difficulties in ensuring your employees have enough billable hours every week.
And with the growing pressure from competitors driving down price points, you'd also need to control general, sales, and administrative (GS&A) costs just to make sure your professional services firm don't end up in the red.
A cloud ERP software with a professional services automation (PSA) module can help you achieve both goals at once.
How NetSuite Improves The Profitability Of Your Firm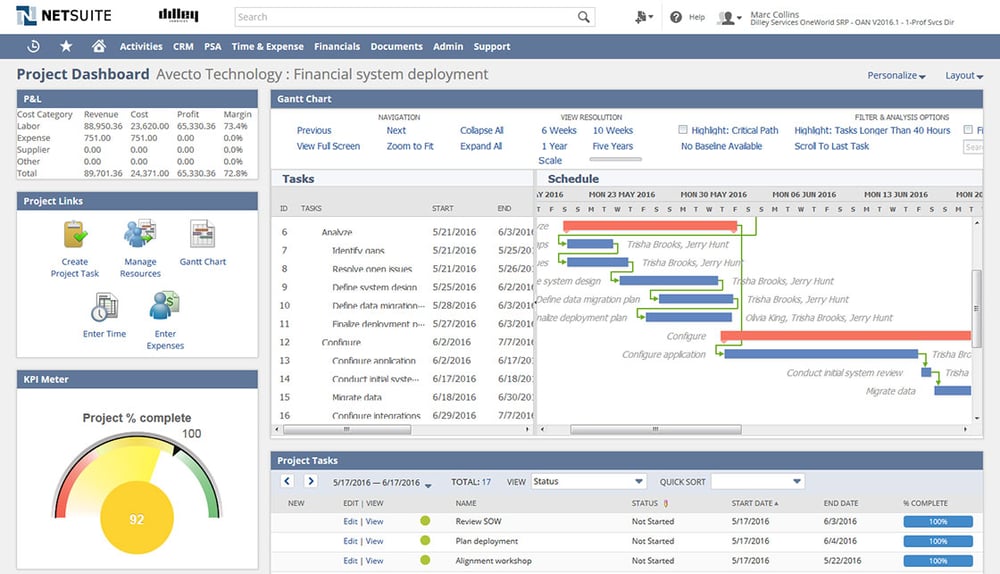 Quick overview of Project tasks and plan, with exception filters to identify underperforming areas quickly. Source: NetSuite

NetSuite's PSA module enables automate billing and timesheet management for your professional services firm, ensuring that all of the billable hours accumulated by your employees are logged and accounted for.
It also helps you control the operating costs of your business with industry-specific financial features, such as project accounting and expense management.
And since Cloud ERP software are subscription-based and don't require on-premise servers, they minimize high capital expenditures (CAPEX) by about 30%.
This means that with NetSuite PSA, you get a solution that helps you better manage the bid-to-bill process of your growing professional services firm and improve its profitability, without breaking your budget.
Cloud ERP Helps Professional Services Firms Stay Profitable
Last year was no cake walk for professional services firms, as the COVID-19 pandemic hit them hard. But it wasn't the only challenge the industry faced in 2020.
Other industry challenges included tight profit margins, difficulty in acquiring new customers, hiring and training, low productivity and efficiency.
These roadblocks prevented professional services firms from delivering the standard of customer service which keeps clients coming back for more, and thus impacted their profitability.
Cloud ERP software can help professional services firms like yours overcome these roadblocks, as they provide the insights you need to boost your revenue by enabling your business to provide quality service, while managing your costs by eliminating waste.
But if you want to know more about why you need cloud ERP software to grow your professional services firms, click the image below to find out why spreadsheets alone aren't enough to help you manage your business effectively.