If you're reading this, chances are you've decided to go with an SAP product when considering which ERP software to implement for your small- to medium-sized enterprise (SME).
SAP offers two ERP software products for SMEs:
SAP Business One - SAP's flagship ERP software for the SME market, available on-premises and in the cloud, and
SAP Business ByDesign - SAP's software-as-a-service (SaaS) cloud ERP software for SMEs.
As such, the natural question would be, "What's the difference between the two SAP products?"
To help you with this decision, we've put together a quick comparison of SAP Business One and SAP Business ByDesign to highlight their relative strengths against each other.
A Brief Overview Of Both SAP Products
As SAP's flagship product for the small business market, SAP Business One is an affordable, yet robust entry-level ERP software for SMEs like yours.
It's designed for businesses with 5 to 100 end users, which need more functionalities for managing their business than Excel spreadsheets and basic accounting software like QuickBooks can offer.
Here's A Comprehensive Guide For SAP Business One If You'd Like A More In-depth Look Into The ERP Software For SMEs.
As such, Business One offers a robust business management solution that provides complete visibility and control over all aspects of your SME, including but not limited to the following core business functions:
Financial Management
Sales and Service Management
Inventory Management
Purchasing
CRM
HR
Although it started off as an on-premise ERP software, SAP Business One can also be deployed as a cloud-based solution.
It's Not True That SAP Software Products Are Not Made For The Cloud. Here Are Three Common Myths About SAP And The Cloud That We've Debunked.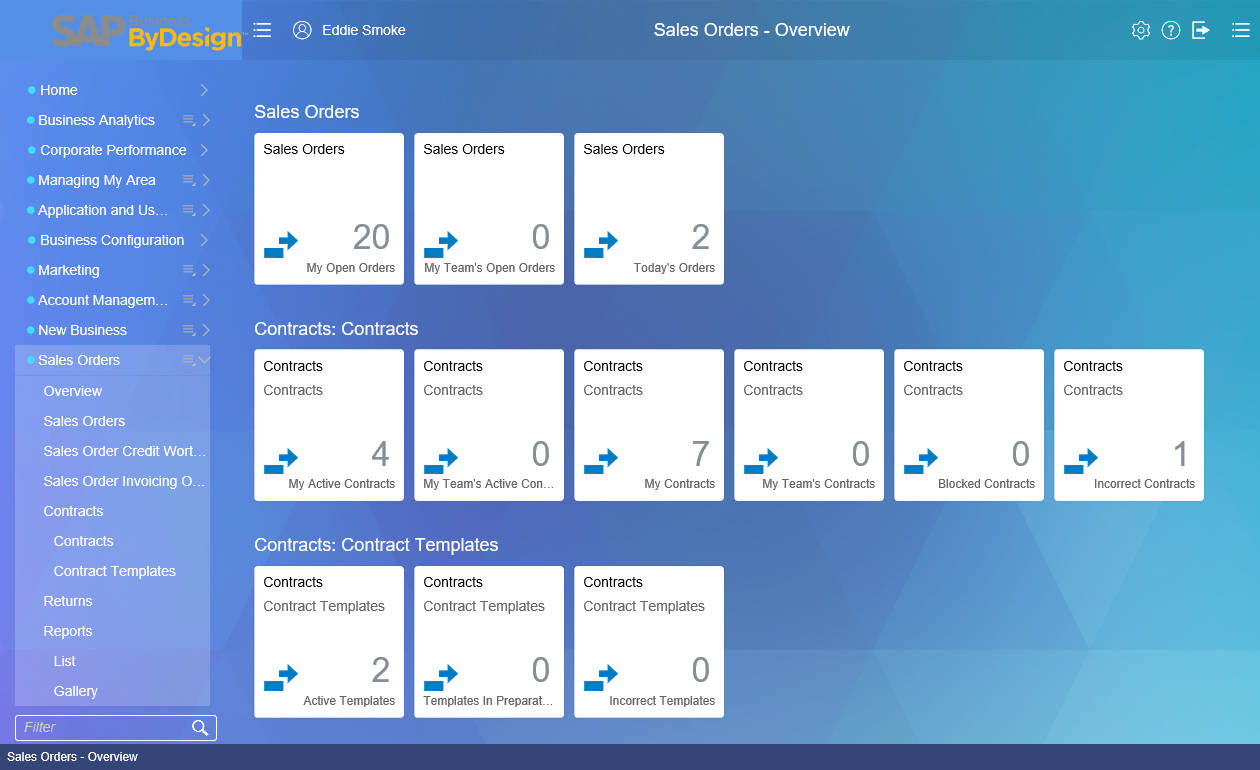 Source: SAP
SAP Business ByDesign, on the other hand, started out as a multi-tenant SaaS cloud ERP software developed in-house by SAP.
It's designed to support the needs of fast-growing, mid-market SMEs with 20 to 1,500 end users, which need a solution that can scale in line with the growth of their businesses.
As an SaaS cloud ERP software, ByDesign offers many of the same core business management features as Business One.
However, the main focus of ByDesign is to provide fast-growing businesses with robust accounting and financial management functionalities, with all other features being less robust in comparison.
Let's take a closer look at the main differences that set Business One and Business ByDesign apart from each other.
Deployment And Pricing Models
As it's built from the ground-up as a native cloud ERP software, SAP Business ByDesign is the obvious choice for your SME if you're keen on a multi-tenant SaaS deployment.
That's an option that SAP Business One doesn't offer, as it was never designed to be an SaaS solution like ByDesign was.
On the other hand, a multi-tenant SaaS deployment is the only option that ByDesign offers. This also means that a subscription-based pricing model is your only option available with the cloud ERP software.
If you're planning on any other model of deploying an ERP software for your business, you'll have to go with SAP Business One.
For example, if you've decided that an on-premise ERP software would best suit your business needs, you can deploy Business One on a Microsoft SQL server on your office premises.


| | | |
| --- | --- | --- |
| | Business One | ByDesign |
| Type of License | Perpetual License | Subscription-based |
| Deployment Method | On-premise or Cloud | Cloud |
Alternatively, you can opt to deploy Business One on the cloud, hosted on your implementation partner's server and on the proprietary SAP HANA in-memory relational database management system.
When it comes to paying for usage of Business One, you can also choose to purchase a Perpetual license and pay a one-time fee, or opt for a subscription-based pricing model like with ByDesign.
AFON Is A Pre-approved PSG Vendor For SAP Business One. Find Out How We Can Help You Obtain Up to 80% Funding Support For Your Implementation Here.
With the release of the Version 10 product update, Business One for SAP HANA comes with a native Web Client that enables you to manage your business from any mobile device, just like ByDesign does.
In addition, choosing to deploy the SAP Business One version for SAP HANA not only gives you significantly increased processing performance, but also access to unique features that are otherwise not available with the standard MSSQL version.
Here's A Quick Look At How SAP Business One Performs When Hosted On MSSQL, Versus SAP HANA.

Verdict: ByDesign is your only option for a multi-tenant SaaS deployment, but Business One offers both on-premise and cloud models, as well as two choices of database systems for differing performance requirements.
Extensibility And Flexibility
SAP Business One is a highly adaptable ERP software, as not only is it fully customisable to best fit your SME's business needs, its capabilities can also be extended with add-ons.
And over the years, SAP has developed a massive partner ecosystem of system integrators and value-added resellers (VARs) for SAP Business One.
These partners have developed more than 400 add-ons that extend the capabilities of Business One by incorporating industry-specific functionalities into the ERP software.


| | | |
| --- | --- | --- |
| | Business One | ByDesign |
| Customisable | Yes | No |
| Includes industry specific modules | Yes | No |
This makes SAP Business One exceptionally flexible as a solution, capable of handling the unique business needs of any industry with the right add-ons.
Take A Look At How SAP Business One Has Benefited Businesses In The Pharmaceutical Industry, For One.
On the other hand, the code underlying SAP Business ByDesign is 'locked' into the core product, and its processes cannot be customised at all.
It also lacks common industry-specific processes like logistics and warehouse management systems (WMS), which makes ByDesign unsuitable for your SME if it has industry-specific business needs.
And while ByDesign's capabilities can also be extended with add-ons, SAP has not invested nearly as much resources into its partner ecosystem by comparison, which limits the number of available add-ons.
Therefore, SAP Business ByDesign is not nearly as flexible as Business One, especially when it comes to adapting the solution for unique industry needs.

Verdict: If you need an ERP software that can be easily customised to your SME's specific industry needs, Business One is the clear choice over ByDesign.
Implementation Timelines
With a long history in the market and an extensive partner ecosystem, partners for SAP Business One are experienced in rapid implementation of the ERP software.
A project to implement an instance of Business One with industry-specific add-ons included is thus usually completed by an SAP partner within two to four months.
On top of the fact that it's the least expensive SAP software product on the market, this has made Business One a popular choice of ERP software with more than 65,000 customers around the world.
On the other hand, SAP Business ByDesign has significantly fewer customers than Business One, due in part to the fact that SAP only began marketing the cloud ERP software in earnest from 2019 onwards.
Its need for add-ons to integrate industry-specific functionality, as well as fewer partners around the world with less experience in the cloud ERP software, means that an implementation for ByDesign can take anywhere from four to eight months.
For these reasons, SAP Business ByDesign is a much less popular choice than Business One, with about 3,400 customers worldwide.
Verdict: If you need an ERP software for your business as soon as possible, Business One can be implemented and deployed twice as fast as ByDesign.
The Choice Of Business One Or ByDesign Depends On Your Business Priorities
Ultimately, which of SAP's ERP software for SMEs you should choose for your business depends on what it needs the most to drive its business growth and success.
If a multi-tenant SaaS solution is a must-have for your SME, and you can make do with broad, yet basic features and functionalities, SAP Business ByDesign may be the solution for your business.
However, if your SME requires a solution with all-around depth in its features and functionalities, the option to deploy on-premises or on the cloud, and the flexibility to incorporate industry-specific functionalities, then SAP Business One is the ERP software that best fit your business needs.
On top of that, hosting SAP Business One on SAP HANA not only enables you to host your ERP software on the cloud, but also gives you access to exclusive features and real-time analytics tools, amongst other benefits.
As the only 7-time Top SAP Gold Partner winner in Singapore, AFON is also a pre-approved Productivity Solutions Grant (PSG) vendor for SAP Business One.
As such, if you're thinking about implementing SAP Business One hosted on SAP HANA for your SME, we can offer you a selection of pre-approved PSG packages for the ERP software, where you can get up to 80% of your purchase subsidised by the government.
Click Here To See Our List Of Pre-approved PSG Packages For SAP Business One.
But if you'd like more details on the additional benefits that SAP Business One can provide for your business when hosted on SAP HANA, click the image below to learn more.