Running a Food and Beverage (F&B) business in Singapore isn't easy. Margins are thin, customers are demanding, and labour complexities keep rising year on year.
In such a competitive environment, being able to bridge operational gaps within your organisation can give you an edge over your competitors. To do so, most F&B business owners would adopt one of the following approaches:

Rely heavily on Excel to do everything for them and pressure employees to work faster. Employees create multiple spreadsheets and send them back and forth, all while creating more and more versions that need to be reconciled
Start off with simple accounting software. And as business grows, take on a simple inventory management system, and then a simple point-of-sales (POS) system, and then a simple customer relationship management (CRM) system…
The problem with these approaches is not that they don't work.


They do. They gave you the results you wanted at that point of time. They fulfilled the purposes you had for them as stop-gap measures to stop efficiency bleeding.
But eventually, you'll find data disparities piling up. Everyone's working with data that's either outdated, inaccurate or both. Your key staff end up wasting time running around clarifying and correcting errors with your warehouses, suppliers, customers etc. They may even spend more time pacifying unhappy customers than focusing on doing what you're originally paying them to do.
In short, many F&B business owners only realise the challenges of unifying their various systems much later. Having a proper centralised integrated system does away with much of that problem.
The Need for Integrated Systems Recognised
At this point, you might think "Well all that sounds great, but I need problems solved, not another fancy tool. The ones I've got seem to work. I just need my staff to work more efficiently."
Yet the use of disparate point solutions has resulted in many more headaches than solutions for business owners. Entry-level point solutions seem cheaper on the surface – but how much visibility do you have? With so many costs spread out over multiple bills, do you really know how much you're spending?
Your new staff also have to familiarise themselves with a multitude of systems with varying interfaces and commands, resulting in inefficiency and time wasted on training. And with the ongoing shortage of labour in the F&B industry, can your business really afford to waste precious time and labour costs on that?
Why Integrated Systems Work
The use of integrated systems can be likened to a smartphone: with it, you hold a world of functions in your palm. However, the smartphone is not the best camera, alarm clock, calculator, or gaming console. Rather, your smartphone provides you with essentials all in a single device.
Most people don't need the top cutting-edge camera or calculator. What they need is the basics well done. Smartphone makers like Apple and Samsung have covered their basics so well, they've taken the world by storm.
The same principle holds true for software. An F&B business does not need the "best" system for each department, wasting time and effort to put them together and maintain each system individually.
Imagine the painstaking effort taken for the Finance department to compare data from your POS (point of sale) system to your inventory management system, just to tie each transaction to a unit of product! Now imagine working with a single system. Not only do you cut all that extra work out, you make better decisions.
Take food delivery startup Deliveroo for instance. The London-headquartered company uses an algorithm called "Frank" for delivery scheduling, linking up customers in different locations, delivery riders, and 10,000 restaurants in a centralized system, cutting delivery time by 20%.
In fact, consolidating business processes with an ERP (Enteprise Resource Planning) system has been proven to increase order-to-shipment times by 23%, with an average of 97% inventory accuracy rate.
Industry analysts agree that a 20-30% reduction of inventory is also attainable with ERP, due to improved management of materials as a result of systems integration, allowing businesses to work faster and leaner.
In the food business, this figure is likely to be even higher due to savings on the sheer amount of food waste generated as a result of poor planning.



Get your free F&B demand planning guide here and learn how you can use technology to make data-driven decisions


SAP Business One for Your F&B Business Needs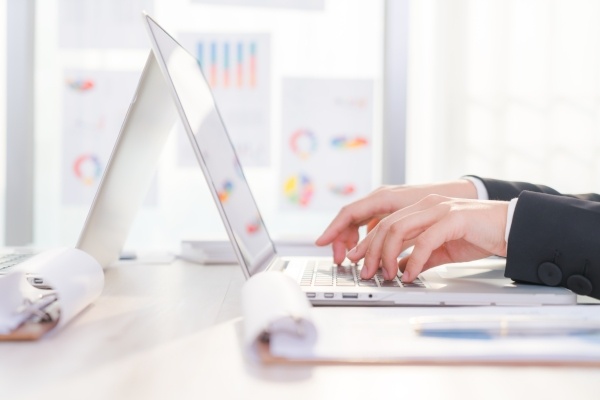 Systems integration is particularly important for the F&B industry due to the time-sensitive nature of its products. Health and safety standards require freshly prepared food to be delivered to consumers and consumed within very short times.
Even manufactured items are perishable, unlike a set of stationery for example, which can languish in the back of a warehouse for years without expiring.
Most companies struggle to anticipate demand, either overstocking, leading to wastage; or understocking, resulting in lost sales.
An ERP software connecting all the parts of your supply chain is needed to manage your food stock efficiently. This allows you to operate at maximum capacity so you don't have to worry about wasted food while also not missing out on sales opportunities. As such, wastage is reduced and profits maximized.
SAP Business One (SAP B1) is ideal for businesses in the food industry because it caters to your need for solid, sound fundamentals. Its integrated ERP platform includes finance, sales, purchasing, and many more capabilities all under one roof.
Your business can house its clients in a centralized CRM system, and purchase or produce stock according to real-time analytics so that you meet your customers' needs with less waste than ever. You'll also know which customers to focus on, and at what time in the year. To cap it all, SAP B1's mobile apps allow employees to access your ERP information via cloud – anywhere on the go.
One great feature of SAP Business One is the Workbench Editor (above), which gives users a simple visual representation of your business' purchasing, inventory management, financial, and sales processes.
Since your employees have a clearer idea of the flow of information within your business (as well as access to a single source of information), they can spend less time sending emails back and forth trying to gather data from one another or transferring data from system to system.
The advantages of SAP B1 are manifold: you only need to learn, maintain and train one single team to operate one system. By housing your most essential features in a single system, SAP B1 gives you the speed and insights to reduce operational errors, cut time and costs, and improve response times. This means you get to cut out all those pesky errors and double work.
Single-Point System, A World at Hand
With so many working parts in an F&B business, the last thing you should do is add on to that complexity by taking on various disjointed systems. Instead, an integrated system putting together all your business-related data from your various departments will allow you to spend less time getting things together, and empower you to make better decisions.
To achieve (or sustain) their competitive edge in the F&B industry, many companies are investing in good single-source systems. SAP Business One is a natural choice as a world-recognized ERP software favoured by SMEs around the globe.
AFON has a track record of working with SAP Business One that we are proud of: in the past decade, we have won The Singapore Enterprise Top 50 (E50) Award, the Singapore SME 1000 Award, and perhaps most importantly, we have been acknowledged as the SAP Business One Top Partner in Singapore 7 times.
For more information on what SAP Business One does for the food industry, download our free whitepaper here! If you wish to have a quick discussion on how SAP B1 may suit your business needs, leave us a message, and a member of our team will get back to you as soon as possible.