(Note: Updated Singapore launch date to Oct 2018)
There's been lots of buzz in the ERP scene ever since Microsoft revealed their roadmap for Microsoft Dynamics 365 Business Edition and Microsoft Dynamics NAV (formerly Navision) in 2017.
Now it's finally here: last week, Microsoft announced that they will rebrand Dynamics 365 Business Edition and Dynamics NAV as Microsoft Dynamics 365 Business Central.
Take A Look At Our Definitive Cheat Sheet To The Microsoft Dynamics 365 Product Line, And Find Out How Business Central Fits Within Microsoft's Suite Of Business Solutions.
Come 2 April 2018, the business management solution will be rolled out to 14 countries worldwide, including countries like the United States, Denmark, Spain, Sweden etc.
If your company's based in Singapore however, you'll have to wait a little longer; it's estimated the solution will only be available in Singapore from 1 October 2018 onward.
But What Is Dynamics 365 Business Central?
To put it simply, Dynamics 365 Business Central is Dynamics NAV (Navision) made available as a true Cloud offering. It's a single, end-to-end business solution for managing finances, operations, sales, and customer service in the Cloud.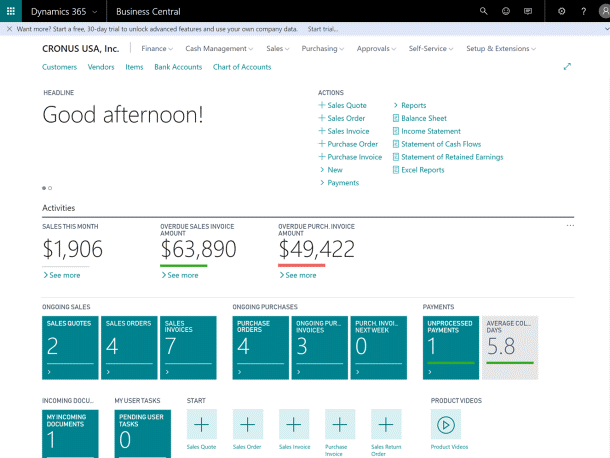 Example of the Role Center in Dynamics 365 Business Central
For SMEs, Dynamics 365 Business Central presents an excellent opportunity to upgrade from entry-level accounting software or outdated legacy ERP systems. It also helps SMEs boost growth, streamline processes, and enhance customer relationships through what Microsoft describes as:
Silos-free Business — the solutions helps connect businesses and boost efficiency through automated tasks and workflows. These are all done within familiar Microsoft application interfaces such as Word, Outlook and Excel.
Evolving Solutions — Companies can grow and adapt in real-time by extending functionalities beyond Business Central through AppSource. This makes it easy for users to start quickly, and add on new solutions along the way as the company grows
Actionable Insights — Businesses can achieve more through a complete overall view, thanks to connected data, business analytics and more that's driven by Microsoft intelligent technologies.
In addition, Business Central integrates easily with other Microsoft cloud-based services such as Office 365. You can also extend it further with other Microsoft solutions such as Power BI (business intelligence), PowerApps, and Microsoft Flow, giving you excellent value for money.
Learn more about Microsoft's Power BI and how this free Business Intelligence Tool integrates with Microsoft Dynamics here
What Features Can I Expect to See?

Microsoft Dynamics Business Central comes in two versions:
Business Central Essentials

– the basic functionalities. This emulates Dynamics NAV 2018 Starter Pack

Business Central Premium

–everything in Essentials, plus Service Order and Manufacturing. This emulates Dynamics NAV 2018 Extended Pack
Business Central Essentials
This edition comes with:


Financial Management — general ledger, workflows and audit trails, bank management, budgets, deferrals, bank reconciliation, dimensions, fixed assets and currencies.
Customer Relational Management — contacts, campaigns, opportunity management and built-in integration with Dynamics 365 for Sales.
Supply Chain Management — sales order management, basic receivables, purchase order management, locations, item transfers, and basic warehousing.
Human Resources — employees and expense management.
Project Management — resources, estimates, jobs and time sheets
Others — multiple languages, reason codes, extended text, Intrastat reporting, scheduled tasks and Outlook integration.
Business Central Premium
This edition comes with:
Everything in Essential, plus
Service Order Management — service orders, service price management, service item management, service contract management, planning and dispatching.
Manufacturing — production orders, version management, agile manufacturing, basic supply planning, demand forecasting, capacity planning, machine centres and finite loading.
You'll also get one free external accountant login license for doing bookkeeping and running reports, regardless of which edition of Dynamics 365 Business Central you purchase.
How Much Will It Cost?
Unlike Microsoft Dynamics NAV (Navision) which is sold on a concurrent user basis, Dynamics Business Central is sold on a named user license model.
Currently, the official license price from Microsoft is:
Essentials, Full License – US$70 per named user, per month
Premium, Full License – US$100 per named user, per month
There is also a more affordable Team Member license, available at just US$8 per named user per month.
This is ideal for users in your organisation that don't require full access rights. Those using Team Member licenses can:
Read and Approve
Run all reports in the system
Use self-service features for Employees e.g. timesheets
Do note you're unable to 'mix' the software editions within your organisation i.e. all users have to use either Business Central Essentials or Business Central Premium.
I Need More Information
Currently, information surrounding Dynamics 365 Business Central is still unfolding. We'll keep this post updated once more news comes in on the product.
However, if you want to get a rough sense of the benefits and functionalities within Microsoft Dynamics 365 Business Central, you can check out our guide – in the link below (it's free!).