Now that we've crossed 2023's halfway point, it seems like the global economic landscape is in for a wilder ride than expected at the start of the year. Singaporean CEOs are feeling the pressure, with worries of a downturn that could be even worse than the last financial crisis, as highlighted in a recent study by EY.
The Business Times isn't painting a pretty picture either, predicting economic instability for H2 2023, although they stop short of calling it a full-blown recession.
But there are markets that are thriving amidst the battle for stability and profitability. According to Fortune Business Insights, the global business intelligence (BI) market is projected to reach a whopping $43 billion by 2028, up from $24 billion in 2021.
What's interesting is that only 26% of this demand is driven by SMEs. Which raises the question: why aren't more SMEs considering this option? Should they wait until the economic risks subside, or should they take a "there's no better time to start than now" approach?
In light of this, we've compiled expert advice from around the web that was published in recent months to see what they've to say on this. In our article below, you'll find how:
Experts Say: Economic Crises Are Opportunities to Innovate and Grow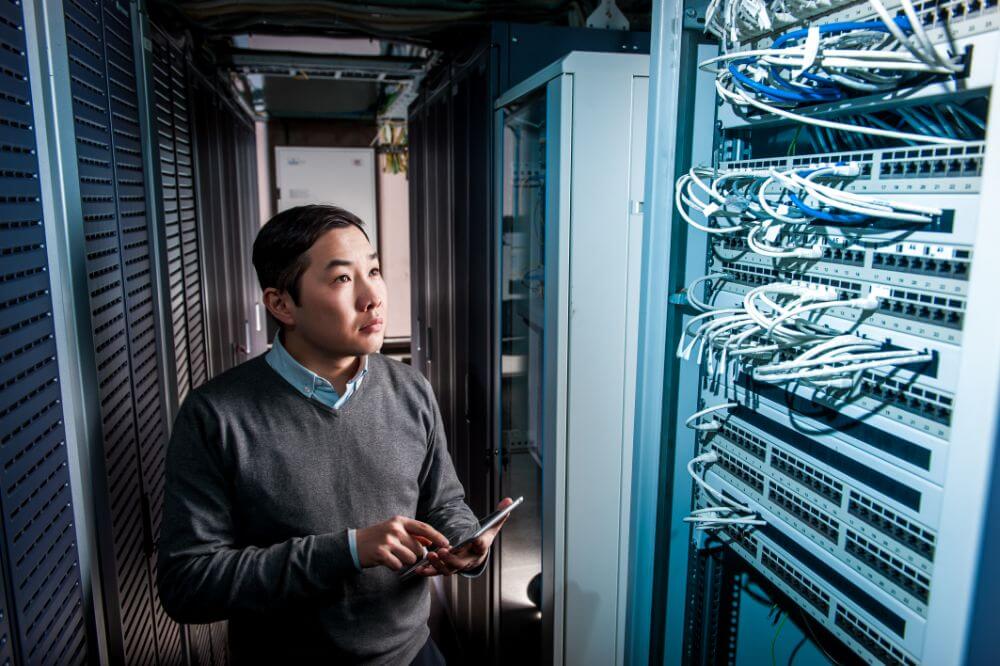 Kellogg School of Management conducted a study on innovation during economic crises, revealing how challenging times can actually accelerate positive growth. It's like a pressure cooker for innovation, pushing organisations to make rapid adjustments that would typically take longer during calmer periods.


"These are times when people are forced to rethink the way they're organising their life, their business, or their activity."

-Filippo Mezzanotti, associate professor of finance, Kellogg

A recent example we're all familiar with: the remote collaboration technologies boom. Video-conferencing platforms such as Microsoft Teams and Zoom were originally on par for gradual adoption over the decade or so. However, thanks to the COVID-19 pandemic, these technologies skyrocketed into widespread use in record time.
Going further back, we see that innovation also accelerated during the 2008 recession. That downturn saw the arrival of 4G mobile broadband when many households didn't have a smartphone, while companies like Netflix launched new services (in the case of Netflix, it was their streaming services to replace the 'dying' brick-and-mortar business).
A key factor contributing to their success was their proactive approach to investing in digital technologies during and after the crises.


"Way before Covid, during the Great Recession of 2007-2009, companies that accelerated profitability during and after the recession prioritised early cost restructuring, starting with implementing emerging digital technologies. "

- Dimitri Raziev, Co-founder of Kolleno, in a Forbes.com article

While investing in technology during a downturn may seem risky, but it can actually drive business growth and should not be overlooked. Raziev added how management consultancy Bain had even published an article urging companies to proactively embrace digital technologies in order to prepare for future economic downturns.
For SMEs grappling with the onslaught of rampant inflation, soaring energy costs, and shrinking economic growth, this flies against the instinct to play defense. Managing cashflow and seeking business relief comes to mind; investing in an offensive digital strategy does not.
However, not all SME leaders share the same perspective. In a Hello Alice-Mastercard survey of over 2,600 small business owners at the start of 2023, a remarkable 73% of entrepreneurs anticipate growth in their businesses in 2023, despite two-thirds of them expressing concerns about the recession.


"(SMEs) most significant advantage is our ability to stay nimble and pivot toward opportunity. I say this as someone who built and exited a company after the last recession — when many founders rode a wave of "creative destruction" where smaller competitors thrived as big firms faltered. The little people, not the corporate behemoths, were best positioned to pick up the pieces and innovate."

- Carolyn Rodz, Founder of Hello Alice, in an Entrepreneur.com article

Given the current importance of cashflow and cost control for SMEs, it would be wise to focus on investing in technologies in select areas. More specifically, technologies that help manage costs, while also providing valuable insights and improved visibility. This would serve as a solid starting point for SMEs looking to navigate the downturn and emerge successfully.

Experts Say: Analytics and Data Visualisation are for Everyone, Not Just the Big Guys
Today, most functions within SMEs are powered by some form of SaaS. With accessible cloud solutions available in the market, this has levelled the SME playing field against larger organisations.
In Singapore, initiatives like the Productivity Solutions Grant and Enterprise Development Grant have already led to a significant number of SMEs embracing digitisation.
As a result, these SMEs are now generating valuable data related to their core business operations. Whether it's through enterprise resource planning (ERP) software or customer relationship management systems, these applications record every action and change in real time, resulting in the accumulation of massive volumes of data.
So what's stopping SMEs from using their data?
Cost is usually the most cited factor, as well as the misconception that analytics capabilities are only for enterprises, not SMEs.
"These types of services in the past were extremely expensive, at least from the perspective of an SME," wrote Jesus Fajardo, data science and risk management professional. "(Also) they think that these new approaches are only applicable to large companies"
A lack of skilled resources is another factor.


"Small businesses rarely have enough resources to set up a dedicated data science team, nor can they afford to bring in temporary consultants… when it comes to priorities, nobody has the time to learn a new specialised skill."
However, things have changed. These days, every business unit, regardless of technical expertise, can now effortlessly access data and gain intelligent insights through widely available self-service tools. For SMEs, an affordable entry-point would be to start with data visualisation. By utilising the right business intelligence (BI) apps, they've the opportunity to extract valuable insights from their data signals to make better decisions.


"While the capabilities of actual tools vary, it's important (for SMEs) to understand how to make BI work to your advantage. Small business owners can use BI to do things not normally expected of them and hitherto the domain of enterprise companies."

- Dipti Parma, technology and marketing consultant, in a CIO.com article

And the best part? The prices for these solutions are reasonable in comparison to the benefits they provide.
Even the Infocomm Media Development Authority of Singapore has started a simple data initiative to encourage SMEs. Called the Better Data Driven Business (BDDB) programme, the BDDB is part of Singapore's digital transformation efforts that helps SMEs to leverage the power of data.
Want to know if BDDB's suitable? Click here to read our take on the BDDB initiative by IMDA
Experts Say: Use Data to Future-proof Your SME
While SMEs often excel in agility and resourcefulness, they struggle with building resilience compared to larger corporations.
And building resilience is no walk in the park. It's a long-term, multi-stage process that requires everything from authentic leadership and talent management to an incredible business framework with digital infrastructure, flexible business models, and oh-so-much more.
Understandably, most SMEs just want to focus on the battles at hand.


"SMEs typically focus less on strategic long-time goals compared to larger firms... They do not invest as much in research and development to deepen understanding of existing and future trends. They often do not perceive the value of business analytics. To realise the benefits of business analytics, SMEs need to become more aware of developing trends."

- Narges Kasiri, associate professor of business analytics and operations management

But some experts are saying the writing is already on the wall. With customers demanding faster, personalised sales and after-sales services, SMEs need to stay on top of their data to stay competitive. Gartner's research reveals that businesses are increasingly favoring data-driven decision-making over relying on intuition.
Other researchers think SMEs will be expected, at the very least, to rely heavily on BI - related tools in the near future.


"Business Intelligence users are beginning to demand real-time analysis of their activities, especially those engaged in 'frontline' activities. They monitor developments and constantly look for new and up-to-date information in the same way that they monitor stock prices online. Monthly and even weekly analyses will not be enough for them.... SMEs will depend on real-time business information in the same way that people search for information online with just a 'click'".

- Dr. Konstantina Ragazou, professor and financial modeling consultant

And it's no surprise, considering how much easier it is these days to access real-time data, leading to significant improvements in decision-making and strategy. This gives them a clear advantage over their competitors.
"Lean SMBs that can gather timely intelligence from the powerful BI platforms available today will steal a march over the competition by identifying opportunities and threats faster. They will know where to spend their money, how much to spend, and what outcomes to expect."

- Dipti Parma, technology and marketing consultant
Parma also believes these advantages include:
Staying ahead of the game: Managers can tap into a wealth of data from different sources to spot the latest trends in the market, including emerging products and shifting customer preferences. Armed with this valuable information, they can assess the company's sales performance and even make predictions about future outcomes.
Keeping tabs on how your business is doing: Business performance isn't just about the money. With BI, you can establish targets, devise strategies to achieve them, evaluate your progress in relation to these objectives, and identify adjustments to stay on the right path.
Boosting your bottom line: By recognising and filling in the gaps across various aspects of your operations - be it sourcing, marketing, or delivery - small and medium-sized businesses can save money here and there, resulting in substantial profits by the end of the year.
Start Small With Low-Cost Data Visualisation Options
Microsoft Power BI - an analytic/reporting tool for business users to uncover data insights. Source: Microsoft Power BI
In short, economic crises provide SMEs with a golden opportunity to invest and expand, using the impending recession as a catalyst to enhance their capabilities. Analytics and data visualization are accessible to all businesses, including SMEs, and play a vital role in future-proofing businesses by enabling them to understand their market, drive innovation, and make data-driven decisions.
By adopting data visualisation tools, SMEs can enhance their decision-making, achieve better results, and boost their overall performance.
Microsoft Power BI is a low-cost example that's popular among SMEs. It transforms business data into an interactive and easily understandable format. As a cloud-based service provider that offers a multitude of impressive features, including data preparation, customizable visualization, and data discovery.

As a Microsoft Gold partner, our data consultants at AFON IT can assist in leveraging your Power BI to its maximum potential, offering advice and guidance on its implementation and use. By drawing upon deep expertise and experience. To learn more about Power BI, click on the ebook link to download a free brochure copy. Otherwise, drop us an enquiry here for one of our data consultants to give you a call.