The prospect of expanding your business to markets overseas can be an obvious growth opportunity for a local business like yours – one that's evidenced by the eight in 10 local businesses that reported having a presence overseas in 2019.
Not even the COVID-19 pandemic has dampened the enthusiasm of local businesses for expanding to international markets, with 87% of Singapore firms planning to expand their international business over the next three to five years.
But if you're planning to expand your business overseas in the near future, you should expect to face challenges that you may not ever had to deal with before, when you were dealing solely with the local market.
These are challenges that are common for any business that's pursuing international expansion, and you need to overcome them to achieve a successful international expansion for your SME.
Fortunately, there are digital tools available to help you handle some of these challenges, such as the OneWorld module for the Oracle NetSuite true cloud ERP software.
Trying To Decide If Oracle NetSuite Is The Right Fit For Your Business? Here's Our Comparison Of The True Cloud ERP Software With Its Closest Competitors To Help Inform Your Decision
Designed for businesses that have multi-national and multi-subsidiary operations, NetSuite OneWorld comes with features and functionalities intended to assist businesses with their international expansion efforts and operations.
Let's take a look at some of the most common challenges that SMEs like yours face when expanding to overseas markets, and how you can overcome them and achieve a successful expansion with NetSuite OneWorld.
1. Lack Of Real-time Visibility Over Your Subsidiaries
Achieving real-time visibility and oversight over your business processes is key to effectively managing your business, even when its operations were confined to the local market.
This is even more so the case when it comes to expanding your business to markets overseas, as a lack of visibility into the business operations of your subsidiaries could make it especially difficult to make the right business decisions.
If your subsidiaries are each using different accounting software products, or even resorting to spreadsheets, there's no way for you to gain full visibility into the data generated by all of your subsidiaries, much less take action on them.
And subsidiaries operating in different markets could require the monitoring of different sets of KPIs, depending on the different market realities they each operate in.
NetSuite OneWorld Gives You A Clear View Into Your International Business Processes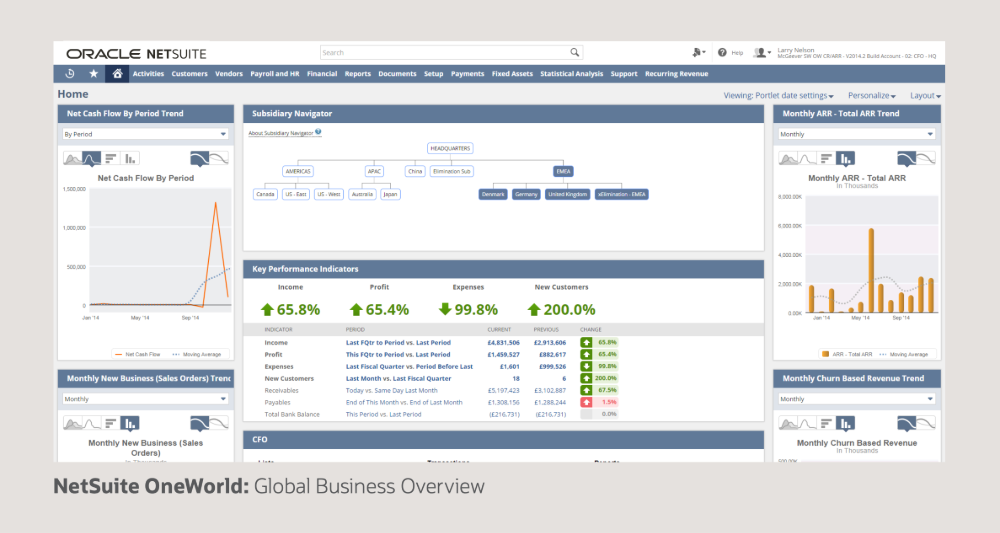 Source: NetSuite

To provide greater operational intelligence and insight into your subsidiaries, NetSuite OneWorld provides customisable role-based dashboards that collate and display real-time insight into data generated by their business processes.
This gives you an instant view into the overall performance of your business and your subsidiaries. It also gives you the ability to drill down into key metrics within your global operations, giving you a better understanding of what is happening in any of your subsidiaries around the world.
Because it's a cloud-based ERP software, you can access NetSuite OneWorld from anywhere around the world, as long as you have an Internet connection.
This means you can get insights into the performance of your business and subsidiaries at any time, and act on them instantaneously to produce better results.
2. Financial Management And Consolidation With Multiple Currencies
If you're doing business in multiple countries, it goes without saying that you'll have to work with multiple currencies which depend on where your subsidiaries are located.
The exchange rates between currencies are constantly fluctuating, which can affect the overall profitability of your business.
For example, if you've expanded your business to Malaysia and the Malaysian ringgit weakens against the Singapore dollar, you'll lose out on profits made in the Malaysian market.
The need to manage transactions in multiple currencies also complicates your business's financial consolidation, as your accounting team would need to convert the respective currencies used by each of your subsidiaries as part of the process.
NetSuite OneWorld Provides Multi-currency Conversion And Financial Consolidation
Source: NetSuite

NetSuite OneWorld comes with a multi-currency management feature, which supports more than 190 currencies and exchange rates, along with a wide range of payment options.
This feature provides real-time currency conversion for all of your global operations, and enables your finance department to maintain all currency exchange rates at the time your orders are placed, to ensure the accuracy of your sales data.
It also provides multi-currency financial consolidation on a global scale, allowing you to consolidate all your financial reporting across your subsidiaries.
This provides you with a real-time roll-up across all of your financial operations, including accounts payable/receivable, payroll, billing etc., and gives you an immediate view in the overall financial health of your business.
See How Naumi Hotels Achieved Significant Time Savings In Financial Reporting And Consolidation, And Supported Their Regional Expansion With NetSuite OneWorld.
3. Compliance With Taxation And Regulations In Multiple Countries
Managing transactions in multiple currencies is not the only financial challenge associated with expanding business overseas; you'll need to account for the taxation regimes and regulations in the countries you're expanding to as well.
Each country – or even region – could have local legal, tax and regulatory requirements that your finance departments would be unfamiliar with, which can greatly complicate your expansion efforts before it's even begun.
Maintaining compliance with these tax and trading standards is not only a time-consuming effort, but failure to do so could put a stop to your expansion plans altogether, and saddle you with additional costs that could harm the financial health of your business.
NetSuite OneWorld Supports Tax Reporting And Regulatory Compliance
NetSuite OneWorld comes with a configurable tax engine that supports tax calculation and reporting for more than 100 countries, along with preconfigured tax codes for over 50 countries.
This enables you to calculate taxes in real-time on transactions, including cross-border sales, within the cloud ERP software.
OneWorld also supports regulatory compliance with global and country-specific standards. These include the International Financial Reporting Standards (IFRS) and Generally Accepted Accounting Principles (GAAP).
It also comes with features such as an always-on audit trail and built-in analytics ensuring that you'll be able to access supporting documentation for your business operations whenever necessary.
With role-based dashboards available to help you monitor and adjust to compliance and regulatory issues in real-time, you'll possess the real-time visibility, actionable intelligence, and capabilities needed to ensure that your business and subsidiaries stay compliance with local tax codes and regulations.
4. Conducting Business In A Foreign Language
No matter which country you've decided to expand your business into, the language barrier will be one of the first things you'll need to overcome.
To carry out the initial steps of establishing a subsidiary in your country of choice – such as building relationships with prospective new partners, or training and onboarding new hires – you need the capability to conduct business in the language most commonly used there.
And even after you've set up your subsidiary in the country you've expanded your business to, you'll need to ensure that it's possible to train your new employees in the use of your business software.
This means you'll need to ensure that your business software is capable of supporting the local language of the country where you've established your subsidiary.
NetSuite OneWorld Supports Multiple Langauges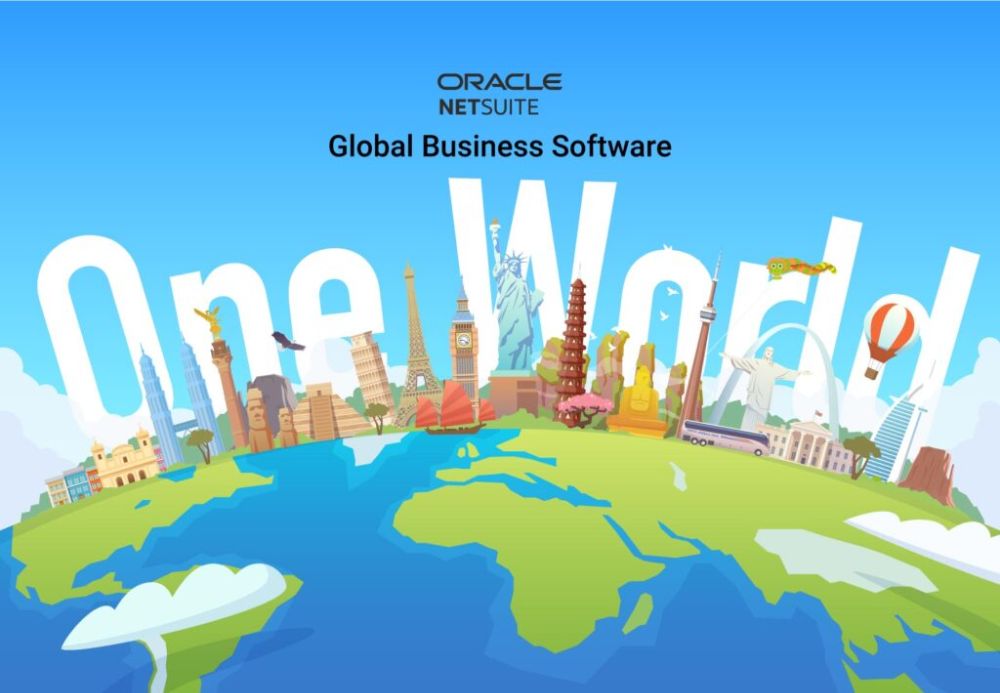 Source: Kodella

To support your international expansion efforts, NetSuite OneWorld supports a total of 27 languages – these include Chinese, French, German and Japanese among others.
In addition, NetSuite is continually updating its translations, as well as adding support for new languages to OneWorld.
This means that you can leverage on the multi-language capabilities of NetSuite OneWorld to assist in your negotiations with your potential partners.
It also streamlines the onboarding process for your new hires in your country of choice, as they can be trained to use the features and functionalities of OneWorld in the language they're most familiar with.
NetSuite OneWorld Is The Right Tool To Support Your International Expansion Efforts
NetSuite OneWorld is designed to support businesses like yours in their efforts to expand to markets overseas.
It does this by giving you a global view of your business and subsidiaries, and empowers you with the insights you gain from it to inform business decisions that helps you achieve success with your expansion efforts.
OneWorld also helps you tackle challenges that arise as a result of your international expansion efforts, such as the need to manage multiple currencies during financial consolidation, complying with foreign tax standards and regulations, and doing business in a foreign language.
And as a cloud-based solution, NetSuite OneWorld also enables you to manage the international operations of your business and subsidiaries at any time, no matter which country you're currently located.
This makes NetSuite OneWorld a powerful tool that will ensure success in your international expansion efforts.
If you'd like to learn more about how NetSuite OneWorld can help you achieve a successful international expansion for your business, do join us at the webinar hosted by Oracle Singapore on Thursday, 25th March 2021 at 10:30 AM SGT.
Click the image below to register for our free webinar, and we hope to see you there!