The future's here already: small and medium-sized enterprises (SMEs) can leverage on artificial intelligence (AI) technology, to capitalise on growth opportunities and accelerate their productivity.
This, and the uses of AI in day-to-day-scenarios, were the focus of an AFON-Microsoft co-hosted seminar last Friday (15 March), exclusively for our customers.
The 3.5-hour event showcased AI technologies built into familiar Microsoft products including the Azure Cloud platform, and Dynamics 365 Business Central enterprise resource planning (ERP) software.
LEARN ABOUT MICROSOFT AZURE AND ITS VALUE FOR YOUR BUSINESS. CLICK HERE TO READ NOW.
It's the first event in our year-long campaign to help businesses understand how they can survive challenging economic conditions, thanks to the latest developments in technology even SMEs can adopt.
And as with previous events, our guests continued to get insightful takeaways, with 87% of attendees saying they were satisfied with the seminar.
The discussion of Microsoft's AI offerings was wide-ranging, so we've summarised some key points here.
Microsoft Azure and AI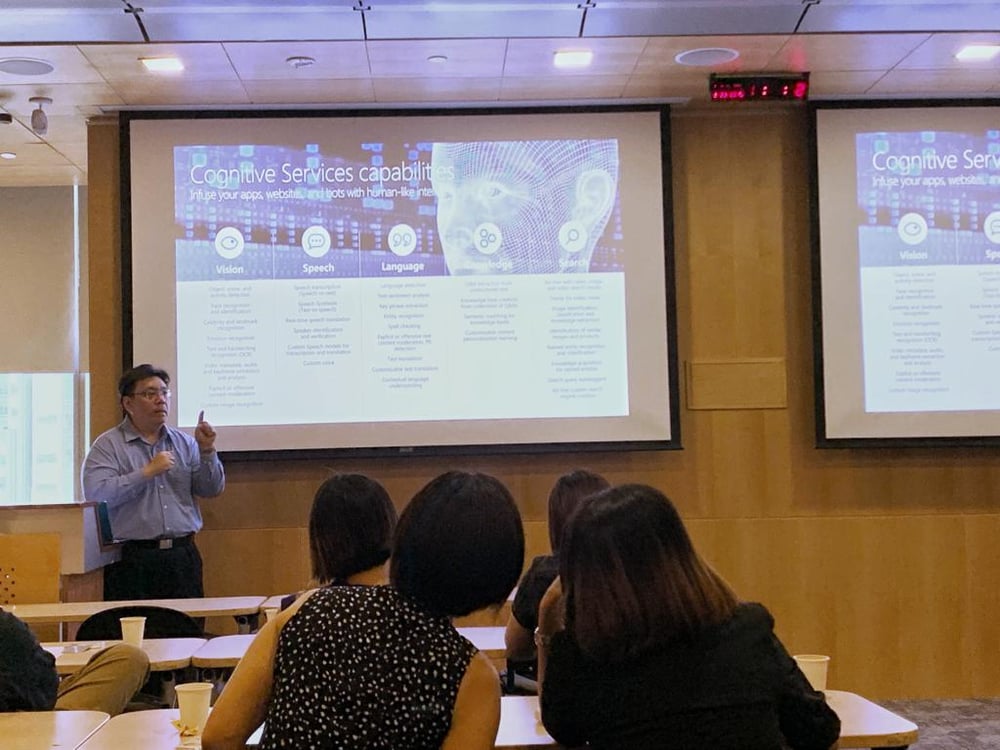 Bryan gives an overview of the five Cognitive Services available through Azure.

Bryan Pang, partner technologies strategist at Microsoft, demonstrated Microsoft Azure's AI capabilities and its practical value for SMEs.
Importantly, while we're accustomed to thinking of AI as a single overarching technology, it's really a collection of technologies which span several categories, like Machine Learning or the Internet of Things (IoT).
In Azure's case, the three AI services that were on showcase aren't just part of these categories, but of a broader, ever expanding directory of services.
And not only can you build, deploy, and manage these AI services on Azure, you also have the flexibility of doing the same with a broad range of applications. That includes ERP software like SAP Business One (both HANA and MS SQL versions) and Sage 300 ERP.
(By the way, we're the first local SAP partner to have implemented SAP Business One HANA on Azure.)
Here're three examples of Azure's AI services that you might tap on to boost your customer retention strategies.
Azure's AI Services
1. Vision: Insights To Help You Take Your Customer Service Strategies To The Next Level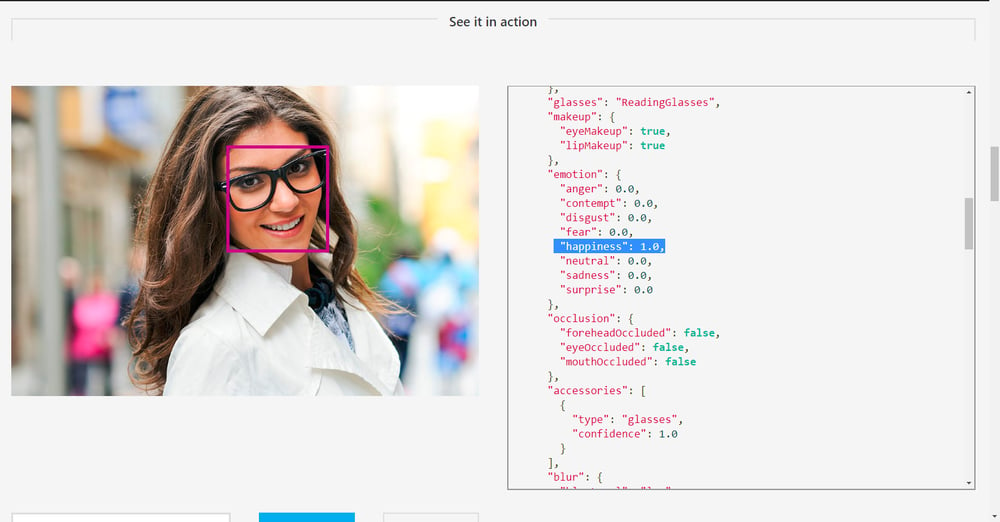 Face API recognises eight core emotions. Source: Microsoft

Never mind face detection technology, because it's more than commonplace these days. Try face analytics instead. This is where Azure's Face API (application programming interface) shines.
By analysing several parameters, Face API can predict eight common emotions: anger, contempt, disgust, fear, happiness, neutrality, sadness, and surprise.
It'll come in handy if you run a service business. Suppose you've an increasingly frustrated customer stuck in an unexpectedly long queue for example.
With analytics fed in by Face API, you could pre-program an alert to help you recognise when you need to placate that customer.
Face API also accurately predicts the age and gender of any face, even with objects like facial hair or sunglasses.
You might combine these two capabilities together to get a digital ad display that'll serve relevant advertisements to passers-by. Think of it as Facebook advertisements, but in real life. Couples with young children will see advertisements for nappies, for example.
2. Speech: Overcome Language Barriers
The Speech service covers speech-to-text, text-to-speech, and speech translation capabilities.
You can transcribe a speech instantly like in the news or generate an authentic-sounding voiceover for a corporate video.
Even better, have speech translated automatically into foreign-language subtitles.
3. Language: Helping You Stay In Tune With Customer Sentiment
Business with a chatbot or a well-subscribed social media presence will find this useful: using data to recognise when customers aren't as keen about your new product as you'd hoped.
Text Analytics API extracts key phrases from a text sample and analyses its sentiments.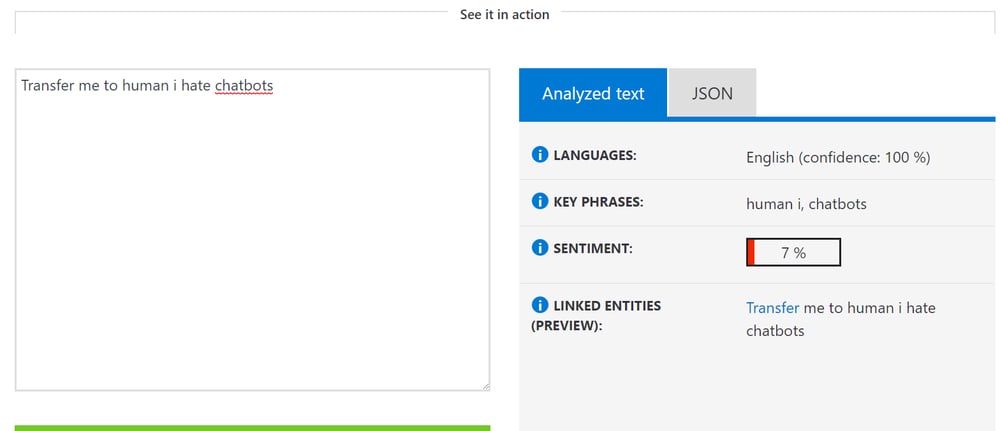 You can train your chatbot to be more attuned to frustrated customers with the Text Analytics API. Source: Microsoft

So, it'll understand when a customer interacting with your chatbot isn't exactly pleased, by sifting out key phrases like "You don't understand" and "I want to speak to your boss."
Or you might funnel tweets through the API and get a visual representation of customer sentiment to a new product launch in a business intelligence (BI) solution like Power BI.
Best of all, it works in multiple languages – perfect if you're in the hospitality industry.
The Broader, Business Benefits of Microsoft Azure


With 87 security certifications from global organisations including the International Organisation for Standardisation (ISO) and the European Union, you've the assurance that these AI technologies are powered by a robust infrastructure.
But certifications are one thing; even SAP enterprise users entrust Azure with their mission-critical workloads.
Finally, with 54 data regions and three data centres in Singapore, Azure has a broader global reach than any other Cloud provider.
The Power of AI and ERP: Microsoft Dynamics 365 Business Central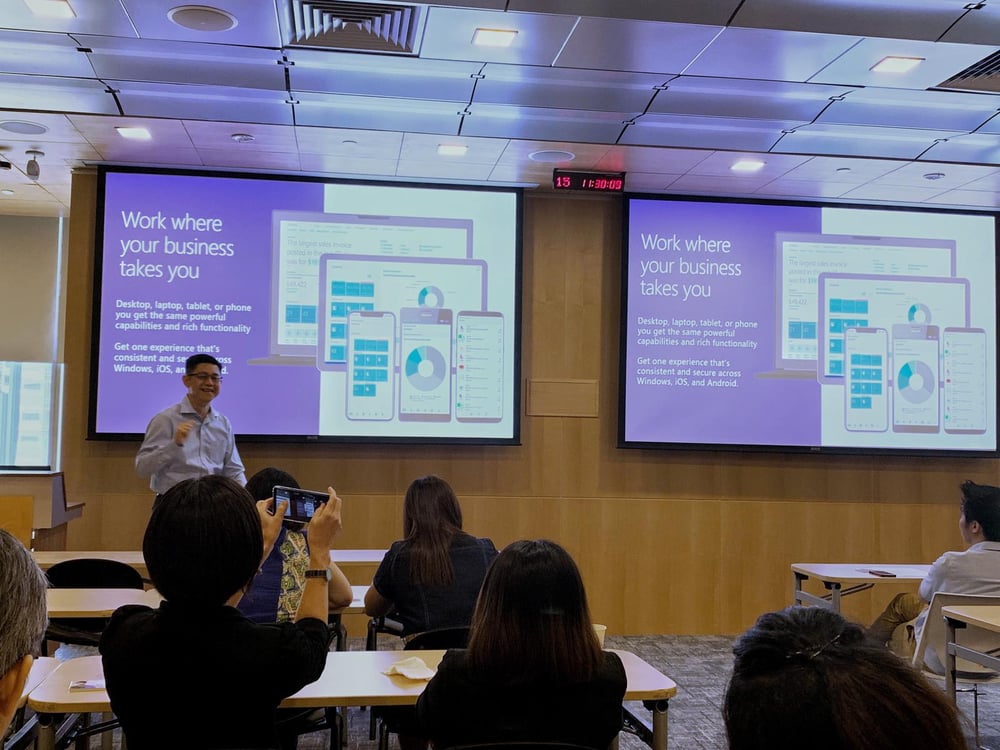 Mr Lai gives an overview of Business Central.

A well-oiled back-end will also give you more bandwidth to focus on your front-end efforts.
The best part? You won't have to invest in siloed solutions to harness the potential of AI.
Our General Manager and Head of the Microsoft Dynamics Business Unit Lai Kar Chyuan demonstrated how the AI capabilities of Business Central can help streamline and simplify everyday back-end processes, like managing your receivables and inventory.
If you're not already familiar with the name, Business Central's the rebranded, true Cloud version of Dynamics NAV (formerly Navision) ERP.
Business Central is also available as a hosted solution, should you prefer to host it on a private Azure Cloud for example, and as an on-premise setup.
With AI, Cut Down On Tedious Data Entry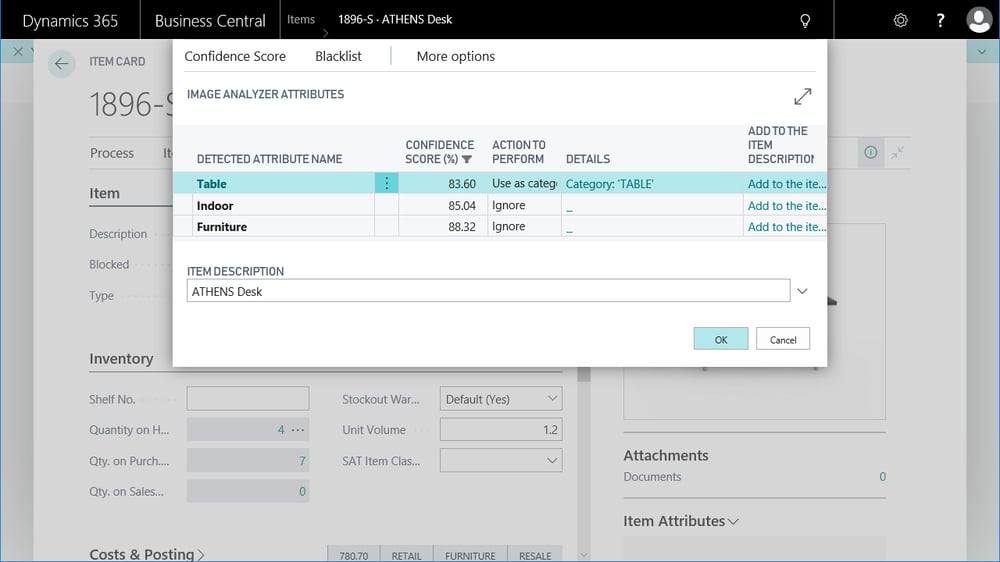 Less time spent on data entry means more time for optimising your inventory management techniques. Source: Microsoft

The Image Analyzer predicts the attributes of inventory items in photos that you import into Business Central. It'll tell the difference between a desk and an armchair, plus recognise its colours.
Now you can easily assign attributes or create new categories for new items, without having to key every detail in.
Intelligent Insights Into Inventory Movements

Get forecasts at a glance. Source: Microsoft

Thanks to the Sales and Inventory Forecast extension, you'll understand exactly how many sales of an item you can expect, or when you'll run out of stock for that item. All based on historical trends, so you don't have to crunch the numbers yourself.
Business Central will also calculate when you should order an item, so you'll have it on hand on a certain date.
Data-driven cash flow management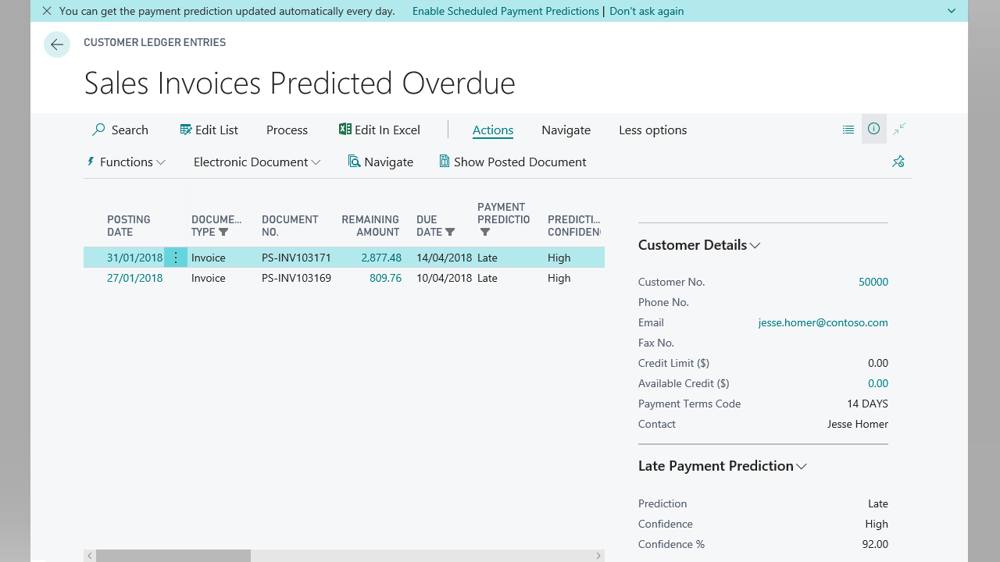 Drill down into the data and find out exactly which invoices are likely to be paid late. Source: Microsoft
Late payments are a pain, but not knowing whether a payment will be late is another kind of pain altogether.
The Late Payment Prediction extension attempts to reduce some of that uncertainty, and with its machine learning model it'll continuously refine its predictions based on your own data.
Through data-driven insights, you can optimise your collection strategies. Perhaps change payment terms to make it easier for a customer or begin charging in instalments for another.
Why Business Central


When you invest in a modern ERP like Business Central, you get the following advantages:
A True Cloud solution: access data anytime, anywhere. Business Central works on any modern browser, and iOS plus Android too. No more heading back to the office just to invoice a customer.
Seamlessly integrates with Office suite: send a quote to a customer without having to leave Outlook, or directly edit ledger data in Excel.
Two-factor authentication (2FA) support: Tight security from the get-go, without having to rely on third party functionality.
Customisations: with Business Central, you can use extensions to expand your ERP's capabilities. They work like plugins, and you can easily uninstall it too should you no longer have any use for it. If you prefer, extensions can be made private rather than hosting it on AppSource.
Artificial Intelligence in Business: Small and Medium-Sized Players Can Benefit Too
In summary, with AI technology you can boost your operational efficiency, seize new business opportunities, and improve your customer service strategies. All without having to invest in costly, disconnected technologies.
To learn more about harnessing the potential of AI with your existing ERP setup, or to find out more about Microsoft Dynamics 365 Business Central, call us or leave us a message here.