To all appearances, NetSuite Release 2019.1 might come across as a routine upgrade. But it does more than simply fine-tuning back-end systems.
What this release brings is a series of product improvements in sync with customer feedback – changes that don't rock the boat.
Release 2019.1 will be rolled out in phases, starting immediately. If you're already using NetSuite, it'll likely be deployed on your end – as for most users – come April.
That said, you can get an exact date through the New Release portlet (read: widget), so you and your team will've ample time to prepare.
Without further ado, we'll take you through four highlights from the release notes.
4 Highlights From NetSuite Release 2019.1
1. Refined User Interface

The refined KPI Meter takes on a sleek, modern, and most importantly readable new look. Source: NetSuite

The refreshed dashboard looks more visually appealing than ever. But general changes aside, Release 2019.1 also enhances the way key performance indicator (KPI) portlets work:
Quickly add KPI portlets to your dashboard.
KPI headline portlets will now display trend graphs, so you'll get a quick overview of the full picture.
KPI Meter portlet facelifted to improve readability, making it easer to get the information you need – at a glance.
Compare up to three trends on a single graph with the refreshed Trend Graphs portlet.

Get a quick glance of what you need to know with the KPI Headline portlet. Just like how you might keep abreast of current affairs by scanning news headlines. Source: NetSuite Release Notes
2. Tightened Security Measures

NetSuite takes care of Cloud security for you, so you can focus on growing your business. Source: NetSuite

Small and medium-sized enterprises (SMEs) are most vulnerable to cyberattacks - so NetSuite's tightened security controls are a welcome move for any business seeking to put up a robust defence.
Two-factor authentication (2FA) is now mandatory for all roles with high privileges (e.g. Administrator and above)

All temporary exemptions from 2018.2 will've expired with 2019.1.

2FA will also be mandatory for all integrations.
Full Access role to be deprecated beginning with this release, perhaps to be retired fully by 2019.2 release.

Opportune time for IT administrators to review security policies and access rights.
Core Administration role retains many of the Full Access role's access rights.
3. New Accounting and Finance Features

NetSuite accounts receivable (A/R) view with ageing reports and cash projections. Source: NetSuite
New to NetSuite: set up instalment billings.
Accounts receivable (A/R) ageing report will accurately reflect the due date of each instalment, as opposed to the full sum's due date.

Good if you've trusted clients who prefer to pay in instalments.

Choose whether to assign audit numbers to zero-amount transactions on your general ledger (G/L).

Zero-amount transactions include cancelled bills, voided transactions, and fulfilments for zero-amount items.
Useful if you need to assign audit numbers to all G/L entries for compliance purposes.

Use SuiteFlow workflows for vendor payment approvals for improved transparency and added flexibility.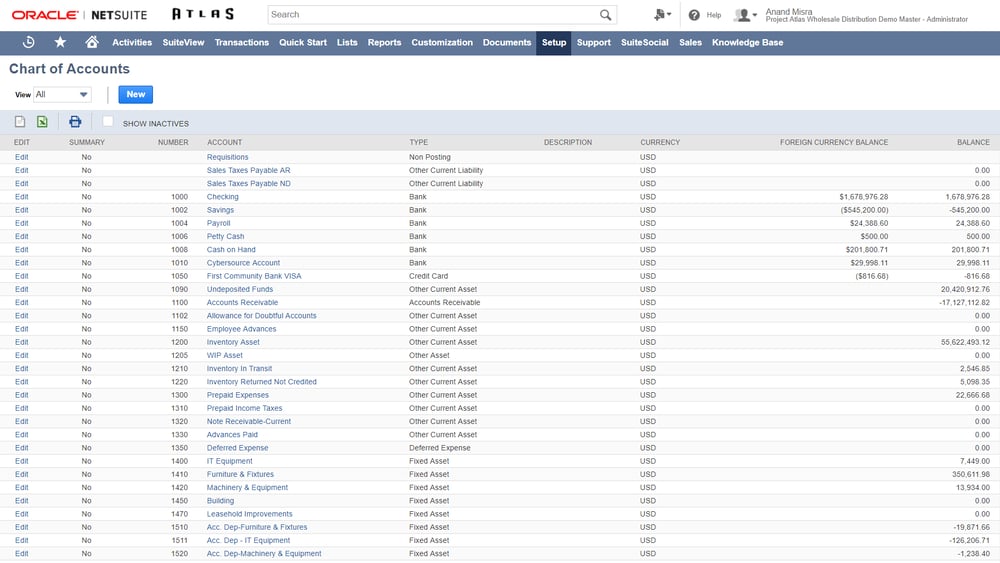 The NetSuite general ledger (G/L). Source: NetSuite
4. Optimised Manufacturing and Inventory Management Work Processes

The new Item Records Communications tab allows you to attach instructions, get reminders for tasks, and collaborate paperlessly. Source: NetSuite Release Notes
Legacy Bills of Materials (BOMs) created through the advanced BOM feature are now editable.
Import new BOMs or revise existing ones in CSV format.
Choose whether to allow inventory transactions to be dated outside the correct posting period.
New Communications tab under Manufacturing Item record facilitates easier, paperless collaboration.

Create and log events, tasks, and calls.
Share instructions for doing an activity.
Get reminders on next steps to take.
NetSuite's 2019.1 Update
NetSuite 2019.1 isn't a radical upgrade per se.
Instead, think of it as fine-tuning and expanding the capabilities of a leading Cloud enterprise resource planning (ERP) system – setting the stage for more radical changes.
Already running NetSuite and have some questions? Give our NetSuite helpdesk a ring at +65 6412 7957 or send us an email at supportnetsuite@afon.com.sg
If you'd like to learn more about NetSuite, Singapore's #1 Cloud business software, simply leave us a message here or call us at +65 6323 0901.