Note: This post was originally published in April 2019, and was updated with some of the newest tips shared by Ari Schapira.
It's the small things that make work easier.
For the past six years, Ari Schapira – the Chief Product Owner of SAP Business One – has shared weekly tips about small and helpful features in the ERP software that anyone can use to simplify their daily work.
Want To Learn More About SAP Business One? Here's Our Comprehensive Guide To The ERP Software For SMEs.
Previously, we curated 8 of his best tips for using SAP Business One. Since then, Schapira has shared more weekly tips for SAP Business One, many of which involves the Web Client introduced in Version 10.
Therefore, we've put together 8 more of his newest and most useful tips. Let's delve straight in:
SAP Business One Tips and Tricks
1. Access Microsoft 365 in the Web Client
It's always been possible to export data from SAP Business One to Excel spreadsheets, and more recently you could also export to Microsoft 365 through OneDrive.
Now, you can export data from the Web Client to Microsoft 365 as well.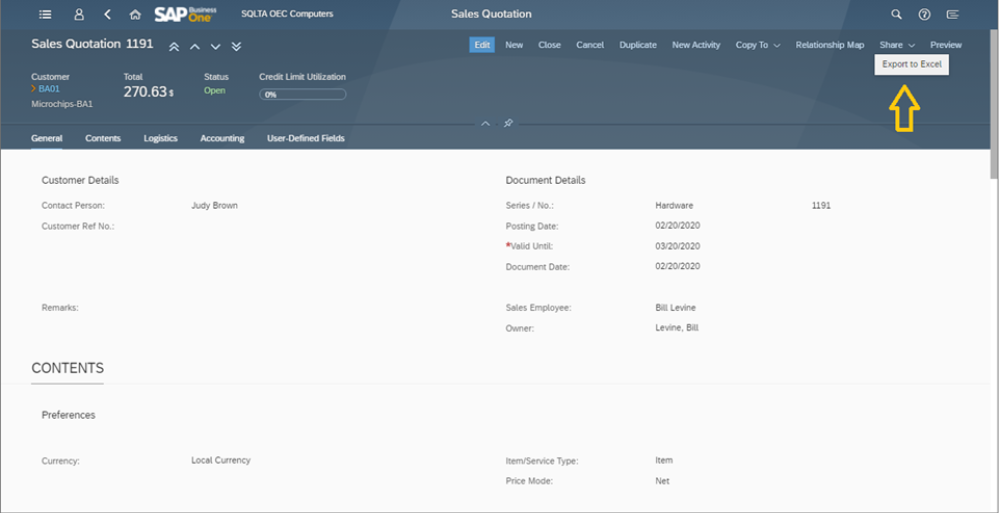 Source: Ari Schapira, SAP
To do this, you click the Export to Excel button, which will open up your selected file in a new browser tab.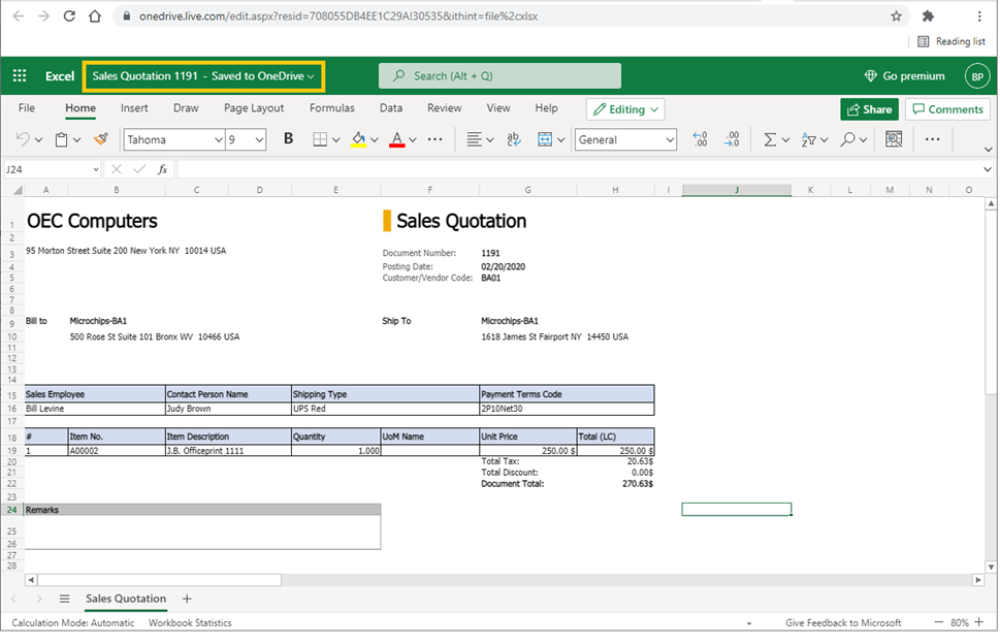 Source: Ari Schapira, SAP
Through the Web Client, you can export list views, search results, and detailed views of sales documents as Excel spreadsheets to OneDrive, using templates similar to the ones found in the regular Business One client.
2. Manage Sales And Purchasing Opportunities With The Web Client
You'll now be able to create and process your sales and purchasing opportunities through the Web Client as well.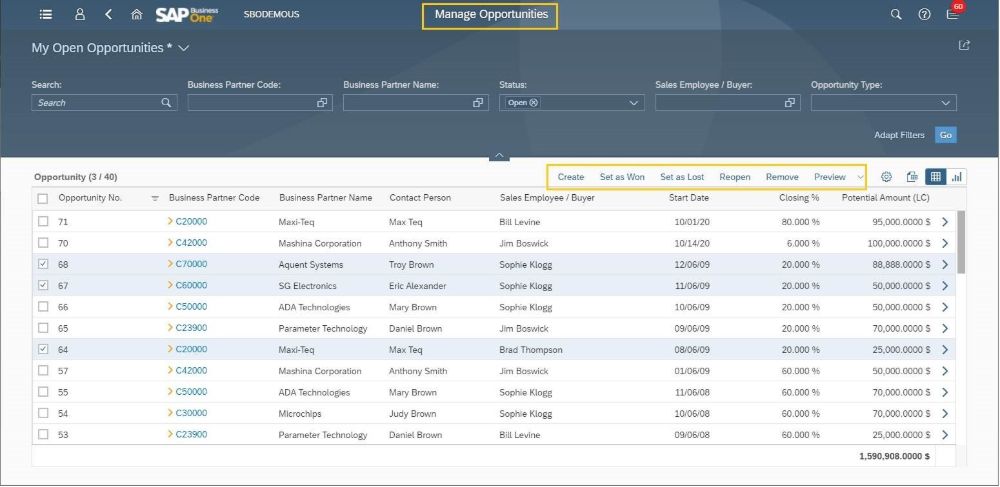 Source: Ari Schapira, SAP
Clicking on the "Opportunities" app opens up the Manage Opportunities list view, where you can search filter and create various views of opportunities. You can also carry out other actions like changing the status of opportunities, remove irrelevant ones, and create new ones.
In the Opportunity form, you can find visual indicators for the closing rate and status. Various operations are available, depending on the current status of any given opportunity.


Source: Ari Schapira, SAP
To create new opportunities, click on "Create Opportunity" to launch the Opportunity form in Add mode.
3. Make Use Of The "Card View"
The Web Client for SAP Business One has also introduced the "Card View" option to all list views, making it much easier to visualize data that's most relevant to your work.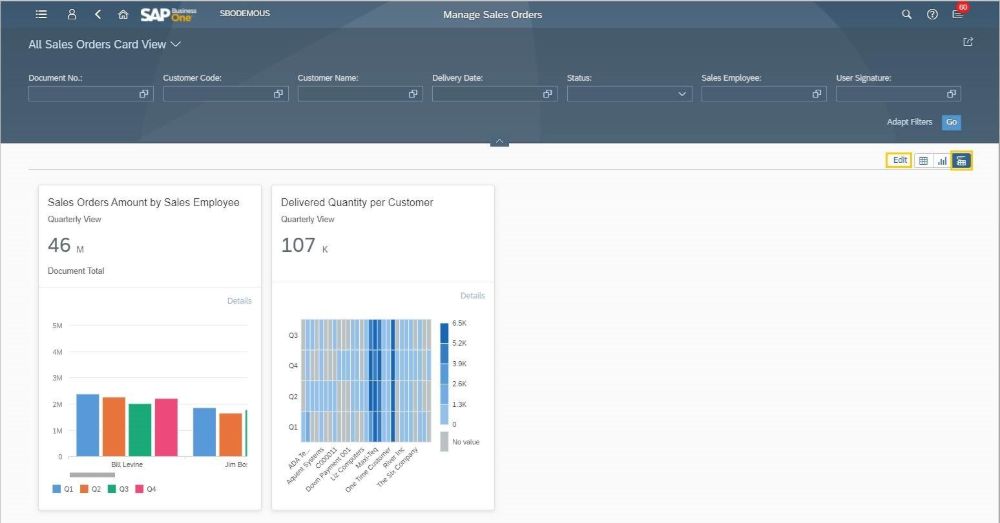 Source: Ari Schapira, SAP
You can click the "Edit" button to customise a new card with the data you require, using a WYSIWYG editor.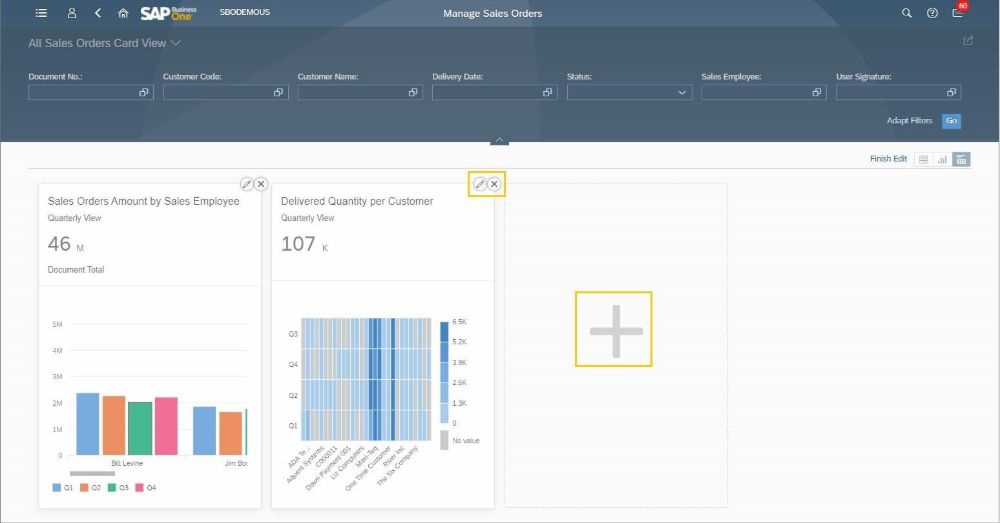 Source: Ari Schapira, SAP
It allows you to create multiple cards, zoom in to specific cards to get more detailed information, use the filter bar to apply changes to all cards, and save the cards you've created as a view and tile for future use.
4. Update Your Projects Directly Through The Gantt Chart
The Gantt chart is an invaluable tool for project management, as it allows you to visualize the different stages, timeline and progress of your various projects and subprojects.
You can now update your projects directly from within the Gantt chart in SAP Business One.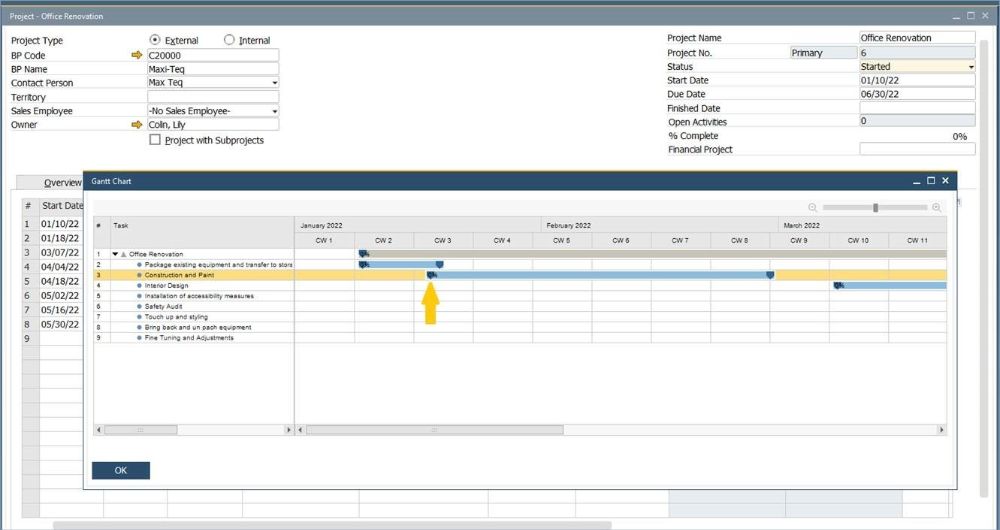 Source: Ari Schapira, SAP
To update your project timelines, move the time bars of your projects and subprojects. Once you've made your changes, the OK button changes to "Update"; click on it to save your changes directly to the project.
5. Launch And Use The Web Client Through Microsoft Teams
If you're already using Microsoft Team to facilitate collaboration within your business, do you know that you can launch the Web Client of SAP Business One within the platform?

Source: Ari Schapira, SAP
Through Teams, your end users can use all the supported functions of the Web Client – list views, detailed views, analytical content etc. within Teams.
This allows them to communicate with each other through chat while managing work within Business One without having to change systems, increasing productivity and performance especially when working from home.
Interested In Some Tips And Tricks To Make Remote Working With Microsoft Teams Easier? Click Here!
6. Refresh Your Home Page With A Reset
The Web Client for SAP Business One allows you to customise your desktop to your preferences. But maybe you've come to a point where your custom desktop doesn't fit your purposes anyway, or have just become too cluttered?
For a fresh start, you can use the "Reset" button introduced with the Web Client.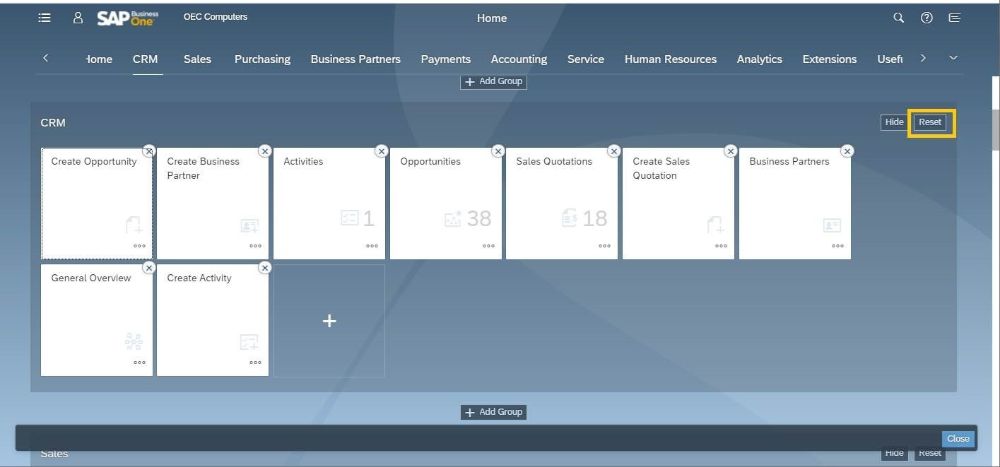 Source: Ari Schapira, SAP
If you have customised pre-defined groups on the home page, you can revert to the default layout and content of these groups by switching to "Edit Home Page" mode, and clicking the "Reset" button for that group.
Approve the confirmation message, and you'll restore the structure of the group.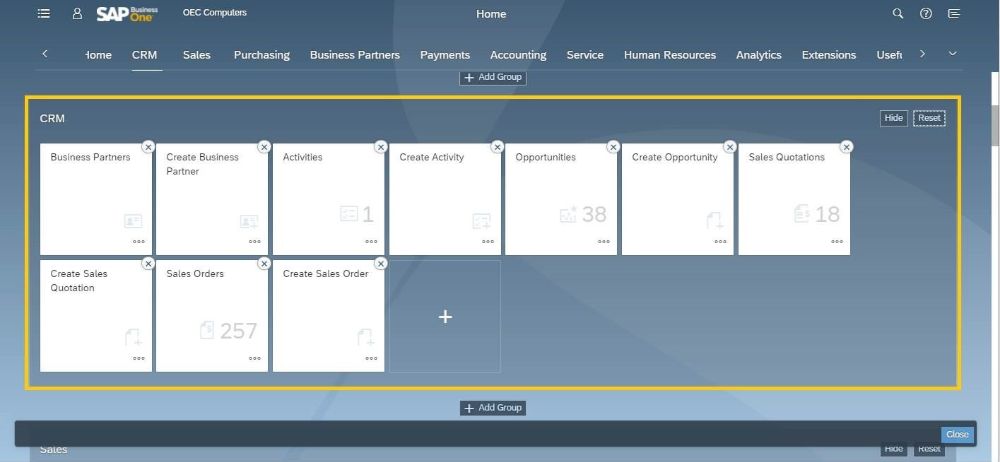 Source: Ari Schapira, SAP
As you can see here, the removed tiles have returned, the added general overview tile has been removed, and the tile sequence has been reset.
7. Scan Business Cards With The Web Client
With COVID-19 restrictions finally easing, in-person events such as meetings and conferences are making a comeback.
To prepare for them, the Web Client has introduced the "Scan Business Card" app to help you update your contact list with the business partners you'll soon be meeting.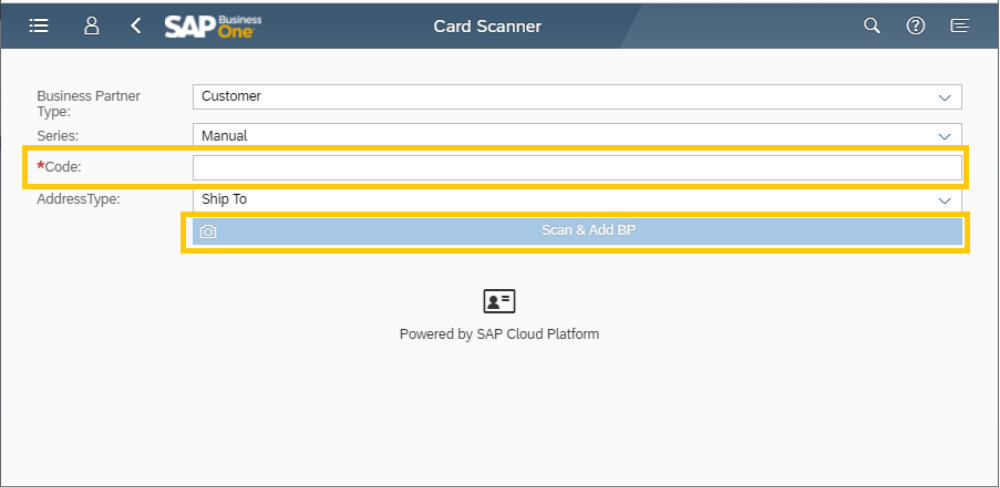 Source: Ari Schapira, SAP
With it, you can create a partner by selecting a photo, or taking a picture of a business card with your iOS mobile device.
This makes processing and saving the data of potential business partners and leads more efficient and accurate than ever.
8. Set Date Offsets By Posting Periods
Every business use posting periods for business analysis purposes. To make it more accurate and efficient, the Web Client introduces a date offset range definition, based on defined posting periods.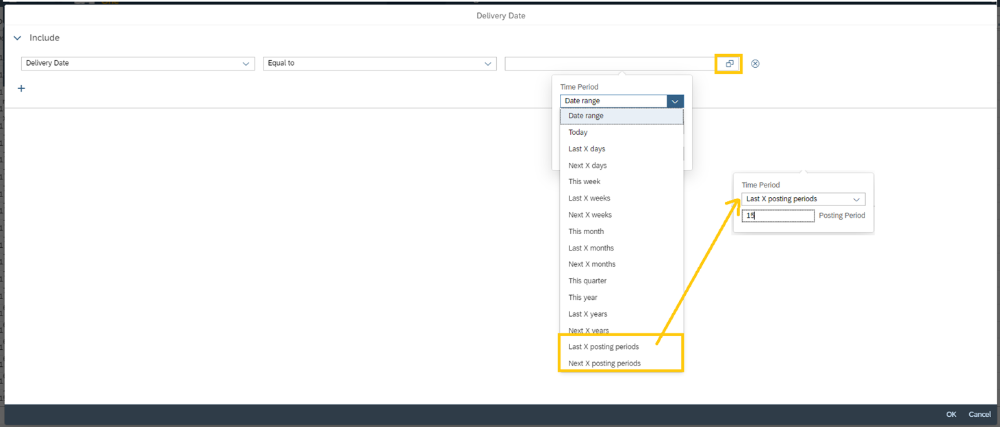 Source: Ari Schapira, SAP
The options "Last X posting periods" and "Next X posting periods" have been added to the date picker of date-related fields. When you select them, you can also enter the numberof the last or next posting periods.
The example above is set to the last 15 posting periods, which appears on the filter bar as below.


Source: Ari Schapira, SAP
As you can see, the year is divided into 12 posting periods, which means the selection represents the last 15 months. Every time you run this report, it'll return the last 15 months based on the current date of the query.
SAP B1 in the Long Term
With each new release of B1, you'll find more nifty little features like these that can help shave time off your work and make it just that little bit more pleasant.
It's part of SAP's strong focus on continuous innovation, so you've the peace of mind that your investment remains viable in the long run.
To learn more about SAP's long-term vision for the product, click the button below to download your free report on SAP Business One in the next 20 years.


And if you've any SAP B1 tips yourself, feel free to share them in the comments below!
8 SAP Business One Tips And Tricks For End Users (Updated 2021)
1. Save Your Most-used Data As Tiles
Do you have certain searches, reports and views that you use most frequently in the course of your work? Do you wish you could add them as shortcuts, so you can access them more quickly? Now you can!
When using the new Web Client for SAP Business One Version 10, you can save your most frequently-used views, searches and reports as tiles – which act as shortcuts – on your home page.

Source: Ari Schapira, SAP
When looking at the data you want to place on the home page, click the "Share" icon and select the "Save as Tile" option. It will open the following dialogue:
Source: Ari Schapira, SAP
Enter the title, as well as the subtitle and description if necessary, and choose the relevant group for the tile on your home page.

Source: Ari Schapira, SAP
The tile will now appear on your home page, and you can use it as a shortcut to go directly to the data that you use the most in your day-to-day tasks.
2. Use Filters To Get The Data You Need
Your business processes changes your data in the course of your day-to-day operations. This can make it difficult to find the data you need when the time comes.
The Web Client helps with this by providing a filter list in each list view, chart, and overview screen.

Source: Ari Schapira, SAP
You can filter a list using the fields that appear by default, and refine the filter further by entering values.

Source: Ari Schapira, SAP
You can even customise your filter bar by clicking the "Adapt Filters" button. This brings you to a window where you can choose which field to use as filters, and whether to display them in the filter bar. Then, click the "Go" button to apply these filters.
3. Get A Quick View Of Specific Details
Sometimes, you just need to double check a specific detail before carrying out a task. Wouldn't it be great if you could do so at a glance?
With the "Quick View" introduced with the Web Client, you can do just that.

Source: Ari Schapira, SAP
For example, let's say you want to check the customer's balance while creating an invoice. You'll see golden arrows on certain fields; click on them to open the Quick View for that field.
In it, you can find key information about the given record. You can also get more details by clicking the "View More" option, which takes you to the respective master data.
4. See The Big Picture In The General Overview
One size doesn't fit all when it comes to reports. Your leaders and managers have different roles and responsibilities, and thus needs different sets of data, reports, and details.
The Web Client introduces the General Overview to fulfil these differing needs.

Source: Ari Schapira, SAP
The General Overview displays cards with analytical data from various sources within your business, so that you can see the big picture as well as the details on one screen.
You can also add, remove and edit the cards on the General Overview as you'd like, and save overview sets of cards that show the data you use the most.
5. Use Case-sensitive Search For Hard-to-find Data

Source: Ari Schapira, SAP
SAP Business One already allows you to search for specific data by pressing CTRL+F. This brings up searchable fields that are highlighted in bright yellow, which you can use to find what you need by typing the relevant value into the respective field.
But sometimes, this still returns too many results, or results that you weren't looking for. How can you further narrow it down from there?

Source: Ari Schapira, SAP
You can do so by enabling case-sensitive search in your General Settings. This makes your searches consider upper-case and lower-case letters in your search values, and returns results that fit exactly what you're looking for.
6. New Features In Item Master Data
The Item Master Data is the heart of inventory management in SAP Business One, and it's been enhanced with several new features.

Source: Ari Schapira, SAP
You can now update the status of the "Purchase Item" checkbox for items which are the child of a BOM, a parent item in Production BOM, or Template BOM.
For items which are not components of Sales BOM or Assembly BOM, as well as those which are components of Production BOM or Template BOM, you can now change the status of the "Sales Item" checkbox.
The name of the preferred vendors is now also displayed alongside its code, and you can also access the "Last Prices" report from the context menu.
7. User-friendlier User Management
User management is a sensitive and important task in any business, yet it can get more complicated as the list of current and former users in SAP Business One get longer over time.
SAP Business One now gives you the option to hide locked users in various windows, giving you greater visibility of your active users.

Source: Ari Schapira, SAP
This option is available in the following windows:
Add-on Administration
Alert Details
UI Configuration Template
Copy Form Settings (available in Users – Setup)

Source: Ari Schapira, SAP
The default behaviour of the "Users – Setup" window has also been changed from appearing in "Find" mode, instead of "Add" mode.
This is to help prevent you from adding new users by mistake, and enable quick find without having to manually switch to "Find" mode.
8. New "End Of Fiscal Year" Field In Inventory Counting

Source: Ari Schapira, SAP
When inventory counting is distributed between various counters, and takes place over a few days, you can end up with multiple inventory counting documents.
However, they all have the same fiscal year-end. To reflect this more clearly, the Inventory Counting and Inventory Posting forms now include an "End of Fiscal Year" field.
This lets you know which fiscal year your inventory counting or posting is relevant for.

Source: Ari Schapira, SAP
You can also use the "End of Fiscal Year" field as a selection criteria when generating your Inventory Counting Transaction Reports.
Need advice on which ERP system and software, reporting tool, or IT service are suitable for your business needs? Book an appointment to speak to our sales advisor for a free consultation over the phone.