On 17 November 2022, AFON hosted the "Lunch & Learn: How to Tap into the Power of Cloud for 2023" seminar at Park Avenue Rochester.
Attended by owners and/or representatives from small- and medium-sized enterprises (SMEs) across Singapore, the seminar covered several trends that will emerging in the cloud technology space in 2023, and how this can impact users of ERP software like them.
Business Owners Are Moving To Cloud ERP Software Because Of The Critical Benefits They Bring To The Table In A Post-pandemic World. Find Out What They Are Here.
It also included some tips on how they can avoid being overwhelmed by excessive numbers of financial reports, while retaining full visibility into their business processes.
Here are some of the key highlights of this seminar.
Cloud Trends In 2023, And Their Impact On ERP Software Users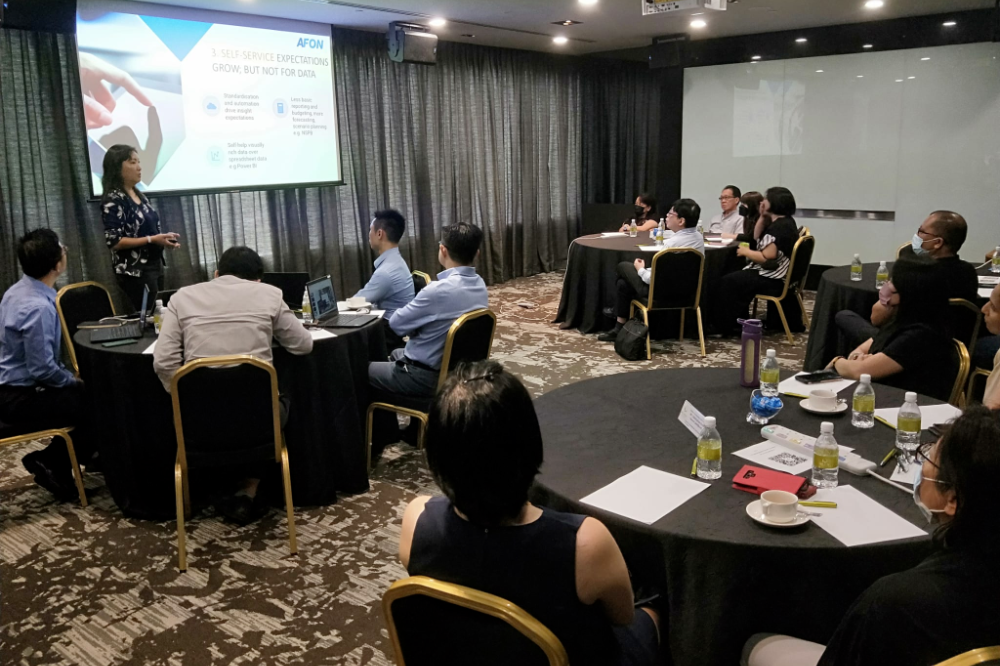 We shared several upcoming cloud trends in 2023; Source: AFON
In the first segment of the seminar, we covered the key emerging trends around cloud technology in 2023, and how these trends will impact users of ERP software like our audience.
These emerging cloud trends are as follows:
1. Cloud Spending To Grow 21% in 2023, Up From 2022
Increase in cloud spending in 2023, Source: AFON
Accordingly to Gartner, the cloud technology market will grow to a height of US$600 billion by 2023 across the world.
Some of the highest growth in the cloud technology space would be as-a-service solutions, such as Software-as-a-Service (SaaS), Infrastructure-as-a-Service (IaaS), and Platform-as-a-Service (PaaS).
This includes ERP software, with a growing preference for SaaS cloud ERP software such as Oracle NetSuite and Microsoft Dynamics 365 Business Central, over their traditional on-premises counterparts.
Cloud ERP Software Are The Ideal Solution For Small Businesses Like Yours. Here Are 5 Compelling Reasons Why This Is The Case.
This is because as-a-service solutions offers lower running costs and enables innovation to scale, which appeals to business owners who are generally selective about what they implement in their businesses, and favour reliability in the systems they use.
On the flip side, other cloud technologies such as blockchain and Internet of Things (IoT) might face headwinds in 2023, and see less growth over the coming year.
For example, Forrester predicts that up to 350 million IoT devices around the world will be at risk of 'bricking', or suffering faults that render said devices useless.
This could lead to a loss of confidence in IoT technologies relative to other types of cloud technologies, and thereby hinder their growth potential.
2. "Plug-and-play" Will Be Normalised In ERP Software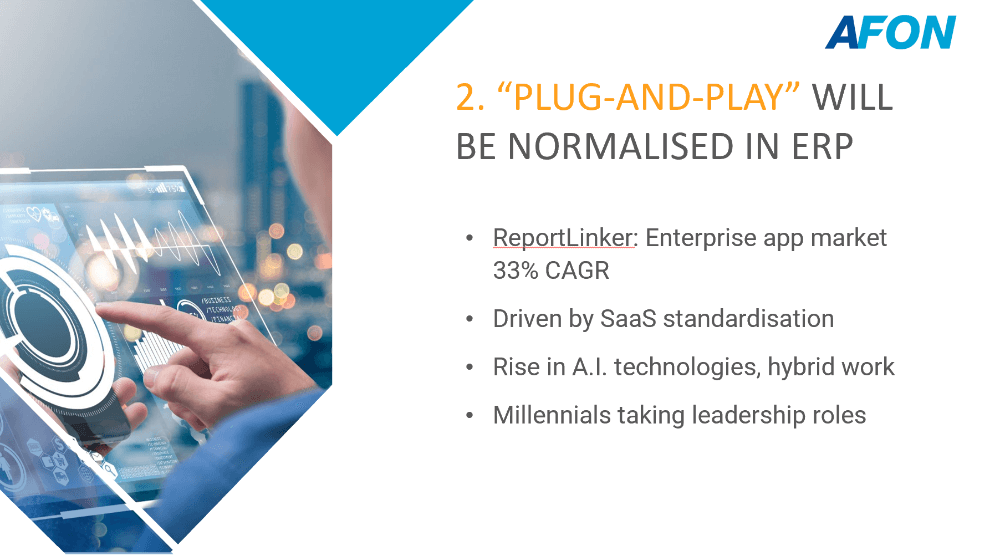 The shift to standard platforms that are easily customisable ;Source: AFON
ERP software is gradually moving away from the model of specialised solutions for different industries, and towards standard platforms which are easily customisable.
That's because SaaS cloud technology has enabled the "plug-and-play" model for cloud ERP software, which can be easily configured for specific business needs by integrating third-party apps through APIs.
The increasing number of millennials ascending to leadership roles have also driven the emergence of this trend. These leaders increasingly expect their business software – such as ERP software – to be as easily configurable as the mobile devices they're used to.
As such, the ERP software space has seen a surge in developers introducing specialised apps and microservices, which can be purchased from online marketplaces like NetSuite's SuiteApps and Microsoft AppSource and integrated into their respective cloud ERP software.
According to ReportLinker, the enterprise software app market will reach a compound annual growth rate (CAGR) of 33% by 2023.
3. Self-service Expectations Grow, But Not For Raw Data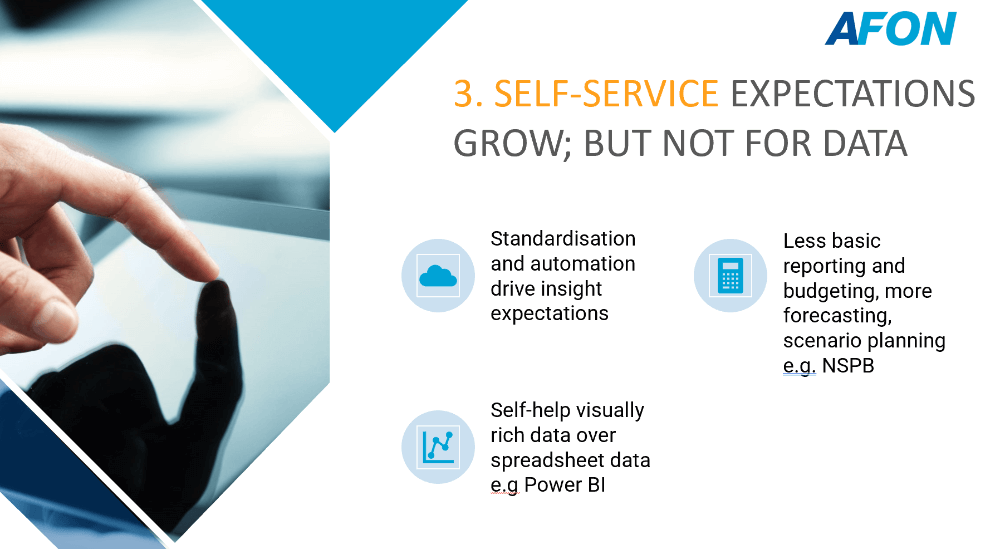 Increased expectations for advanced forecasting and scenario planning features; Source: AFON
Business owners have long seen the value of data-driven insights. However, their expectations have changed thanks to advances in standardization and automation.
Solutions that provide basic reporting and budgeting functionalities are no longer sufficient to manage increasingly complex financial processes.
Instead, there's more demand for solutions which provide advanced forecasting and scenario planning features, such as NetSuite Planning & Budgeting (NSPB), or Microsoft Power BI.
These business intelligence (BI) solutions provide visually rich data which makes insights much more accessible, than the rows upon rows of numbers which is the same data presented upon spreadsheets.
And with features such as the natural language Q&A in Power BI, you can even type a question and the BI solution will return the best answers and visuals based on your dashboard's dataset.
4. Cloud Security Spend Will See Its Biggest Growth Over The Next Two Years.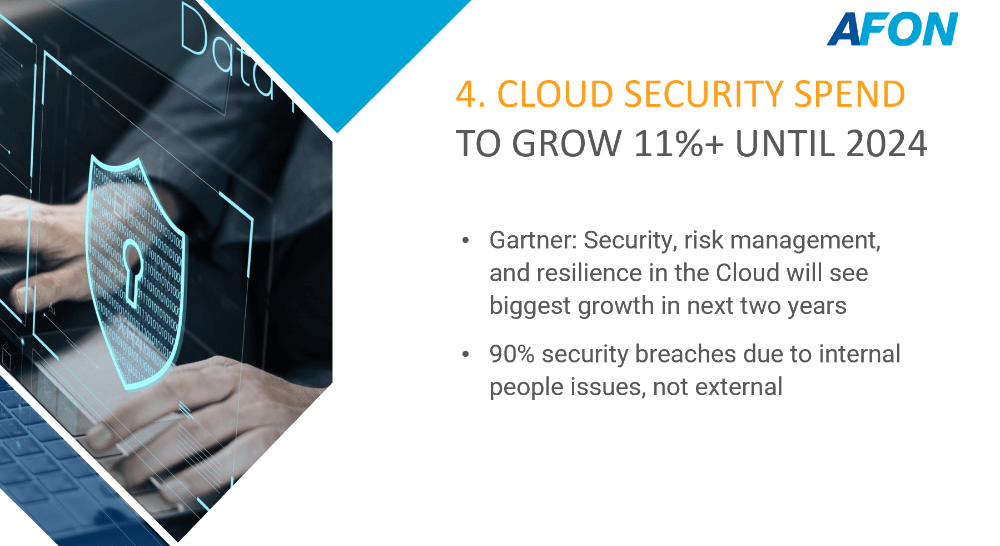 Cloud security spending to grow 11% until 2024 ;Source: AFON
With the emerging trend towards the rise of cloud technology, there will be a corresponding rise in spend for cloud security as well.
According to Gartner, spending on cloud security, risk management and resilience in the cloud will see its biggest growth over the next two years, up to more than 11% until 2024.
Much of this spending will be invested in employee training, for 90% of security breaches to this day are due to internal human error, as opposed to external attacks.
How To Keep Tabs On Your Business Without Drowning In Reports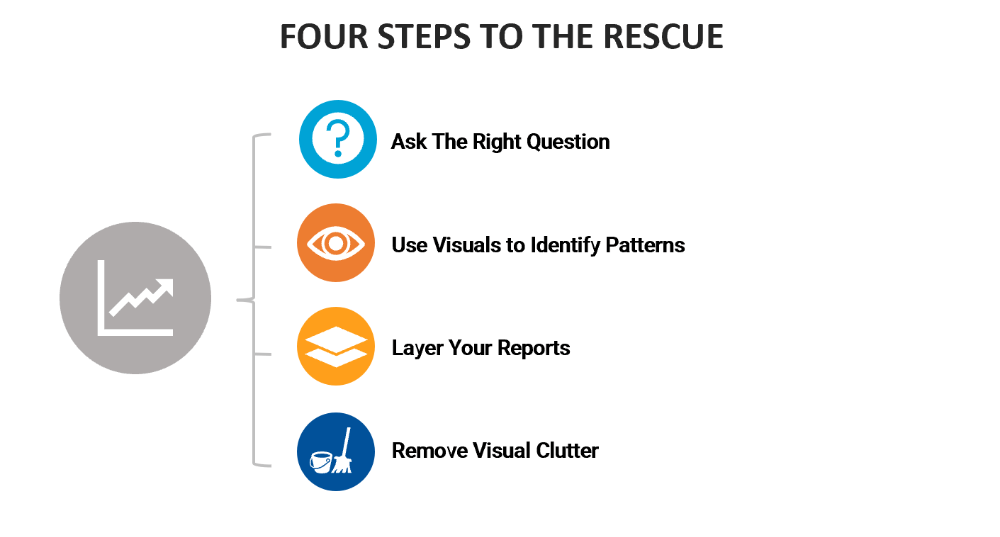 The 4 steps approach to data insights; Source: AFON
The fourth and final segment of the seminar provided the audience with four useful steps that will help business owners stay afloat in the sea of reports generated by their processes, in order to get to the insights they actually need.
This is important, because it will clarify how your report needs to be designed in order to give you the insights you need.
These questions can be prescriptive, or descriptive. Exploratory analysis can be applied to both types of questions, as well.
You should also structure your questions so that it will provide answers to factors which you want to understand your sales figures by
Use Visuals To Identify Patterns
Once you've decided which questions you want your reports to answer, it's time to start designing. However, relying on standard table reports will only result in an explosion of reports you will end up drowning in.
Instead, consider designing reports do take more than two dimensions into account.
For example, consider using waterfall charts instead. These collate multiple sets of data that would normally take multiple table charts to present, and instead brings them together in a single table which makes the data quick and easy to comprehend.
Another thing you can avoid drowning in too many reports is to layer them.
This involves thinking about how you want to navigate through each of your reports, and then construct a tiered, sequential approach.
Through this, you can break the massive amount of numbers into much more manageable chunks of data. We did a quick demo of how this could be done in Power BI.
Finally, it's time to design a visual based off the reports. However, it's worth keeping one thing in mind; when it comes to designing visuals, less is more.
For example, 3D charts are a bad idea, as they make it difficult to see exact numbers. This, in turn, makes it hard to make a fair comparison between different figures.
A simple line chart can make it much easier to glean the necessary insights from the data presented. You can also remove additional markers, lines, and unnecessary text to make the visuals even cleaner.
Alternatively, We Can Handle Your Reporting And Data Analytics Needs For You. Click Here To Find Out The IT Outsourcing Services We Can Provide Today!
Get Ahead Of Cloud Trends In 2023 With Cloud ERP And Power BI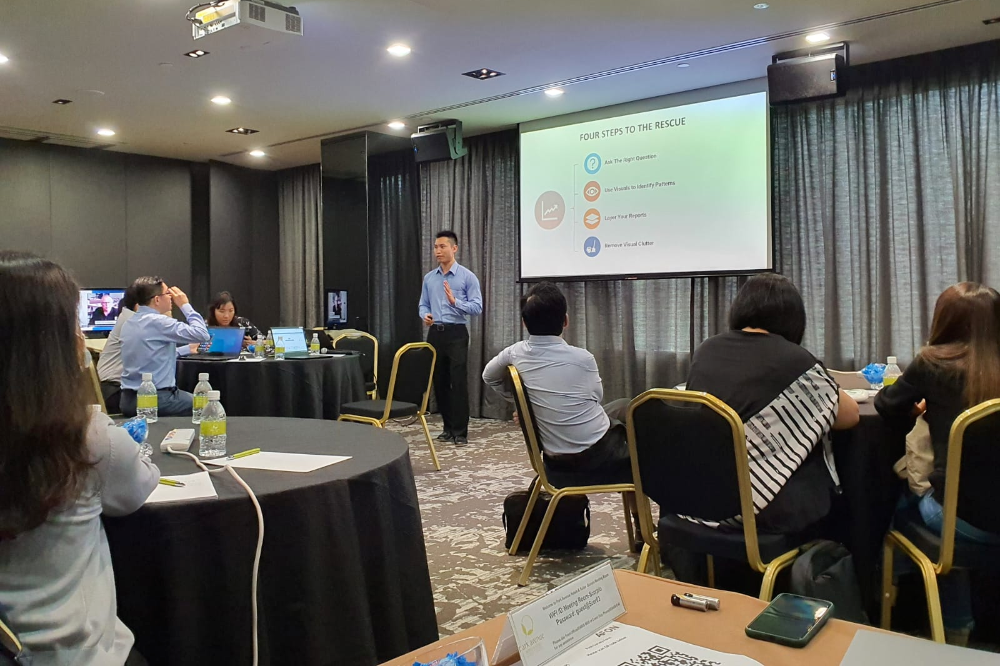 We revealed 4 steps to de-cluttering data for better insights; Source: AFON
In our other presentations in this seminar, our speakers introduced Oracle NetSuite and Microsoft Dynamics 365 Business Central as examples of cloud ERP software, and how they can help business owners stay ahead of the emerging cloud trends in 2023.
We also shared briefly about the strengths of Power BI as a visualisation tool that helps business owners gain insights without drowning in data, such as the Desktop version being free for a single user, as well as Power BI in general being the most affordable option for visualisation software in the market today.
Which Power BI User License Would Work Best For Your Business? We Lay Out The Factors You Should Consider Here.
We hope that this summary of the seminar has given you an informative peek into the cloud technology trends that will emerge in 2023, and how it might affect a user of ERP software like yourself.