The COVID-19 pandemic has been unprecedented in the disruption it's caused to Singapore's economy, hitting small- and medium-sized enterprises (SMEs) like yours especially hard.
But it's also forced local SMEs to rethink their operational processes, and working out how they can adjust their business models to adapt to the new reality.
Business Leaders Like Yourself Have Shared Their Insights On How To Prepare For The New Normal. Click Here To Find Out What These Are.
To understand how the challenges of 2020 and COVID-19 has affected the attitudes and plans of the entrepreneurs like yourself, Frost & Sullivan collaborated with Oracle NetSuite to carry out an online survey of 513 entrepreneurs in 8 Asia-Pacific economies in November 2020.
The survey revealed that while COVID-19 and other events in 2020 have indeed had a huge impact on regional SMEs, the entrepreneurs leading them have become more confident about the future success of their businesses going forward.
Apart from that, the experience of navigating their businesses through the economic conditions caused by COVID-19 have taught them several key lessons when it comes to achieving post-pandemic business success.
Let's take a look at the highlights of the white paper by Frost & Sullivan.
How COVID-19 Has Impacted SMEs
Although SMEs across the Asia-Pacific region have been affected by the lockdowns and economic restrictions imposed by their governments in response to the COVID-19 pandemic, not all SMEs were equally affected.
The level of impact that an SME experienced due to the COVID-19 lockdowns tend to differ according to the sector it operates in.
In the study, SMEs in the retail sector were the most affected with 47% of businesses suffering negative impact, while only 31% of SMEs in the manufacturing sector were similarly affected.
Across the board, SMEs in the Asia-Pacific reported that the most negative effects of the pandemic were declining sales levels (72%), reductions in their profit margins (53%), and declines in their cashflow (49%).
Difficulties in the supply chain also affected certain sectors much more than others. 55% of SMEs in wholesale, distribution and logistics encountered supply chain challenges, a challenge shared by 36% of retailers.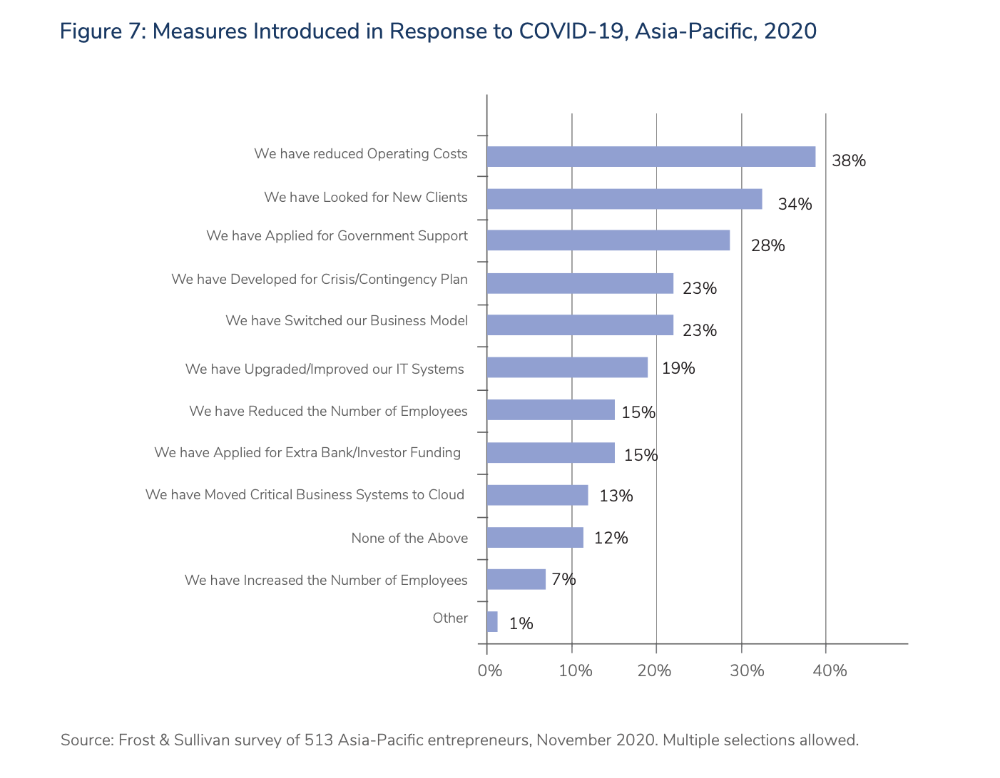 As a result, entrepreneurs leading SMEs in the region resorted to a wide range of measures in response to the challenges posed by COVID-19. Of these measures, 23% of respondents made changes to their business model, and 19% invested in upgrades and/or improvements to their IT assets.
This is notable as it's in line with what these entrepreneurs have cited as the most important key lessons they've learned from the pandemic, as well as their emphasis on business technology as a key factor contributing to the future success of their businesses.
Let's take a look at some of these key lessons, so you can see how you can apply them for your own SME.
Key Lessons That Entrepreneurs Have Learned From COVID-19
1. The Need For A Flexible Business Model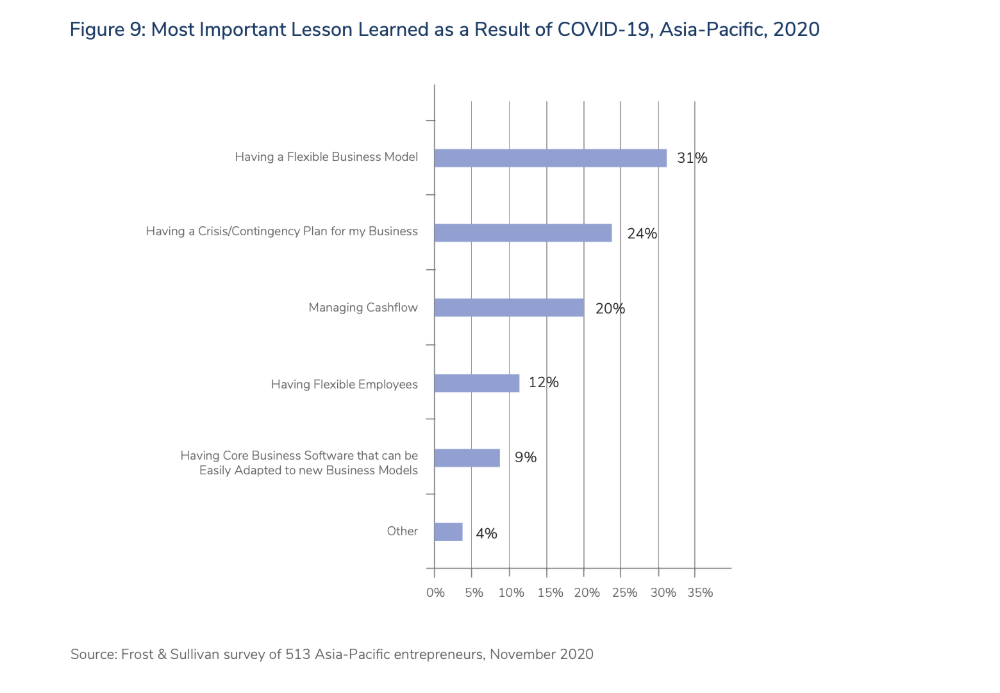 The most important lessons that entrepreneurs have learned from the COVID-19 is the need for a flexible business model that allows their SMEs to quickly adapt to evolving circumstances, according to 31% of the respondents in the Frost & Sullivan white paper.
In addition, 22% said that they would change aspects of their business that are not working more quickly when asked if they would do anything differently.
This increased emphasis on the need for a flexible business model is likely because the COVID-19 pandemic proved that flexibility is key for a business to survive challenging times.
Entrepreneurs such as the respondents in the survey have learned that it's necessary to incorporate a measure of flexibility and slack in their operational processes, and to work together with their employees to help their SMEs navigate such challenging times.
One example is the transition from the office to remote working, where many businesses have found success in the new business model contrary to past expectations.
Another example of this is the way many SMEs have foregone the traditional "waterfall" methodology of financial planning, and adopting agile financial planning processes to better cope with the rapidly-changing economic conditions caused by crises like the pandemic.
To Find Out What These Agile Financial Planning Processes Are, Click Here To Learn About Them, And How They Can Help Your SME Respond Quickly To Uncertainty.
Of course, implementing a new, more flexible business model like transitioning to remote working doesn't happen overnight. You'll need to take several measures in order to enable the transition to happen smoothly.
2. The Need For A Business Continuity Plan As A Contingency
Another key lesson learned by many entrepreneurs from COVID-19 is the need to prepare a contingency plan in case of crisis, with 24% of survey participants stating as such in Frost & Sullivan white paper.
With a proper business continuity plan (BCP) in place, SMEs such as yours would be better prepared and equipped to keep on operating in the face of daunting challenges caused by future crises on the scale of the pandemic.
Modern-day BCPs often rely on cloud computing technology, as it enables quicker recovery of critical business data, enables your employees to work from home (WFH) when circumstances dictate the necessity, and offers stronger security than your SME would likely have the resources to afford in-house.
It is then no surprise that the respondents in the survey largely agree that technology is a critical component for the success of their businesses.
Learn About The Five Ways Cloud Computing Can Help You Maintain Business Continuity In Your SME Here.
Technology Enables Success In Business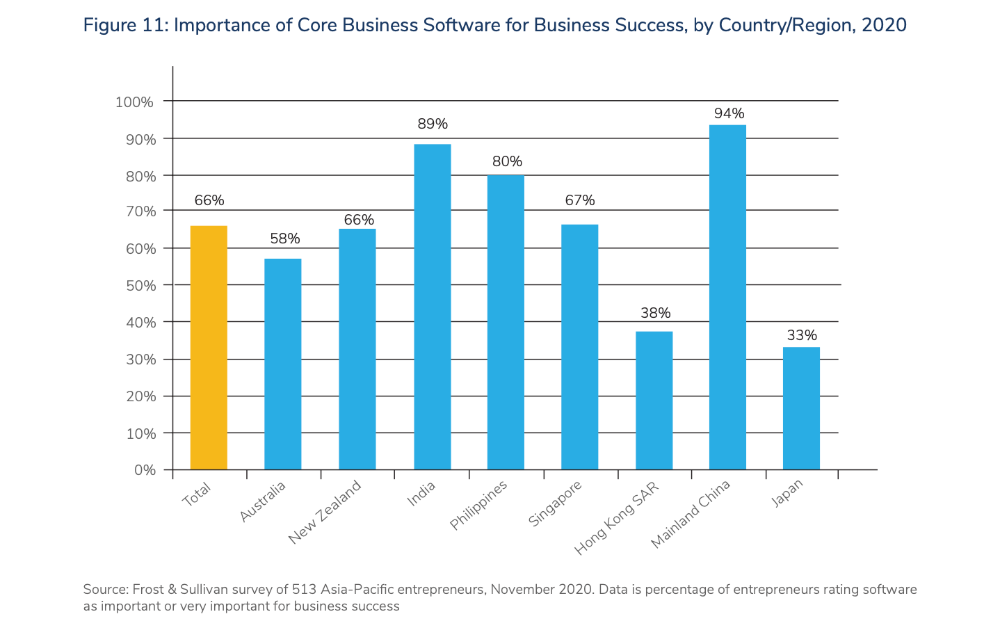 The Frost & Sullivan white paper also reveals that technology is playing an increasingly vital role in enabling business success, with many SMEs using software to manage business processes such as finance and accounting, as well as customer relationship management (CRM).
According to the respondents in the survey, two-thirds regard their core business software as critical to the success of their business, as it can be the key for enabling the implementation of business strategies.
In addition, 52% of the entrepreneurs surveyed plans to make further investments into their core business software because of that reason.
Interestingly, a good 57% of the participants' SMEs are currently using software-as-a-service (SaaS) applications for most, or even the entirety of their key business processes.
The reasons cited for this include the fact that SaaS software offers more flexibility and lower costs than on-premise equivalents that are available on the market, along with the fact that almost all software vendors offer SaaS versions of their software products today.
In addition, the use of SaaS software can provide several critical benefits for an SME like yours, especially when it comes to adapting their business models or ensuring business continuity in the midst of a crisis like the COVID-19 pandemic.
These include enabling WFH arrangements, remote collaboration efforts, and enabling social distancing on work premises amongst other benefits.
If You'd Like To Learn More About The Critical Benefits That An SaaS Software Like Cloud ERP Can Provide Your SME In A Post-Pandemic World, Click Here.
Ensure The Future Success Of Your SME With Oracle NetSuite
The most striking finding of the survey is that entrepreneurs in the Asia-Pacific have emerged from the other side of the COVID-19 pandemic with a sense of optimism about the future success of their businesses.
While the pandemic has had nothing but negative effects on the respondents of the survey across the board, two-thirds of them professed greater confidence in the future success of their SMEs; after all, if their business could survive the impact of COVID-19, it can survive any challenges in the future.
Nevertheless, the entrepreneurs in the Frost & Sullivan survey have stressed the importance of technology – particularly SaaS software – to the success of their businesses, with the right software being recognised as a critical factor when it comes to growing their businesses in good times or bad.
With some of the respondents having been selected from a list of Oracle NetSuite customers, it's also notable that three quarters of the respondents in the survey were satisfied with their core business software.
And why not? After all, Oracle NetSuite is the most deployed true cloud ERP software in the world, backed by years of experience and cutting-edge R&D from one of the largest brand names in the ERP market today.
And as it was designed from the ground up as a true SaaS cloud ERP software, NetSuite is the ideal software solution to help your SME transition to the flexible business model and ensure the business continuity you'll need to prepare for future crises on the level of the COVID-19 pandemic.
If you'd like to know more about the true cloud ERP software, you might like to know that AFON is a qualified partner of Oracle NetSuite in Singapore. Our consultants will be happy to get in touch with you and answer all your questions, if you'd drop us a note.
Otherwise, if you'd like to read and learn more about the results of the survey by Frost & Sullivan, click on the image below to download your copy.