As a business in the retail sector, inventory management is one of the most important processes to get right.
After all, you need to strike a balance between keeping sufficient inventory of popular products to meet customer demand without experience stockouts, and minimising inventory of obsolescent products to avoid excessive stocks.
Both scenarios can easily result in your retail business taking unnecessary losses, and should therefore be avoided where possible, or quickly resolved otherwise.
Therefore, the proper management of your inventory and stocks should be considered a top priority for retail businesses like yours.
First, let's look at all of the reasons why you should optimise the inventory management of your retail business.
The Importance of Inventory Management For Retail Businesses
Optimising your inventory management is an imperative for retail businesses like yours, for several reasons. Let's take a look at them.
Minimises Stockouts of Popular Products
As we mentioned earlier, your retail business should avoid the situation where it runs out of stock for its products, to avoid disappointing your customers and missing out on sales.
It's not just being unable to carry out a sales transaction due to lack of stock in the present moment; if your retail business gains a reputation for being regularly out-of-stock for popular products, that could have a negative impact on the growth of your customer base as well.
To ensure that this doesn't happen, you can make use of an inventory management tool that provides real-time information on your sales transactions and your current stock of products.
Such a tool would not only help you determine the right level of stock to have on hand in your inventory, it can also help you react quickly to dwindling stocks by reordering the product, transferring stock from one of your retail locations to another, or even dropshipping said product to customers which didn't get their hands on one when they visited your retail outlets.
Today's Retail Businesses Achieve Success By Leveraging Big Data. Find Out How They Do So With Some Real-Life Examples.
Avoid Excess Stock of Expired Or Obsolescent Products
Failure to manage your inventory properly could lead to perishable products expiring while in your inventory, before your retail business could sell them.
This also applies to non-perishable products, as these can fall out of favour and become obsolescent, as consumer tastes evolve and technology advances.
In both cases, your retail business could stand to incur not just the loss of revenue from having an excess stock of unsellable products in its inventory, but also further losses from expiry and lack of shelf space for more profitable alternatives.
With a proper inventory management tool, your retail business will know how much stock of each product it has in its inventory in real-time. It can also help you pinpoint which products to restock regularly, and which to draw down as demand falls.
This also helps you avoid wasting shelf space on unsellable products, thus saving on unnecessary storage and carrying costs.
Improve Omnichannel Order Fulfillment
Pursuing an omnichannel strategy has become a must for many retail businesses like yours, especially in the aftermath of the COVID-19 pandemic.
With your customers becoming used to enjoying a seamless customer experience between your brick-and-mortal retail stores and your e-Commerce storefronts, you'll need to ensure that your retail business stocks sufficient products for all your retail channels.
Having Access To Insights Into Your Customers Is Key For The Success Of Your Retail Business. Find Out How You Can Best Leverage On Them.
However, shifting to omnichannel has also complicated the task of ensuring sufficient stock for your consumers, as you now have to keep inventory counts across multiple channels.
And this could also exacerbate shrinkage – loss of inventory due to various reasons, but mostly from errors in manual data entry resulting in incorrect records, counts, and misplaced items – in your retail business as well.
With an inventory management tool, you'll get full visibility into your inventory in real-time, across your various retail channels. Not only would this ensure you can maintain sufficient inventory to meet customer needs, but your retail business will also be able to shift inventory between its retail channels.
This would enable your business to fulfill your customers' orders for your products, no matter which retail channel they're using to carrying out transactions with your business.
How Does ERP Software Help You Manage Your Inventory?
ERP software has long been a favoured solution for inventory management by retail businesses such as yours, as they come with an inventory management module.
That's because the inventory management modules in ERP software usually come with a full set of features that answer your retail business's inventory needs, including but not limited to the following.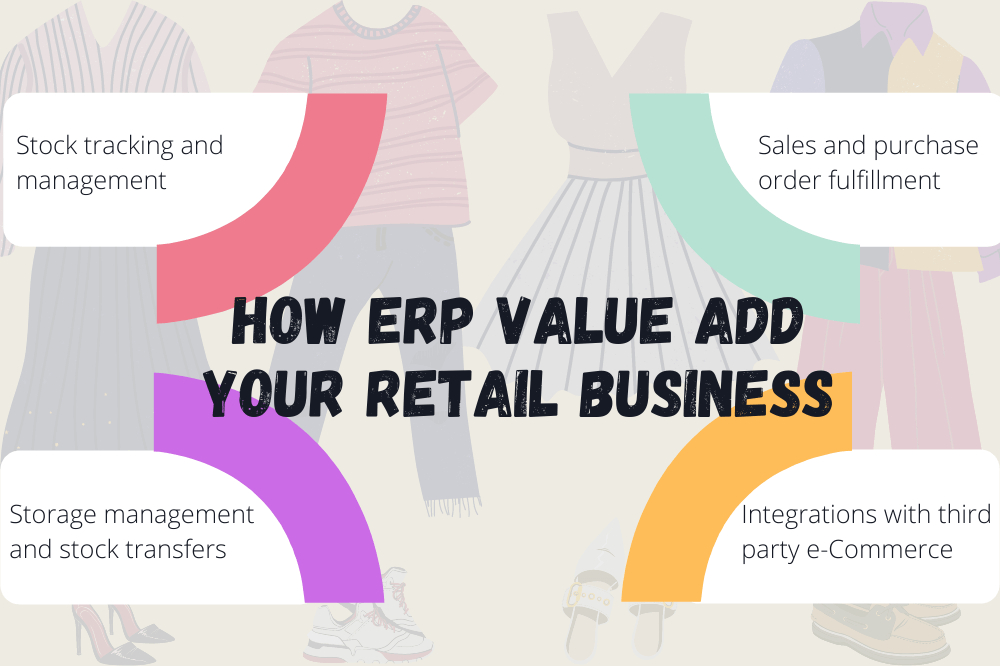 These are some of the benefits of using an ERP software as the inventory management solution for your retail business.
ERP Software Can Optimise Several Critical Functions In Your Retail Business. Find Out What They Are, And How ERP Software Achieves This.
Forecasting, Restocking, and Managing Excess Inventory
An ERP software can help you forecast changes in inventory levels due to demand, and when you should or should not order restocks of particular products accordingly.
It does so by keeping track of various data points in your retail business in real-time, such as sales, purchasing and logistics.
In addition, it integrates with your other business systems to unify all of your retail business operations, and consolidates all of the data generated by your processes into a single source of truth.
Therefore, as your inventory is affected in real-time by both your sales and your supply chain processes, you'll be able to track the changes in your inventory in real-time, and with full confidence in the accuracy of the numbers.
You can even set automated alerts for when certain conditions are met, such as when inventory levels for a certain product have fallen below a pre-determined point. These will remind you to restock on these products at the right time, especially if you'd otherwise be preoccupied on other aspects of your retail business.
Automation of Inventory Updates
An ERP software can help you notice when you're accumulating excessive stocks, and recognise when to cease reorders of an obsolescent product in a timely manner.
that's because it automates your business's inventory management processes, eliminating the need to do so manually through means such as spreadsheets, along with the inherent issues of doing that such as human error.
The inventory management module of an ERP software also presents information about your inventory in dashboards that's updated in real-time.
Not only does this give you better visibility into your inventory, it also enables you to react immediately to any emerging problems with your stock of products.
Inventory Tracking
With an ERP software, you can always ensure that stock will be available for your customers, no matter which of your retail channels they may be patronising.
Thanks to its inventory management module, you get a centralised inventory database that's updated in real-time. This helps your track your current inventory levels, with full confidence that the figures on the dashboards reflects the actual amount of products currently sitting on your shelves, or in storage.
This comes in especially handy if you have to juggle inventory between multiple retail channels, as you would if your business has both a brick-and-mortar store and an e-Commerce storefront.
Should inventory of a product start running low in one or the other, you'll be able to notice and react instantaneously, such as by shifting inventory from one to the other or vice versa.
This helps you ensure that your retail channels will always have stock available, enhancing the customer experience for your customers on any of them.
ERP Software Can Help You Optimise Inventory Management In Your Retail Business
A cloud ERP software such as Microsoft Dynamics 365 Business Central is the ideal solution for optimising the inventory management process of your retail business.
That's because with the built-in inventory management module in ERP software like Business Central, you can maintain inventory levels and minimise stockouts of your most popular products, avoid excess inventory of expired or obsolescent products through notifications, and utilise inventory tracking to maintain stock levels across all your retail channels.
Business Central can also easily integrate with other business systems that would be important to the operations of a retail business like yours, such as the EPOS POS system, or Tasklet Factory's Mobile WMS solution.
It's Always A Good Idea To Integrate Your POS System With Your ERP Software. Find Out Why This Is The Case Here.
If you'd like to know more about what Microsoft Dynamics 365 Business Central can do, and how it can benefit your retail business, click on the image below to get the factsheet about Microsoft's cloud ERP software for fast-growing businesses like yours.