Sometimes it's the features in Sage 300 that we don't always notice or think about, that can help us get more out of the system and make work a little easier.
LEARN HOW YOU CAN GET GREATER BUSINESS VISIBILITY FOR FASTER AND MORE EFFECTIVE DECISION-MAKING WITH SAGE 300 ERP (FORMERLY ACCPAC). CLICK HERE TO DOWNLOAD YOUR FREE SOLUTION BRIEF NOW.
From time-saving tips to settings that help enhance accuracy and security, here're five tips and tricks Sage 300 users can take advantage of.
1. Secure Access to General Ledger (G/L) Accounts
If you use Sage 300cloud v2018 and newer, you can now enable G/L security using the web screen. Source: Sage

Useful if you need to maintain different levels of access to your company's G/L accounts, e.g. senior management need access to all accounts, middle managers shouldn't have access to senior management accounts, etc.
To turn this option on:
Go to General Ledger > G/L Setup > Options and tick Use G/L Security.
Log out and log back into Sage 300 for the change to take effect.
You should now see an Accounts Permissions option under General Ledger > G/L Accounts. This is where you can control user access by G/L account or segment.
Can be enabled through the G/L web screen of Sage 300cloud version 2018 and newer.
2. Post Provisional Batches to your G/L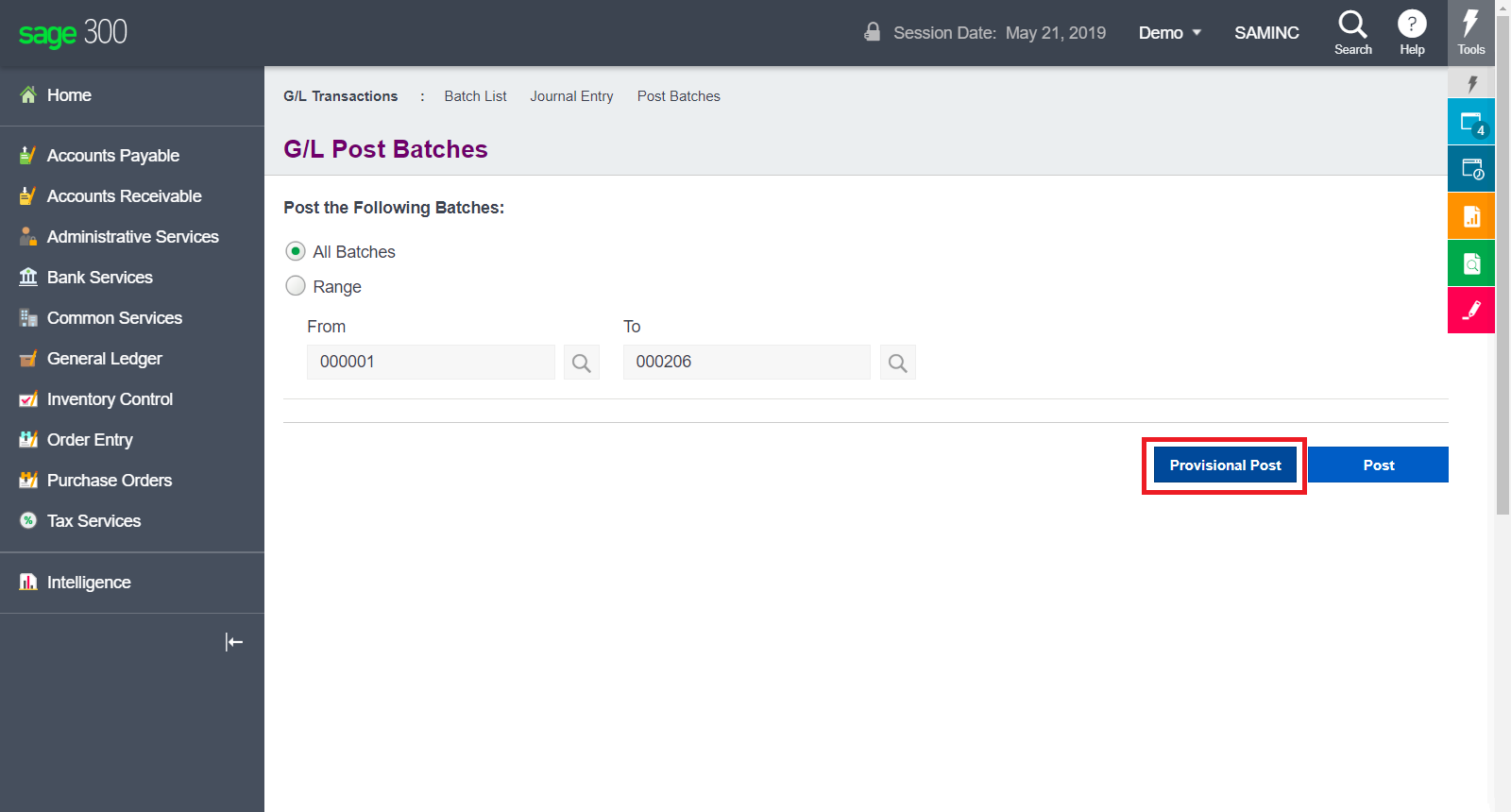 Provisional batches are helpful if you need to test the effects on your G/L before actually posting them. Source: Sage

Provisional G/L batches are for you if you're creating month-end adjustment entries and need to ensure everything tallies first.
Also useful if you've a new-on-board accounts intern and you want to review their entries just in case.
Unlike ordinary G/L batches, they can be edited before they're posted permanently.
You can either:
Post provisional batches one by one. Head to General Ledger > G/L Transactions > G/L Batch List.
Or, post all batches – or a range – provisionally. Navigate to General Ledger > G/L Transactions > Post Batches.
If you don't already have it enabled, turn it on by heading to General Ledger > G/L Setup > Options > Posting tab and check Allow Provisional Posting.
You can run this on both the classic desktop program and Sage 300cloud's G/L web screen.
3. Choose How You Want Item Costing to be Processed
Cost items during Day End Processing or Posting: the choice is yours. Source: Sage

By default, items are costed during Day-End Processing. But you can also have items costed when you post them.
Likewise, there's the option of having subledger transactions and audit information created during posting as well.
This is useful when, e.g. management expects real-time item costing data.
You can switch between either mode even after setup, though if you choose to have items costed on posting, you'll need to run Day-End Processing first to make sure everything is costed properly.
To enable Cost During Posting and Create Subledger Transactions and Audit Info during Posting, head to I/C (Inventory Control) Setup > I/C Options > Costing tab and choose Posting from the dropdown menu.
Take note that costing items during posting can take up a lot of system resources though – which means it'll take a longer time to post sales and purchase orders.
So if you plan to switch to Costing During Posting, be sure to give a heads up to your colleagues.
Can be enabled through the classic desktop program or through Sage 300cloud's I/C web screen.
4. Attach PDF Reports to Emails Automatically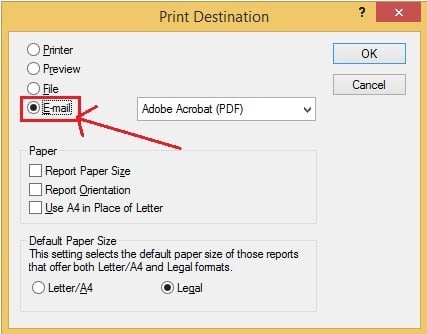 You can print reports, preview them in Sage 300, export them to a file, or attach them to an email. Source: Greytrix

Forget exporting reports and then having to hunt for them in File
Explorer. With Sage 300, you can attach PDF reports to new emails, direct from Sage 300.
Go to Print Destination (blue envelope on the right-hand corner of the bottom taskbar) > choose E-mail and choose Adobe Acrobat (PDF).
Select Print when you get to the document you want to export (e.g. customer record).
The PDF file will be generated and attached to a new email in Outlook.
This function exists only in the classic desktop program.
5. Review Data Integrity Checker Log without Printing Everything
If you run a Data Integrity check in Sage 300cloud, the results show up in a Crystal Reports viewer automatically. Source: Sage

Running a data integrity check regularly is recommended, and you can review the results by printing them.
But the log can be quite long, especially if you've got the full range of modules implemented.
Want to review the results on screen instead? The Data Integrity Check saves a text file log to your Shared Data folder after it's been run. Here's how you can access the log:
Get the shared data path by selecting Help > System Information.
Open the path in File Explorer and head to the COMPANY folder.
Open the folder of the database you ran the integrity check in. The final path might look something like this: D:/Program Files/Sage/Sage 300/COMPANY/SAMINC.
You'll find an ERRORS text file, which contains all the details of the integrity check.
If you're running Sage 300cloud, you can run the data integrity check through the web screen the same way. But the log opens in a Crystal Reports viewer instead, so you can skip these steps. You'll also have the option of printing the report if you prefer.
Sage 300 (formerly Accpac): Robust Accounting Functionality
With features like these, you can save time, enhance security, and improve accuracy.
It all goes back to the value of Sage 300 for small and medium-sized enterprises (SMEs).
More than the strong financial management capabilities it's well-known for, Sage 300 connects the important parts of your business – finance, operations, and inventory – helping you make more effective decisions, faster.
To learn more about Sage 300 and its capabilities, click the banner below to get your free copy of the latest Sage 300 solution brief now.