On 14 September 2022, insightsoftware hosted a webinar for its customers. It covered the findings from a report carried out by insightsoftware in conjunction with Hanover Research, about the trends that finance teams have encountered in 2022.
Presented by Bryan Motteram, VP of Product Marketing in insightsoftware together with James Wilcox, Managing Director of Hanover Research, the webinar covered some of the top findings from the report, and some of the top priorities for finance teams going forward.
As an award-winning Microsoft Dynamics partner in Singapore, as well as a Top Elite Partner of the Year for insightsoftware, we at AFON have had the opportunity to sit in on the webinar and bring some of the highlights to you.
Let's take a look at the biggest highlights of the insightsoftware/Hanover Research webinar, "Doing More With Less – 2022 Finance Team Trends Report".
The Top 3 Findings Of The Report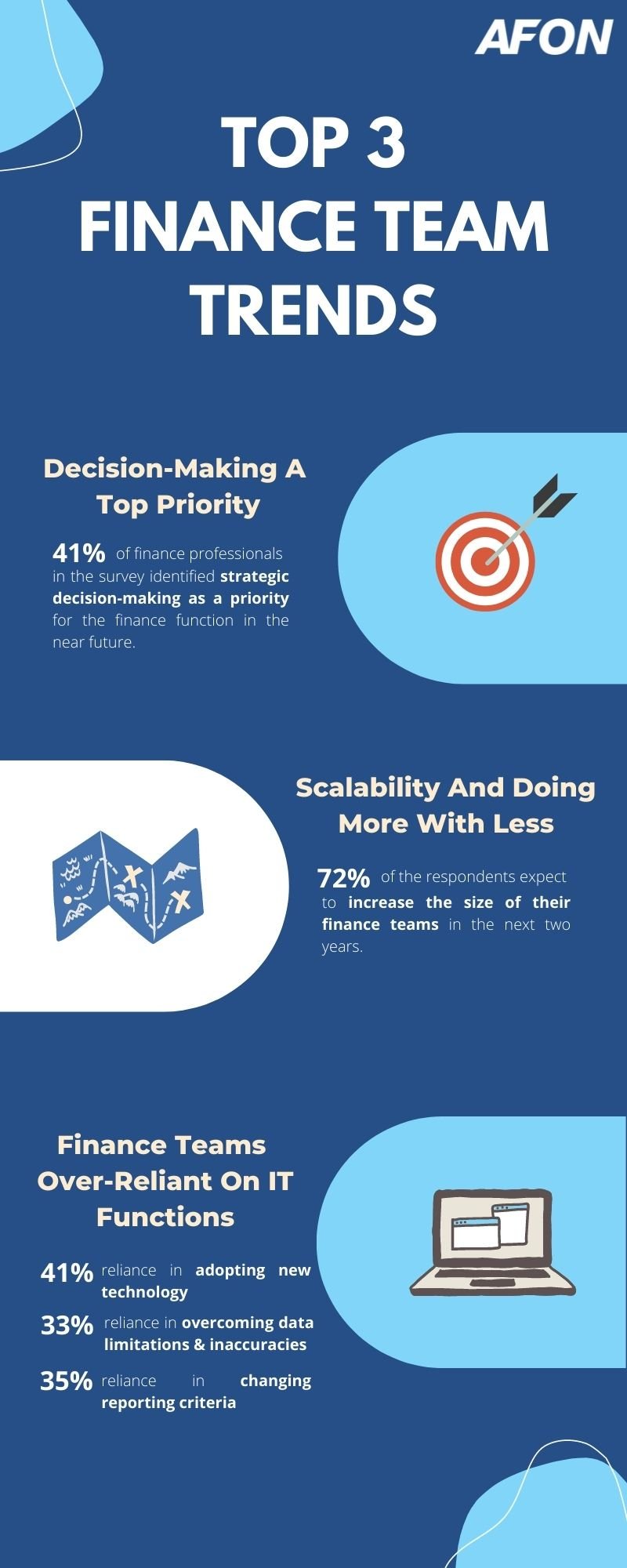 Overview of top 3 finance team trends; Source: insightsoftware
According to the webinar, the report found that many organisations have made tremendous progress on their digital transformation jouirneys over the last two years.
Thanks to the COVID-19 pandemic and its aftereffects. 2/3 of finance teams from the respondents in the survey report a high level of financial digitisation in their departments.
The following are the top three findings made by the research team at insightsoftware and Hanover Research.
1. Enabling Decision-making Will Be A Top Priority
According to the report, 41% of finance professionals in the survey have identified strategic decision-making as a priority for the finance function in the near future. This is up from 30% back in 2021, when the survey was last carried out.
Similarly, 42% of the respondents have also added that enabling flexible and timely decision making is also a top priority for their respective organisations.
2. Scalability And The Need To Do More With Less Is Paramount
A consistent theme amongst the responses in the survey is that finance professionals expect that they'll not only need to scale up their operations, but to achieve more with less resources in the near future.
Because of this, 72% of the respondents expect that they'll need to increase the size of their finance teams in the next two years.
In addition, these are some of the most common challenges they've faced:
Time-consuming manual processes (50%, up from 29% in 2021)
Lack of resources (50%, up from 28%in 2021)
Inability to access data (33%, up from 21% in 2021)
3. Finance Teams Are Over-reliant On Their IT Teams
Another common thread in the survey is the tendency of finance teams to rely too much on their IT departments for various IT-related issues.
According to the respondents, their finance teams are over-reliant on the IT function to tackle challenges such as;
Adopting new technology (41%)
Overcoming data limitations and inaccuracies (33%)
Changing reporting criteria (35%)
Key Takeaways From The Study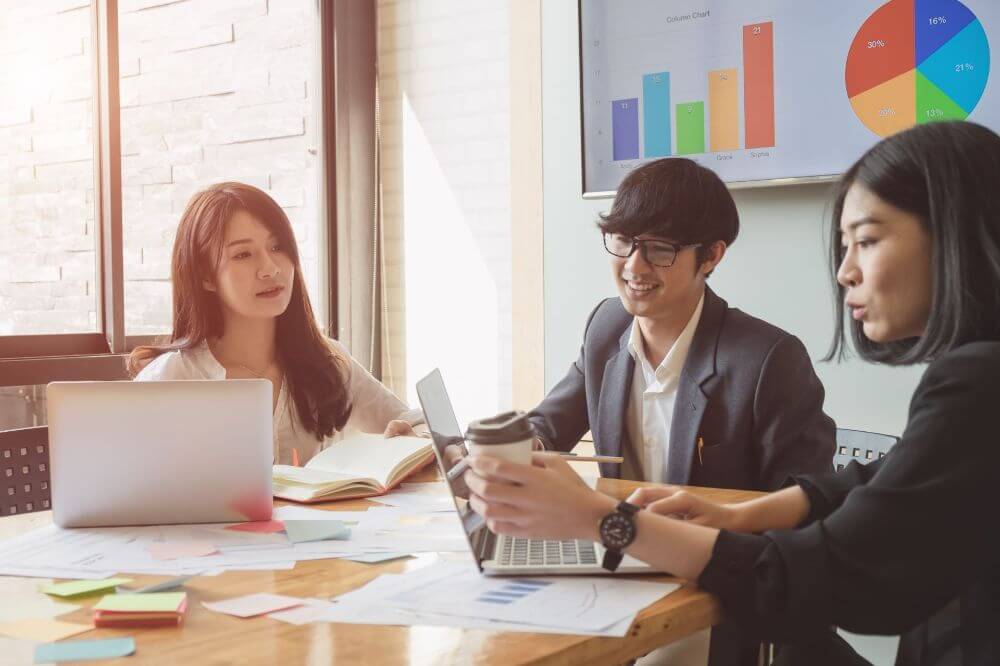 Based on the responses of the participants in the study from insightsoftware and Haonver Research, the main takeaway is that finance teams in general are too reliant on their IT functions for technology-related issues.
This could actually be detrimental to the overall functioning of the organisation in the long-term, as it can further exacerbate the impact of these challenges on finance teams, especially when they lack the knowledge or tools to resolve these by themselves.
And over-reliance on the IT function can also create bottlenecks, with other departments also vying for their time and attention. This can compromise finance teams' ability to access real-time reporting, and prevent them from undertaking value-added data analysis to inform their decision-making processes.
Given the key roles of today's finance team, which the survey respondents have generally agreed are;
Financial Planning and Analysis (64%)
Financial Modelling (57%)
Budgeting and Forecasting (47%)
Such a lack of access to real-time reporting would be a critical flaw in the operations of your finance team.
The Top Priority That Finance Teams Should Have Going Forward
How insightsoftware's Jet Reports and Jet Analytics can value-add your finance reporting, Source: insightsoftware
To decrease your finance team's reliance on your IT function, enable them to achieve more with less resources, and thus effectively enable the financial decision-making of your business, there is only one viable approach.
Specifically, you should focus on identifying and acquiring a solution that enables self-service financial reporting for your finance team.
Implementing such a solution, and training your finance professionals in its usage, will largely alleviate the most common challenges that finance teams are currently facing as of 2022.
For example, a product from insightsoftware such as Jet Reports and Jet Analytics can provide just such a solution. With one of these, your finance team can;
Improve financial report accuracy and cut costs
Transform operational data into actionable insights
Shrink budget and planning cycles, and
Simplify management of equity compensation plans
Here's How To Cut Reporting Time And Cost With Jet Reports. Click Here To View Highlights From Our Webinar With Insightsoftware.
Self-service Reporting Is The Solution To The Challenges Finance Teams Face Today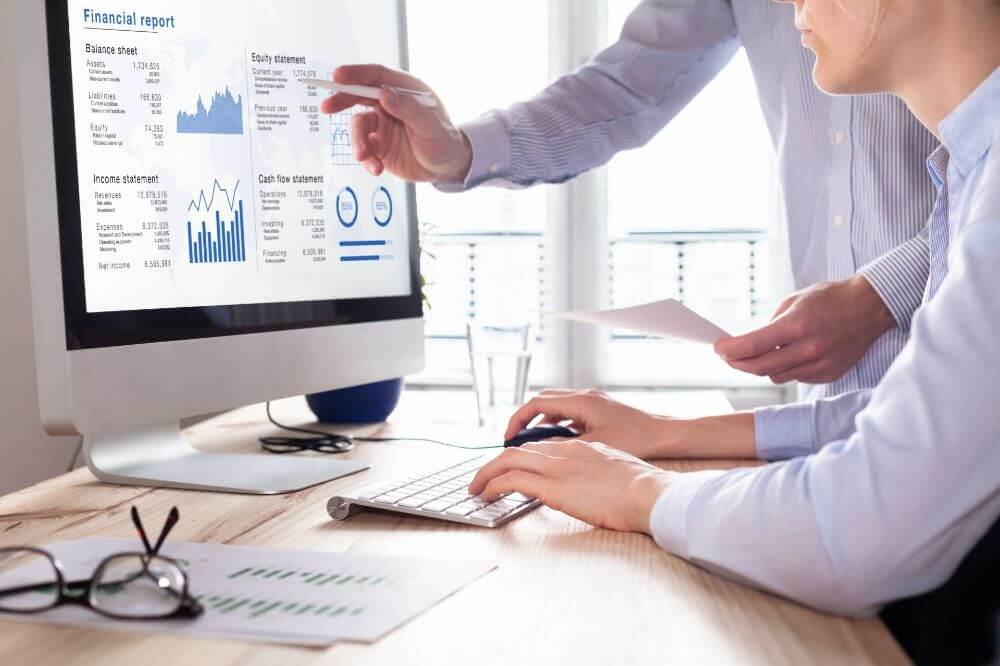 What we've covered are some of the highlights of insightsoftware's and Hanover Report's webinar, and there's more to it if you're interested.
If you've missed the webinar or would like the chance to find out everything that's not covered here, you can access the webinar-on-demand here.
Or if you'd like to know how to use Jet Reports to its fullest potential, click on the image below to find out about the top 10 best practices for business reporting within Microsoft Dynamics.
Finally, if you prefer to speak to an analytics and reporting tools expert, just drop us an enquiry here.
As a Gold Partner of insightsoftware, we can help you set up and integrate Jet Reports with your Microsoft Dynamics ERP software.