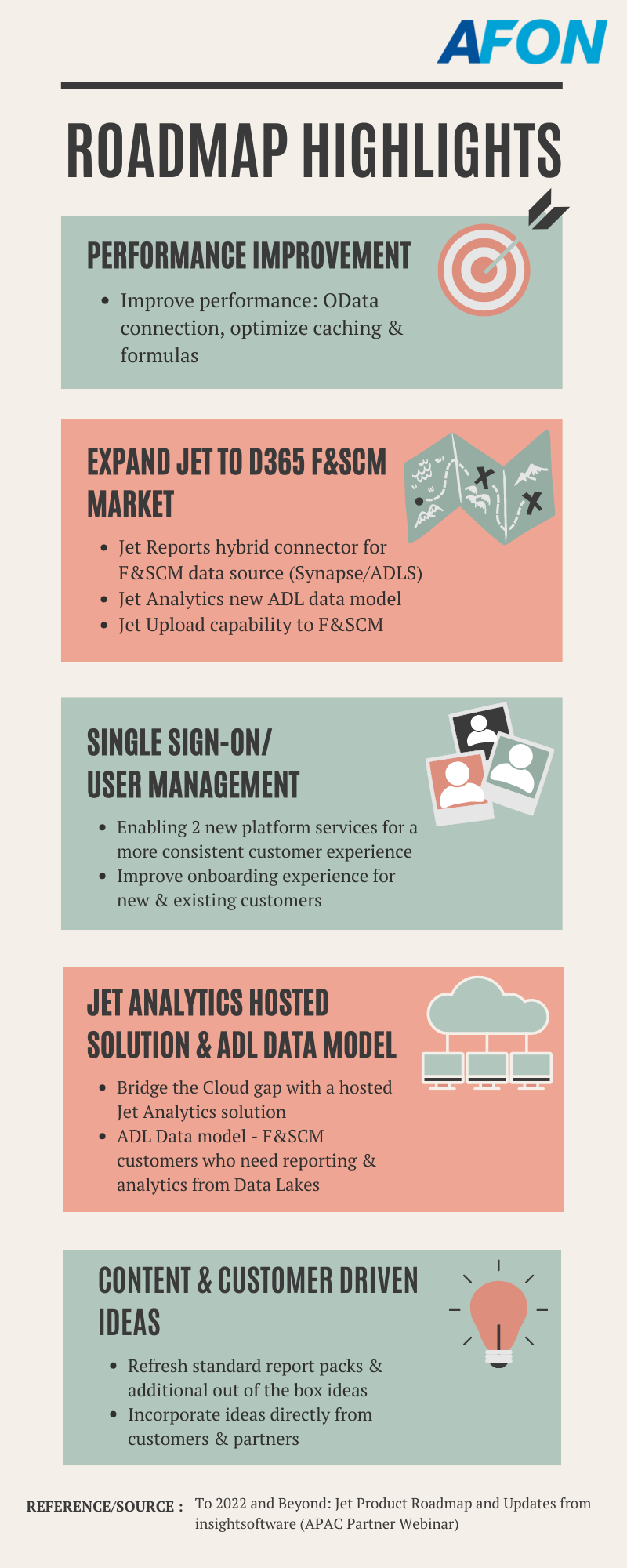 Jet Product Roadmap Highlights Infographics; Reference/Source: insightsoftware
On 9 March 2022, insightsoftware hosted an APAC partner webinar about the product roadmaps and updates for its Jet Global family of solutions, including Jet Reports.
While the webinar was held for partners of insightsoftware (such as AFON), it also included some highlights that are relevant for end users of Jet Reports such as yourself.
Here's How You Can Cut Reporting Time And Cost With Jet Reports, From Our Joint Webinar With Insightsoftware.
These highlights include issues that were resolved with the latest maintenance release version of Jet Reports, planned improvements with the upcoming Jet 22.1 update, as well as areas of improvement that insightsoftware will be focusing on for the rest of 2022.
Let's look at the highlights of this webinar in detail.
Jet Reports Maintenance Release 21.4.2
The latest product update for Jet Reports – Release 21.4.2 – was launched back in 25 January 2022.
Some of the issues that were resolved as part of this release are as follows:
Scheduler should not show incorrect weekday in non-English languages
Business Central on-premise Direct SQL data source not bringing extended ENUM option captions into report
Getting "Unable to connect to the Jet Hub URL Entered. Make sure that the URL is correct and that you have Internet connection" when token expires instead of error that they need to log back into the Jet Service Tier
Release of Jet 22.1
Planned for release on 29 March 2022, the 22.1 Release will bring a set of improvements for all Jet Global products, including Jet Reports.
For one, it will begin a set of performance improvements to the OData connection, as well as optimise caching and formulas to improve the runtime efficiency of Jet Reports.
The OData connection will replace the old connector that connected Jet Reports to SOAP web services, which are slated for sunsetting by Microsoft.
While these improvements will be introduced in the first quarter of the year, further increments in improvements to these features are scheduled for the rest of 2022.
Find Out More About The New Improvements That Came With The Latest Update For Jet Reports Here.
Note: The link above currently covers details from Jet Reports 21.4, which is the current update. We will update the blog post with the new features introduced in the 22.1 Release, when it is launched.
Other Planned Improvements For Jet Reports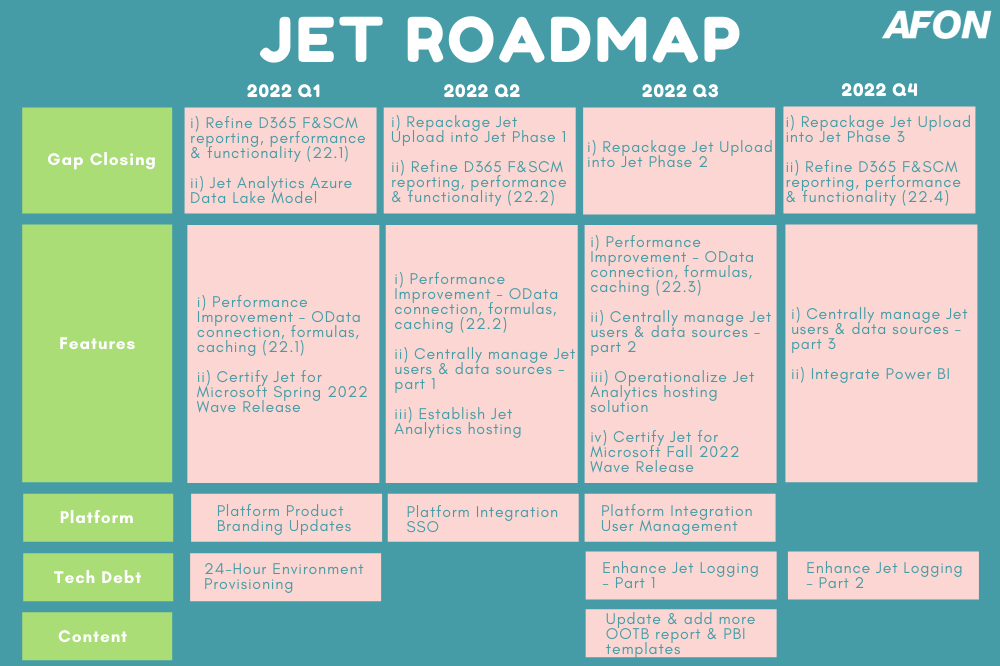 Overview of Jet Roadmap 2022; Reference/Source: insightsoftware
There are also other improvements planned for Jet Reports, to be introduced later in the year.
One standout feature that's in the works is the enabling of two new platform services – SSO and User Management – to provide end users with a more consistent userexperience. It would also help improve the onboarding experience for both new and existing end users.
In addition, insightsoftware will be looking at further integration of Microsoft Power BI into Jet Reports. This will harness the analytical power of business intelligence, and provide you with critical insights into your business operations, within the familiar format of Microsoft Excel spreadsheets.
Last but not least, insightsoftware will continue to listen to its customers and partners, and incorporate ideas for improving the Jet Global family of solutions into future updates later in the year.
Questions About Jet Reports?
We hope that this summary of the webinar has gotten you excited about the improvements to Jet Reports that are coming down the pipeline in 2022.
As a Gold Partner with insightsoftware, we at AFON can help you set up and integrate Jet Reports with your instance of Microsoft Dynamics 365 Business Central, and extend the capabilities of your ERP software with its report generation features.
Give us a call at +65 6323 0901 or drop us a note here, and we'll get in touch with you for any enquiries related to Business Central and/or Jet Reports.
On another note, if you'd like to know how to use Jet Reports to its fullest potential, click on the image below to find out about the top 10 best practices for business reporting within Microsoft Dynamics.