The disruption caused by the COVID-19 pandemic was the impetus for businesses to push out digital initiatives as a response to the changing demands of employees, customers and stakeholders.
It's led to the adoption by necessity of digital options, which have become the favored way of conducting business as COVID-19 has become an endemic part of our lives today.
As a finance leader, you and your team would likely have been adapting to evolving business conditions, while continuing to deliver solutions when needed.
This has doubtless placed a toll on your finance team, which makes it more important than ever that you focus your time and energy on the right priorities in 2022.
To help you with that, Gartner published the 2022 Gartner Leadership Vision for CFOs study, which outlines three key issues that will affect CFOs and their teams in 2022, and what they should do to advance their digital agenda and realise profitable growth in their businesses.
Let's look at what the data-driven research from Gartner says that finance leaders likes yourself should focus on in 2022.
1. Ensure Flexibility In Resource Allocation To Better Hit KPIs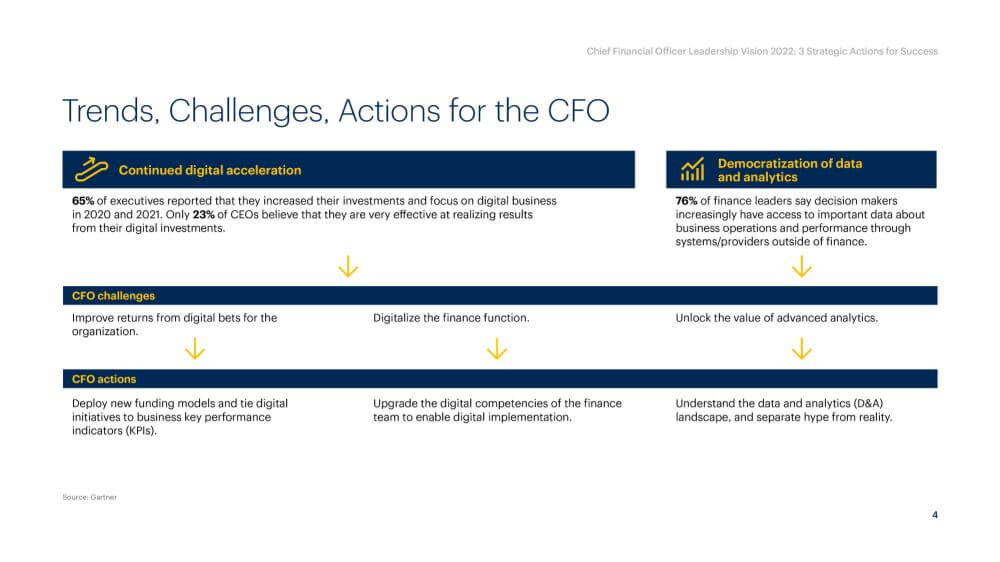 Snapshot of trends, challenges, actions for CFO; Source: Gartner.Inc.
In the research paper, 65% of the executives surveyed by Gartner reported that they increased their investments and focus on digital business in the past two years.
However, only 23% of them believed that their digital investments have been effective in realizing the business results they were looking for.
This may be due to pre-pandemic funding models which were project-based, and were therefore too rigid to adapt to the turbulent business conditions brought about by the COVID-19 pandemic.
Therefore, to capture the potential value in the disruption caused by the COVID-19 pandemic, finance leaders like yourself need to establish processes that give you visibility into how your digital initiatives are currently performing, and compare it to expected outcomes.
There Are Many Tools Available That Provide Visibility Into Your Business, Including Your Financial Processes. Take A Look At Our Guide To Some Of These Powerful Tools.
Only then would you be able to adjust your budgets and course correct while there's still time in the fiscal year for your business to benefit from the resource reallocation between your digital initiatives.
Because of this, finance leaders like yourself will need to adopt funding models that promote flexibility when it comes to resource allocation, especially for your digital initiatives.
In addition, you should tie your digital initiatives to business key performance indicators (KPIs). Each of your initiatives should have different sets of KPIs, depending on whether they're intended to improve revenue, reduce cost, increase productivity, improve the customer experience, or bolster the efficiency of your assets.
To achieve this, you should take the following steps:
Set funding targets for digital priorities
Relax business case requirements to account for uncertainty
Adapt your key performance indicators (KPIs) to capture the full value of your digital investments
This will allow finance leaders like yourself to direct and reallocate funding between ongoing digital initiatives within your business, based on how well each initiative meets their business KPIs.
In fact, Gartner conducted a separate survey of 251 CFOs and other finance leaders in September 2021, where 72% of the respondents stated that they will focus on improving the flexibility of budgeting and forecasting in 2022, while 60% will focus on initiatives to reallocate capital based on changing business needs.
Survey responses among finance leaders in terms of their level of involvement in improving the planning, budgeting, & forecasting of their company; Source: Gartner (November 2021)
2. Develop Digital Competencies Across Your Finance Function
Overview of essential knowledge, skills & abilities for performance in finance; Source: Gartner.Inc.
In the same September 2021 survey by Gartner, 58% of the participants said they will redefine what the value proposition of their employees are, in the context of the hybrid working environment that has become the norm two years into the COVID-19 pandemic.
That's because it's critical for finance leaders like yourself to support digital transformation in the finance function, and acquire the ability to scale quickly as needed in order to ensure your team can support the rest of the business effectively in these turbulent times.
And a key factor in achieving this digitalisation of the finance function, is to upgrade the digital competencies of the employees making up your finance team.
They will need digital competencies that are already familiar to them, as well as competencies that might be new to the finance function, such as:
Coding acumen
Familiarity with robotic process automation (RPA) software
Algorithm interpretation
Bot governance
Social intelligence
Because of this, you'll need to overcome the typical conservatism of the finance function and accelerate the building of digital competencies across your entire finance team.
This is necessary to equip your team with the knowledge, skills, and abilities to adapt not only to RPA, but also to embrace technologies such as artificial intelligence (AI) and machine learning (ML) which can be leveraged to automate finance processes, and free them up to focus on high-value finance tasks.
There Are 5 Proven Steps That You Must Take To Build A Finance Department That's Highly Effective. Learn About These Steps Here.
3. Unlock The Value Of Advanced Analytics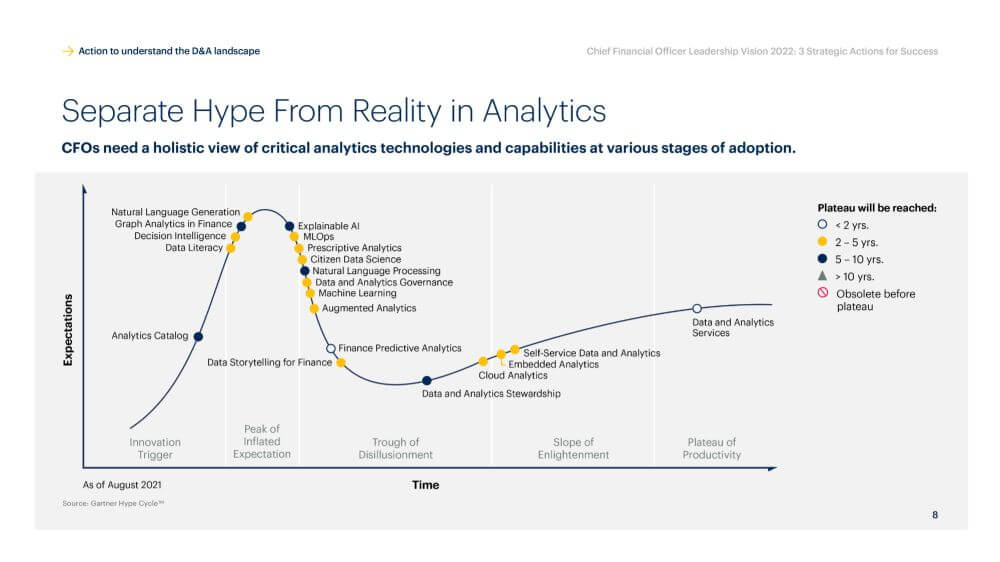 Graphic representation of critical analytics technologies & capabilities at various adoption stages; Source: Gartner.Inc.
In the Leadership Vision for CFOs report, 76% of finance leaders responding to Gartner's study state that the decision-makers in their business increasingly have access to important data about business operations and performance, through systems and provides outside of the finance function.
According to an article on Gartner, augmented data management will reduce the reliance on finance analysts for repetitive and routine data management tasks, and free up to 20% of their time that they can use on collaboration, training, and high-value analytics tasks by 2023.
Furthermore, augmented analytics techniques will generate up to 75% of the data insights consumed by the business by 2025.
Because of this, finance leaders like yourself prize candidates who demonstrate their analytical and problem-solving skills. In an EY survey of 769 finance leaders, 57% of the respondents indicated that building prescriptive and predictive analytic capabilities is key to ensuring the longevity of their businesses.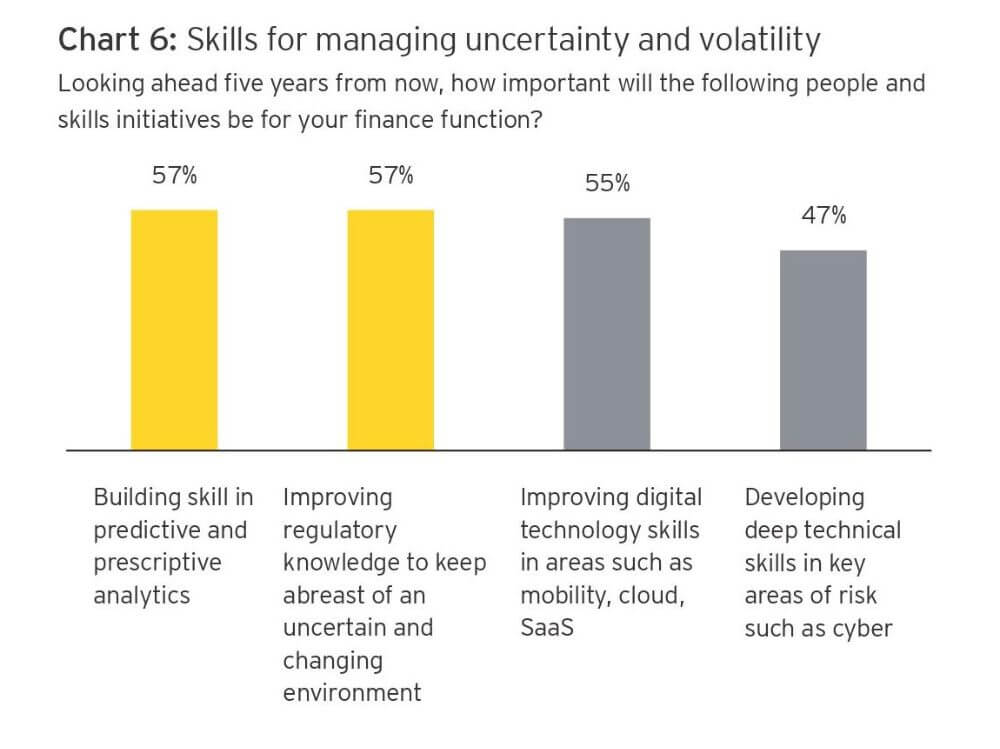 Breakdown of critical & important skillsets from CFOs surveyed; Source: Ernst & Young LLP
Because of this, you'll need to gain a thorough understanding of the data and analytics landscape, as well as be able to tell the reality from the hype.
To achieve this, you must gain a holistic view of critical analytics technologies, as well as the capabilities that are necessary to achieve success for your business today.
Business Intelligence (BI) Tools Are A Must-have For Every Finance Leader. Find Out Why Here.
Finance Leaders Are Key To Advancing The Digital Agenda In 2022
In your role as a finance leader, you and your finance team are key to ensuring that your business achieves its digital agenda and continue to be profitable going into 2022.
Even though the effects of the COVID-19 pandemic are not over, you can take advantage of the opportunities from the disruption caused for the benefit of your business, if you focus on the right priorities.
This includes transitioning the resource allocation processes in your business to meet KPIs based on performance, developing digital competencies across your finance function, and ensuring that your finance analysts get full value out of advanced analytics capabilities.
To learn more about how a finance leader at a small- to medium-sized enterprise (SME) like yourself can boost the efficiency and performance of your business, click on the image below to learn more.