As companies grow, using spreadsheets becomes insufficient to manage their business operations effectively. At this point, you may have considered adopting an enterprise resource planning (ERP) software solution.
Perhaps you have ever looked at the functionalities of ERP software and thought, 'Wow. That's way too much. I don't need all of that fancy stuff.'
Or maybe you're frustrated over the many options, and you just want an ERP solution where everything's neatly packaged for your business. This is where modules come into play.
What are Modules in ERP Software?
Depending on your company's requirements, you may choose between modular-based ERP systems and packaged (i.e., all in one) ERP systems. In the case of modular ERP systems, the freedom to select specific ERP modules, each designed for a particular business function, affords you the flexibility to obtain a customised software solution that better meets your unique needs.



While there are many pros and cons for each ERP software type, for simplicity's sake, we list two main differentiators below:
What is Modular ERP Software?
Modular-based ERP Systems address the concerns of the first group of seekers – users can choose which ERP modules they need and implement only those modules. Let's take a closer look at why a modular ERP software is advantageous.
Why Modular ERP Software?
1. You Buy Only What You Need
Imagine a buffet line-up filled with delicious and not-so-delicious items. You know exactly what you want and pile those high on your plate, while whisking past the less attractive dishes (goodbye salads, hello steak).
In a similar fashion, a modular ERP software solution lets you choose only the software modules relevant to your business. For example, if you're in a purely services business, an Inventory Control module adds little value – if not, none at all – to your organisation.
However, here's where the analogy ends. Unlike a buffet where you pay for everything in sight, modular ERP software lets you pay only for what you need – not any unnecessary extras. So, if that Inventory Control module has no bearing on your business, you can give it a miss and save on investment costs.
2. You Get Potentially Lower Setup Costs and Learning Curve
Because you buy only the ERP modules you need when you need them, you can spread your investment costs over time.
Let's use that service organisation as an example again. Suppose the company decides they need to diversify into a line of business involving inventory five years later. They can then purchase the Inventory Control and other necessary modules, thus spreading their overall costs over five years. This makes it more attractive for smaller, cash-strapped businesses as they don't have to pay a large upfront lump sum.
Furthermore, while buying an ERP software is easy, implementing it successfully is another issue altogether.
When you implement your modular ERP solution in parts over time, you give your organisation more time to adapt to new business processes and practices and make any necessary adjustments accordingly. Instead of having to learn an entirely new system from the start, your employees can familiarise themselves with a few modules first.
However, this assumes your business model requires only a few core modules to run smoothly and that additional modules are added later due to changes in business requirements or growth. If your business requires the functionalities of a full ERP suite, it might be more cost-effective to go for a packaged solution.
Sage 300 ERP: Robust Modular ERP Software Solution for SMEs
One example of modular ERP software is Sage 300 ERP. Formerly known as Accpac or Sage Accpac, the ERP system lets SMEs start small and add more as they go along. You implement and pay for only the ERP modules you need today. Once new business needs arise, you can add more ERP modules.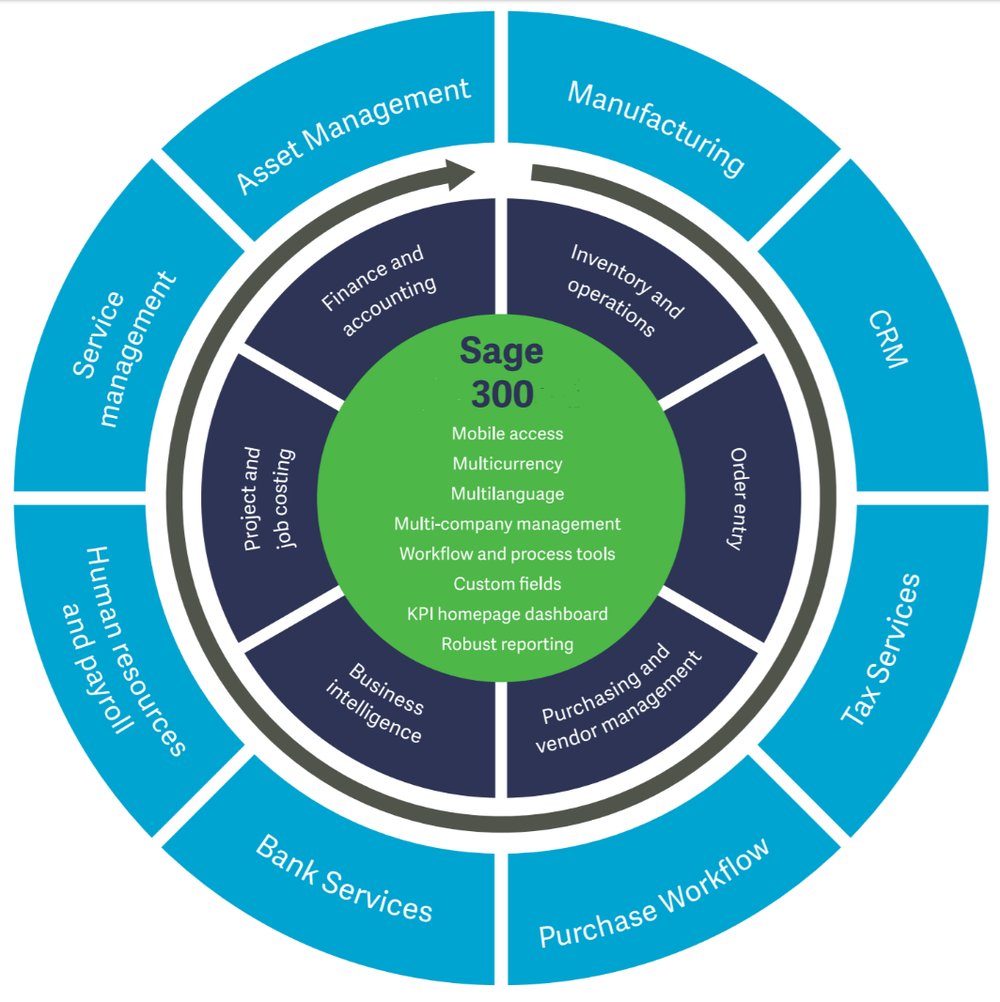 Some features in Sage 300 include:
Convenience:

Access transactional data with true Web screens across financials anytime, anywhere.
Flexible:

Robust financial, operational and inventory, sales and marketing, and customer service modules to choose from.
Versatile:

Easily supports multiple companies, languages, and currencies.
User-friendly:

Intuitive workflow and process tools.
Optimised management:

Facilitates resource allocation and the supervision of multiple projects or inventory from several sites.
Automated:

Automate the purchasing process so employees can focus on other critical tasks.
Insightful:

Personalised key performance indicator (KPI) dashboard and Business Intelligence (BI) tools.


Auditors Love Sage 300 for a Reason. Download Your Free Sage 300 ERP (formerly Sage Accpac) Brochure Here to Learn More About the Software.
What is Packaged (All-in-One) ERP software?
Meanwhile, Packaged ERP Systems are great for the second group of seekers. All modules are bundled nicely in a single system; when you purchase one full licence, you can access all prepackaged modules.
Why Packaged (All-in-One) ERP Software?
1. Your SME's Agility is Potentially Future-Proofed
Picture a typical degustation set menu. As a customer, you know the total price and dishes are fixed. The chef decides what you'll have, and you simply pay and enjoy the overall experience.
Maybe you don't fancy that pungent whiff of Bleu d'Auvergne in your salad. Or maybe you wish you could swap your greens out for another dessert. Yet all in all, you're happy to have everything covered from start to end.
Broadly speaking, packaged ERP software is a bit like a multi-course meal. You get all ERP modules for a set price, regardless of whether you need every functionality at that given point in time.
There are advantages to this approach. With a modular ERP system, purchasing new modules can get a bit disruptive to your business. You need time to evaluate and purchase new modules, and your staff have to go through the implementation process again, e.g., training, configuration, testing etc.


Never get confused by technical jargon again. Hop over to our A to Z Super Glossary of ERP Definitions post for over 300 ERP-related terms today.



But with prepackaged ERP software, you go through the 'teething' pains right from the start. Once the initial phase is over, your employees can re-focus on doing what they do best without worrying about when and whether to add new modules in the future.
There's also the risk that new ERP modules lack compatibility with older, existing modules. This sometimes happens when the gap between implementation is too long, i.e., your SME's using outdated versions. By getting a solution that offers a complete suite of functionalities from the start, you stand to future-proof your business for growth.
2. You Get Potentially Lower Setup Costs
Yes, you read that right. Starting off with prepackaged ERP software could cost less than modular ERP software.
Now you might ask: "How's it possible? Isn't it more affordable to buy only the modules that we need? Didn't you just say that modular ERP is cheaper?"
It all depends on your SME's requirements. There comes a tipping point where it's actually more cost-effective to buy prepackaged ERP software than a modular based one.
The reason? Pricing structure differences.
Modular-based ERP Software: Typically, you pay for each module and pay again for each user licence.
Packaged ERP Software: You pay for each user licence only and get all modules inclusive.
Let's use a simple example. ABC Company requires five ERP modules and five user licences (costs are for illustration purposes only and not actual costs):


Modular-based ERP Software Example
vs.
Packaged (all-in-one) ERP Software Example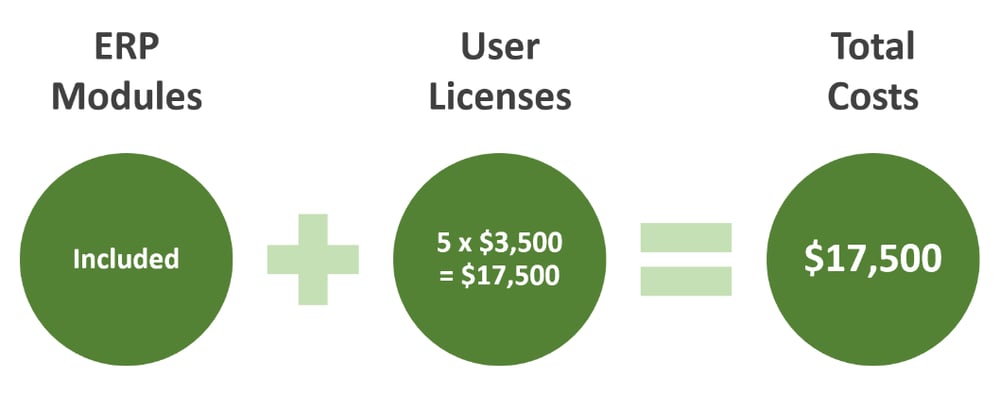 As you can see, it's more cost-effective for ABC Company to choose prepackaged ERP software ($17,500) than a modular-based ERP system ($20,000) for five ERP modules.
However, if ABC Company needed four ERP modules or fewer, it'd make more financial sense to go with a modular-based ERP software solution.
SAP Business One (B1): Powerful, All-in-One ERP Solution for SMEs
One example of prepackaged 'all-in-one' ERP software is SAP Business One, or SAP B1.
More than just accounting, SAP Business One gives you greater control over your SME or subsidiary and streamlines all your key processes – from accounting and supply chain management to customer relationship management (CRM) and purchasing – in a single ERP solution.


With SAP Business One, you can:
Consolidate:

Capture all business information in a single, scalable system.
Optimise:

Automate financial reporting and asset management to you can better focus on other critical business functions.
Improve sales and service:

Helps identify sales opportunities and maximise customer satisfaction through effective service management.
React rapidly:

Quickly get answers to critical questions to facilitate quicker response, thanks to its integrated business intelligence.
Gain valuable insights:

Advanced analytics in real-time provide deeper insights that enhance decision-making.
Empower your employees with on-the-go access via SAP Business One's intuitive mobile app, and more.
Over 55,000 companies in 150 countries use SAP Business One. Download the free SAP B1 Solution Brief Here to Learn More About the Software.
Your Next Steps
There's no simple answer as to which ERP system type or module is better. It depends on how you run your business and your priorities – whether you prefer a section-by-section approach or a more holistic, integrated approach.
But our team at AFON do know professional advice can make a world of a difference. Leave us a note here for a free short consultation over the phone.
Alternatively, you can also download our free 5-Min ERP Software Comparison Guide in the link below, where we give a quick comparative overview of Sage 300, SAP Business One, and Microsoft Dynamics NAV.