Microsoft Azure is one of the most well-known brand names in the cloud computing platform market, along with peer competitors such as Amazon Web Services (AWS) and the Google Cloud Platform.
With Microsoft Azure, you can host ERP software such as Microsoft Dynamics 365 Business Central or SAP Business One, or other types of business applications to gain the various benefits of cloud computing.
Need A Refresher On What Microsoft Azure Is, And How It Can Benefit Your Business? Click Here!
That said, what if you're not entirely sold on the benefits of completely transitioning your business to the cloud with Azure for one reason or another?
Is it possible to enjoy the benefits that a cloud platform like Microsoft Azure offers, without giving up on the upsides of hosting your business applications on on-premise server hardware?
The answer to that is: yes, it is possible with Microsoft Azure Stack.
Let's take a look at this version of Azure, as well as how it can be a better fit for your business needs in certain cases.
What Is Microsoft Azure Stack?
Source: Cloud Academy
An extension of Microsoft Azure, Microsoft Azure Stack is a true hybrid cloud computing platform that allows organisations to provide Azure services using their own on-premises data centres.
With Azure Stack, organisations can retain their sensitive data within their own servers, while retaining the ability to access the Azure public cloud.
This means that you'll be able to make use of Azure services and capabilities in a wide variety of on-premise environments, from data centres to edge computing scenarios.
Why Should You Use Microsoft Azure Stack?
If you're seriously considering a transition to cloud computing, that's almost certainly because you're feeling the necessity of ensuring that your business can deliver IT, services and resources that are flexible, highly scalable and cost effective.
However, making the transition to Microsoft Azure can be challenging itself, not least because of the difficulties involved in migrating your organisation's workload seamlessly between your existing on-premises environment and the cloud.
In the past, organisations resolved these difficulties by creating private cloud networks that are connected to the public cloud.
However, these private cloud networks required local development and configuration, as well as maintaining a complicated collection of software stacks.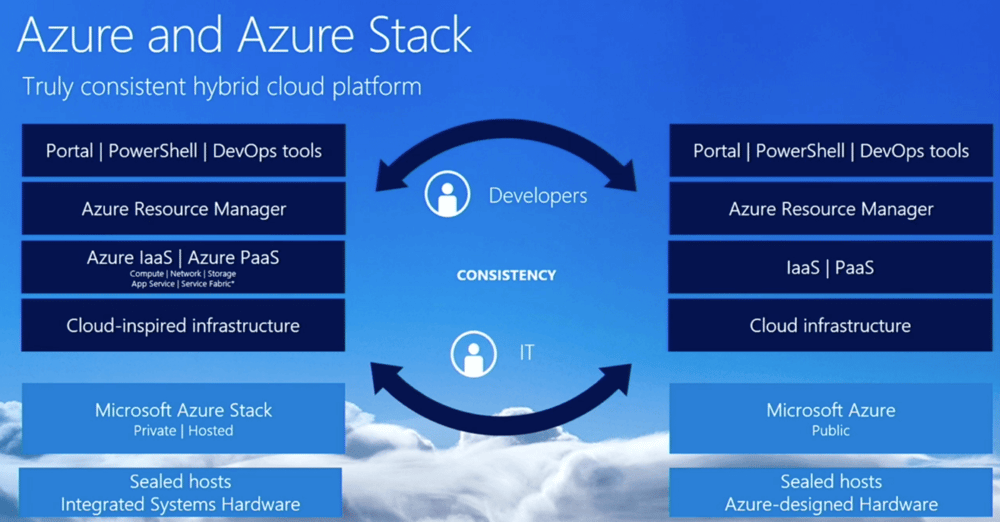 Source: Cloud Academy
But with Microsoft Azure Stack, you can seamlessly integrate the Azure environment to your on-premise data centre, thereby overcoming the difficulties of migrating workloads between both environments with ease.
This means your developers will be able to build and deploy applications for both the public and private cloud, without having to build separate applications for each respective platform.
What Are The Use Cases For Microsoft Azure Stack?
Microsoft has outlined three primary scenarios where your business might have a use case for Azure Stack. These are as follows:
Edge and Disconnected Solutions
If you anticipate that you'll need to use Azure services and apps in places where network connectivity is less than reliable, Azure Stack makes it possible for you to do so.
Such locations could include remote or mobile locations, such as on ships and airplanes. Alternatively, you might want to deploy Azure Stack Hub in locations which are entirely disconnected from the Internet for business reasons, such as remote facilities or factory floors.
Cloud Applications That Meet Different Regulatory Requirements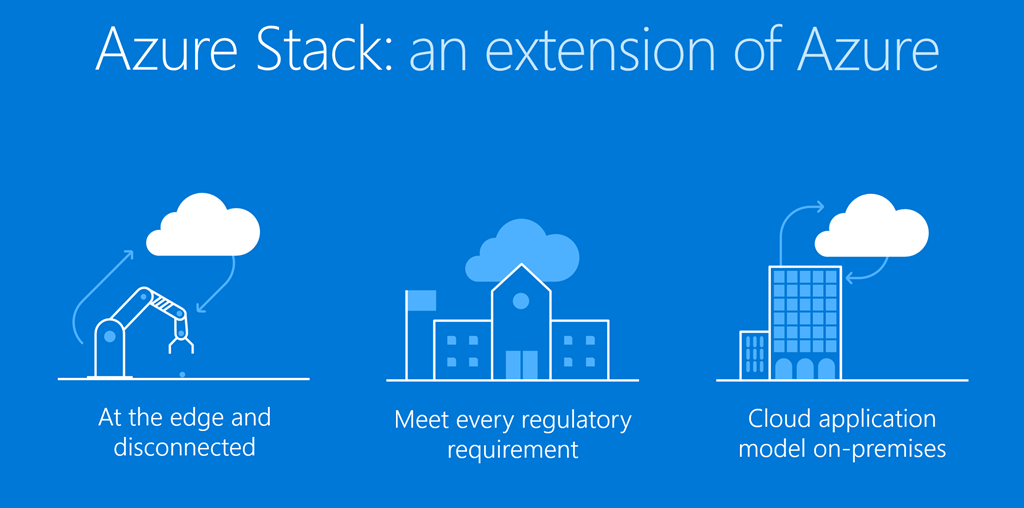 Source: Asiapac

Depending on where your business is located, it may face regulatory requirements that mandate how your business should store critical data.
To help you comply with these regulations, Azure Stack allows you to host different instances of the same application on the public and private cloud.
This allows your business to enjoy the benefits of cloud computing, while hosting your ERP software or other business applications on your on-premise servers as required by regulatory requirements.
Providing The Cloud Application Model To An On-premises Environment
If your developers have developed applications within Azure Stack, you'll be able to deploy these same apps on Azure easily.
This means that if the growth of your business requires you to scale beyond your present on-premise Azure Stack capabilities, you can seamlessly transition to the cloud environment without encountering issues with migrating applications from on-premises to the cloud.
What Are Your Options For Deploying Microsoft Azure Stack?
Although you can deploy Microsoft Azure Stack to gain both the benefits of cloud and on-premise computing, do take note that it's only supported by server hardware from vendors that were approved by Microsoft.
Source: Sherweb

These vendors include:
Cisco

DellEMC

Hewlett Packard Enterprise

Huawei

Lenovo
If you'd like to implement a hybrid cloud computing platform in your business from scratch, Microsoft offers Azure Stack Hub – an integrated hardware and software system – in partnership with the above mentioned approved hardware vendors.
You can choose to deploy Azure Stack Hub integrated systems to be connected to the Internet (and thus to the Azure cloud), or disconnected from both according to the needs of your business.
Azure Stack Hub uses the same operations model as Azure, with an Azure Stack Hub operator standing in for Microsoft when it comes to delivering Azure services and apps (such as deliver VMs, web apps, highly available SQL Server, and MySQL Server databases) to tenant users.
Implementing A Hybrid Cloud Platform With Azure Stack
If you're thinking about implementing a hybrid cloud computing platform for your business by deploying Microsoft Azure Stack, you'll need a partner with the knowledge and resources that you can trust to handle the deployment.
In that case, you might like to know that AFON is an official vendor for Microsoft, and we have the resources and expertise to assist you with the implementation and deployment of either Microsoft Azure or Azure Stack.
Not only that, but if you have an existing SAP Business One ERP software implemented in your business, you may also like to know that we're the first Microsoft vendor in Singapore to successfully host SAP Business One in Microsoft Azure for our customers.
Therefore, if you'd like to engage our services to help you implement Microsoft Azure or Azure Stack for your business, do give us a call at +65 6323 0901 or drop us a note, and our consultants will get back to you shortly.
Otherwise, if you'd like to learn more about the basics of Microsoft Azure, click on the image below to do so.