AFON Pte Ltd has been awarded the Asia's Top Elite Partner Of The Year 2020 at the InsightSoftware APAC Partner presentation on 24th February 2021.
This award recognises the performance of AFON for the Jet Global suite of solutions — Jet Reports, Jet Analytics, and Jet Basics, in 2020.
For The Announcement On The 2018 Award, As Well As A Brief Summary On Jet Global And The Advantage Of Using Their Products With Microsoft Dynamics 365 Business Central, Click Here.
"We are pleased to recognise our Top Partner by Units for year 2020, and this goes to AFON. Congratulations to Mr. Bernard (AFON's MD) and Mr. Lai, and the Team as well. Thank you for your continued support," says Michelle Lee, GM for InsightSoftware Asia, during the presentation.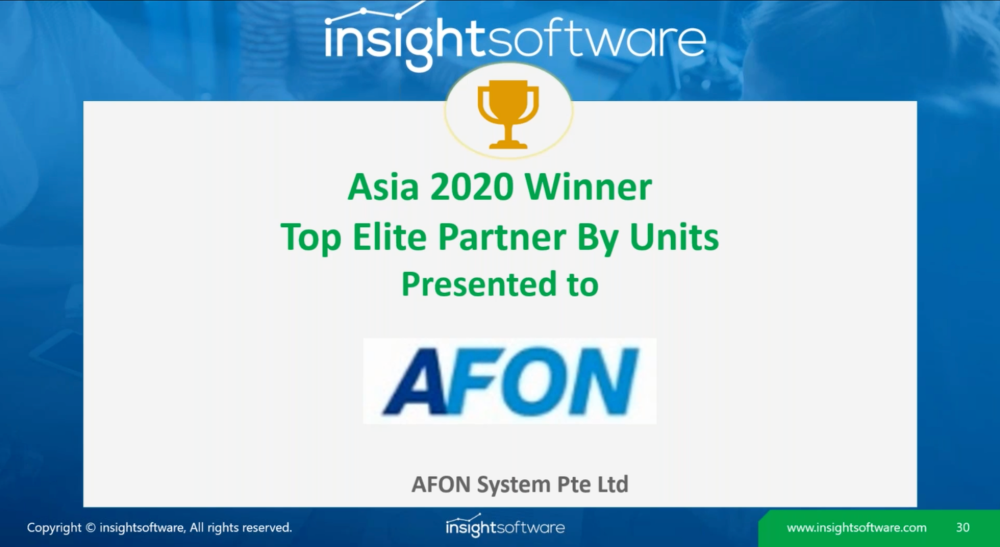 The award also marks the third time AFON received an award for our performance as a Jet Global partner, after being named Jet Global's Top Partner in Asia back in 2018.
"We are happy to receive the Top Elite Partner of the Year 2020 by Units award from InsightSoftware," says Lai Kar Chyuan, General Manager for Microsoft Dynamics and Sage at AFON.
"We would like to thank the InsightSoftware team for the technical support and sharing of knowledge in the past, and look forward to continuing our fruitful partnership in the years ahead."
A Few Notes About Jet Global And Insight Software
Jet Global is the market leader for reporting, analytics and budgeting tools that are designed to work with Microsoft Dynamics ERP software products, such as Microsoft Dynamics 365 Business Central. Jet Global was acquired by InsightSoftware in 2019.
There Are Many Financial, Inventory And Reporting Tools Available For Finance Leaders Like Yourself. We've Compiled A Guide Of The Best Tools For Several Categories Of Such Tools Here For You.
A quick introduction to Jet Reports. Source: YouTube

Jet Global's products create affordable, yet powerful reports entirely within Microsoft Excel, allowing you to design and build reports with no programming knowledge needed.
AFON Pte Ltd has been a Top Elite Partner of Jet Global since 2017.
Here Are Some Reasons Why You Should Use Jet Reports With Business Central.
To find out more about how integrating Jet Global's reporting solutions with your Business Central environment can benefit your business, give us a call at +65 6323 0901, or get in touch with us here